Eat The Frog Fitness Franchise Opportunity
Available Markets:

Canada: AB, BC, ON, SK
United States: CA, CO, CT, DC, FL, ID, MD, NJ, OR, PA, SC, TX, UT, VA, WA, WI
Why Eat The Frog Fitness?
Founded by Bryan Clay and Joe Culver, Eat The Frog Fitness is a new fitness training concept born from decades of elite, science-based athletic training and expert knowledge of the fitness industry.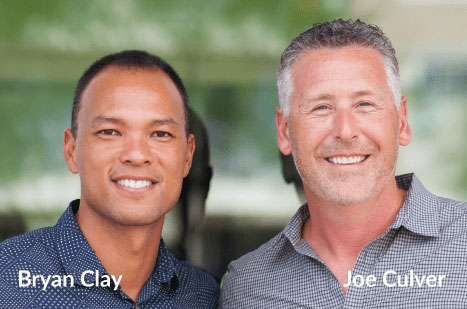 As the USA Decathlon Silver Medalist at the 2004 Olympics and the Gold Medalist at the 2008 Olympics, Bryan earned the esteemed title as the "World's Greatest Athlete." Bryan continues to work as Brand Ambassador & Coaching Specialist at Azusa Pacific University and is an investing partner in PK Fitness, focusing on heart rate technology. Joe Culver, has spent the past two decades as an executive for several companies, as well as business entrepreneur and Founder/CEO of Thrive Community Fitness and TCF Franchising, Inc.
Bryan has taken his knowledge of successful fitness regimes and tailored them to create the ultimate training experience for people of all fitness levels.
Designed for the franchise owner that desires a profitable business without 60-80 hour work weeks. ETF Fitness studios operate on a low overhead, limited staff model. By offering 8-10 "live coached" group training sessions per day along with non-staffed virtual training sessions to supplement our members' overall fitness program, ETF Fitness allows franchise owners to manage the business and still manage to have a life outside of "business" hours.
What Separates Eat The Frog Fitness?
ETF is the only fitness company in the market today that offers each member a personal training plan administered through group fitness classes. We combine Olympic training insights, fit tests, periodize customized training plans, industry leading technology, 24/7 member access, and the lowest prices in the boutique fitness studio market to maximizes member results and investor earning potential.
Live & Virtual 24 Hr Access - Technology infused Training Studio
Personalized Small Group Training Model
Pre & Post fitness evaluations
Training plans designed by the Best Athletes in the World
Athletic-based Periodization Training that keeps members
continually challenged
Science based fitness programs
Classes offered: Strength, Cardio, FlexCore and Recovery
Fitness App with goal setting, workout summary, Individual/team fitness challenges, and redeemable points at national/local stores
Corporate Wellness Program
Area Representative
Own A Territory For Eat The Frog Fitness
For those interested in growing the Eat The Frog Fitness brand on a broader level, the Area Representative role may be the business opportunity to pursue. An Area Representative is an individual or group who secures the rights to a specific geographical territory with the sole intent and purpose to develop Eat The Frog Fitness studios in that territory by recruiting qualified franchisees and providing them ongoing support and coaching with assistance from the Franchisor. The Area Representative earns a share of commission and royalty revenue for all Eat The Frog franchise locations in their territory.
A limited number of Area Representative contracts will be awarded throughout the country. There are less than 55 of the initial allocation still available.
Franchisee
Own An Eat The Frog Fitness Franchise
As an Eat The Frog Fitness Franchisee you will own a business with great potential in the growing $35 billion dollar fitness industry. You will have support every step of the way and have access to the Eat The Frog Fitness proprietary training materials and programming. You will be in business for yourself but not by yourself.
Request an Eat The Frog Fitness brochure to learn more about the franchising process and investment requirements.
This web page does not constitute a franchise offering or an offer to sell a franchise. A franchise offering can be made by us only in a state if we are first registered, excluded, exempted or otherwise qualified to offer franchises in that state, and only if we provide you with an appropriate franchise disclosure document.
Request Information
Looking for more information about Eat The Frog Fitness? Take a moment to fill out our quick information request form.