Angry Crab Shack Breaks into More Markets with a Targeted Plan for Aggressive Franchise Expansion 
Angry Crab Shack remains on the fast track to growth and focused on becoming a national 100-unit brand by 2025.
The emerging casual-dining seafood concept, with 14 locations, recently marked a growth milestone opening its first Nevada location. The new restaurant in Henderson, Nevada, just south of Las Vegas, jumpstarts aggressive regional franchise development plans for the Arizona-based chain, beloved for its seafood and boils that draw on bold Asian-Cajun flavors. Restaurants are slated to open in 2021 in Nevada, Utah, Florida, Georgia, Illinois, and Texas, with future franchise expansion expected across the United States.
Angry Crab Shack's recipe for continued growth is grounded in a strong brand identity. The chain continues to uniquely capitalize on the growing seafood boil trend with a menu that features punchy signature flavor profiles and the freshest high-quality ingredients. Long-standing relationships with trusted seafood vendors eliminate the middleman, resulting in prices well below steak-and-seafood houses and other upscale concepts—and a competitive edge.
The affordable price point allows guests of all kinds to visit often, while low operating costs and ease of highly refined operations keep Franchise Owners resiliently thriving. Over the past year, the brand rolled out an enhanced menu, added third-party delivery and carryout with new packaging, and upgraded training systemwide.
"You've always got to keep your brand fresh, even when you're a young brand," says Andrew Diamond, Angry Crab Shack President. "Our vision statement is, 'Never be satisfied with what's already been achieved.' So, we're always looking to innovate, improve and get better."
With average store sales volume topping $3.77 million per year* and demonstrated profitability, Angry Crab Shack aims to maximize its success by partnering with experience. The brand is looking to expand with multi-unit operators seeking to diversify or flip their current restaurants as part of a second-generation build-out strategy that minimizes the initial cost of entry and monthly overhead. With the Angry Crab Shack adaptable interior design, Franchise Owners can take any space and any restaurant that meets the square footage requirements and transform it into the unique and fun concept that the community comes to know and love.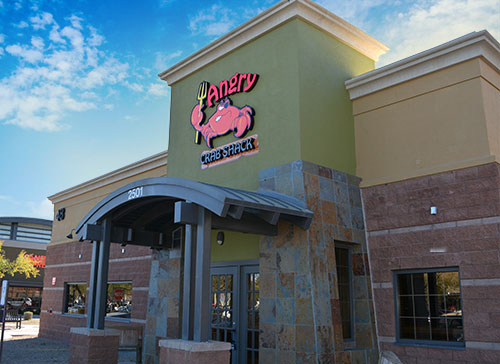 With a median initial investment of $471,000*** and impressive sales, the brand is an attractive investment opportunity for experienced restaurateurs who are passionate about food and looking to expand their restaurant footprint in their home market.
"Typically, Franchise Owners are forced to pick simple operations or high ROI, but Angry Crab has developed a model that allows you to have both," says Ron Lou, Founder and CEO of Angry Crab Shack.
As COVID-19-related restrictions continue to ease, Angry Crab Shack eagerly greets diners that are ready to make the most of the chain's vibrant, memorable dining environment.
Ready to add a unique concept like Angry Crab Shack to your portfolio and expand your restaurant footprint right in your home market? Explore your opportunities to grow with a unique restaurant franchise focused on delivering an exciting experience for its guests and the success of its Franchise Owners. For more information, visit angrycrabfranchise.com.
*This figure represents the net sales achieved for calendar year 2019 at five (5) affiliate-owned restaurants and two (2) franchised restaurants in the State of Arizona. *** This figure represents the Median Initial Investment to open the five (5) affiliate-owned restaurants and two (2) franchised restaurants in the State of Arizona referenced above and includes the Initial Franchise Fee, actual security deposits, leasehold improvements to building, permits and licenses, construction costs, POS and back office computer, audio/visual expenses, fixtures, equipment, opening inventory (food, liquor, restaurant supplies), signage, miscellaneous opening expenses, grand opening expenses, professional fees, uniforms and 3 months additional funds incurred in opening that restaurant at the time it was opened. Each of the included restaurants were open for all of calendar year 2019. This information appears in Item 19 of our Franchise Disclosure Document (FDD). You should review our FDD for details about these results. Your results may differ. There is no assurance that you will do as well.
Published: May 27th, 2021
Share this Feature
Comments:
comments powered by

Disqus