Bruster's Real Ice Cream Franchisee Uses Passion To Create Success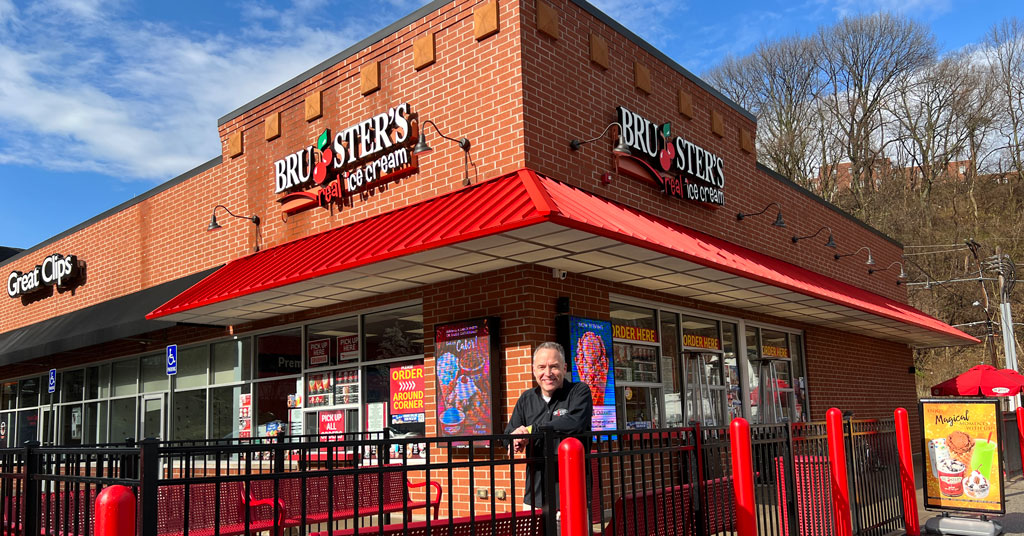 Chad McWreath said he looked at "many, many brands" when he was exploring franchise opportunities. "They were all wrong for me until I found Bruster's Real Ice Cream," said the 50-year-old Pittsburgh native. He's had his first store, in the Squirrel Hill community of downtown Pittsburgh, open for about a year now and said his earnings in that first year were more than double what he expected. But he said there's much more to the ROI with Bruster's than just dollars.
"You have to invest in something that you are passionate about or it's just not going to work," he said of becoming a Bruster's franchisee. "You have to be emotionally invested in it." McWreath believes that a Bruster's Real Ice Cream franchisee is in the business of making people happy. "Ice cream makes people happy!"
Pittsburgh-based Bruster's Real Ice Cream is widely known as the home of 150 flavors of premium ice cream, yogurt, Italian ice, and sorbet that's hand-crafted in each shop daily. You'll find at least two dozen flavors freshly made in each of the brand's more than 200 franchise locations every day.
There's proof in the pudding (or ice cream) and there's proof in the numbers. In 2021, Bruster's Real Ice Cream saw a 17% increase in its same store sales. The brand has seen a cumulative 66% increase in same store sales over the past 8 years.
McWreath, who's background includes corporate training, serving in the Army, and acting, grew up in Pittsburgh and loved the idea of franchising with his hometown brand. "The first time I had Bruster's Banana Chocolate Chip ice cream I fell in love with the place," he said.
Bruster's offers franchisees a proven concept and a corporate team that is just as passionate about the brand as its franchisees and customers. Franchisees all receive corporate support in areas such as site selection, training, marketing, and more. McWreath said the corporate team is readily available and responsive to what franchisees have to say. But there's even more, according to McWreath.
"The close-knit community of franchisees within our brand is amazing," he said. "We support one another and share best practices with each other."
McWreath believes to be successful as a Bruster's Real Ice Cream franchisee you need to follow one simple formula. "Find the right location, which the brand is great at helping you do, bring your own passion and invest in making your location work, and the result will be a thriving business."
With his first location successfully open and operating, McWreath is now preparing to launch his second location in the Pittsburgh area.
"I hoped this would be a good investment and it has blown me away," said McWreath. "I love what I do and it makes people happy!"
Now is the perfect time to find out more about Bruster's Real ice Cream, a proven concept with strong unit economics and an eye on growth. Find out more about the brand's opportunities and available territories by calling (724) 312-8739 or visit www.brustersfranchise.com for more information.
SPONSORED BY:
Bruster's Real Ice Cream
If you are looking for a business that is meaningful and fulfilling, you should take a closer look at Bruster's® Real Ice Cream Franchise! Learn More
Published: April 14th, 2022
Share this Feature
Comments:
comments powered by

Disqus