Women in Franchising Find Success with Minuteman Press
Minuteman Press International, the world's largest and top-rated marketing and printing franchise, also leads the way for women in business.
As more women look to the personal and professional opportunities of business ownership, they are finding a franchise home in Minuteman Press, named one of the Top 50 Franchises for Women in 2018 by Franchise Business Review.
Just ask any franchise partner in Rhode Island, where across the New England state every Minuteman Press is a strong woman-owned business making a difference for their clients and communities.
When franchisees Karen Fraielli and Valerie Chanoux teamed up to open their first franchise location two decades ago in Warwick, Rhode Island, they brought a wealth of experience to the brand. Before Minuteman Press, Karen was a CPA for a public accounting firm, and Valerie worked as an operations manager for UPS and Airborne Express.
"We knew that we wanted a business with longevity, to work on a business-to-business level with skilled, trained employees," says Valerie. "We didn't want to be in the food service industry or retail business with high employee turnover. Also, the potential customer base was vast, in that every business needs some type of printing done."
After a successful start, the duo bought a second location in Providence in 2002 and never looked back. They credit the brand's world-class training and unparalleled ongoing local support for their continued success.
"Minuteman Press is always there when we need them," adds Valerie. "Twenty years ago, the support was more technical in nature, and now the amount of support they provide in the research of industry trends, equipment, and outside vendors has been a great help in getting us to where we are today."
Franchise owner Jeanne Salisbury was no stranger to the industry when she joined the Minuteman Press family in 2006 with a store in Pawtucket, Rhode Island. She had previously garnered valuable know-how during several stints with a printing company before she had kids, and later when her children were in school. Jeanne continues to grow with the brand. In 2018, she more than doubled her original store's size with the purchase of a new building.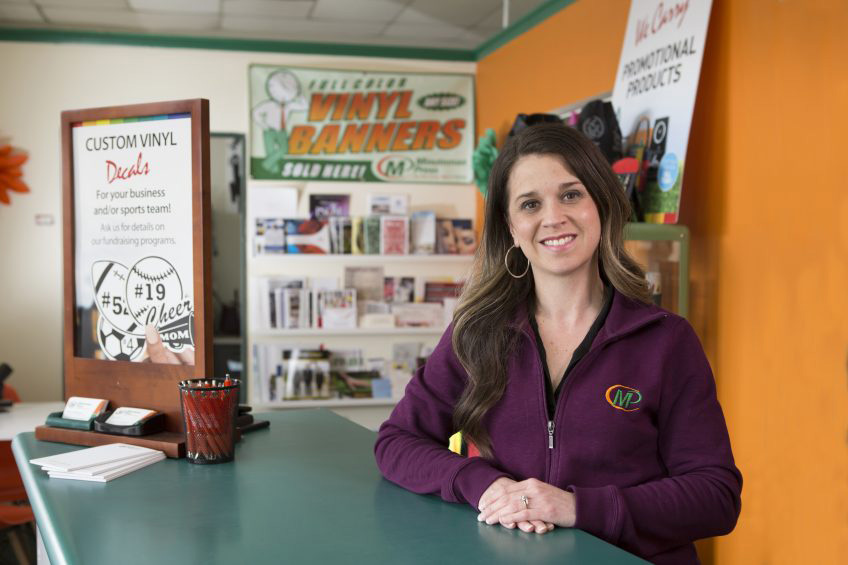 "There aren't a lot of people who can say they love their jobs," says Jeanne, whose son Jeremy is now on board with the business. "My saying is: 'It's never boring in the print industry.' Printing is always evolving and leading us to offer new products and services to help our clients and get the job done, and I love that."
Minuteman Press's proven business model also provides a successful path for those without industry experience. Middletown, Rhode Island franchisee Helen Andromalos spent years as a specialist in nuclear cardiology in a hospital when she was laid off from unforeseen circumstances related to a worldwide radioactive material shortage.
After a working world where she never imagined the possibility of job loss, Helen found a new calling in 2011 as an entrepreneur.
"I researched franchises, and some needed me to own several locations before making any money, and some had royalty fees that were absurd," she remembers. "About a year later, I came across Minuteman Press International, and what they offered seemed too good to be true, so I continued my research. I called around the country and talked to many different franchisees, and I asked them if the good things I learned about the company were true, and that was very helpful. Every single one said 'Yes' and that they would buy their Minuteman Press franchise again."
These days the franchise owner is the premier marketing service provider in town.
"My medical background helps my customer service because when someone is sick, you do not turn them away or tell them to come back at another time," Helen says. "I simply say, 'Yes, we can help you.' It is what I have always done, and it is what we do here at Minuteman Press."
For dedicated franchisee Kimberly Sherman-Leon, who is also a wife and mother of three, owning the Minuteman Press franchise in Johnston, Rhode Island, where she previously worked, means she can continue to make a difference as both a community and industry advocate. She offers these words of advice for others thinking about becoming an entrepreneur or owning a Minuteman Press franchise:
"Stick with it, don't give up, it all takes time! Breathe, take one thing at a time, and it will all come together. Keep going, keep building, always look forward and upward!"
Visit minutemanpressfranchise.com to discover your franchise opportunities.
SPONSORED BY:
Minuteman Press Int'l.
Minuteman Press is the world's largest & number 1 rated printing & marketing franchise. Our business model features multiple revenue streams, a high repeat business factor, normal hours of operation, a royalty cap and much more! Learn More
Published: July 12th, 2019
Share this Feature
Comments:
comments powered by

Disqus