11 Brands!: Orchestrating The Dwyer Group's Marketing Charge
Pam Harper says she learned at an early age the commitment and tenacity it takes to run a small business. She drew inspiration and strength from observing her own parents toil to make their businesses succeed. Empathizing with small business owners is something she believes makes her successful in her role as vice president of marketing for The Dwyer Group.
Harper began her marketing career with Sysco in Wisconsin. She moved on to become the director of marketing for a dry cleaning franchise, worked in special events management and fundraising for the National Multiple Sclerosis Society, and spent a year in healthcare marketing before joining the home services industry in various marketing capacities.
In her current role, she says, "I have the opportunity to guide an in-house team of nearly 50 marketing, communications, and creative professionals responsible for growing all of The Dwyer Group's brands: 11 franchised and one corporate-owned."
Harper, who joined The Dwyer Group in October 2012, says that in the months following her hire, Mike Bidwell, the company's CEO, confessed to her that he questioned whether her resume was truly accurate or simply drafted to closely match the demands of the position. "Many times since then he has told the story and acknowledged that 'Yes, Pam really does have the extensive marketing experience noted on her resume,'" she says. This broad experience, specifically within the home services industry, has equipped her with the knowledge and leadership skills necessary to guide the consistent growth of all the company's brands.
Describe your role as vice president of marketing.
The role involves so much more than growth goals and tactical execution for 11 franchise brands. As a leader, you have to be a lot like an orchestra conductor. Each person has their role and is an expert in that role. It's my job to ensure that each musician is not only great at what they do, but that they are harmonizing with the other team members. Every key played or note struck must be a benefit to all the other instruments or we are all out of sync. We are nowhere near the perfect symphony, but continuous practice and learning from our missteps is bringing us closer every day.
What's unique about the position at The Dwyer Group?
Providing marketing leadership for 11 service brands that are similar in that they all serve residential and light commercial customers, yet are uniquely different in that they all have different brand leadership and, consequently, different brand personalities. I also have our overall Dwyer brand to manage, which is very important as we continue to grow our brands through franchise development. In addition, ownership by private equity partners brings an added layer of complexity and accountability. On top of the responsibilities that come with marketing for multiple successful service brands, the past 18 months included not only preparing for a PE sale/acquisition, but also prepping for the anticipated rapid growth expected by investors. For us, part of that growth is through acquisitions. Since Q4 of 2014, Dwyer has reacquired Rainbow International in Germany, Five Star Painting, Grounds Guys Canada, and Service Brands International, which included Molly Maid, Mr. Handyman, and ProTect Painters. As we navigate through the acquisitions there is much due diligence and subsequent team integration to execute, all the while keeping 7, then 8, then 11 brand marketing balls in the air!
What's the most challenging part of being a VP of marketing today?
Speed of change that has come through technology! There are so many options coming at us every day: various marketing automation platforms, each offering subtle differences; automated review generation and response monitoring platforms; and online marketing agencies touting all of the greatest technology and support, just to name a few! It is difficult to not be distracted by "shiny squirrels" for fear of missing out on that "newest thing" that will catapult one or more of our brands to new heights. Because of this technological revolution, there is also an enormous influx of data we now have access to that could lead us down millions of rabbit holes. We have to be diligent in choosing the right data to scrutinize or we can get lost in analyzing for analyzing's sake. Of course, the benefit of having this unparalleled access to customer data is that it gives us a holistic, 360-degree understanding of our customer on levels we never would have even dreamed of diving into in the not-so-distant past.
What are the 3 most important keys to being an effective marketing leader today?
1) Staying agile.2) Taking risks, a necessity in today's world of rapid change because of technology advancements. 3) Talent acquisition and retention—while traditional marketing skill sets are needed, specialists with additional skill sets are a necessity as well, and many of those skills are relatively new and therefore difficult to find.
How do you prepare a marketing plan and execute the strategies?
Marketing plan development for a single brand is managed by the brand managers. They work with the operations team as well as the brand advisory council to solidify the plan the ad fund dollars will support. The brand manager is also responsible for overall execution of the plan, including tracking and reporting results, which prompts responsive changes to the marketing plan throughout the year. In addition, we have a team of local marketing managers who influence the overall local spend, which is much greater than the ad fund budget. While the brand managers create strategic plans to implement system-wide, franchise owners are not required to implement the plans on a local level. This is where our local marketing managers serve to educate franchisees on the benefits and importance of using the corporate campaigns, which are thoroughly researched and anchored by deep data analytics.
How do you measure marketing results and effectiveness?
Depending upon the brand, we have various KPIs that include organic traffic and conversion metrics for our websites; call-to-appointment conversions; quality leads generated; and, of course, overall revenue increases.
Discuss your core consumer marketing strategies and objectives.
Our core marketing strategies evolve around digital, as nearly 75 percent of our leads come directly to us through our digital presence. Our objectives vary from brand to brand, but often include improving on the KPIs mentioned above.
How do you go about creating a "customer-centric" marketing and brand philosophy for 11 brands at once?
We have done a lot of research into who our core customer is, what their lifetime value is, and how we can tailor our marketing to those segments that bubble to the top as "high value." Because of the nature of our business, we have to ensure that every experience with our brands revolves around providing the customer with an outstanding, value-added experience. Everything—from our websites and advertisements to our home visits—is designed to offer our customers a beneficial experience on every level, building a reciprocal relationship between the customer and the brand.
Describe your marketing team and the role each plays.
We have nearly 50 full-time in-house professionals broken into the following areas and teams. 1) Brand Management and Support, which works closely with their individual brand operations teams. The brand managers provide strategy and growth direction while the local managers provide consultation and local marketing plan support. 2) Communications, Public Relations, and Social Media, which produces all internal communication with our franchisees and consults with the brand team or franchisee on public relations initiatives. The in-house team is supported by three outside agency partners. 3) Creative Services, which includes a team of in-house graphic designers as well as video production specialists. All collateral for our brands is produced in-house (franchisee-facing as well as consumer-facing). Our video team produces top-quality video used online, as well as TV commercials. In addition, they provide a wide variety of franchisee testimonial videos used by our franchise development team with prospects. 4) Franchise Development Marketing, which is responsible for all marketing needs supporting our franchise development efforts including online, outbound telemarketing, traditional, and trade shows. 5) Marketing Operations, which encompasses management of programs that cross more than one brand such as our NPS program and oversight of call center partnerships. They are also responsible for our cross-brand marketing initiatives between the Dwyer brands. They analyze data and report on current customer as well as emerging customer insights. We are at the tail end of building out a comprehensive data warehouse that will revolutionize the way we cross-brand to our existing and future consumers. This warehouse contains in-depth consumer data gathered from more than 2,500 franchisees worldwide. This will be a game changer for our brands. Finally, this group keeps on top of all the latest disruptive technologies that are surfacing—some of which are changing the way consumers purchase services. 6) Marketing Administration, which is responsible for overall administration, including department budget oversight and management as well as advertising fund accounting and management.
When it comes to helping the brand connect with franchise prospects, why is it so important for the marketing department to have a "personal touch"?
We don't "think" about ways to provide a personal touch, we just inherently do it. It's ingrained in our culture and our Code of Values. We aren't looking to sell a territory, but to create a vibrant long-term relationship built on trust and commitment. That relationship starts and continues on a personal level.
How does this help your franchise sales and development effort?
It has helped us become one of the world's leading franchisors. Our prospective franchise buyers come to know us at a personal level. They experience our culture, our Code of Values, our organization, and the people who will be supporting them.
What ways/tools do you rely on to do this?
From the use of our CRM tool to engage and educate the prospective buyer during the early stages of the sales cycle, to the personal touches provided by the development team and executive team during orientation and training.
Do today's prospects expect more from the franchise marketing department? What, and how do you provide it?
Yes, and they should, as we are looking for partners with a desire to grow. A "one-size-fits-all" approach doesn't work. As their business grows, owners expect marketing to continue providing programs that fit their size and needs. A new owner may be more focused on low-cost/no-cost tactics because of monetary constraints, while a $10 million owner requires an altogether different approach. Our franchise partners do not have to worry about becoming experts on the digital front. Marketing provides complete solutions that are fully researched and vetted for effectiveness.
How is technology changing the way franchise marketing is done in terms of one-on-one contact?
We leverage various digital and automated communication tools (email, SMS, ringless voicemail) to keep our franchise partners informed. We recently launched a new training and educational portal that delivers a variety of content designed to help our partners grow their business.
How are you assisting your franchisees with more contact and transparency? What are their immediate needs?
Creating easy access to our local marketing support team has been a focus of the team. We work closely with the franchise consultant team to ensure they keep us apprised of franchise partners who could benefit most from a proactive personal touch from marketing. As noted above, we launched a new franchise marketing support portal that offers our franchisees 24/7 access to the most requested pieces of information or marketing support. This is a place they can get marketing collateral as well as learn about the latest programs available for them to execute locally—including a step-by-step guidebook on how to execute each tactic. And of course they can get great answers to the frequently asked questions relating to the digital marketing landscape.
How do you work with other internal departments. Does technology help?
At Dwyer headquarters in Waco, the marketing department is located off campus. The brand-specific marketing folks typically spend several hours a week on campus meeting with their operations teams as needed. The addition of our office in Ann Arbor has created new opportunities to use Skype and other online meeting resources. We find it is important to not only hear, but also to see our peers when meeting, and various technologies make that easy to accomplish.
How do you manage costs and budgets for the marketing department?
In 2012 we made the decision to pull the marketing support teams out of the individual brands and into one team. At that time, we assigned a single full-time marketing team member to be responsible for monitoring and reviewing the general ledger detail for each budget to ensure accuracy and remove that responsibility from the brand managers. The end result was a win for everyone as brand managers could keep their focus on driving more leads. With single oversight, many inefficiencies and inconsistences were uncovered, which ultimately saved ad fund dollars that could be reallocated to additional programs.
Do you see vendors as business partners? Why/why not?
Our guiding principles have evolved in recent years, and the pendulum is swinging back toward a healthy mix of external partners and an in-house team. With marketing being so technology-heavy, we know that we need external partners to assist us with our digital presence—they can easily stay abreast of the latest changes and help us stay ahead of the curve. From a marketing perspective, we are diligent about partnering with agencies that truly understand franchising and the importance of not only supporting us internally, but also supporting our franchisees directly. We live by our Code of Values, two of which relate to customer focus: 1) continuously striving to maximize internal and external customer loyalty, and 2) making our best effort to understand and appreciate the customers' needs in every situation.
How have marketing strategies and tools changed over the past decade?
How have you adapted? Marketing has gotten extremely complex over the past 10 years. Effectively marketing home services used to be as simple as placing a great Yellow Pages print ad, executing targeted direct mail for acquisition, and sending thank-you notes following service to aid in retention. While this may sound oversimplified, it really didn't require much more to keep a service schedule full. Today, the majority of consumers purchase these services by turning to their desktop, tablet, or mobile device. While brand recognition is important, of equal performance is ensuring that our brands "present themselves" with relevant information and provide easy scheduling options when a consumer has a need for one of our services. Our marketing professionals must be digitally savvy and stay on top of the latest trends. They must monitor analytics from a variety of sources daily to ensure the greatest return on investment. We are diligently working toward making this complex marketing landscape simple for our franchisees to understand and manage, thus providing the greatest opportunity for their success.
What advice would you offer to aspiring marketing executives?
Be agile, take risks, don't be distracted by technology's "shiny squirrels." Align with strong partners who will keep you apprised of what lies ahead in the digital landscape. How we make buying decisions is rapidly evolving: Don't get stuck in the past—simply learn from it.
Published: December 16th, 2015
Share this Feature
Recommended Reading:
Comments:
comments powered by

Disqus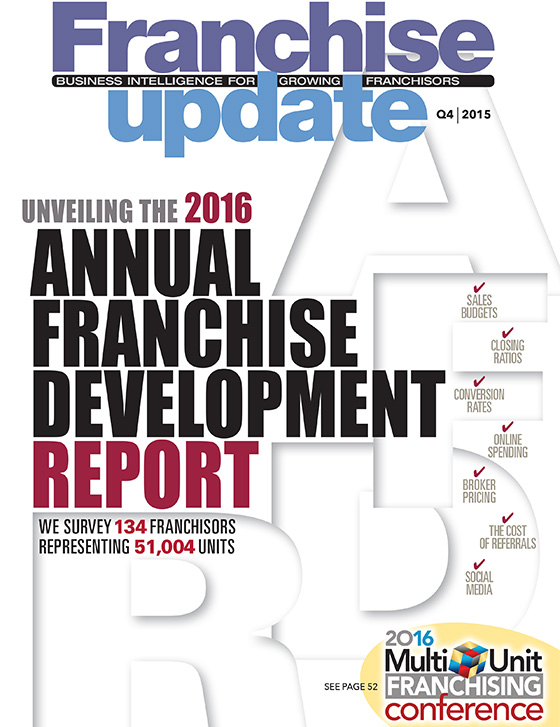 Franchise Update Magazine: Issue 4, 2015
UMI has over 23 years of experience supporting fast-growing multi-unit brands. From strategic planning to design, execution to analysis, UMI...
BoeFly drives growth by delivering financially qualified candidates increasing lead-to-franchisee conversion, and helping franchisees secure...