1st Annual Franchise Innovation Awards: The Best of the Best from more than 90 Entries
Innovation and technology are changing our world more rapidly than ever before. Many of today's top companies and organizations are looking for ways to leverage innovation and technology--not only to ensure that they survive, but to help them grow in an increasingly competitive marketplace.
With so many kinds of innovation happening in the franchise space, we introduced our first-ever Franchise Innovation Awards earlier this year and received nearly 100 entries.
The goal of the awards is to identify and recognize the franchise brands that are creating and implementing the most original and successful innovation strategies and tactics in four categories: Marketing & Branding, Operations, Products & Services, and Human Resources. (See below for details.)
A panel of 9 judges evaluated all entries, looking for each one's objective, a problem they were seeking to solve, or improvements they hoped to achieve through innovation in 2018. The winners are profiled in the following pages, along with a listing of runners-up in each of the 17 categories that produced winning entries.
The seven winners in the Marketing & Branding category will be celebrated at Franchise Update's annual Franchise Marketing Leadership Conference in Atlanta this June 18-20. An overall winner in this category will be revealed during a special awards dinner on June 19. The four finalists for the Franchise Marketing Leadership Award are Camp Bow Wow, Edible Arrangements, European Wax Center, and IHOP. Each finalist will be invited to share their innovation success stories at the conference.
The 4 categories
Innovation occurs in many ways, from implementing a new technology to developing a new process to hire and retain the best employees. As noted above, we chose four categories, with each containing subcategories. Entrants were encouraged to share financial and other confidential data to the judges, with the understanding that those details would not be disclosed publicly.
Marketing & Branding: How brands are finding innovative ways to grow consumer awareness, engagement, and loyalty; everything from traditional advertising and PR campaigns to social media, rewards programs, new product launches, and local store marketing.
Operations: Systems and processes, along with replicability and scalability, are essential for franchising success. Judges reviewed the most forward-thinking operations teams and how they are working to improve and streamline their brands' processes and practices through innovations in technology, tactics, support, etc.
Products & Services: To meet the changing needs of today's consumers franchise systems must evolve along with them--not only in what customers want in products and services, but also in how they want them. Technology plays a huge role here in how customers order, pay for, and receive a brand's products or services.
Human Resources: Growing a great brand requires the best people at every level. This category examined how brands are employing unique, innovative strategies and tactics to attract, hire, train, and retain the employees that best suit their vision and culture.
The judges for this year's awards were Darrell Johnson, CEO of FRANdata; Jon Chang, IBM Watson Global Product Marketer & NYU Adjunct Faculty of Social Media and Web Analytics; J.B. Bernstein, CEO of AviSight; Michelle Rowan, President of Franchise Business Review; Theresa Huszka, Senior Consultant at MSA Worldwide; and from Franchise Update Media, CEO and Co-Founder Therese Thilgen, Chief Content Officer Diane Phibbs, Managing Editor Eddy Goldberg, and Executive Editor Kerry Pipes.
Visit franchising.com for more details on the 2018 awards and subcategories--and to start your planning for next year's contest.
Category: Marketing & Branding
Best Big Budget Campaign
Winner: IHOP
Objective: To steal share from the competition and increase guest frequency by reframing IHOP as an option for multiple mealtimes. Burgers presented the greatest opportunity.
Overview: IHOP flipped the "P" in IHOP into a "b" to create IHOb. The campaign was unveiled in a phased rollout targeting owned, earned, and paid media channels. For onee week, a nation of guests, influencers, celebrity fans, and media guessed, "What's the b in IHOb?"
PR drove the narrative with executive interviews and culinary previews for target media and influencers, including a national TV interview, strategically placed print, and social media initiatives. A second wave of media relations included an exclusive burger tasting event preview for food-focused media and influencers with the IHOP Culinary team in NYC, embargoing the news until launch. In Hollywood, a grand "re-obening" event at the first fully "burgerfied" IHOb restaurant featured a "VIb" launch event.
With more than 100 coordinated tastings and media drops, PR sustained the momentum well beyond the launch to make IHOb an ongoing consideration.
Results: The campaign created more than 28,000 media stories, $113+ million in earned-media value (an 11x ROI), and more than 42.5 billion earned impressions. Every major news, entertainment, lifestyle outlet, and TV personality covered the campaign. IHOb generated 1.2 million tweets in the first 10 days, including unpaid celebrity engagement, and was simultaneously the #1, #2 and #4 Trending Topic on Twitter.
The campaign created a 2x increase in word-of-mouth, and increased brand awareness from 25% to 45% (as tracked by YouGov's BrandIndex). Guest perception of IHOP "having great burgers" increased from 41% to 51%, catapulting the brand from last place to second place among competitors.
On reveal, IHOP lunch and dinner sales increased 15% and 28%, respectively. Burger sales quadrupled YOY during the first month after the campaign launch, selling 500,000 burgers per week, and sustained 2x lunch and dinner sales through year-end.
Runner-Up: Gold's Gym
Best Limited Budget Campaign (Under $1 Million)
Winner: Edible Arrangements
Objective: To determine if advertising on connected TV (CTV) was a more effective medium than traditional (linear) television in reaching target audiences.
Overview: A 2018 study from eMarketer noted that "cord-cutters in the U.S. (consumers who have canceled traditional pay TV service and do not resubscribe) will climb 32.8%, to 33 million adults." As this trend continues to grow, it is increasingly important for franchise brands (particularly those that have traditionally invested significant advertising dollars in linear television campaigns) to develop digital TV campaigns that reach their target audiences in order to maintain and grow their market share.
Before this campaign, Edible had never invested in digital television advertising. The company developed a connected TV campaign that would run in parallel with their existing linear TV ad campaigns in an effort to discover if connected TV would be more efficient in reaching their desired target audiences and would drive more consumer purchases than linear TV. The campaign chose three U.S. markets (West Palm Beach, Syracuse, and El Paso) because no other media was running in-market. This provided more control of the test environment based on consumers' potential exposure to the Edible Arrangements brand and/or business locations. The KPIs tracked included total sales volume, cost-per-acquisition, and total revenue generated.
Results: Using programmatic CTV media buys, Edible Arrangements was able to drive significant increases in total sales and total revenue--while spending nearly 76% less in advertising dollars than it would have on traditional TV. The campaign on CTV helped reach 29% incremental unique households, and drove 7 times more conversions at a cost-per-acquisition that was 29 times lower than traditional TV. In addition, customers who engaged through the CTV advertising purchased both higher quantities of items and higher-priced items.
Runner-Up: Nothing Bundt Cakes
Cause Marketing Champion
Winner: European Wax Center
Objective: European Wax Center's (EWC) #axthepinktax campaign focused on raising mass awareness about how women are charged more than men for comparable products and services (the "pink tax"); and on inspiring women to make more empowered purchasing decisions and advocate for equal prices for equal products.
Overview: A study in NYC found that women lose $1,351 every year to the pink tax; on average, pay extra 42% of the time; that products for women or girls cost 7% more than comparable products for men and boys; and that women lose an estimated $40,000 to the pink tax by age 30.
A fully integrated, 360-degree program engaged women through messaging and imagery across paid media and EWC-owned channels that included a media partnership with Refinery29 to host a livestreamed "Ax the Pink Tax" panel; and a partnership with Cosmopolitan.com to create co-branded online video content.
Social media was used to highlight educational facts. EWC's AxThePinkTax.com website housed comedic videos and educational materials directing women to the nearest EWC to receive free pink brows to post to social channels.
The campaign included fully aligned, in-center programming offering guests a 13.51% discount on one service or product. EWC partnered with Girls in Tech, Beauty Changes Lives, and The Fashion Institute of Technology to provide educational and entrepreneurism support for women through scholarships. Programming continued through 2018 and extended into 2019 with new partners, platforms, and a new campaign.
Results: In April 2018, EWC's total network adjusted sales rose 17%; ticket count rose 6%; new guest count rose 5%; and package sales rose 51%. In May, the brand had its highest adjusted sales growth ever (33%), which continued through 2018.
EWC delivered almost 650,000 impressions through paid media and PR efforts in April; drove three times more Google search activity for the words "pink tax"; and saw $1,351 become a rallying cry. Online engagement was noteworthy not only for amount, but also for intensity and length of engagement. The campaign won a Clio Award for Mass Integrated Campaign in 2018, and in 2019 received a Shorty Award.
Runner-Up: Black Bear Diner
Local Marketing Leadership
Winner: Handyman Connection
Objective: To help franchisees retain and hire quality craftsmen to fulfill the brand promise to customers. The goal was to allocate more resources to this crucial aspect of the business, allowing franchisees to focus on the execution and completion of jobs while building a sustainable business.
Overview: One of the marketing team's greatest challenges was not generating leads, but having enough craftsmen to execute them. The company created a series of videos focused on the benefits of working with Handyman Connection, featuring a wide range of craftsmen working for local offices. The videos are featured on local websites, on Handyman's craftsman recruiting page, and rotated in recruiting ads on various platforms. A wide range of supporting marketing material helps with this strategy.
The company implemented an NPS program for craftsman to learn how satisfied they were working with their local office. This provided insights previously gained only in post-exit surveys and allowed the brand to identify and correct potential issues.
When combined, these resources allowed Handyman to attract and retain the right candidates to help fulfill its brand promise. Long term, this will allow franchisees to service more customers and help build and maintain customers for life.
Results: The win comes in easing some of the challenges owners face when it comes to the struggles of hiring and retaining craftsmen. Offices are seeing more qualified craftsman applicants, more applicant leads, more recruiting sessions, more onboarding sessions, and more craftsmen starting, an 18% increase measured quarter over quarter system-wide. Conversion percentage on applications to candidates has also risen to an all-time high of 49%, well above industry averages.
The NPS program has a 72% open rate; a 27% response rate (up 3%); and 46% are leaving feedback along with their rating (to boost this, the brand is making this a mandatory field).
Runner-Up: Peace, Love and Little Donuts
Best Social Media Campaign
Winner: Camp Bow Wow
Objective: To increase brand awareness among dog owners on the benefits of doggy day care.
Overview:
Camp Bow Wow sought to engage dog lovers across the country by celebrating how they go above and beyond for their pets, while also raising awareness of doggy day care as an important element of responsible pet ownership. The campaign employed an integrated, multi-channel campaign that included national advertising and PR, regional events, local advertising in event cities, a dedicated microsite, Instagram influencer campaigns, and signage at 160-plus locations.
Four kick-off events in city parks across the U.S. featured a large, custom-built tennis ball dispenser/photo booth. After each photo of a dog and "parent," a ball was dispensed and Camp Bow Wow donated $5 to a shelter of their choice. One lucky golden ball offered a year of doggy day care and boarding. The events also included local shelters and rescues with adoptable dogs, food trucks, doggy caricature artists, and pet-related vendors.
A follow-up national social media contest encouraged pet parents to share photos and videos on Facebook, Instagram, and Twitter to prove how they #GiveAFetch. One participant won a free year of doggy day care and boarding.
Results:
The brand as a whole and local franchises saw a lift in awareness, share of voice, and engagement.
PR and earned media: 192 million media impressions from 94 placements, including national coverage on "Fox & Friends Weekend"; impressions for the single campaign accounted for a quarter of all earned media impressions in 2018; established 79% share of voice (measured by media coverage and ads) vs. the largest franchise competitor
Digital awareness: 3.3 million Facebook ad impressions; 11,300 unique users on giveafetch.com; 6,300 #GiveAFetch entries on Facebook, Instagram, and Twitter; 40% engagement on corporate social media posts; and 13% growth in corporate Instagram followers
Additional Results:: $40,000 donated to more than 20 local dog rescues and shelters; 44 dogs adopted; 2 free years of doggy day care and boarding awarded
Runner-Up: St. Louis Blues
Best Digital Campaign
Winner: Goldfish Swim School
Objective: To educate the public, build brand awareness, and capture and convert leads through a re-launch of the corporate and franchisee websites.
Overview: To achieve this, Goldfish partnered with Scorpion. Design and functionality were determined through research, evaluation, restructuring, implementation, and competitive analysis. The new sites were built with the customer journey in mind. The aim was to appeal to the emotions of a prospect who landed on the site.
Trust was built using pictures of staff, unique identifiers that set the brand apart from its competition, etc. As the prospect continued to scroll, credibility would be established through informative content and the logos of partners. Cost information was included near the middle/bottom of the site. To maximize conversions, a short form was prominent on new school sites, whereas a longer form was placed prominently on existing school sites.
Once the new sites were up and running, Goldfish deployed on-site, technical SEO, on-page call-to-action and content optimization, competitive geofencing and retargeting, PPC campaigns for each location on Google, Bing, and Yahoo, along with locally targeted and demographically focused ads on Facebook, Instagram, YouTube, and more. This initiative gave Goldfish more available channels to advertise on than ever before and maximize brand impact in local markets across North America.
Results: From a visual, strategic, support, and diversification perspective, Goldfish drastically enhanced its digital marketing strategy to best support its network system-wide. The new digital marketing strategy produced a 30 percent increase in brand search over 12 months, strong engagement with Gmail and retargeting ads, an average organic ranking of 1.6 across the network, 195-plus leads on average per month, 40,000 total new clients, and a sub-$20 cost per acquisition.
Runner-Up: Mountain Mike's Pizza
Best PR Campaign
Winner: Labor Finders
Objective: To help furloughed federal government workers pay their bills during the U.S. government shutdown. To make ends meet, many sought temporary jobs.
Overview: Traditionally, the end of December is when people await the holiday season and all it brings: vacations, time with friends and family, presents, and holiday cheer. But for many federal workers there was little to celebrate on December 22, 2018 when the federal government shut down. The shutdown lasted 35 days, ending on January 25, 2019.
Nine executive departments with approximately 800,000 employees had to close down partially or completely, causing employees to be furloughed or required to work without pay. For scores of Americans this was devastating. Following a meeting between its CMO and PR manager, Labor Finders issued a press release informing the general public that the company would find jobs for the furloughed government employees for however long they needed. The press release, "Helping Government Workers Pay Their Bills," was distributed to media outlets that included business, general assignment, Hispanic, community, trade, human resources, family, and lifestyle publications, as well as to government newsletters and business bloggers.
Results: Within a few hours of release, the media was directly contacting branch offices (which they were not supposed to do) or reaching out to corporate (which they were) to arrange interviews with furloughed workers and local branch staff. This became a major news story appearing in thousands of publications worldwide and was picked up by numerous TV stations and networks. The press release and the many stories it spawned went viral immediately and lasted until the end of the shutdown. The resulting millions of global media impressions brought in an advertising cost equivalent (ACE) value of around $7 million.
Runner-Up: Mosquito Squad
Category: Operations
Most Innovative Building Design, Remodel, or Prototype
Winner (Tie): Dunkin' Brands, Schlotzsky's Austin Eatery
Dunkin' Brands
Objective: As Dunkin' Brands looks to grow as a beverage-led, on-the-go brand, the company wanted to introduce a new restaurant design that would cater to the on-the-go customer and align with the new branding that conveys Dunkin's focus on serving great coffee-- fast.
Overview: The Next Generation (NextGen) restaurant was created to optimize the guest experience from an expanded on-the-go mobile order pickup area to a more efficient labor deployment model behind the counter. The NextGen store debuted in early 2018 and featured a more modern design, state-of-the-art equipment, and an increased focus on technology. As part of the new design, Dunkin' would be the first QSR in the U.S. to feature a dedicated mobile order drive-thru lane. The brand is also committed to improving the Dunkin' app, which supports on-the-go mobile ordering.
Dunkin' worked closely with its franchisee community to create a positive, energetic atmosphere for guests that remains true to the brand's heritage, while emphasizing and enhancing the convenience, digital innovation, and restaurant excellence that distinguishes the brand. Each NextGen restaurant features the brand's new logo, which embraces Dunkin's heritage by retaining its familiar pink and orange colors and iconic font, introduced in 1973.
Results: Dunkin' opened 130 new and remodeled NextGen restaurants across the country, more than double the initial target of 50 for 2018. The company also revealed a new brand identity in 2018, officially changing its name to simply Dunkin'. The new logo will continue to be featured on exterior and interior signage on all new and remodeled stores in the U.S. and, eventually, internationally. By simplifying and modernizing the brand name, while still paying homage to the company's heritage, Dunkin' sees an opportunity to create new energy for the brand, both inside and outside its restaurants.
Schlotzsky's Austin Eatery
Objective: In an effort to become more relevant and meet evolving consumer demands, Schlotzsky's changed its name to Schlotzsky's Austin Eatery.
Overview: Schlotzsky's Austin Eatery was developed to meet and exceed the expectations of today's consumers. Following extensive market research and consulting outside firms, Schlotzsky's determined that consumers are searching for quality, fresh food and a fun, unique dining experience. In late 2016, the brand created a new prototype, with a full system rollout to be completed in the summer of 2019. After thoroughly reviewing market research and consumer interests, Schlotzsky's sought to develop a new, purposeful design and brand with a shareable, unique dining experience evoked by Austin's spirit of originality. As Schlotzsky's Austin Eatery, the brand aims to become the largest restaurant chain to scale "fast-fine" dining--a blend of fast casual and fine dining. The challenge, however, was to avoid customer confusion by not straying too far from the original brand.
By creating an atmosphere and design with comfortable seating, entertainment, music, and quality fresh food, Schlotzsky's Austin Eatery has carefully combined a series of elements to create a unique dining experience. For fast casual brands, the challenge is often rooted in finding a way to deliver a high-quality product quickly and in a unique environment. To meet that challenge, Schlotzsky's Austin Eatery looked into elements that would encourage faster and more convenient service, such as iPad kiosk ordering, drive-thru windows, and third-party delivery.
Results: By August 2019, all 400-plus Schlotzsky's restaurants will be converted into Schlotzsky's Austin Eatery. Since making the transition, the remodeled and rebranded restaurants are seeing higher-than-average checks, and evenings and weekends have seen also a sales increase.
Most Innovative Franchisee Support
Winner: College Hunks Hauling Junk & Moving
Objective: To get its franchise partners up and running, College Hunks Hauling Junk & Moving has a comprehensive and detailed initial training process. However, the brand wanted to do a better job of helping its franchise partners retain all the information and training they received for implementation in their locations and throughout all stages of their franchise ownership and growth. The brand looked to create a solution that would help guide its franchisees through all areas of operations.
Overview: The brand used surveys returned by its franchisees highlighting areas of concern and areas they thought needed improvement. This helped the brand build a dynamic and innovative operations team of multiple specialists it called business performance coaches. Located throughout the country, these business performance coaches have a wealth of knowledge in to offer franchisees on numerous topics. Specialty coaches also offer further support to franchisees in onboarding, ramp-up and opening, move training, and marketing.
Results: Since College Hunks added its business performance coaches across the system, the brand has seen new franchisees consistently breaking revenue records, with franchisees reaching $1 million more quickly than ever before. For example, the brand's location in Wilmington, N.C., has consistently increased revenue by an average 40% month over month, with a 45% month-over-month increase in March 2019, which breaks down to an increase of $50,564 in revenue. One marketing coach helped the Kalamazoo location optimize a pay-per-click campaign to yield a lower overall cost per lead, an increase in leads, and a higher overall conversion rate of the pay-per-click campaign from 22% to 41%. The marketing adjustments alone increased revenue by 8% without any additional budget added to the campaign.
Runner-Up: Captain D's
Most Innovative Use of Technology
TIE: Checkers & Rally's, Dream Vacations
Checkers & Rally's
Objective:While some of the biggest brands in QSR have committed to a single delivery service, Checkers & Rally's wanted to give its customers more ways to bring the brand's burgers, fries, and other food to their front doors by partnering with multiple delivery services. Checkers & Rally's also wanted to provide its franchisees with a fully integrated platform that would make it easy and profitable for them to fulfill those new delivery orders.
Overview: The new platform brings five national delivery services-- DoorDash, Uber Eats, Postmates, Grubhub, and Amazon Restaurants--together under a single, seamless POS system. The integrated technology allows guests to order from their favorite delivery service, and gives franchisees and restaurant operators a profitable and operationally simple way to fulfill those orders. Unlike other delivery services, where restaurants must add a new order-receiving tablet for each third-party delivery provider they use, Checkers & Rally's has developed a unique process where orders from delivery services feed into a single POS system and directly into their kitchens. Moreover, the system doesn't require cashiers to re-key delivery orders into the register as most delivery systems do. Instead, delivery orders integrate directly into the POS system, right along with traditional drive-thru and walk-up orders, reducing labor, time, and user error.
Results: Checkers & Rally's has experienced a higher-than-average check from delivery (1.5 to 2 times higher), as well as more sales of higher-margin items. The company is also recording incremental sales in the 70% range from the channel. Right now, delivery accounts for about 4% of the business, a figure that continues to rise every year.
Dream Vacations
Objective: Dream Vacations wanted a more efficient and uniform way for franchisees to market to and communicate with existing and prospective clients about their upcoming trips, as well as capture their personal booking information.
Overview: The company developed the Groups Registration and Payment Tool, which simplifies the booking process and makes it easier to market to and communicate with groups, customize group websites and itineraries, and close more sales. Since its introduction, it has become a revenue-building tool that is part of the marketing suite provided to franchisees.
Results: The tool has created efficiencies in group administration and improved reporting practices. In the past year, usage has doubled, with more than 40% of franchise owners using it. Currently, there are more than 1,400 active group registration websites for future cruise sailings, and the tool accounts for a significant portion of system-wide sales. The tool also is used by the franchise sales team to attract and recruit new franchisees. Perhaps most important, because the group registration websites are synced with the company's proprietary cruise booking and CRM system, the tool allows corporate a real-time view as customers book into a group.
Category: Products & Services
Most Innovative Use of Technology: Services
Winner: Two Maids & A Mop
Objective: Two Maids & A Mop wanted to differentiate itself from inefficient mom-and-pop cleaning competition by streamlining and automating its operational services with innovative technology tools. The goal was to advance its business by empowering franchisees, employees, and customers through the introduction of tech-forward, game-changing operating software.
Overview: Two Maids & A Mop developed Gataware, a proprietary operating software that cohesively blends several aspects of the business with its website to offer one place for franchisees, customers, and employees to go for everything from booking and scheduling crews to collecting payments and ensuring quality control. The software powers convenient automation that turns customer leads and bookings into systematic functionality for each franchisee--beginning with locking in a customer through the completed service review process. The system implemented text alerts to make connecting with customers and receiving their feedback quicker and easier, while innovating a new way to ensure pricing is more accurate. The software team continually innovates with new advancements to the software--with both internal and franchisee collaboration--and can advance the technology whenever the need arises.
Results: Since implementing Gataware, Two Maids & A Mop has consistently driven improvements in revenue, customer satisfaction, customer acquisition, time management, and quality control. From Q1 2018 to Q1 2019, franchisees collectively increased systemwide revenue growth 51 percent, from about $3.6 million to $5.4 million. Today, franchisees are pumping more than 350 leads a day (5 to 10 for each individual franchise) into their business's CRM system, which also is integrated in the software. The brand has also seen an increase in its brand rating (9.2 on Google, Yelp, and Facebook) over the past year.
Runner-Up: Jersey Mike's Subs
Most Innovative Use of Technology: Products
Winner: Little Caesars Pizza
Objective: To the increase speed of service and payment from order placement to pickup.
Overview: Little Caesars, the country's largest carryout-only pizza chain, has taken another step in customer convenience with its "Reserve-n-Ready" pickup option. Here's how it works. 1) Using the Little Caesars app, a customer orders and pre-pays online. 2) When their order is ready the app notifies the customer. 3) At the store, they go directly to the Pizza Portal (a heated, self-service mobile order pickup station) where they input a 3-digit PIN or scan a QR code from their phone. 4) The door on the customer's secure compartment opens, and off they go to enjoy their meal. No line, no waiting.
Results: After almost a year of using the Pizza Portal, John Hotchkiss, a franchisee with 46 Little Caesars, is loving it. "Digital sales are responsible for 6 percent of our current company sales--up from zero," he says. "We love the increased ticket average and the speed with which our customers can obtain their order without ever having to go through the normal process of the quick service restaurant." So do customers. "They love the ability to walk in and go directly to the portal and be on their way without having to wait and pay a cashier," he says. "The feedback from our customers has been overwhelmingly positive. We will continue educating our customers so they understand and hopefully use the Pizza Portal to help us further expand our online business." He's also getting a boost from corporate, with the franchisor spreading the word about the new system. "TV and in-store advertising are helping to promote the Pizza Portal, and our management team was very excited to launch it and work diligently in promoting it to our customers."
Runner-Up: College Hunks Hauling Junk & Moving
Most Innovative Use of Customer-Facing Digital Tools
Winner: Pinch A Penny Pool Patio Spa
Objective: To help improve the overall customer experience, Pinch A Penny Pool Patio Spa wanted to create a more trusting and transparent relationship between customers and store owners and their staff. The goal was to bridge communication barriers by creating a mobile app where users could communicate with the brand and browse products on their mobile devices. The brand also wanted to stand out with a digital experience that was useful to its customers, and did so with features such as water testing and analysis.
Overview: Pinch A Penny's mobile app was developed to provide customers with more information at their fingertips and more streamlined communication with store owners and staff. The app works for service and retail customers and generates weekly, monthly, and quarterly reminders for general maintenance such as brushing, skimming, vacuuming, or cleaning the pool filter. Full water testing is also stored on the app. Customers can text a store from the app if they have an immediate issue, and also have the option to call or send an email. Each user can easily contact stores using the app's capabilities, helping to build a trusting and more transparent relationship.
Results: Pinch A Penny Pool Patio Spa successfully developed a user-friendly mobile app that bridged overall communication for users and store owners. Early Results: have shown consumers engaging with stores at a higher rate and increasing in-store transaction averages. Pinch A Penny has found that through increased communication and accessibility, its customer experience has improved and continues to have a positive impact on sales and store revenue.
Runner-Up: Epcon Communities
Most Innovative Service Introduction
Winner: Conserva Irrigation
Objective: About 1.5 billion gallons of water are wasted daily throughout the world on irrigation alone, making water the world's most limited, yet wasted resource. Russ Jundt, founder of Conserva Irrigation, wanted to develop a proprietary system to audit irrigation systems and rate water efficiency. This would allow home and business owners to better understand how much water their sprinkler systems were wasting and reduce water consumption and lower their water bills.
Overview: Conserva Irrigation developed the "System Efficiency Score," a proprietary process to audit irrigation systems. This system accurately rates the water efficiency of an existing system based on a numerical scale. The systematized approach allows home and business owners to thoroughly understand how much water their sprinkler systems are wasting, as well as what improvements to make in order to reduce water consumption and lower water bills. The leading-edge technology and advances applied through the company's services can reduce water use from irrigation by more than half.
Results: Conserva's proprietary process to audit irrigation systems, along with the technology provided by The Toro Company, has reduced water waste by up to 60 percent. Conserva also has partnered with Target to combat water waste at their retail locations nationwide. As a result of this joint effort, The Irrigation Association awarded Conserva and Target its 2018 Vanguard Award in the Landscape category, created to honor an innovative project in the irrigation industry. Since launching the sustainability project across more than 320 Target properties, Conserva's services have saved the retailer more than 36 million gallons of water.
Most Innovative Product Introduction
Winner: Topper's Craft Creamery
Objective: Topper's Craft Creamery wanted to increase sales inside its current store space, without increasing existing staff, with a minimal investment, and a high EBITDA.
Overview: The brand's proof of concept has been under way for more than 6 years since the first Topper's Express opened. To master the operations necessary for integration of a crafted soft-serve frozen custard with another brand, Topper's chose a slow and methodical approach, with more than 10 different integration pilot tests to observe performance under different conditions. A 2,000 sq. ft. space doing $1 million in annual sales translates to $500 per sq. ft. Topper's has cracked the code on how to add high EBITDA in only 10 square feet. With volumes of only $100 per day in ice cream, that would add $3,650 per square foot.
Topper's was engineered to be a complementary brand, a brand within a brand. It can lift a franchisee's bottom line by adding high-profit sales with minimal investment and minimal required sales. Topper's essentially created a new business model that makes it nearly impossible to lose money by providing an additional way for business operators to increase ticket averages, boost customer traffic for new products, and increase brand value by introducing an additional product. This approach can allow smaller brands to develop new points of distribution when combined with an appropriate branded partner. The theory is proven and the concept of co-branding works when it is simplified.
Results: One location added $42,700 in incremental sales within a coffee brand store in the first year. The EBITDA from that addition was 53%, approximately $22,700. Another location notched 61% EBITDA in the first 5 months.
Runner-Up: True Rest Float Spa
Category: Human Resources
Most Innovative Employee Retention
Winner: College Hunks Hauling Junk & Moving
Objective: To put more focus on the company's core values to improve the culture, as well as the people who consistently aided the brand's success and growth.
Overview: The COO of College Hunks determined that the brand's high turnover rate was not the lack of a good set of core values, but that hiring was not based on them. Instead, hiring was based on "shiny toy" resumes, rather than having the right attitude and eagerness to live the brand's core values. In February 2018, the COO decided to have an in-person interview with every prospective employee, focusing on educating them on the company's core values and culture.
Results: Employee retention at corporate improved to an astounding 89% YOY from March 2018; and the company received a high independently given employee satisfaction survey rate of 8.4 out of 10 from TinyPulse. In addition, the following improvements were made to each core value:
Always branding: We strive to be an active philanthropic company and choose to participate in local charity partnerships, fundraising, and sponsorship opportunities.
Building leaders: In Q2 of 2018, College Hunks added a personal development fund for each employee that could be used for personal or professional education, training, or corporate convention.
Fun, enthusiastic, team environment: In early 2018, a group of corporate employees formed the Hunk Brigade, a company culture committee that reviews opportunities for office parties, group outings, team-bonding events, costume dress days, etc. The brigade also sends ideas and best practices to each franchisee to implement in their locations to keep the culture front and center with all employees.
Listen, fulfill, and delight: Listen to the needs of employees and try to go above and beyond when there is opportunity to do so. This core value has produced the Hunk Brigade, additional employee health benefits, and the personal development fund, among many others.
Most Innovative Employee Training
Winner: Dog Haus
Objective: Dog Haus, a brand that emphasizes fun in its uest experience, employee experience, and consumer messaging, looked for a training platform that could leverage the fun of gamification to train employees.
Overview: It is no easy task to constantly train and re-train an ever-changing and churning workforce. Dog Haus wanted to ensure that its franchisees and their employees are always at the highest level. To achieve this, the brand introduced 1Huddle, a training platform that uses gamification to allow employees to train in a self-directed fashion.
As part of the roll-out of the new platform, Dog Haus created a contest with four weekly employee winners. The employee with the highest score each week was awarded $1,000. At the end of the month, the franchisee whose location had the highest percentage of employee engagement with 1Huddle was also awarded $1,000. More important than the money was the benefit of employees learning about essential activities such as operations and customer service.
The brand's messaging to franchisees emphasized the fun aspect of 1Huddle and encouraged them to share that message with their employees. Franchisees were encouraged to let their employees know how quick and easy it was to play a training game on 1Huddle, and how convenient it would be to be able to train when and where they are on site.
Results: Since the launch of 1Huddle across the brand, the company's collective workforce has played almost 5,000 learning games on the platform, earning more than 500 trophies inside 1Huddle and garnering 50% participation brand-wide--all for a voluntary training initiative. Anecdotal evidence from both franchised and corporate stores indicates that employees who continue to use the platform outperform their peers who do not use it. This same set of employees has demonstrated greater brand knowledge across all areas, including those they don't work in.
Published: June 1st, 2019
Share this Feature
Recommended Reading:
Comments:
comments powered by

Disqus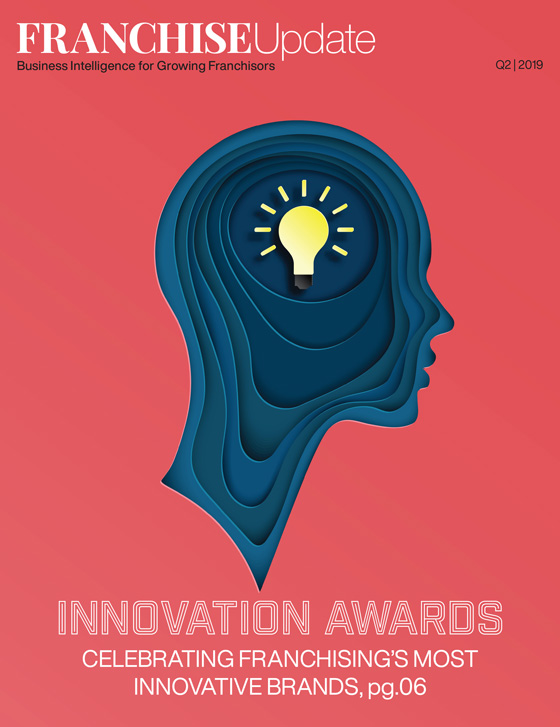 Franchise Update Magazine: Issue 2, 2019
Conferences
InterContinental, Atlanta
OCT 18-20TH, 2023
April 25 - April 28, 2023, Caesars Forum, LV. The Multi-Unit Franchising Conference is the premier annual event for the country's leading...
MSA provides domestic and international franchise advisory services to franchisors and companies seeking to establish franchise and licensing systems.