2011: A Fresh Start: A Recruiting Primer for Working with Today's Candidates
Happy New Year to all! The parties and holidays are all now behind us and it's time to get back to assisting people who are searching for the business of their dreams. We all know making a decision to start a business during uncertain times takes a special individual who possesses a vision and drive for success. Over the years some of the strongest and most successful businesses have started, and even thrived, during all sorts of economic conditions.
The media are finally delivering positive words about taxes, health care, and the future of the country. These are all very encouraging signs for franchising. The most important poll to watch is "consumer confidence." It's the best indicator that Americans feel the country is moving in the right direction.
Often in tougher economic times we have a tendency to get to the money issue with candidates much too quickly. We have to remember it still takes time to build a relationship with a candidate so we can get good information and have a meaningful discussion about their future. It's important to build a strategy of "mutual exploration" with your candidates. What that really means is that you and your candidate need to work through the fears of starting a business, along with how that business works in today's economy.
Hard questions in a soft way
The most effective method in working with candidates today is to tackle the issues (objections) head-on. You want to address the concerns of the candidate as to how the business is successful and working today. The best way to address those concerns is to understand your opportunity completely by explaining to the candidate what the franchise company has done to help its franchise owners grow. Second, talk with "positive" franchisees who understand what it takes to be successful in the business. Also, talk with your candidates about building confidence within themselves, and about the franchisor's efforts to create an environment for success.
You can't ignore or downplay the concerns of candidates in starting a business and risking what's left of their nest egg. If you stop and think about being in the same situation as your candidate or having to start a business yourself because of reasons beyond your control, it may help you be more sensitive to the concerns of your candidates. To do this, you need to be:
Understanding: Care about their situation.
Considerate: Respect timelines and distractions.
Knowledgeable: Understand your concept more than ever.
Compassionate: Understand their fear and situation.
A consultant: Help them find the answers to fix the pain they have.
It is important to remember that objections are areas of concern that must be addressed to keep moving forward with a candidate. It is more important than ever to be prepared to mutually work through these concerns and have solid answers on how to solve and deal with these issues in operating the business.
As a franchisor it is more important than ever to establish lending opportunities for your future franchisees. Taking the time to set up regional financing options around the country will be critical to the success of growing your system in 2011. Imagine how different your conversation with your candidates will be if you have financing options for them to pursue. How much more effective could your marketing become with "Financing for qualified individuals available" as part of your message?
Making the research process easier, more informative, and about the candidate will be the avenue for success in 2011. This is a time that we, as sales consultants, must bring our "A" game to the table. Be available, work on their schedule, and manage the concerns of the candidate to a successful outcome for all parties.
Published: March 4th, 2011
Share this Feature
Recommended Reading:
Comments:
comments powered by

Disqus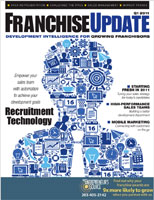 Franchise Update Magazine: Issue 1, 2011
ApplePie Capital provides a fresh new approach to franchise financing that is focused on your growth and success.
UMI has over 23 years of experience supporting fast-growing multi-unit brands. From strategic planning to design, execution to analysis, UMI...