2021 Franchising@WORK Awards Uncovers the Best Franchises to Work For
In 2018, Franchise Business Review (FBR) launched the Franchising@WORK study, a survey designed to measure employee engagement and compensation in the franchise sector. The survey is open to any corporate employee of a franchise brand based in North America, as well as employees of multi-unit franchisees and employees of vendors and suppliers serving the franchise sector.
To be considered for a Franchising@WORK award, a company must have 10 or more full-time employees and gross annual revenue of $1 million or more.
The survey asks 24 benchmark questions across 8 key areas: Satisfaction, Self-Assessment, Alignment, Team, Manager, Leadership, Culture, and Core Values. Employees are asked to answer each question on a scale ranging from Strongly Agree to Strongly Disagree. The survey also gathers additional demographic information.
In previous surveys of more than 2,500 participants, FBR was able to gather data that, for the first time, created a benchmark for franchise companies. FBR also uses the data to identify the companies that are differentiating themselves through employee engagement and culture.
Why Franchising@WORK is useful
There are tons of "best places to work" lists out there, each with different criteria and methodologies. The survey is focused specifically on employees in the franchising sector, so the awards and data are an apples-to-apples comparison within franchising. Additionally – and importantly – the awards list is based exclusively on feedback from employees – and anyone who works in franchising can take the survey whether their company chooses to participate or not.
There is a nominal fee to enter of $495 for companies that would like to receive their company benchmark report. However, it is not required and employees can access an open survey link if they want their feedback to be included in the research.
Additionally, the data is aggregated into an industry research report that FBR makes publicly available to support the continued growth of franchising.
Methodology
Scores for each benchmark question are determined using a weighted scale – the most positive response option (Strongly Agree) having the most positive effect, and the most negative option (Strongly Disagree) having the most negative effect. From there, a score for each key area is calculated, resulting in a benchmark score from 0–100.
The companies with the top overall scores are named as finalists and the companies with the top score in the following categories are honored with a Franchising@WORK award: Best Culture, Best Boss (aka Management), Best Leadership, Best Compensation & Benefits, and Best Overall Satisfaction.
The top-scoring companies in selected sectors also will be recognized, including Best Law Firm, Best Financial Services Firm, and Best Marketing/PR Firm, to name a few.
Why the data is even more valuable than the recognition
1) Finalists and award winners that actively and publicly recognize their employees for their contributions to making their company a great place to work can strengthen employee morale and retention.
2) Publicizing being named a finalist or award winner also can bolster employee recruitment efforts and position a brand as an employer of choice.
3) Opportunities for broad exposure in the Franchising@WORK report through FBR's media partners, on FBR's website and social channels, and through a brand's own PR efforts.
Even more important than the award recognition, according to FBR, is the data from the research. "Ultimately, our goal is to produce aggregate research data so that franchise leaders have the information and insights needed to hire and retain top talent, create a positive workplace culture in franchising, and support the growth of franchising overall," said FBR President and CEO Michelle Rowan.
As part of this, FBR can provide data to individual franchise companies to help them understand the risks and opportunities within their organizations and benchmark their employee engagement and compensation against that of other franchise companies.
All companies that participate receive a benchmark scorecard report. They also have the opportunity to purchase the detailed data (and add their own questions) to quantify employee engagement levels and obtain business intelligence on where to make system improvements and measure success.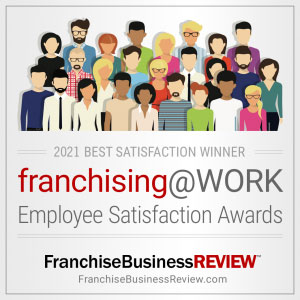 How to get on the awards list
Fill out a simple registration form and pay the $495 registration fee. Then send FBR your employee contact list and they do the rest.
The deadline to register is March 31, 2021. Employees must complete the survey by April 30 to be included in the research. Surveys can be launched within 48 hours of registering and can be customized to meet specific needs.
Questions? Find FAQs here or conact FBR directly at info@franchisebusinessreview.com.
Published: March 3rd, 2021
Share this Feature
Recommended Reading:
Comments:
comments powered by

Disqus
Conferences
InterContinental, Atlanta
OCT 18-20TH, 2023
Tiger Pistol, the world's leading collaborative advertising platform, connects the power of brands with the knowledge and credibility of their...
BoeFly drives growth by delivering financially qualified candidates increasing lead-to-franchisee conversion, and helping franchisees secure...