The 2010 Multi-Unit 50: Ranking Today's Leading Multi-Unit Brands
Readers of Multi-Unit Franchisee magazine have resoundingly told us how they look forward to our annual rankings lists. So once again, working with research ally FRANdata, we've gathered the data, crunched the numbers, and formulated our annual "MU50" lists.
First up in our MU50 rankings this year is "Top 50 Brands by Number of Multi-Unit Franchisees." This list highlights the franchise brands with the highest total number of multi-unit operators. McDonald's and Subway, the brands with the largest number of total units, ride atop this list. Subway has nearly twice as many multi-unit owners (3,874) as McDonald's does (2,074). Yet, when it comes to percentages, the numbers are reversed: 84 percent of McDonald's franchisees own more than one unit, while just 44 percent of Subway's franchisees do.
Our second list is the "Top 50 Brands by Percentage of Multi-Unit Franchisees," which highlights the brands with the highest percentage of multi-unit operators. The two leaders, Panera Bread (97.7 percent) and Applebee's (97.6 percent), are operated almost exclusively by multi-unit franchisees.
If you're interested in which franchisors emphasize multi-unit franchising (and thus are likely to better understand multi-unit operators and offer stronger internal support systems for them), you can play with the numbers and draw your own conclusions.
For a franchisor's perspective on selling single or multiple units, go online to our other magazine, Franchise Update, Issue 2, 2010; www.franchise-update.com/article/1065/.
The numbers are always interesting, and they do provide some statistical insight to how brands approach system growth, but it's the actual operators themselves who are the living everyday face, heart, and soul of franchising. We asked our editorial team to identify some outstanding multi-unit and multi-brand operators and ask them to tell their story--both personal and professional--not only about their current success, but how they got to where they are today, and where they're going in the years ahead. We tracked down six very different multi-unit operators generous enough to take time from their busy lives to give us a glimpse into what makes them tick. Here's a preview:
Atour Eyvazian, at age 19, escaped from his native Iran, fleeing persecution for being a Christian. After escaping jail in Turkey, he was joined by his family, and they embarked on an odyssey that led all the way to Los Angeles. Speaking no English, the teen found a job as a janitor at a Jack in the Box. With support from his co-workers, managers, and the franchisor, he attended school, earned an MBA. Today the 45-year-old operates 59 Jack in the Box restaurants in Houston and Sacramento.
Frank Bonnanno, wanted to do something "easier" than mixing cement and carrying bricks like his contractor father did. He's spent the last four decades in the food business operating many different franchise concepts and starting up more than half a dozen of his own. Starting out in the Northeast and Florida, he's now firmly ensconced in well-known Las Vegas hotels and casinos, with both franchised and proprietary brands, and continuing to grow his company.
Jeff Rigsby began frying chicken at a KFC at 16. The Columbus, Ohio, native rose through the organization and in 1988 relocated to Spartanburg, S.C., where his supervisors bought out the Bojangles' brand in 1994. Six years later, he and a partner purchased six Bojangles' in Asheville, N.C. Bitten early by the entrepreneurial bug, he's passed it on, as two of his three sons are restaurant managers in his organization, which today operates 21 Bojangles'. His third son, now 16, is learning the business from the ground up.
Aziz Hashim mopped the floor in a Burger King to help support his dream of becoming an electrical engineer. He earned his EE degree and was hired by Rockwell. Things couldn't be better--or so he thought. "Within a few short months I quit. I really missed working with people in the hospitality industry," he says. Today, 15 years after he left Rockwell, he's built up his company t0 44 franchised restaurants (27 Checkers/Rally's, 9 Popeyes, 4 Moe's Southwest Grill, and 4 Subways) that employ more than 900 people. And he's a long way from finished.
Two mentors have played essential roles in Jerry Heath's life. First there was his father, who later bankrolled his entrée into franchising. At age 12, he met Steve Jackson, president of Hungry Howie's who showed him how to make a pizza. He loved it and was eager to become a franchisee, but Jackson told him to finish college first. He listened. Today, the 39-year-old Heath has created a company with 11 Hungry Howie's Pizza restaurants and 5 Jimmy John's Gourmet Sandwiches.
Ken Leese, who played tennis for Old Dominion University, sees similarities between those days and his life in franchising today. "In both cases, you're playing on a team and you have to win the match for the sake of a bigger cause--the team--but ultimately, you're on your own out on the court. The franchise brand provides support, but ultimately I would be an independent business owner making my own mistakes and successes," he says. He must be on to something because he has 40 Jackson Hewitt Tax Services (down from more than 80), and one Play N Trade video game store with two more under construction.
For their complete stories, including personal, management, and financial information, just turn the page.
Published: June 28th, 2010
Share this Feature
Recommended Reading:
Comments:
comments powered by

Disqus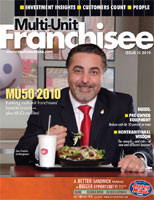 Multi-Unit Franchisee Magazine: Issue 3, 2010
Big Frog's proven-and-tested business model allows you to take charge of your financial future with a business concept that offers unlimited revenue...
Cash Required:
$50,000
Unlock the potential for remarkable returns on your investment by joining the Ducklings Early Learning Center Franchise, where our tried-and-true...
Cash Required:
$180,000