Wired for Growth: America's Mega 99 Franchisees 2010
Each year at Franchise Update we survey franchisees across the U.S., toting up their brands, units, and locations, and ranking them by size for our annual "Mega 99" list. And, since not all franchises are created equal in terms of initial investment and ongoing support, we also compiled a second list, ranking the largest franchisees by industry.

Numbers are important, of course, but they don't tell the story of the struggles, false starts, and failed endeavors each successful multi-unit operator has overcome in building their organization. Many have spent decades building their companies, brand after brand, unit after unit.

It takes a special kind of individual and team to build a successful multi-unit franchise empire. They understand the rewards that come from taking calculated risks, the value of finding the right concept(s), the right managers, and the importance of following a proven system to achieve the results that have propelled them toward their personal and business goals.

Since business is so much more than dollars and cents, we asked six multi-unit operators to tell us more about themselves. In addition to their impressive accomplishments, we asked about their fears and failures, their biggest mistakes, their management philosophy, and their goals for the next 5 and 10 years. We even asked them about their favorite tech tools (okay, toys), how they balance work and family, and what they're doing differently to ride out the economic turmoil and prepare for better days.

These individuals also provide their insights on the state of franchising, financing, marketing, and maintaining customer service as they also seek to reduce expenses. But it's also inspiring--and just plain fun--to hear from people who get up in the morning loving their work.

Take Anand Gala, who perched on milk cartons at the age of 9 to work next to his mother in the Jack in the Box restaurants she managed. Once headed for med school, today he operates a total of 27 Applebee's, Famous Dave's, and Del Taco units with sales of $77 million.

Or Danny Sonenshine, who left a successful career as an attorney five years ago in favor of franchising, to have more control over his schedule and spend more time with his family. Settled into his newest career, Sonenshine--who runs marathons in his spare time--operates a dozen Wingstops in his native Southern California.

Then there's Kevin Archer, who with his wife Leslie, runs a chain of 18 Bojangles Restaurants--one for every year he's been with the system. After 10 years of running a nursery, they became franchisees and expect to have 23 Bojangles in the Carolinas by the end of 2010.

Dustin Winkle, who graduated college with a double major in accounting and information technology, lost his job in the dot.com crash. Today, with five years under his belt and 11 dry cleaning locations, he's glad he chose a "pretty recession-proof" industry.

When the stock market was soaring, Darrell Lamb spent most of his time on the phone chasing after new investors. An investment in the oil change business he considered a sideline has become a career, and today, with partner Adam Fuller, he operates 24 Express Oil units.

Frank Illiano came to the U.S. from his native Italy 27 years ago with a plan to make some money and go back home. Today he's in Maryland, with five Greene Turtle restaurants, one California Tortilla and plans for two more, 9 pizza places, and a healthy collection of real estate holdings. "In this country," he says, "as long as you work hard, you can achieve anything."

No matter where they came from, or how they got to franchising, there's a fascinating real-life story behind every successful franchise operator. Whether you're a single-unit operator or have dozens of units across several brands, you're sure to find something interesting, educational, even entertaining in the stories of these six multi-unit operators. Maybe even a nugget to apply to your business, or to your personal life.

Time to grow!
Published: January 11th, 2010
Share this Feature
Recommended Reading:
Comments:
comments powered by

Disqus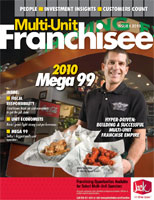 Multi-Unit Franchisee Magazine: Issue 1, 2010
Shakeaway is a unique global company with stores popping up all over the world! Get involved in this fun, fast growing and profitable franchise now...
THE FASTEST GROWING BREWERY IN AMERICA IS building more brew pubs and franchising throughout the US. BrewDog is a great investment that offers...