A New Shade: John Sullivan Finds Flexibility and Success in ProTect Painters franchise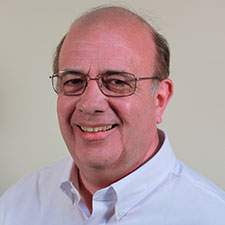 John Sullivan is a Midwesterner with a background in retail and corporate America. He moved to St. Louis following college and began his career with Macy's department stores. He went on to work in the plastics industry for companies like Dow Chemical and Rohm and Hass over the next 12 years. But it was when his executive level position required extensive travel that he began to reassess his career. He began looking for a way he could be at home more with his family. Franchising proved to be the perfect solution.
Three years ago Sullivan became a ProTect Painters franchisee and has loved every minute of it. He says he has a much more flexible schedule and that much of what he learned in the corporate world has helped him become a successful franchisee.
Here's a little more about Sullivan.
Name: John Sullivan
Title: Owner
Company: ProTect Painters
No. of units by brand: 1
Age: 63
Family: Wife and 2 daughters
Years in franchising: 3
Years in current position: 3
Personal
Key accomplishments:
I brought in several large new customers while working in the plastics business for Dow and Rohm and Haas. I took the lead role as international sales manager in establishing new, global customers. These customers were a who's who of global corporate giants such as GE, Siemens, ABB, Emerson, and Scheneider Electric. As owner of ProTect Painters, I have one of the highest closing percentages for new business. My gross profit percentage has seen one of the best improvements of two-year franchisees in the system.
Smartest mistake:
Choosing to attend Michigan State University, unlike my siblings who attended private colleges. It was a well-rounded education received by way of the great diversity of fellow students and faculty present at a large university.
Work week: How do you spend a typical day?
The day begins by working from a checklist to get organized. This includes responding to email, planning time around already scheduled events on the calendar, organizing the work needed to be accomplished at various painting projects underway or to be started, checking cash status, listing phone calls to make, and finally compiling an itinerary for the day to be as efficient in driving around as possible. Certain days include searching for new business as well as following up on already quoted work.
What's your passion in business?
To satisfy the customer. This is rewarding in itself but it leads to an extremely positive reputation and referrals. In turn this leads to growth in the business. Impeccable customer service and growth go hand in hand.
How do you balance life and work?
Just being home every night greatly facilitates balancing work and home life, as compared to a corporate career that kept me on the road 40 percent of the time. Otherwise, my family usually plans an activity on the weekend whether visiting relatives, bike riding on area green trails, or just watching a favorite movie. I like to run but that activity has diminished due to time pressures.
Management
Business philosophy:
To satisfy every customer regardless of their demands. This has resulted in top rating and reviews on Angie's List and the Better Business Bureau as well as other ratings services. This has led to additional business - given ratings that influence potential customers to approach our company to do business. I also maintain a steady effort to identify new market segments such as retirement communities, local light commercial enterprises, and nearby office management firms.
Management method or style:
Strive to include my wife and the subcontractors by actively soliciting their input into making the important processes more efficient. This has the predictable effect of becoming more efficient as well as to motivate these team members to produce the product expeditiously.
Greatest challenge:
The business has reached the point where I will need to hire a district manager or project manager to maintain the growth rate the business is now experiencing. The dilemma is to find the time to recruit such a person. I'm relying on networking through suppliers and even customers to find such a person.
How close are you to operations?
I'm completely involved in operations, which is an immediate problem. I need to find more time to work on the business as opposed to in it. I can't reach my business goals unless and until I get qualified support for the operational side of the business.
What are the two most important things you rely on from your franchisor?
Marketing know-how and mentoring relative to running a business during the start-up phase.
Have you changed your marketing strategy in response to the economy? How?
Our market base has been relatively immune fortunately from the so-called slow down. We saw a doubling of the revenue during year two over the first, and could see a doubling again if we had the support previously mentioned.
How is social media affecting your business?
We received 42 percent of our leads from Internet sources in the first year and then 65 percent in the second year. I'm reevaluating how cost effective other marketing sources are for the money spent on them. While a mix of marketing is essential, the weighting must constantly be evaluated.
How do you deal with problem employees?
We strive to build teamwork among our subcontractors by motivating them via financial incentives and a steady flow of work - based on solid performance.
Bottom Line
Annual revenue:
2013: $280k;
2014: $450k estimated
2014 goals:
Revenue: $450k;
Gross Profit: +50%
Growth meter: How do you measure your growth?
By sales and gross profit.
Vision meter: Where do you want to be in 5 years? 10 years?
To have revenue of $1 million in seven years and then seek to sell the business.
How is the current economy affecting you, your employees, your customers?
About 85 percent of my customer base has a household income of $75k per year. As a result, we find most of our customers are insulated from the economic slowdown.
How do you forecast for your business?
Leads are the critical indicator. I see a steady increase in leads YTD.
Is capital getting easier to access? Why/why not?
I operate from the cash flow of the business at this point. My terms and conditions require payment upon completion of the work. As we expand potentially into commercial business we will collect a 1/3 down payment. As this may become inadequate, I would arrange for a line of credit.
What kind of exit strategy do you have in place?
Reach $1 million in annual sales at a reasonable profit level and then market the business as an established profitable growing business.
Published: June 25th, 2014
Share this Feature
Recommended Reading:
Comments:
comments powered by

Disqus
Scooter's Coffee is in the midst of a strategic growth approaching 600 stores operating in 28 states and store commitments in 30 states. With a...
Cash Required:
$200,000
There's nothing quite like the perfect cup of coffee. It wakes you up and gets you on the right path. Now, you've got the chance to build a lifestyle...
Cash Required:
$100,000