A New Year, A New You: 5 Steps to Being a Better CEO in 2010
Ready for 2010? Who isn't?
The recession, lack of available funding, and shaky consumer confidence hit hard around the globe this year--and franchising was no exception. You don't need me to point out that is has been a tough year, but enough of that.

Most of you have already made the tough calls and did what it took to survive in 2009--and some of you thrived! In fact, you did things in your business that CEOs should do every year. You simply found them more urgent in 2009. You had to justify every penny you spent, every person on your payroll, and you probably used your creativity, and the creativity of your team, more then ever before as you learned to do business differently than you did in 2008. There were more sleepless nights than usual and at the same time, you probably surprised even yourself about how strong you are as a leader when things get really tough. No doubt, you are also very proud of your team.

Congratulations, you made it through. Now we are looking at 2010! Here are 5 things to consider for planning 2010 as a CEO:
You better be good to you. Few understand the daily stress and pressure that goes with being the CEO or president of a franchise organization unless they have been one. What will you do in 2010 to take better care of you? You owe it to yourself to eat healthier, build in time for exercise, set limits on your calendar, schedule quality time with family and friends, and learn something new. Surround yourself with positive people who will help "motivate the motivator." Yes, leadership starts at the top. You and your organization need you to be at your best, so you better be good to you!
Get input from your team before handing out goals for 2010. Plan a day with your entire staff to get their input on a modified version of a SWOT analysis. When done right, this exercise is enlightening and extremely motivating to everyone. When people feel they had input and the CEO took time to listen, the buy-in becomes much more real. Recognize your team for what they did right in 2009. This is your opportunity to remind them that what they do is important and of value to the organization, to your franchisees, and to the clients you serve.
Set the right expectations in the sales forecast and budget. Most CEOs in franchising are entrepreneurial. This is a good quality in many ways. However, in sales forecasting and budgets it can be your downfall. It is easy to justify a budget by believing revenues will increase at heroic rates because of your champion team, product, or leadership. "After all, who wants a wimpy forecast?" you may have found yourself saying. In 2010 be more conservative; this is not the time for rolling the dice. Yes, there are signs of recovery in the economy but no one is predicting a grand slam. Use 2009 as a real-life indicator and build on those numbers for a better 2010. Be sure your department heads understand their part and own their portion of the forecast and budget as well.
Take a solid look at what your franchisees have been saying to you. Your annual convention is past, you have sat through several FAC meetings, read thousands of emails, participated in countless phone calls and field visits. When you close your eyes and listen to the overall voice of your franchisees, what do you hear? What is going right for them, and where do they need the most help from you as the franchisor? Be certain your initiatives in 2010 line up with what you are hearing from your franchisees. You may not have all of the answers right now, but having a plan to work with them to obtain better answers is a huge step in the right direction. In 2010, find more ways to include franchisee input as you improve and build the brand together.
Build on your strengths. You have many strengths, but what are your greatest ones? Build on them. No CEO is good at everything. For example, I consider my leadership strengths to be in building organizations and in strategic planning for growth. I am not a technology wizard. This did not change when I was CEO of a technology franchise. I stuck to what I was good at and hired brilliant people for the technology need. Too many CEOs try to be good at everything. In 2010, focus on what you are good at and delegate to capable people the areas that should be handled by someone else.

The results of the first-ever Franchise CEO Confidence Index (click here to see story) demonstrate the vast majority of you are very optimistic about a strong 2010. Here is to surpassing your greatest goals!

Continued success,
Linda

Linda Burzynski, CFE, is president of The Franchise CEO Network and also the CEO of VL Service Corp., a franchise consulting service. With over 23 years of franchising experience including leading several franchise systems as president and CEO, her passion is in working directly with CEOs and presidents of emerging and established systems. Lindaburzynski@mac.com, 512-288-8855.
Published: January 18th, 2010
Share this Feature
Recommended Reading:
Comments:
comments powered by

Disqus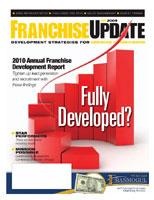 Franchise Update Magazine: Issue 4, 2009
The Titus Center for Franchising, one of Palm Beach Atlantic's Centers of Excellence, offers a concentration in franchising to business students.
BoeFly drives growth by delivering financially qualified candidates increasing lead-to-franchisee conversion, and helping franchisees secure...