A Win-Win Situation for Franchisors and Women
When Nikki Gahr Sells decided to forgo her school teaching job of eight years in 1983, a job in which her mother had spent a lifetime, she didn't know a lot about career paths for anyone, much less women, outside of teaching. She went to a staffing agency for help in finding a new job. In an unexpected twist, the staffing agency hired Sells. The agency, Express Personnel Services, was the first franchisee of Express Services Inc.

Sells thought her new job was the greatest because she was now in a position to access other careers if she didn't like the staffing agency job. Then another unexpected twist occurred: she fell in love with the staffing service field. Sells soon became a branch manager, managing three locations at one point, and then a branch vice president. After seven years, the staffing business was so right for her that it was almost natural that she entered franchising too.

In 1990, Sells and her husband purchased a territory for Express Personnel Services. Their franchisee experience lasted 14 years and ended voluntarily. During nine of those years, she also took on contract employee responsibilities as a regional developer for the franchisor, aiding the franchisor in expansion into Missouri, Kansas, and northern Arkansas.

In 2004, Sells and her husband gave all that up for another intriguing opportunity. She became vice president of franchising for Express Services, which has more than 400 franchisees, including 54 new locations in 2004. Sells loves every minute of it. "I'm a franchisor. One way or another I will be in franchising for the rest of my life," she says. "There is no doubt that franchising is my passion-and staffing is my passion. I just happen to be in a place where I can do both."

Sells is a woman who happened on a career path and followed it to a opportunity and personal and professional fulfillment in franchising. There is no single, predictable "right" path for women in franchising, but opportunities await in multiple areas: leadership roles in franchise companies at the corporate level; expansion of a current single-business operation into a franchise operation; purchasing and operating franchisees from already established franchisors; and more. Yet, while franchising holds opportunity for a lucrative and fulfilling career, apparently many women don't yet know this, or haven't yet been able to establish themselves adequately within it.
Spreading the Word

Franchise UPDATE commissioned FRANdata to compile a gender profile of corporate officers, executives and senior managers for more than 1,300 domestic franchise brands. Published in 2003 in this magazine, the survey results showed women held only 17 percent of these positions. However, women led men 53 percent to 47 percent in human resources executive positions.

"You don't see significantly high, or even recognizably high, numbers of women in CEO, operations, or development positions," says Joyce Mazero, who practices franchising and distribution law in Dallas as a partner with Haynes and Boone LLP. The survey showed women holding 6 percent (CEO), 10 percent (operations) and 16 percent (development) of those kinds of jobs.

"Those positions have normally been occupied by men," says Mazero, a 25-year veteran of the franchising business. "Those types of positions are at the core of what a franchisor does. Women are not getting as many positions there as they should, perhaps because those are traditionally male roles, and it is an evolutionary process for women."

In regard to women as franchisees, Franchise UPDATE commissioned FRANdata to compile data again on more than 1,300 domestic franchise brands and published the results of the top 100 franchise systems with women franchisees in the previous issue of this magazine (page 36). While results varied widely by type of industry, ranging from as high as 98 percent for Jazzercise to the 30 percent range for many others,

"The percentage of women franchisees is not overwhelming," Mazero notes.

Perhaps that's one reason why Mazero spreads the word about opportunities for women in franchising, and why she offers leadership and other support for women in franchising through participation in relevant organizations. She is an advisory board member to the Women's Franchise and Distribution Forum, an educational and outreach organization providing knowledge and networking resources on U.S. and international franchising, licensing and distribution to women in business. As a member of the International Franchise Association Women's Franchise Committee (WFC), which hosts a leadership program annually, she has helped kick off the first WFC networking meetings on a local level, beginning in Dallas in January 2005.

"Franchising is not top of mind for most business people," Mazero says. "I think women are so involved in trying to run, survive and find money for their businesses that they don't see franchising as the financing as well as expansion alternative it can be. Women may think because they've heard about it that franchising sounds interesting, but they haven't had access to connections and networking, or even had time and energy to know enough about franchising to evaluate it as a method for expansion of their own business. Once women find out that they may be able to use franchising to become a franchisor, another woman-founded company is then created."
Two Women and a Truck

That was perhaps the case for the moving company franchise Two Men and a Truck, which has 118 locations in 25 states and a fleet of 700 trucks. The franchise was actually founded and developed by a woman named Mary Ellen Sheets. Her sons are the "two men" (actually boys at the time) who conceived and loosely practiced the original idea for the moving service business while in high school to earn spending money. The truck referred to their old pickup truck. Naturally they were "Two Men and a Truck," at least until they left for college. Eventually Sheets turned the business into a franchise operation. In 1987 she awarded the first franchise to her daughter, Melanie Bergeron, a pharmaceutical salesperson in Atlanta, who never asked for or dreamed she'd one day be in the moving business, much less a franchisee or franchisor.

When Bergeron returned to her roots in Detroit, she sold her Atlanta franchise and opened another Two Men and a Truck franchise unit while still maintaining her pharmaceutical sales job. "This business was just really fun," Bergeron says. "It was something I could control. I enjoyed it." Her enjoyment blossomed into love when she accepted the positions of president and chief operating officer for the franchise in 1994. But joining a family franchise didn't mean a smooth road lay ahead.

"When I took over at the home office, it was a mess," Bergeron says. "I had to learn and figure things out. I didn't really understand franchising, but I understood running a moving business, and I'm a very structured person. So I had to put processes in place and figure out who was doing what and enforce rules. I took the company by the reins. I absolutely love it."
Knocking Down Doors

Barbara Moran, president and chief executive officer for Moran Industries Inc., which franchises four different automotive aftermarket repair brands (Mr. Transmission, Multistate Transmission, AltaMere, and Milex) always knew she had what it takes to run the franchise founded by her father. Unfortunately, the higher-ups in her corporation indirectly suggested she not set her sights so high. Franchising leadership roles, especially in the traditionally male automotive industry, weren't exactly viewed as growth opportunities for women during the 1980s or even into the early 1990s, she says.

In the '80s, Moran was an artist when she hopped into the family business for a temporary summer job. But as with the other women in this article, the franchise fever grabbed her, as did the automotive industry. Her full-time passion became learning everything she could about the business.

"When I first started working, it happened really quickly," Moran says of her newfound passion. "Within a month I realized that it felt natural to me to have an understanding of the business logic and how to go about accomplishing things. But in my opinion it didn't matter if I did a great job or a poor job because I was not going to be recognized either way. I had actually approached my family in 1987 about where my potential lay," she recalls.

"What I had determined then, based on a conversation, was that my position was not going to expand due to my gender. So it was all about what I wanted for myself. I felt that I wanted to do the best job possible for myself. I found the business intriguing. I liked the logic of the system, and I loved helping people start their own business with our business system and teaching them how to be successful."

Moran figured that one day she'd go out on her own and develop and run her own company with that knowledge, attaining the leadership position she craved. Fortunately for Moran Industries, that didn't happen. In the 1990s, Moran says the company chairman met more women vice presidents or presidents. He also began to note the business-savvy powerhouse Moran had become. Before 1998, Moran held multiple positions in the company, learning everything from accounting to marketing to personnel. But until 1998 she couldn't move beyond corporate secretary or director positions in individual departments. Finally, late that year, Moran moved into an executive position in the company.

"The chairman started to look more at my capabilities," Moran says. "He saw that I had really accomplished everything I had set out to do, as well as what he had set out for me to do in learning every aspect of the business."

An outside search firm he hired to work with Moran to find the next president of the company was the clincher that placed her as president and chief executive officer. "The consulting firm told the chairman that the individual we were looking for already existed inside the company," Moran says. That individual was Barbara Moran. Since then more women have made strides to higher leadership positions at Moran Industries, including a woman as vice president of operations.

Moran says one potential reason that women are making headway into upper management and executive positions at her company is a change in thought processes. "Nobody was trying to exclude me in any way," she emphasized. "It just wasn't a part of the thought process in looking at me as a potential candidate for a future position in running the company. They weren't paying attention."
Taking Risks, Stepping Up

If you want people to pay attention, sometimes you need to stand up, stand out, and make people notice you. Moran says "thought processes" are changing because women are purposefully being more visible and not allowing themselves to remain unheard. "They're stepping up and taking chances and getting someone to say 'Hey, look at what she's doing over there,'" Moran says. "They're being more assertive. They're not taking a back seat anymore and allowing somebody else to take credit for their work."

And they're taking risks. You cannot succeed without taking risks, says Carin Stutz, senior vice president of operations for Applebee's International, which plans to grow to 3,000 restaurants, nearly double the 1,633 units of September 2004. "Anyone who wants to move up has to take risks," Stutz says. "It's getting out of your comfort zone. I talk to a lot of women at this level and what drives them to get to the next level isn't power. It's more about a view of, 'I can make the world better for other people. My legacy will be that I've helped other people to have the same opportunity that I've had.' Part of that is putting yourself out there and stepping out and being willing to try new things and succeed or fail," she says.

"Men are pretty forthright in saying, for instance, in an interview, 'I want your job one day,'" Stutz says. "I say 'Good for you. That's great.' But it's very rare that I hear a woman say that or speak about her career goals, unless she's prompted to do so. I think we can do a much better job of being a self-advocate. That's part of risk- taking." It's not always comfortable, she adds, but when done appropriately, a woman can demonstrate confidence without appearing boastful to get to the next level.
Women as Franchise Leaders

Of course, as Stutz proves in her role as a senior vice president of operations for Applebee's, you don't have to be involved in a family franchise operation, own your own franchise, or even have been a franchisee to be a woman in a franchise leadership role. Throughout the 1970s, she worked in franchisee director positions. In 1981 she began her affiliation with corporate franchise positions, holding senior management positions such as Pacific Division vice president for Wendy's International and vice president of corporate operations for NutriSystem. She joined Applebee's five years ago when an executive recruiter alerted her to the opportunity, and it has been a dream job, she says.

"I can't believe they pay me to do this," Stutz says. She did encounter challenges along her career path but won't dwell on them. To attain a position like hers, Stutz says you take risks and work incredibly hard, whether you're a man or a woman. And you must be willing to travel and/or relocate, she adds.
Raising the Bar

Although the number of women in franchise leadership positions is progressing slowly, more women than ever are helping to lead franchisors to success. And franchisors can benefit by having women on their management teams, says Mazero.

A recent study by Catalyst (www.catalystwomen.org), a research and advisory firm on women in business, showed that companies with more women as part of their key management team were more profitable than companies with fewer women in key management positions.

This could be because women bring different work styles, characteristics and qualities to the work environment that balance the management team, suggest some women in franchising. For instance, women may be able to facilitate harmony, decision-making, dispute resolution, and collaboration better than male peers because they communicate and phrase things differently, as well as view situations from different perspectives than men. Women also may bring multitasking and nurturing natures that complement men's work styles and add another element useful to the customer. After all, a franchisor in a sense nurtures its franchisees.

"Franchisors are missing a key economic opportunity by not having women in key management," says Mazero. "Franchisors should evaluate daily how to become more financially prolific and how to make the best use of economic resources." One of the best ways to do this, she says, is to recruit qualified women into your management team.

Women in franchising agree that you will never get a job in franchising just because you're a woman. "A company can't afford to take someone on board who doesn't have the talent or the skill set for the position," Stutz says. Applebee's corporate has five female officers out of 20 total. Express Services has seven women and seven men vice presidents, just a coincidence, says Stutz. "We look at people for talent, period."

But if you are a woman who wants to break through any glass ceilings and attain a top leadership position in franchising, consider another alternative: become a franchisee. Buying your way into franchising provides the ability to instantly prove yourself as leadership material. "There is no limit to your success," says Bergeron. "You'll get out of it everything you put into it."


Karen Fritscher-Porter is a freelance writer based in Savannah, Ga.
Published: February 28th, 2005
Share this Feature
Recommended Reading:
Comments:
comments powered by

Disqus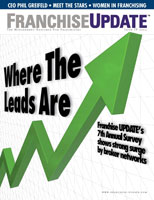 Franchise Update Magazine: Issue 4, 2004
Conferences
InterContinental, Atlanta
OCT 18-20TH, 2023
Our franchise management software helps increase unit growth, reduce opening time, track and improve unit performance, automate financial reporting...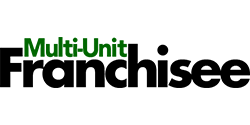 Published quarterly, Multi-Unit Franchisee Magazine is dedicated exclusively to Multi-Unit Franchisees. It delivers vital information and business...