Against the Odds: Steve Baliva Helped his Community Through Hurricane Sandy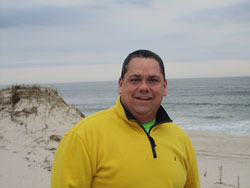 Steve Baliva knew Hurricane Sandy was on its way and headed for the New Jersey coast. So he huddled with team members from his area T.G.I. Friday's restaurants to prepare for what many forecasted to be the storm of the century.
"We knew it was coming and thought that we had five restaurants in the path of it," says the Tom's River, N.J., resident. "Turns out we had seven--five in Jersey and two on the border of the Pennsylvania side. We were laying up plans to close down on Sunday, Oct. 29, since we knew we'd lose power."
Baliva, T.G.I. Friday's 2011 Franchisee of the Year and vice president of restaurant operations for Metz Culinary Management, lives within 10 minutes of several of the restaurants. So on Tuesday he headed out to check on things. Four of the restaurants--along with 85 percent of Ocean County, N.J.--had no power. "There was wind damage and we'd lost awnings, but we weren't close enough to the water for flooding, so it could have been much worse."
By Tuesday night, Baliva had mobilized his team to check on employees' safety and to get power up at two restaurants. "We opened on Wednesday and set up charging stations so people would have somewhere to get warm, recharge their phones, watch the news, and get coffee or a bite to eat," he says. "It was crazy and chaotic--we were the only ones open in town."
Baliva and two of his directors helped employees move food to nearby locations and donated, delivered, and served food from Friday's in shelters, where it benefited many, including some of his employees. He also led a company-wide drive for supplies, mainly water and clothing, and filled a large truck with much-needed supplies.
As bad as Sandy was, Baliva says he'll remember that time as "the best I've ever had working in restaurants. We were short-handed and would be out of 10 items, and our guests were great about it. It was almost like a family gathering, with people talking from table to table about what was going on."
Baliva, the recipient of Multi-Unit Franchisee magazine's 2013 Noble Cause Award, says he wasn't thinking about making money during the storm. "We're stable financially and we have insurance, so it wasn't about what kind of business we'd do. We have so many employees who live paycheck to paycheck, and they needed to get back to work immediately. Our goal was to get open, give people a sense of normalcy, help where we could, and get people back to work."
Name: Steven Baliva
Title: VP Restaurant Operations
Company: Metz Culinary Management
No. of units by brand: T.G.I. Friday's, 13; Ruth's Chris Steak House, 1; Wolfgang Puck Express, 1; Lucky's Sporthouse, 1
Age: 51
Family: Married
Years in franchising: 15
Years in current position: 10
Published: November 25th, 2013
Share this Feature
Recommended Reading:
Comments:
comments powered by

Disqus
The Habit Burger Grill comes equipped with its unique flavor created by chargrilling over an open flame and a diversified menu which appeals to a...
Scooter's Coffee is in the midst of a strategic growth approaching 600 stores operating in 28 states and store commitments in 30 states. With a...
Cash Required:
$200,000