Amped for Growth!: 18th Leadership & Development Conference Raises the Volume
Hundreds of franchise development professionals gathered in Atlanta this past September for the annual Franchise Leadership & Development Conference (FLDC), one of the year's must-attend events for brands looking to improve their sales, share ideas, and learn more about today's best practices in franchisee recruitment. The theme this year was, fittingly, "Amplify Your Growth.
This year, 463 total attendees representing 285 franchisor executives from almost 200 franchise brands across the food, retail, and service sectors were on hand for the event, along with 74 supplier companies sponsoring the event.
Two full days and a final morning provided plenty of opportunity for expert speakers and panelists to interact with attendees in large settings, small sessions, and roundtable groups. The educational sessions, developed by the FLDC Advisory Board, were packed, lively, and well-received.
No FLDC would be complete without thought-provoking and inspiring keynote speakers. This year's keynoters were Rich Karlgaard, publisher of Forbes magazine, and Seth Mattison, workforce strategist and management "trend spotter."
The Exhibit Hall, sold out again, is another high point at the FLDC. Third-party suppliers and franchisor executives mingled freely to discuss business strategies, solutions, and products and services to help brands grow.
This year's Platinum Sponsor was FranchiseGrade.com. Gold Sponsors were Benetrends, Hot Dish Advertising, Pango Financial, and Franchising.com. The STAR Awards Banquet was sponsored by eKomi.
Amped for Day 1
The conference swung into action Wednesday morning in the the familiar hallways of the InterContinental Buckhead in Atlanta as attendees gathered for registration and breakfast. The day's educational sessions consisted of two strategic tracks.
The morning session of the Grow with the Right Franchisees track was called "Geo-Targeting for Franchisee Recruitment." Lori Merrall, senior director of franchise sales at BrightStar Care, facilitated a panel that discussed recruitment marketing strategies and how to more efficiently and effectively reach prospects, as well as how to support hyper-local franchisee recruitment initiatives. Panelists were Georgia Chasen, director of franchise development at Sylvan Learning; Jennifer Durham, chief development officer at Checkers & Rally's; and Jack Humbert, vice president of franchise sales and finance at J.D. Byrider.
After lunch, the afternoon session of this track reconvened in a session called "Growing Franchisees To Grow Your Brand." Facilitated by Dan Doulen, director of franchise development at Buffalo Wings & Rings, the panel discussed how to reach the right franchisees once you've defined your target markets. Panelists were Chris Goethe, vice president of franchising at Primrose Schools; Scott Nichols, senior vice president of franchise development at Charter Fitness and Spenga; Renuka Salinger, vice president of franchise development at Camp Bow Wow; and Charles Watson, chief development officer at Tropical Smoothie Cafe.
Concurrently, the Maximize Sales Performance track kicked off the morning with a session called "Mastering Sales Fundamentals." Facilitated by Paul Pickett, chief development officer at Wild Birds Unlimited, the panel dug into recruiting fundamentals from A to Z: cold calling, how to conduct a call, qualifying candidates, FDD review, discovery day, and closing the deal. Panelists were Christina Chambers, vice president of development at Huddle House; Mike Hawkins, vice president of franchise development for The Dwyer Group; Mike Reynolds, chief development officer at Milano Restaurants; and D'Wayne Tanner, vice president of franchise development at DMT Consulting.
The afternoon session of this track, "Build High-Performance Sales Teams," honed in on how to find, hire, and retain key team members who fit the company's culture and goals and can deliver the desired results. Facilitated by Eric Little, chief development officer for Right at Home, the panel consisted of Steve Corp, senior vice president of franchise sales for Focus Brands; Tim Courtney, vice president of sales at CruiseOne Dream Vacations; Gillian Harper, chief operations officer at ShelfGenie; and Bill Schreiber, vice president of business development for Church's Chicken.
At the same time as these two tracks were under way, three dozen franchise executives were participating in the all-day CEO Summit. The high-level event was facilitated this year by Sport Clips President Mark Kartarik (profiled on page 10). He opened the day talking about disruption. "Change happens in months, not years now," he said, pointing to how the iPhone, Amazon, and Uber, for example, continue to change the way we all behave. Yet he also noted that despite all the talk about the role of digital technology and the shift to mobile, 91 percent of sales still take place inside the store. And, when it comes to franchise brands and the potential effects of disruptive innovation, Kartarik said, "If you're not staying up at night, you need to think harder."
During the course of the day-long session, Kartarik introduced presentations from Christine Specht, CEO of Cousins Subs; Jonathan Barnett, founder and CEO of Oxi Fresh; and Shelly Sun, founder and CEO of BrightStar Care and chair of this year's FLDC. Each delivered firsthand accounts of how their companies have adapted to the changes wrought by technology, market shifts, regulation, and more; as well as how anticipating and managing disruption and innovation have played a role in the success of their brands. Each presentation was followed by roundtable exercises and discussions, allowing the executives to meet one another and share their own ideas and experiences throughout the day.
When it comes to managing change and disruption, Kartarik advised, "Get ahead of today's challenges or they will eat you. The innovators and real disruptors will survive."
Heads filled with visions of sugar plums in the form of great ideas ready to translate into action, it was time for attendees to attend to the body and spirit in the Exhibit Hall, where food and drink were in plentiful supply as they rubbed elbows from 4:30 to 7:30 p.m., meeting one other and exploring what the suppliers had to offer.
Re-Amped!
Thursday kicked off with a light breakfast before the morning's general session convened. Conference Chair Shelly Sun addressed the crowd, emphasizing how people and relationships built at the conference can make a difference. She recalled her earliest days as a franchisor, noting that 10 years ago the FLDC was the first industry event she ever attended. "The transparency and openness of attendees to share both the good and the bad was invaluable to me," she said.
As an example of the ongoing value of 10 years of the education and relationships she's built over the years at the FLDC, she said, "We made some process changes at our company last fall. It didn't go well, but I was able to turn to industry allies I had met here to help get things on track." Next up was FRANdata's annual "State of Franchising" economic report. In a departure from tradition, Edith Wiseman, president of FRANdata, stood in for Darrell Johnson, who was attending his daughter's wedding. Wiseman drew laughter and applause when she reported that the Johnson family brand was celebrating 20 percent growth with its "new unit."
State of the economy. What remained basically the same in her presentation, was the news about the economy: continued slow growth and greater uncertainty lie ahead. Looming recessionary concerns, she said, are based on four signals: falling profit margins, the Fed's negative Labor Market Conditions Index, negative Capex growth, and the speculative default rate (junk bonds) above 5.5 percent--a set of conditions that preceded previous U.S. recessions.
Business confidence is down, but consumer confidence is stable. The U.S. GDP is recovering, but is the slowest recovery since 1948. And while economic "shock absorbers" are at the end of their effectiveness, she said the good news is that we understand the risk better than we have in the past.
State of capital access. "Small business lending is down among major banks, but there are other sources of lending," she said, as the number and types of alternate lenders continue to disrupt the traditional lenders through the use of innovative technologies and market segmentation; however, she added, the banks are closing the gap. One change resulting from greater accessibility to both personal and franchise system data, she noted, is that credit decisions have become more data-driven, relying more on algorithms than on personal relationships. Franchisors who act now to improve their performance data, she said, will be "best equipped to remain competitive in the changing lending environment."
Implications to franchising. Uncertainty creates opportunities for the prepared, and the route to success here, she said, is for franchisor executives to place greater emphasis on marketing and technology and on balancing their capital/labor ratio in response to changes in minimum wage and overtime rules. She also urged franchisors to work on enhancing their credit profile and fixing performance issues.
To win the market share battle in 2017, she said, franchisors should focus on slower, more targeted growth; emphasize ROI in their messaging; create a seamless sales process; educate through transparency; address greater prospect uncertainty with greater information; and help franchisees get financing.
Culture is the killer app
Wiseman's presentation was followed by keynote speaker Rich Karlgaard, publisher of Forbes magazine, columnist, and book author. His theme was that in the face of disruptive change, a brand's values and culture will sustain a company by providing a core around which the company can adapt to external change.
He cited a prediction from Cisco's John Chambers that 40 percent of today's large, profitable companies will "fail" within 10 years. Failure in this context, he said, means long-term decline in revenue, profitability, market value, brand value, and cultural relevancy. Karlgaard then laid out three "coping mechanisms" for companies to not be among that 40 percent. To succeed, he said companies must be 1) strategy-driven, 2) technology-driven, and 3) data-driven.
In his 2014 book The Soft Edge, he said these three drivers are the cost of entry into the marketplace, the ante every company must come up with to play. But the big game-changer and competitive edge for a company seeking sustainable growth is that it be culture-driven. The right core values, he said, are analogous to having a robust immune system in the face of external threats to the entire system. (One brand exemplifying this is The Dwyer Group, which operates every day based on its Code of Values.)
In the face of accelerating change, Karlgaard said that a sustainable competitive edge is dying for most companies, and the new world order is "transient advantage."
2017 AFDR and growth
Next up was the first reveal of the 2017 Annual Franchise Development Report (AFDR). This year's results were based on results from 167 franchise brands representing 60,989 total units. Data was recorded and compared with previous years in areas including recruitment budgets, marketing sources and budgets, digital recruiting strategies, closing ratios, and leads costs. See page 30 for the methodology, findings, and recommendations of the researchers.
Next up, Sun facilitated a general session panel called "Interdepartmental Approach to Growth." The focus was on breaking down silos and aligning all of a brand's departments to support franchisee growth at every level. The panelists--Paul Damico, president North America for Focus Brands; Christina Russell, president of Camp Bow Wow; and Tom Wood, CEO of Floor Coverings International--shared their own experience and insights about how they're doing this at their companies.
After a busy morning filled with data, analysis, and instructive anecdotes, lunch was served in the Exhibit Hall where franchise executives and sponsors had another opportunity to talk shop.
Afternoon: 2 sets of 3
The afternoon offered three concurrent educational tracks. Each consisted of two 70-minute sessions, followed by a second general session led by keynote speaker Seth Mattison.
The Franchise Sales Basics track targeted sales people new to franchise sales, as well as more seasoned sales pros seeking new ideas to sharpen their skills. The first session, "Identify and Qualify a Warm Lead," facilitated by Josh Wall, vice president of franchise and strategic development at Christian Brothers Automotive, looked at basics such as how to determine which prospects are good leads, how to direct the conversation throughout the sales process, and on developing the skills and techniques that work best for different brands. Panelists were Noelle Burack, manager of franchise development and national accounts for Two Men and a Truck; Jenna Lamb, director of franchising at Nothing Bundt Cakes; and Laura Tanaka, director of development at Del Taco.
The second session of this track, "Develop and Close the Lead," focused on the next step: what to do after qualifying a prospect, how to lead them through the sales pipeline and process, and how to help both the candidate and the sales team discover if there is a good mutual fit. Mark Jameson, executive vice president for franchise support and development at Fastsigns, facilitated a panel consisting of Red Boswell, senior vice president of franchising and business development at Expense Reduction; Steve Olson, consultant and vice president of development for Philly's Best Cheesesteaks; and Chad Tramuta, manager of franchise development at Smoothie King.
The Brand Strength track was designed to help attendees develop a stronger investment opportunity to potential franchisees. The first session, "Financing for 2017 and Beyond," looked at the latest financing options franchisors could provide to interested candidates and to franchisees looking to expand. Richard Leveille, vice president of franchise development for Floor Coverings International, facilitated a panel consisting of Candace Caruso, president of Pango Financial; Josh Johnson, vice president of business development at Apple Pie Capital; Mike Rozman, president of Boefly; and Suzanne Thompson, senior vice president of strategic programs at Bank of America.
The second session in this track, called simply "Legal Panel," was an open forum for attendees to ask questions. The panel of franchise attorneys Mike Drumm of Drumm Law, Lane Fisher of FisherZucker, and Len MacPhee of Gardere, went both deep and long into the ramifications of the external threats franchisors face today. The attorneys fielded questions on hot topics that included the NLRB's joint employer ruling, the DOL's overtime rule, minimum wage, unions, and collective bargaining. In the audience, attorney Joyce Mazero of Gardere, also contributed her expertise to the discussion. As a sign of the times, the questions about external threats kept on coming long past the session's end time.
The third afternoon track, Lead Generation, delved into programs and ideas to bolster franchise recruitment in today's highly competitive market and how to get the most out of a recruitment budget. The first session, "What's New in Lead Generation?" was facilitated by Jeff Sturgis, vice president of franchise development at McAlister's Deli. The session explored new lead generation ideas, tools, and technologies, how to budget more effectively, and how brands can use brokers, print media, trade shows, and online portals to generate leads. Panelists were Mark Cairns, director of franchise development at Topper's Pizza; Zeb Hastings, vice president of franchise development at Quaker Steak & Lube; and Marcia Mead, vice president of franchise development at PuroClean.
The second session on this track, "Managing Social Media and Its Role in Recruitment," grappled with the growing digital world and ways to use Facebook ads, Youtube, LinkedIn, and other social media tools to reach potential prospects. Facilitated by Jack Monson, director of digital strategy at Qiigo, the panelists were Aaron Goldberg, vice president of franchising at Zips Dry Cleaners; Grant Kreutzer, director of franchise licensing and recruiting at Jack in the Box; and Philip Schram, CEO of Buffalo Wings & Rings.
Keynote and STAR Awards
A business roundtable general session led by keynote speaker Seth Mattison closed out the afternoon. Mattison, founder and CEO of FutureSight Labs, is an expert on workforce trends, generational dynamics, talent management, and the future of work and has worked with companies worldwide. He urged franchise brands to tap into the rich, hidden brainpower within their organization, establish an ongoing system to nurture and harvest the best ideas, adapt more quickly and proactively to changes in the marketplace, and to foster a culture of stewardship and values (think "soft edge"?).
As evening approached, it was time for everyone to enjoy an evening of family-style Italian cuisine, drinking, and conversation at Maggiano's Little Italy, along with the presentation of this year's STAR Awards for best practices in franchisee recruitment. See page 48 for the full story.
Amped to go
The final morning featured a packed room for the closing session, "Build Your 2017 Plan." Art Coley, CEO of InXpress very energetically led a panel consisting of Patrick Sugrue, president and CEO of Saladworks; John Teza, chief development officer at Corner Bakery Cafe; and Dave Wells, director of franchising at Sport Clips, who shared their thoughts and experience on mapping out a brand's development strategy and recruitment budget for the coming year.
"Our goal here today is to provide the essential components of development planning and to offer hands-on planning and discussion," said Coley. And they did, through presentations and group exercises that produced in-depth questions and a lot of fun for the roomful of marketers and franchise executives. Panelists discussed how the development strategies at a brand should be in alignment with the corporate strategy, setting targets and goals for the year, marketing and lead generation strategies, having the right team, and establishing a budget, process, and system.
A big mistake many brands make, said Sugrue, is to view development as its own entity. "It should be part of the leadership team of the whole organization, integrated," he said. Sugrue, who came on as CEO of Salad Works in 2015 when the brand was in bankruptcy, said the founder and funder were battling and needed "adult supervision." He said the brand had no credibility or trust with it franchisees, thus no validation. The role of the CEO, he said, is to take action--and he did. He fired the entire development team and visited 80 of the brand's 100 stores and all of its franchisees. "It's important to have the courage to say, 'Your baby's a little bit ugly' before you start selling 100 a year."
Echoing a story Mattison told the previous day about artisan saddlemakers who took so much pride in their craft that they signed each saddle they made, Sugrue urged the roomful of salespeople and franchise executives to remember that beyond all the strategizing, budgeting, and investing in technology and social media, there's a higher purpose in their work: creating a franchisee who can support their family and hire 10 to 15 people who can then support or contribute to their own families. "That's the nobility of our work," he said.
The session, and the conference, ended with a rollicking finale led by Coley. (Just ask anyone who was there.)
To learn more about this year's FLDC, view photos, and register for next year, visit www.franchisedevelopmentconference.com.
2016 Conference Numbers
463 Total Attendees
285 Franchisor Professionals
200 Franchisor Brands
74 Sponsoring Companies
Franchisor Profiles
By Title
21% CEOs
5% CFOs, CIOs, COOs
35% CDOs, SVPs development
39% Directors and managers of franchise development
5% Real estate, communications, compliance professionals
By Category
Service 48%
Food 31%
Retail Non-Food 13%
Retail Food 8%
By Investment Level
Over $1 million 13%
$500,000–$1 million 13%
$250,000–$500,000 31%
$100,000–$250,000 19%
$50,000–$100,000 15%
Under $50,000 9%
By Number Of Units
> 1,000 16%
501–1,000 5%
251–500 13%
101–250 29%
26–100 24%
By Annual System-Wide Gross Revenue
Over $100 million 38%
$80 million–$100 million 6%
$60 million–$80 million 5%
$40 million–$60 million 5%
$20 million–$40 million 17%
$8 million–$20 million 9%
$1 million–$8 million 13%
Under $1 million 7%
Published: November 23rd, 2016
Share this Feature
Recommended Reading:
Comments:
comments powered by

Disqus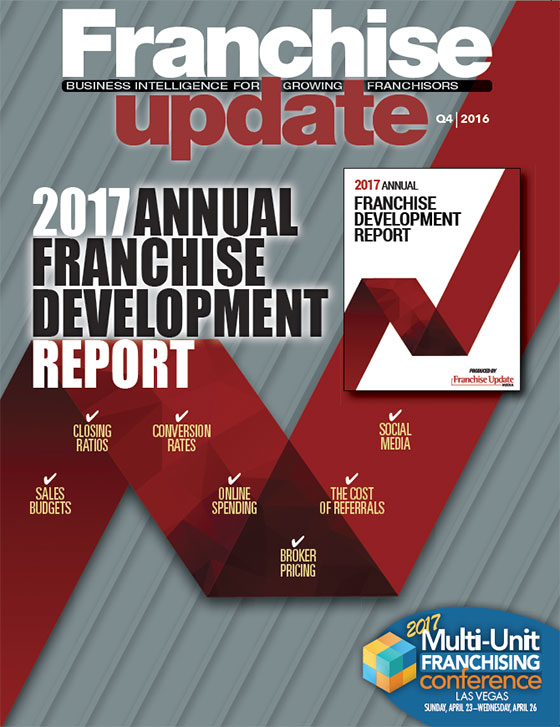 Franchise Update Magazine: Issue 4, 2016
Prisma has reinvented the marketing supply chain with an end-to-end solution that makes it easy to design, customize, order, download, print, kit,...
David Energy is a software-enabled retail energy provider bringing the power of visibility, savings and peace of mind to mid-market brands.