Are Development Incentives Working?: Anecdotal Evidence Suggests they are
Shortly after the economic downturn descended upon us in 2008, we started seeing a few franchise brands begin to offer incentives to get units open. At the time, they were generally viewed as outliers. After all, the economy was at single-digit unemployment levels, and most business people were in denial of a long or deep recession.
Economic journalist Stuart Varney, the keynote speaker at Franchise Update's September 2008 Franchise Leadership & Development Conference, stated that he expected a fairly short recession. I followed his presentation with a rather different view of the road ahead.
In addition to my economic forecasts, I noted that some brands were starting to offer incentives for new unit openings. At the time, brands offering discounts and other incentives were relatively rare--and mostly considered a way to overcome the hesitation of the relatively small pool of qualified prospects reluctant to take the plunge into franchising because of their uncertainty about the economy.
So now, nearly two years later, is the number of brands offering incentives growing or shrinking? And either way, what does that say about the state of development in mid-2010? First, let's look at whether more franchisors are offering incentives today, who they are offering them to, and what they are offering.
When we first started noticing this in the last half of 2008, the brands offering incentives were newsworthy, and there were only a handful we could find. To be clear, while many brands have offered multi-unit and other incentives for years, I am talking about brands that changed their existing offerings with special incentives, often time-limited, to encourage new unit development. Since we don't track this specifically at FRANdata, I asked our sales and research teams if any brands came to mind recently. Within 10 minutes, I got 17 examples. Here is a summary:
| | | | |
| --- | --- | --- | --- |
| | $$ Reduced | % Reduced | Franchisees |
| Initial franchise fee | $5,000 | 20% | New |
| Initial franchise fee | $10,000 | 40% | Existing |
| Initial franchise fee | $5,000 | 20% | New |
| Initial franchise fee | $12,500 | 45% | Existing |
| Initial franchise fee | $12,500 | 50% | New |
| Initial franchise fee | $25,000 | 100% | New |
| Initial franchise fee refunded if sales goals met | $30,000 | 100% | New |
| Fee and royalty reduction | $20,000 | 80% | New |
| Royalty reduction (from 2%) | -- | 100% | New |
| Waive ad and royalty fees | -- | -- | New |
| Waive royalty first 5 months | -- | -- | New |
| Real estate buy-back option | $750,000 | -- | Existing |
| Early opening award | $10,000 | -- | Both |
| 3-lease incentive | | -- | New |
| VetFran | $12,500 | 45% | New |
| Equity contribution | <$100,000 | -- | New |
| Interest-free financing for masters | -- | -- | New |
This summary of incentives shows a number of things. First, there obviously is a willingness by many brands to experiment with different formulas to stimulate development in a tough economy. Second, there is a lot more of this testing going on than is apparent from the occasional observations made in the press. While the table is a random sample, my staff assures me that with some further research, we could uncover many more.
Perhaps most interesting is that some brands are making the offers available only to existing franchisees. This "grow from within" approach has implications for many functions a franchisor performs, most notably including training and field support. It may also reflect the reality of capital access constraints that have made it relatively more difficult for new franchisees to get started. On that front, franchisors are clearly striving for solutions, as the demand for SBA Registry listings and bank credit reports confirms.
Our research inquiries often are a leading indicator of the less-understood issues franchisors are trying to address. We are getting more interest in the topic of incentives by franchisors, another indication of its timeliness. In a recent study, we were engaged to evaluate development incentive plans in one of the food sectors. We looked at 16 brands (none of which are referenced above). All were offering reduced or even waived initial franchisee fees to existing franchisees, and 13 offered them to new franchisees as well. The creativity in these reductions and waivers was impressive. They included a buy three, get one free program; incentives for finding and converting other locations; and proximity incentives to create a second unit within a specified distance from the current one.
More than half of these brands offered reduced or waived royalty fees as well. All of these changes had specified time limits that ranged from less than a year to five years; some were offered for starting a new unit with no other conditions; others had conditions such as meeting all the terms of a development agreement.
A few brands offered reductions or waivers of marketing contributions. This was the incentive offered least frequently. Given that more than half of the franchisors were prepared to absorb reduced royalty revenues, the message conveyed is that marketing must continue, even at the cost of royalty income.
Will these incentives survive this recession, or are they merely a reflection of the challenges of the current economy? Part of the answer lies in how effective they have been. Anecdotal feedback we are getting is that they are having the intended effect: brands that are offering them believe they are getting more development than they otherwise would be. And part of the answer lies in how robustly we come out of the Great Recession. That's a question I am preparing to address in September, at the Leadership & Development Conference in Atlanta. I'll see you there.
Darrell Johnson is president and CEO of FRANdata, an independent research company supplying information and analysis for the franchising sector since 1989. He can be reached at 703-740-4700 or djohnson@frandata.com.
Published: September 27th, 2010
Share this Feature
Recommended Reading:
Comments:
comments powered by

Disqus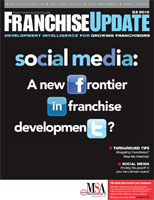 Franchise Update Magazine: Issue 3, 2010
April 25 - April 28, 2023, Caesars Forum, LV. The Multi-Unit Franchising Conference is the premier annual event for the country's leading...
The business messaging platform that lets you text from your office phone number directly on your computer, so you can actually get a response.