Building Momentum: Cheryl Bachelder, Popeyes CEO, wants to Build Better Leaders
The single word Cheryl Bachelder, CEO of Popeyes Louisiana Kitchen, uses to describe the resurgence of the brand is "momentum." She says Popeyes is now in its seventh year of positive growth, and its turnaround tale is one she is extremely proud to be part of.
"My background in packaged goods taught me the value of positioning a brand, listening to customers, and keeping things fresh in order to be successful," she says. "I don't believe in a brand lifecycle."
Following a career with packaged goods giants including Procter & Gamble, The Gillette Company, and Nabisco, Bachelder took a leadership position with Domino's Pizza in the mid-1990s. It was her first foray into the restaurant business and franchising, and it was a case of baptism by fire.
"My first week on the job there was a class action lawsuit filed against us by the franchisees," she recalls. There were some distribution problems and a general lack of communication, and it all boiled over. Bachelder stepped in and began peeling back the layers. "I found that we had an unaligned relationship with our franchisees. When you are aligned with your franchisees, you can rule the world."
So she set about asking questions, listening, making changes, and rebuilding the franchisee-franchisor relationship by setting up a franchise advisory council, changing the culture, and improving communication. It was a successful experience that helped turn the brand around.
Those same skills came in handy when she joined Popeyes in November 2007. In fact, she says, the changes at Popeyes during the past seven years under her leadership are the proudest moments of her career. "We set about repositioning this brand, measuring customer feedback more closely, and working hand in hand with the franchisees," she says. As a result, sales are up, franchisee validation is through the roof, and restaurant performance numbers keep rising. "It's the eighth year of momentum coming up here for Popeyes," she says. And, she adds, don't expect it to be the last.
The brand's global same-store sales growth rose 6.2 percent in 2014, and the company continued its expansion by opening 201 new restaurants, a new milestone. Today, with more than 2,000 locations, Popeyes trails only KFC and Chick-fil-A in the fast-food chicken sector.
Bachelder prides herself not only on being a strong leader, but in helping others to do the same. "My passion is to develop great leaders, both men and women," she says. Throughout her career she says she has taken notes from observing leaders both good and bad. The result is a personal leadership toolbox filled with tried-and-true skills and techniques that get results.
"The world needs better leaders, and I try to help build leaders who can go on to fill those positions," she says, adding that it's important for those in the C-suite to establish and live up to higher standards, be a role model, and have the competency and character to match.
Bachelder recognizes that being a woman in the C-suite today can still have its share of challenges, but says the skill set and knowledge a person brings to the top is much more important than their gender. Female leaders, she says, need to be sensitive to helping other women rise to the top. "By investing in the future female leaders, we can help them be the best they can be."
Of her own path to the C-suite, she says it has taken a "unique combination of bravery and humility." Bachelder likes to quote Jim Collins, who wrote that leaders need "ambition for the enterprise, not for yourself," in his book "Set aside your self-ambition and focus on unlocking the aspirational performance of the organization you serve," she advises.
And that's the spirit that has guided Bachelder on her path to the C-suite... where the momentum continues.
System-wide revenue: N/A. U.S. same-store sales have outpaced the chicken-QSR segment for 26 consecutive quarters, and overall QSR for 12 consecutive quarters according to independent data. In 2014, global same-store sales rose 6.2%
No. of units: 2,379 total (2,314 franchised, 65 corporate)
International locations: 509
Public or private? Public
Growth plans (1, 3, 5 years): We believe we have the potential to double our domestic footprint.
Year founded: 1972
Began franchising: 1976
Years with company: 7
Years in franchising: 18
How did you rise to the top?
My career was a steady path through increasing responsibility, first in brand management roles in packaged goods companies and then in broader general management roles in the restaurant industry. My career path was characterized by strong brand and product development skills, partnered with effective collaboration and leadership skills to get work done and produce results.
What did your career path look like?
It began with an entry-level position in brand management at Procter & Gamble. I then gained broad experience and a promotion to brand manager at The Gillette Company and Nabisco. When Nabisco merged with RJR, I was in a position to be promoted to director of marketing in the new entity. My results and willingness to take risks gave management confidence to put me in this role. My capstone position in packaged goods was as vice president, general manager of the Life Savers division of RJR Nabisco. I then paused my career at the birth of my second child. During this time I taught business school classes at Wake Forest University and consulted in new product development for a large food company. Part two of my career has been in leading franchised chain restaurant organizations, starting at Domino's as vice president, build the brand, then as president of KFC, and today as CEO of Popeyes Louisiana Kitchen.
Was becoming a CEO/president always part of your plan?
No. For most of my career, I thoroughly enjoyed marketing and new product innovation responsibilities. I wasn't sure if I would pursue broader general management. But after sitting in the room as a senior executive at Domino's, I concluded that I wanted to stretch and learn general management. My first attempt at KFC had mixed results. At Popeyes, I have had the opportunity to lead an excellent team that has produced superior results.
Did you have a mission statement for your business life?
I have what I call a purpose statement: "To inspire purpose-driven leaders to exhibit competence and character in all aspects of their lives." At this stage of my life, I believe my most valuable contribution is to develop leaders for the future. It is also a rewarding endeavor.
How did you prepare yourself and set goals that led you to the C-suite?
I first prepared with a strong college education, an MBA in marketing in finance with honors. I then chose the very best training company in my field as my first position: Procter & Gamble. This fine company built my skills and gave me a network that has served me well throughout my career. In subsequent jobs, I focused on delivering excellent results in every role I was offered. I volunteered for brand turnarounds and big new product launch projects that gave me new experiences and visibility in the organization. Taking risks is a key part of preparing for senior leadership. Perhaps the biggest risk I took was shifting from packaged goods to retail chain restaurants mid-career. In retrospect, this was an important part of my development. Applying your skills in a new industry builds your capability and proves your agility in leadership.
When and where did you gain leadership experience/knowledge?
I learned leadership from several sources. I grew up under the tutelage of a great leader--my father, Max Stanton. He mentored me until his passing five years ago. I also learned from observing the many leaders I have worked for over the years. I kept a bit of a journal around the traits I deeply admired and the traits I hoped I could avoid. I also have read many seminal books on leadership that have shaped my thinking--the work of Stephen Covey, Pat Lencioni, Ken Blanchard, and John Maxwell have influenced my views.
What leadership examples did you learn from?
A brand manager at P&G, John Seeley, taught me many things about project management and product innovation. A leader named Dolph von Arx at Nabisco taught me how to create an exciting, inspired environment for teams. Tom Monaghan, founder of Domino's, taught me the critical elements of operating restaurants. Aylwin Lewis, CEO of Potbelly, was a great mentor during my time at Yum Brands. Aylwin taught me how to manage priorities and develop a diverse group of future leaders.
How did you benefit from networking?
I probably did not network as much as I should have in the early years. I was busy getting the work done. But in recent years, I have found networking very helpful. There are so many great leaders who are delightful people in our industry, and I am now much more likely to tap into my network for help and ideas.
Are you now mentoring others?
I love to mentor up-and-coming leaders. My primary focus is investing in the future leaders of Popeyes. But each year I mentor someone outside the company, a student, a mid-level leader, or a senior leader. I love to share what I have learned and see the growth in a future leader. It is an honor to serve someone in this way.
What communication skills helped you reach the top?
I believe that the ability to message effectively is an essential competency of a senior leader. People cannot follow well unless the leader can crisply articulate the vision for the enterprise--and the expectations for performance. Along the way, I learned to be a succinct and clear communicator, and that has been essential to my career path. At Popeyes, our Strategic Road Map for Results has guided our communications for seven years and built both understanding and commitment inside our organization.
What other skills were important?
The most important skills are leadership skills--not what you are doing, but how you are doing the work. A great leader exhibits passion about the work, exceptional listening skills, continuous learning, strong analysis and planning, coaching people, accountability, and the most difficult trait of all: humility. These are the principles we look for in our leaders at Popeyes. We don't ask for or expect perfection, but we ask our leaders to aspire to these traits.
Did you encounter stereotypes/sexism, and how did you overcome that?
Perhaps some small things--the reality that I don't know anything about sports and the awkwardness of being the only woman in the room. I do think people make assumptions about women that aren't accurate: women aren't risk-takers, aren't finance-savvy, aren't comfortable in operations, etc. I dealt with these assumptions by growing my skills in these areas--and demonstrating the capability to my bosses. Today, I am always scanning the conversations at work to make sure we don't make inaccurate assumptions about our diverse leaders.
Do you think women bring a different approach to leadership? How?
Actually, I think women are distinctly different from one another as leaders, just as men are. You can see that in the women leaders in our industry. We are not "clones." We each have our own approach to both the business and the people.
What are the biggest mistakes you see female leaders make?
That's easy. Not helping other women develop as leaders. I don't know why that is, but we need to invest in the future female leaders and help them be the best that they can be.
Can you have a family and a career at the top?
Yes. But don't expect the choices to be easy. I've often said that being a working mother is the toughest job in the world. The only way to navigate the difficult choices is to know your personal purpose in this life, to have crystal-clear priorities, to "take one day at a time," to have a sense of humor, and to have an amazing network of family and friends who help you on difficult days.
What does it take for a woman to become a CEO in franchising today?
To become a CEO, whether male or female, you need a unique combination of bravery and humility; the courage to lead your team to a daring destination worthy of pursuit; and the humility to come alongside the team and help them get to the destination. As Jim Collins wrote in Good to Great, "ambition for the enterprise, not for yourself."
What's at stake if women continue to be underrepresented in the C-suite?
If you see this as a problem, please explain. Basically, if we don't access women in leadership roles, we will be missing the capability of half the population of the world. I believe God created both man and woman to contribute to His plans. The nations who see every person with a God-given unique design and inherent dignity prosper. I'm thankful to live in a country founded on that premise.
Are you doing anything to help the next generation of women become franchise leaders?
My focus for the rest of my living days will be developing leaders. This past year, I wrote a book on my leadership philosophy entitled Dare to Serve: How To Drive Superior Results by Serving Others. It will be available in March. I hope to contribute to the narrative of leadership excellence through teaching and speaking on this topic.
What advice would you offer to women seeking the C-suite?
Set aside your self-ambition and focus on unlocking the aspirational performance of the organization you serve.
What would you like your legacy to be?
I would like to be remembered as a leader who developed some amazing leaders who made a difference in the world.
Published: August 7th, 2015
Share this Feature
Recommended Reading:
Comments:
comments powered by

Disqus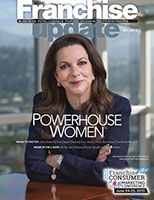 Franchise Update Magazine: Issue 1, 2015
Oct. 18-20, Atlanta, GA. An exclusive event for franchisor CEOs, Presidents, COOs, CDOs and Franchise Development Executives.
Gravity Software is a cloud-based, multi-entity accounting solution that simplifies inter-company transactions and financial reporting. Built-in...