Capital Ideas for 2021: Are You Ready for Post-Covid Growth Opportunities?
As we continue to experience the effects of managing through the Covid pandemic, we are beginning to see how the post-Covid landscape is evolving, how owners and operators can prepare, and what we can expect from lenders and other capital providers as we emerge. In the short term, as Covid cases continue to rise in most parts on the country, stay-at-home orders are expanded, indoor dining restrictions are increased, and with winter weather limiting outdoor activities, the restaurant industry is facing another difficult and challenging period. At the same time, we are starting to see signs that Covid could start to subside in the first half of 2021 as the mass roll-out of vaccines takes shape.
As government relief efforts including PPP, EIDL, and the Main Street Lending Program appear to be winding down and tax and forgiveness issues become more certain, owners and operators should shift their focus to managing capital structures and borrowing requirements for a post-Covid world.
Just as brands and franchisees have had varying levels of success throughout Covid, performance among lenders and other capital partners also has varied. We continue to see signs of winners and losers among capital providers, which creates both challenges and opportunities for borrowers and operators. Franchisees should prioritize finalizing and reviewing capital needs for existing operations, image and drive-thru upgrades, new development, and the latest focus: site conversions.
In addition, acquisition-minded franchise operators will see a host of opportunities including distressed and turnaround situations, market- and geography-driven bolt-on acquisitions, and franchisor-influenced deals. These opportunities, combined with diversification alternatives in different brands and markets, necessitate a thorough review of your existing capital structure and potential alternatives.
The key question is: Can your existing capital partner(s) support your growth plans for upgrades, new unit development, and acquisitions? We highly recommend finalizing your long-range capital plan as a prelude to a review of your lender and capital relationships. Many lenders have stated it is business as usual for existing clients and new credit opportunities. We are witnessing a clear delineation in what opportunities lenders will underwrite or even consider versus what their public statements indicate.
If you don't have a drive-thru, an established off-premise sales platform, and solid sales and EBITDA performance throughout the pandemic, your future borrowing capacity may be limited. Borrowers can expect lower leverage advances, higher pricing spreads, and tighter covenants. For new unit development and acquisitions, higher cash equity requirements will be the norm. In reviewing capital plans with credit and capital partners, it is important to understand how your capital partners view the new landscape, how they will support your business, and whether the time is right to search for a new financial partner.
Lasting changes
In many cases, franchise owners have been able to delay tough conversations with capital partners as short-term liquidity has been enhanced through PPP loans and deferrals from franchisors, landlords, lenders, and other vendors; and franchisors have delayed development requirements. These factors have put off new credit requests and capital demands. Depending on the segment, we anticipate increasing capital requirements and facility upgrades as brands and operators focus on refining their off-premise sales platform through delivery, takeout, and drive-thru capabilities to meet the evolving customer demands.
We see a permanent change in customers' expectations for convenience and flexibility in terms of dine-in, drive-thru, curbside, and delivery. In addition, as real estate markets evolve and new and different conversion opportunities emerge from closed locations, credit demands will increase and evolve. All these developments should be addressed with debt and equity partners to gauge their interest in supporting the capital demands, and at what level.
As operators review their overall capital plan, relationships, and alternatives, the conversation should not be limited to lender relationships. With changes in the economic realities of your business, this is also an ideal time to consider other opportunities in your capital makeup. Real estate portfolios may have opportunities to exercise purchase options. In other cases, the sale of real estate can allow franchise owners to buy out partners, accelerate development, or pursue an opportunity that was unavailable pre-Covid. In addition, as the post-Covid landscape becomes more certain, there will be continuing opportunities in your real estate portfolio to renegotiate leases or relocate units to better locations within a trade area.
As operators review alternatives for acquisitions or the sale of all or part of their business, it is important to be ready and review conditions necessary to complete transactions. Be especially careful of quality of earnings (QE) reports and requirements in 2021. CPA and financial firms producing QE reports will have an especially difficult task as 2020 QE reports will be subject to adjustments and projections on run rate sales and EBITDA. Focus on the scope of the QE report and how performance will be adjusted based on Covid. Expect higher incidents of re-trading and price adjustments based on the results of these reports.
Review
In summary, as we evolve into a post-Covid world, focus on your capital structure. What worked before Covid may not be an ideal scenario today. Plan a review into all capital relationships, and consider all alternatives, including senior and junior lender options, equity partners, and real estate portfolio alternatives. Ask questions and present hypothetical opportunities to credit and equity partners. The current environment necessitates these discussions and dialogue. Put your plan together and start the conversation.
Carty Davis is a partner with C Squared Advisors, a boutique investment bank that has completed hundreds of transactions in the multi-unit franchise and restaurant space. Since 2004 he's been an area developer for Sport Clips in North Carolina with more than 70 units. Contact him at 910-528-1931 or carty@c2advisorygroup.com.
Published: January 7th, 2021
Share this Feature
Recommended Reading:
Comments:
comments powered by

Disqus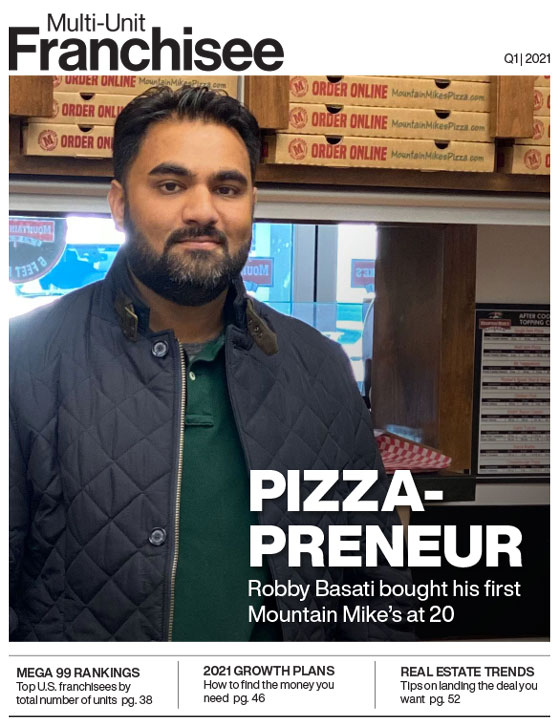 Multi-Unit Franchisee Magazine: Issue 1, 2021