CEO Profile: Rich Wilson Leads a Turnaround at CertaPro Painters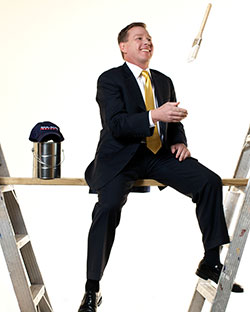 Rich Wilson needed to earn money for his college education. The way he saw it, he had two choices. "I could either spend a summer crab fishing in Alaska or start my own business," recalls Wilson, president and CEO of CertaPro Painters for the past 4 years. "I decided to stay dry."
So in 1987 he became a franchisee of College Pro Painters, a painting company that targets business-minded students. It worked out: he made enough money to pay off his tuition bills and enjoyed running a business so much that, rather than following his plan to attend law school after graduation, he joined College Pro's corporate team, becoming a division vice president by 1992. He spent the next 5 years with the organization before a couple of career turns at Aamco and Maaco before settling in at CertaPro Painters in 2003.
When Wilson took over as the company's executive vice president, growth was stagnant, with annual sales of about $50 million. He spearheaded major company-wide changes, revamping hiring processes, improving franchisee relations, and adjusting marketing strategies. In 2008 he became COO, and in 2010 was named president. Under his leadership, the company has notched major improvements: since 2009 CertaPro has charted double-digit year-over-year growth, and in 2013 it reached $265 million in sales.
And he's far from done. In January 2013, CertaPro launched two new initiatives designed to make it the most well-known name in painting. First, the company is getting a paint job itself: all CertaPro logos, clothing, and marketing materials will now use gold as an accent color. The idea is to focus on brand recognition instead of direct response marketing.
"The way people associate blue with Facebook - that's what we expect for CertaPro," he says. "We want people to recognize the company instantaneously."
Second, CertaPro is changing the way it handles customer feedback. The company has always made customer satisfaction its highest priority, surveying a third of its clients annually. That's all changing. CertaPro has begun using Net Promoter Score (NPS), an industry metric that uses a third-party agency to survey customers anonymously and assign an overall satisfaction score between 1 and 10.
"We could just finish the job and move on, but customer satisfaction is vital. We want to know how to exceed our clients' expectations," says Wilson.
Between the image revamp and the new feedback system, Wilson is confident that CertaPro will see continued growth - and most important, the ongoing corporate changes will benefit the company's 345 franchisees. A strong network of support and extensive corporate training (CertaPro University) helps franchisees recruit and retain talented staff members, which Wilson says has improved productivity and sales.
"To grow as a company, we need to help our franchisees grow. Through these new initiatives, as well as our existing franchisee support system, we can create a culture of growth and success that benefits the whole company," he says. And when franchisees are happy, others want to join the team.
The economy has certainly played a role in the company's upward trajectory, as CertaPro's growth is helped by the recovering housing industry. With home prices gradually returning to pre-bubble rates and more people finding jobs, the Home Improvement Research Institute projects an 8.1 percent increase in home sales this year. This translates to more people investing in their homes - exactly the kind of news CertaPro likes to hear.
Between the housing recovery and Wilson's leadership, CertaPro is poised for another record-breaking year, with expectations to continue its double-digit annual growth. Wilson expects to double annual system-wide sales to more than $500 million by 2016 and has plans for CertaPro to grow to $1 billion in annual sales within the decade.
"We're already the biggest company in the industry, but there's nowhere to go but up," he says. "Breaking the $1 billion mark isn't a dream - it's rapidly becoming a reality."
Note: A longer profile, with more of Wilson's thoughts on leadership, management, and the bottom line, will appear in the next issue (Q2) of Franchise Update magazine.
Published: May 20th, 2014
Share this Feature
Recommended Reading:
Comments:
comments powered by

Disqus
MSA provides domestic and international franchise advisory services to franchisors and companies seeking to establish franchise and licensing systems.
ApplePie Capital provides a fresh new approach to franchise financing that is focused on your growth and success.