Change Agent: Making the World a Better, Cleaner Place
Jonathan Barnett has a portfolio full of ideas and plans for his expanding the Oxi Fresh Carpet Cleaning brand. As an enterprising college graduate, he founded the brand in 2006 because, he says, "Carpet cleaning has a low barrier to entry, is excellent for creating repeat business, offers a service in high demand, and has the potential to net millions of dollars." Today, nearly a decade after launching his dream, he remains atop the brand as CEO, directing its growth and pushing the boundaries of an old-school industry.
His track record to date is promising. Barnett opened the first Oxi Fresh in Denver, and within 6 months the company had expanded to 17 locations in 5 states. He gave the first five franchises away free, including one to his mother, who remains a major influence in his life. Today, the business has grown to 280 locations in 45 states and Canada. In 2014 alone, Oxi Fresh opened 55 new units, more than the two previous years combined. Nearly 30 additional new units have opened since the beginning of 2015. Barnett says he's more interested in developing the largest market share, rather than the largest number of franchisees. Over the next 5 years, he says, "We're looking to award 50 franchise opportunities to qualified candidates every year in the U.S. and Canada."
He's passionate about his brand, his team, and their customers, whether talking about the brand's innovative cleaning processes, which use Earth-friendly chemicals and require a fraction of the water used by traditional carpet cleaners; or the brand's scheduling system, which answers about 2,500 calls a day and schedules appointments for all franchisees and allows franchisees to "work on their business, rather than in their business," he says.
Barnett says he learned early on to lead from the front. "That's especially important given that my company is trying to change an industry that's been doing the same thing for decades. The only way we can become the number-one carpet cleaning company in the world is if I'm actively leading my team and working relentlessly every day." As a leader, he says, it's his duty "to make great things happen."
Name: Jonathan Barnett
Title: Founder, CEO
Company: Oxi Fresh Carpet Cleaning
Units/Brands: 280 Oxi Fresh Carpet Cleaning; 12 Midtown Chimney Sweeps
Age: 35
Family: Natalie Ehrlich, Mom
Leadership
What is your role as CEO?
To cast the vision for my company, create a culture that inspires everyone in our brand, establish our goals, develop and execute strategies that lead us toward our goals, and make the tough decisions that put the brand first. I also have to develop top talent at the home office while establishing policies and processes that will help ensure Oxi Fresh's success.
Describe your leadership style.
Driven and aggressive. I learned very early on that it's best to lead from the front, and that's especially important given that my company is trying to change an industry that's been doing the same thing for decades. The only way we can become the number-onecarpet cleaning company in the world is if I'm actively leading my team and working relentlessly every day. After all, I believe that to be successful, you have to be willing to do whatever it takes and work as hard as possible. I feel like that belief has also really influenced my company's culture.
What has inspired your leadership style?
It all starts with my mom, Natalie Ehrlich, and her incredible will power. She raised me as a single mom while working multiple jobs and getting her degree, going to graduate school, and eventually earning her doctorate. That took a lot of determination, and while she taught me a lot of valuable things, her refusal to quit--or let me quit--has stuck with me. Just to give you an idea of how determined she is, she once ran 52 marathons in a single year.
Another major inspiration for me was not a person, but rather a position I held. In high school and college, I was a point guard and it fell on me to identify my teammates' strengths and weaknesses, to learn how to manage a team's emotions and personalities, how to communicate quickly in high-stress situations, and how to inspire hard work and determination among very different kinds of people.
I first witnessed the power and value of delegation through Coach Sutton of Oral Roberts University. I had coaches in the past who screamed and yelled the whole time, running around like crazy. Coach Sutton, however, would evaluate a situation, communicate his plan and directions to his offensive, defensive, and scouting coaches, and then send them out to work with the team. By doing this, rather than trying to micromanage everything, the team got a much better understanding of his vision and how to implement it. That's a lesson I use to this day.
What is your biggest leadership challenge?
Effectively communicating my vision. Everyone at Oxi Fresh shares the overall vision of being the number-one carpet cleaner in the world, but it's communicating the finer aspects of that vision--the many plans and goals I have--to my franchisees that can be challenging.
How do you transmit your culture from your office to front-line employees?
One of the main ways we accomplish this is through the principle of "Ownership through Scoring." Every technician in our system gets an individual Customer Feedback Score and has their sales data tracked. Letting them see these scores helps give them a sense of ownership in their position that can drive them to work harder and improve.
Where is the best place to prepare for leadership: an MBA school or OTJ?
Having earned my MBA and then having the experience of being the CEO of Oxi Fresh has left me with the opinion that while an MBA can teach you some great things, real OTJ experiences are where you learn true leadership skills.
Are tough decisions best taken by one person? How do you make tough decisions?
I would say they are best made by one person, but they are best advised by a team. When a tough situation presents itself, I want to hear what my VPs' thoughts are and, if appropriate, my managers' opinions as well. They can offer important perspectives that can help shape my decision. However, it's ultimately my job to put our brand first and make those tough and sometimes unpopular decisions to do what's best for the brand.
Do you want to be liked or respected?
Everyone wants to be liked, but as the leader of Oxi Fresh, it's more important for me to be respected. I may not always be able to make everyone happy, but you earn the respect of your employees and franchisees when they know your decisions are made with the company's best interests and overall goals in mind.
Advice to CEO wannabes:
Don't be afraid to fail but make sure you fail fast, pick yourself up, dust yourself off, and keep pushing forward. Also, remember that you can't just sit around and idly wait for great things to happen. As a leader it's your duty to make great things happen.
Management
Describe your management style:
I'll put my team members in charge of the projects they're experts on and get updates from them multiple times a day. I'm a big believer in Ownership through Scoring, Trust through Transparency, and Delegation. So a useful tool for all of us is our weekly meeting where we see how projects are progressing, discuss issues as a group, and come up with a plan of action.
What does your management team look like?
I have a young, passionate management team who primarily have worked their way up in the company. They aren't content to just be good--they're hungry to be great.
How does your management team help you lead?
I rely on the strengths of my management team to help me execute the vision. I am creative and can build concepts, so I've surrounded myself with talented individuals who are amazing at turning my ideas into reality.
Favorite management gurus: Do you read management books?
Traction by Gino Wickman, and The 21 Irrefutable Laws of Leadership by John Maxwell.
What makes you say, "Yes, now that's why I do what I do!"?
I love working with passionate people. When I talk to a franchisee who's excited about their franchisee opportunity and their business, that gets me really excited. Just the other day, I was talking to one of our franchisees, Jesse Keyser who told me that when people ask him about the various franchise concepts he owns, he tells them: "If I could do it all over again, would I do the same concepts? The answer is a solid YES. All my brands are strong and make great money for us. I do share that if I could have changed the order of the brands I invested in, I would. Oxi Fresh would have allowed me to have faster growth for my company in the early years when cash and capital were tight. The cost to grow the Oxi Fresh concept is less resource-intensive than my retail concepts. Without a doubt, I would have a higher net worth today if I would have utilized the growth efficiency that is available with the Oxi Fresh concept as my first brand versus my fourth brand."
Personal
What time do you like to be at your desk?
Anyone who knows me will probably tell you that I can be a bit annoying since it's tough for me to "turn off." Whether it's very late at night or early in the morning, I'm typically emailing and talking with my team. As long as I have my iPhone (and a phone charger), I'm always at my virtual desk.
Exercise in the morning?
My days are so much better when I'm able to get a workout done in the morning.
Wine with lunch?
Wine is for celebrating a win, like when someone embraces our franchise opportunity or we launch a new program. Typically for lunch I'm at the office working through things, so no wine then.
Do you socialize with your team after work/outside the office?
I believe culture is king. You can have the best business plan in the world, but without a good culture your business won't succeed. I love socializing with my team and we take one Friday a month for a team event. Each manager gets to pick one, so it's different each time.
Last two books read:
I like to read multiple books at the same time, but generally I just read a couple of chapters in each to find the best nuggets of information. A couple that have really helped are The 21 Laws of Leadership and Traction, but there are tons of great reads out there. Something that fits my personality a little more are TED Talks, which are short, online, educational videos that have a ton of great information.
What technology do you take on the road?
All I really need is my iPhone and Mac and I can manage the whole business. We've built everything to be hosted in the cloud so I can work from anywhere.
How do you relax/balance life and work?
I like to unwind and watch a TV series or just kick back with close friends. Colorado is a pretty active state, so there's always something to do.
Favorite vacation destination:
I'm not too picky, but if you put me somewhere warm with a beach, I'm very happy!
Favorite occasions to send employees notes:
I'm huge on celebrating wins so when people on my team complete a project, I love to send a "Congrats" or a "BOOM!" message.
Favorite company product/service:
I love pretty much anything Apple makes, from my Mac to my Apple TV. I love the ease of use and how they are always pushing the envelope of technology.
Bottom Line
What are your long-term goals for the company?
The ultimate goal for us is to be the world's number-one carpet cleaner. For us, that means our franchisees having the most market share, rather than having the highest number of franchisees. In terms of the next half decade, we're looking to award 50 franchise opportunities to qualified candidates every year in the U.S. and Canada. We're also starting to award international master franchise opportunities to qualified candidates. In other words, Global Domination!
How has the economy changed your goals for your company?
A business that can't adapt will die. That's a lesson we've learned from the changing economy, and one we took to heart. We've created a responsive, efficient business system that allows franchisees to focus on growing their business, rather than getting stuck in it dealing with the details.
Where can capital be found these days?
It's no secret that since 2008 the funding world has changed, but through our proven model and ability to build relationships with our funding vendors, we can find funds for almost any candidate. Our development team has established contacts that can get our franchisees funded typically in less than 30 days.
How do you measure success?
There are so many different ways to measure success, but I like to view it as how many lives we've affected. For me, Oxi Fresh is bigger than just money--it's a way to give people a means to achieve their dreams and to make the world a better place. Since we started cleaning carpets, Oxi Fresh has saved the planet more than 25 million gallons of water. That's incredible. If Oxi Fresh can continue to leave this positive footprint on franchising, the environment, and our franchisees, I'll definitely feel we've been a success.
What has been your greatest success?
When I started this carpet cleaning franchise as a young man, I couldn't have imagined the growth it would undergo or the impact it would have on others. Giving folks the chance to change their lives and pursue their financial dreams and goals through our franchise opportunity has been both an honor and a responsibility that I don't take lightly. My team and I are committed to serving our franchisees, to giving them our absolute best--and we're excited about the future.
Any regrets?
I've made a lot of mistakes along the way. When I started Oxi Fresh in 2006, I was 26 years old and I didn't know what I didn't know. Of course, I believe nothing is really a failure as long as you learn from it, but I can tell you that I've had to learn a lot of lessons over the years. Looking back, though, I wouldn't really change much. Those difficult times helped shape me, drove us on to even greater opportunities, and helped make Oxi Fresh the company it is today.
What can we expect from your company in the next 12 to 18 months?
For Oxi Fresh to continue to grow as we award 50 to 75 franchise opportunities to qualified candidates over the next 12 to 18 months. We'll also award our first international master franchisee and continue to have our franchisees gain market share in the areas they service.
Published: December 31st, 2015
Share this Feature
Recommended Reading:
Comments:
comments powered by

Disqus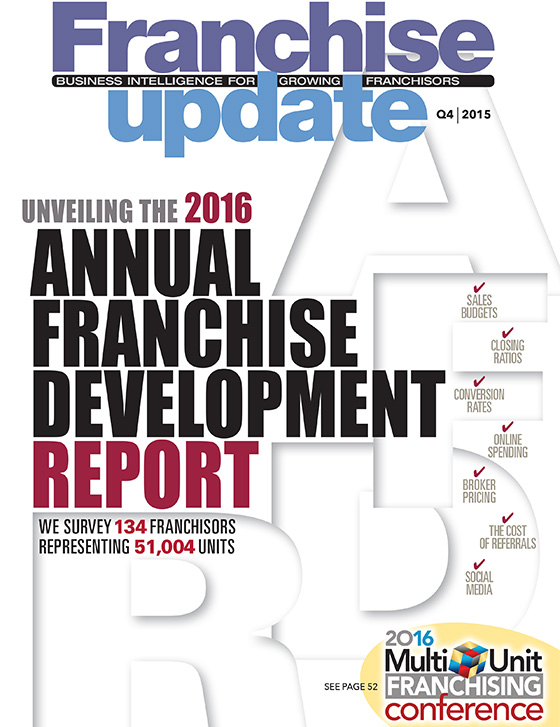 Franchise Update Magazine: Issue 4, 2015
Conferences
InterContinental, Atlanta
OCT 18-20TH, 2023
June 18-20, 2024 Marketing-Operations-Technology. Be a part of this ground-breaking new space for ideas, inspiration and networking for Franchise...
David Energy is a software-enabled retail energy provider bringing the power of visibility, savings and peace of mind to mid-market brands.