Coming On Strong: John "JD" Draper makes it Happen With 125 Units, 6 Brands, and 4,000 Team Members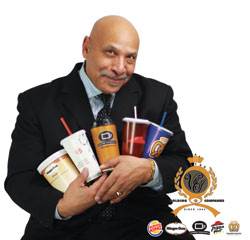 John "JD" Draper simply looks like a leader. Maybe it's his dapper attire, mile-wide smile, and booming voice. Or maybe it's his decades long command of operating franchises. He's experienced, successful and has the acumen to continue being successful.
Draper has been a student of franchising since his first job out of Wayne State University. "I went to work straight out of college as a shift manager for a Burger King in Detroit. I made $1.75 per hour," he says. Today, as president of operations for V&J Holding Companies in Milwaukee, he is responsible for 125 units, 6 brands, and 4,000 team members in 6 states (Wisconsin, Michigan, New York, Ohio, Minnesota, and Massachusetts).
Draper describes himself as a "participatory manager," and can readily discuss the Affordable Care Act, multi-brand challenges, the economy, and relationships with franchisors, team members, and employees. He comes on strong on each topic, throwing in a memorable, usually original, quip. And he always concludes the glass is at least half full.
Even when it comes to weathering the economic downturn, he remains encouraging with his teams: "You guys have written a page in history. Few people have gone through this tough an economy--it's only the second worst in our country's history--and lived and managed through it. These life skills will be with you the rest of your life. Be proud."
When it comes to achieving goals, Draper tells his teams: "Only if effort turns to results did 'try' have anything to do with it."
And his favorite theme, and one big reason he's fondly known as "JD" throughout the industry: "If you're not hospitable, you're in the wrong game."
Draper, who joined V&J in 1994, is a staunch supporter of all V&J's food brands and believes the diversity makes the organization stronger and more nimble. "Each brand operates in a different climate. Burger Kings are in urban markets as well as suburban markets. Pizza Huts are generally in our upstate markets, and Auntie Anne's are in the malls," he says. "Each point of distribution gives us a different sensitivity to our customer base. The diversity in my opinion has been a blessing because when one brand is doing well and another is not, they can help each other."
This U.S. Army veteran, philanthropist, husband, father, and grandfather is also a cheerleader for franchising in general. "It's a great time to be a franchisee. Franchisors are looking for multi-store operators, people with fire in the belly. If you have fire in the belly, a humble desire to serve, and are hospitable in nature, get in now!"
Name: John "JD" Draper
Title: President of Operations
Company: V&J Holding Companies, Inc.
No. of units: Pizza Hut, 61; Burger King, 30; Auntie Anne's, 24; Coffee Beanery, 6; Häagen Dazs, 2; Edy's, 2
Age: 62
Family: Wife Deborah, three children, Angela, John (a Wingstop franchisee), and Kristal, and five grandchildren
Years in franchising: 42
Years in current position: 12
Published: July 10th, 2013
Share this Feature
Recommended Reading:
Comments:
comments powered by

Disqus
Offering same-day service, a single low price, and a streamlined process that's simple to replicate, ZIPS is a standout in the garment care...
Class 101 college planning franchise helps high school students get into better colleges and qualify for higher amounts of scholarships and financial...
Cash Required:
$50,000