Competitive Advantage: Deploy an AR Strategy for Market Dominance
Market dominance is the measure of the strength of a brand, product, or service relative to the competition. Emerging franchise companies that are the first movers in their market niche need to be agile to establish their market presence before more aggressive or better capitalized companies move into their niche and overtake their first mover advantage.
Most emerging franchise companies have difficulty attracting quality franchisees because they are often perceived as being unable to compete in the marketplace against more established brands that may have economies of scale, strong management teams, and technological advantages. However, emerging franchisors can overcome these challenges by implementing an area representation (AR) franchise growth strategy to create competitive advantages that lead to market dominance over more established and better capitalized players.
By embracing the AR business model, market dominance can be created faster than by any other franchise growth strategy. The reasons are fivefold.
Speed to market. Often new market niches evolve because of new technologies (the ability to refill printer ink cartridges vs. purchasing new ones); the rise of consumer preferences (mobile dog grooming vs. kennel-based grooming); or the adoption of new laws and regulations (required employee drug screening). Whatever the reasons, when new markets emerge or evolve speed to market and quick market adoption are critical because the window of opportunity will not exist for long. The AR business model enables speed to market, and because area representatives live in their territory, the ability to adapt quickly to changing market conditions.
Shoehorning into existing market niches. If existing players have not captured market dominance or if the market is growing faster than existing players can grow, emerging franchise companies can capitalize on this window of opportunity through their ability to fill the gap quickly through rapid franchise expansion. The AR business model is the most effective strategy to create and support hyper-growth cost effectively.
Capitalizing on the arrogance of existing players. Existing players often get overconfident when they feel they have the market locked up. Arrogance often causes complacency, leading to a lack of innovation or loss of quality in the brand experience. The AR business model provides the ability to be responsive and to deliver a memorable customer service experience at a more predictable level than more established, centralized national franchise companies can. The key reason is that locally based franchise field support (inherent in the AR model) tends to facilitate responsiveness by franchisees to their customers' needs.
Shifts in market preferences. Changing tastes and local preferences create windows of opportunity for emerging franchisors. Since area representatives live in their regions, they have an intuitive feel for the pulse of local markets. When markets change, the ability to identify and adapt to these changes quickly is critical for the long-term success of franchisees. The AR business model allows emerging franchisors to be responsive to changing market conditions.
Pricing elasticity. Failure to remain price-competitive is one of the most frequent mistakes made by established companies. Emerging franchise brands that can quickly adjust to shifting pricing preferences in local markets can capture momentum and maintain revenue growth at the unit level. An AR business model can orchestrate dynamic pricing strategies that are responsive to local markets in different regions of the country much more quickly than possible at centralized companies.
AR's many strengths
The AR business model creates a regional network of professionals who can manage the franchise recruitment process on a local or regional basis, resulting in rapid franchise growth--and the ability to support that growth through a local or regionalized support infrastructure, without a significant investment by the franchisor. This enables the franchisor to deliver higher-quality field support for its franchisees than nationally based support models, at a fraction of the cost.
Additional advantages of the AR model are that it provides capital from franchise fees to fund technology development; recruit management talent; and drive the dynamic marketing engine that powers franchise development (see "Strength in Numbers," Franchise UPDATE Q1 2010).
New or rapidly evolving markets create a once-in-an-era opportunity for brand relevance and market dominance. The inability to expand quickly to capitalize on these opportunities can result in missing the window of opportunity. A well-executed area representation strategy levels the playing field, allowing emerging franchise companies to deploy tools, strategies, and resources to gain and maintain a first-mover advantage.
Marvin L. Storm is managing director of Blackstone Hathaway, which specializes in using area representatives as a franchise growth strategy. He can be reached at 925-376-2900 x201 or mstorm@blackstonehathaway.com.
Published: June 14th, 2010
Share this Feature
Recommended Reading:
Comments:
comments powered by

Disqus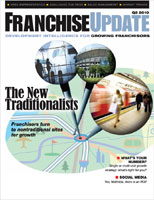 Franchise Update Magazine: Issue 2, 2010
Conferences
InterContinental, Atlanta
OCT 18-20TH, 2023
April 25 - April 28, 2023, Caesars Forum, LV. The Multi-Unit Franchising Conference is the premier annual event for the country's leading...
MSA provides domestic and international franchise advisory services to franchisors and companies seeking to establish franchise and licensing systems.