Culture Cash: Staying True to the Founder's Vision Pays Off
It's a familiar scenario: a successful concept is born from a family-owned restaurant where everybody knows your name and embodies a particular culture.
But success can ruin everything. The business can grow or get acquired or go public. Suddenly, the original team members are a number to human resources and the culture is reduced to rules and regulations.
That could have happened when Quaker Steak & Lube expanded beyond its original location in a former gasoline station. Its culture of delivering fun could have been compromised. Yet, research shows 53 percent of our guests still come for the fun atmosphere. Guests say they "feel good" when leaving.
Quaker Steak & Lube is different not only because of the cars, décor, great food, and best wings. Making memorable experiences is a key part of our culture. As CEO, I am responsible for keeping the organization true to its roots. My unofficial title is Chief Protector of the Brand DNA. It may sound impossible for a geographically diverse chain, but I've found it can be accomplished. Here's how.
Let your culture evolve organically and fiercely protect it. The founders knew from the beginning that a fun, unique environment would appeal to a wide range of guests, and they remain involved as "culture officers." For example, we've discussed going to uniforms. Servers wear a Lube shirt (some from years ago when they started) with jeans, shorts, or khakis. A founder said, "We are not a uniform environment. We're random, fun, nonlinear. Our guests don't wear uniforms. Neither should the servers." Rather than a formal corporate culture description, we simply use "fun" as a litmus test for every idea we consider.
Recruit franchisees who understand and value your culture. Franchisees must buy into our culture because it is everything to our collective success. We are Best Wings USA, the best in class. We are a restaurant that focuses on fun. There's a special event almost every night. That's what differentiates us from competitors. We can't export it from the support center. Restaurant general managers have to believe the most important thing is to serve guests and that happy employees lead to happy guests. It won't work otherwise.
Reinforce culture with your own actions. Potential franchisees feel The Lube's culture from the first moment on Discovery Day--if not sooner. For instance, when they fly into the Pittsburgh airport, I often pick them up myself. When they arrive, they cannot help but smile when they spot a huge 1985 Freightliner truck perched on the roof of the support center and a life-size version of "Coop," our chicken mascot, dressed in a race car driver suit, inside welcoming them. We also keep in mind that franchisees are our customers, and we are responsible for providing them with a great guest experience. For example, we've worked to become more transparent. What we in the support center know, franchisees know. We like to think we share more than other franchisors. It all comes down to the fact that every week, only one person is writing a check, and that's the franchisee. I think many franchisors have lost sight of that.
Keep corporate policies to a minimum. As the company grew, there was an inclination toward thicker policy and procedure manuals, but that can defeat a fun culture. Often, as companies grow, departments such as human resources or legal try to take over by creating too many policies. All of the support departments need to be enablers--not roadblocks--of success in the field. If our company remains philosophy-driven versus policy-driven, we can become bigger but still feel small.
Allow operators flexibility to make your culture their own. We can provide the tools, menu, events, and décor, but then we need to get out of their way. The franchisee's role is to apply The Lube's culture in a way that is relevant to their communities. Our "Lubies" (Quaker Steak & Lube's self-named fans) count on the basics, but they also expect each Lube to have uniqueness. The GM, franchisee, and team members create each location's spirit, and that's what makes Lubies feel good!
It's tough to communicate a consistent message throughout a building, let alone across a country. As the brand's Chief Protector, I believe it is critical to keep messages simple and to focus on the "whys" behind why we do things versus the "whats" that we do. As for the restaurant's future, the most important thing is to find franchise partners who live our vision and share our dream.
John Longstreet joined The Lube as president and CEO in 2010. He previously was an executive with ClubCorp and Intercontinental Hotels Group. He also served as mayor of Plano, Texas. Contact him at 724-981-3123 or www.quakersteakandlube.com.
Published: May 30th, 2012
Share this Feature
Recommended Reading:
Comments:
comments powered by

Disqus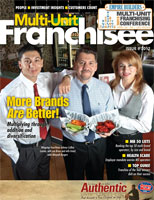 Multi-Unit Franchisee Magazine: Issue 2, 2012
The business messaging platform that lets you text from your office phone number directly on your computer, so you can actually get a response.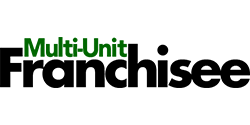 Published quarterly, Multi-Unit Franchisee Magazine is dedicated exclusively to Multi-Unit Franchisees. It delivers vital information and business...