Customer feedback is invaluable - if you know how to listen
Twenty years ago, when you wanted to know what was happening in your stores, you might have called in mystery shoppers. They would clock how quickly your front-line employees were greeting customers, whether your store displays followed the plan-o-gram, and whether your operations manual was in play.

But what about when you wanted to know whether you were creating the kind of customer experience that made customers prefer you over the competition? That's the kind of information you could get only directly from the source: real customers. And in the past two decades, this is the area we've seen the biggest changes.

We still need qualitative information about our business operations. But today, we're getting quantitative information too - and we're getting it from those who know best what customers really want: your customers. This direct connection has changed the world of customer research. As a result, it's changed the way many franchisors grow their business.

For example, a restaurant franchisor used a customer survey to determine the likelihood that a customer ordering a specific menu item would return. They discovered that one of their menu items that delivered low gross profit also scored low on "likely to return" among customers who were surveyed after eating it. Meanwhile, the franchisor identified menu items that delivered high gross profit and scored well on "likely to return." Given these findings, the franchisor removed the low gross profit/least likely to return items from the menu and started focusing their menu and promotional offers on items with high gross profits and high "likely to return" scores. This type of insight is made possible through a large sample of feedback from real customers.

Technology is one of the biggest enablers of low-cost customer feedback. It's expensive to pay mystery shoppers to visit to your stores. Today, with interactive voice response (IVR) technology and Web surveys, you can collect qualitative data for a fraction of the cost. If you want to know what your customers think, all you have to do is ask them - and listen to their response.

During the past 15 years, we've listened to 100 million customers talk about their shopping and dining experiences. They typically share their feedback within 48 hours of their visit, providing timely data that's both meaningful and actionable. Franchisors use this information to identify and remedy performance gaps and operational glitches. They use it to coach their store managers and to formulate action plans targeting specific areas that need improvement.

Another franchisor used customer survey data to evaluate the brand's limited-time offers. They looked at both usage and likelihood to return. When it came time to either repeat an offer or add it permanently to the menu, the franchisor could base the decision on quantitative data. They looked at sales numbers, of course, but then they cross-indexed those numbers against their "most likely to return" data so they could be sure they made decisions that would drive same-store growth. Two offers may appear to deliver the same sales results, but will they bring the same numbers of customers back?

The Service Profit Chain
More and more growing businesses are embracing a customer-centric strategy today. But we find that this works only with a careful focus on their employees, their customers, and their sales growth. These three closely linked components have become known as the Service Profit Chain, the result of a multi-year research program conducted by a group of Harvard professors.

Their research uncovered a definitive linkage between employee satisfaction, customer loyalty, and sales growth. Loyal employees create loyal customers and, as a result, sales growth. Sales growth creates advancement opportunities for those employees, which further boosts loyalty and, well, you get the picture. It's a continuous cycle of success, with each component of the chain mutually dependent on the others.

The Service Profit Chain depends on satisfied employees, which is why it's just as important to survey your own people as it is to survey your customers. And, if you measure both your customers and your employees, you can see the linkages between employee satisfaction, customer satisfaction, and financial performance at the unit level.

Your survey questions for customers and employees will differ, of course, but they'll use the same metrics. While you ask your customers whether they're likely to recommend your business to their friends, you ask your employees whether they're likely to recommend your business as a place to work. Your customers are asked whether they're likely to return, while your employees are asked whether they're likely to be employed with you a year from now. These related sets of survey questions allow you to make the connection between customer satisfaction and employee satisfaction.

Happy employees tend to stick around, especially if they believe their employer is responsive to their needs. That means when you survey them, you need to follow up that survey with an action plan to address key findings. In fact, conducting an employee survey without acting on the results can actually work against you by disheartening employees who share their feelings but never get feedback.

On the other hand, satisfied, tenured employees develop product expertise and a good knowledge of how to run the business, which enables them to deliver the kind of service that creates true customer loyalty. Of course, loyalty-inspiring customer experience doesn't come easily. It requires constant attention. You want your ears tuned in to your employees and customers, and your eyes on your day-to-day operations. You have to know what's happening out there, and you can do that only when you have an ongoing, real-time, direct connection with both your employees and your customers.

We tell our clients to demand two things from their customer research:

Financial linkage at the unit level. Good stores should score high, bad ones low. It sounds obvious, but we've seen the reverse happen too often.
Actionable information your stores can use to improve the customer experience and learn from their mistakes. Otherwise your research dollars deliver nothing more than spreadsheets and flowcharts.
Lessons from 100 million customers
When you have your ear tuned in to approximately five percent of the U.S. population annually, as we do, you learn a few things. Here's one that may surprise you: satisfied customers are actually at great risk of defecting.

In fact, customers who are merely satisfied aren't really your customers at all. They're easily won by the competition, and you can't build your business when your customers are a flight risk. Only "very highly satisfied" customers are truly yours - your fans, your brand apostles, your loyalists. And as you know, same-store sales are built on the backs of your loyal customers.

Revenue growth depends on customer loyalty, and customers become loyal only when they're blown away by your units' performance. Achieving that level of service - and maintaining it - requires continuous performance measurement and tracking. You may not always like what you hear, but you'll love the things you can do to grow your business when you listen to what your customers have to say.

Bill Fromm, founder of Barkley Evergreen & Partners and co-founder of the Service Management Group, is a nationally known expert in strategic planning and customer service. He has authored two books on customer service: The Ten Commandments of Business and How to Break Them, and The Real Heroes of Business - and Not a CEO Among Them, co-authored with Len Schlesinger.
Published: September 18th, 2007
Share this Feature
Recommended Reading:
Comments:
comments powered by

Disqus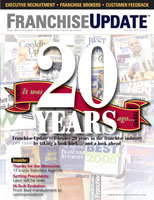 Franchise Update Magazine: Issue 3, 2007
From lead generation to increasing sales, Hot Dish Advertising is the pro at getting your message in front of those who matter most--consumers...
Franchise Update Media (FUM) is the trusted resource for the franchise industry. For 30+ years, FUM has been the leader in providing valuable...