Diversification Strategy: Longtime Papa John's Franchisee Consolidates and Grows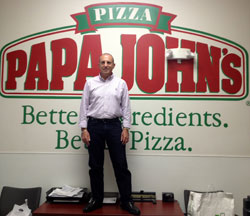 Ricky Warman was a Prudential Securities investment manager who chucked the corporate life to take a stab at franchising in the early 1990s. He's created a successful operation over the past two decades and lately he's been strategically consolidating his business to Southern Florida.
At one point in recent years he had 53 Papa John's locations throughout Florida. Over the past four years, however, he sold off all the units outside his core areas of Miami, Dade, and Broward counties and redirected his focus to the remaining 31 units.
"I like to be near the stores and be able to concentrate on doing things really well right here in my own backyard," he says. But with his Papa John's territory now maxed out, and his desire to grow propelling him, he's turned his attention to additional brands.
"That's one thing I've learned from attending the Multi-Unit Franchising Conference," he says. "There are so many other good franchise opportunities out there that I have learned about."
His inquisitive nature led him straight to Genghis Grill, the build your own bowl stir-fry concept. "I talked to their representatives, and I knew some other Papa John's franchisees who had tried the Genghis Grill brand and liked it." So he joined in on the action, and last December opened his first Genghis Grill. He's since added a second.
"I'm very comfortable with Genghis Grill, it fits into my business. I already knew how to do fast food, and it has been similar doing fast casual," he says. He says the pizza business has always been resilient, and he expects Genghis Grill to be another home run for his organization.
There's been one more new wrinkle in his operation since 2009. Together with his wife Sarit, he's opened a South Florida territory for Homewatch CareGivers. Thanks to an aging U.S. population, the home care market is booming--a fact that hasn't been lost on Warman, who opened his Homewatch territory in late 2012. "I know how franchising works, and my wife has had experience in the past of taking care of family members," he says. "So we believe it's a natural fit."
Warman says his three brands are run as independent companies, all under one umbrella. "I have good people in place that I trust to make things run smoothly," he says. He oversees it all and still likes to be actively involved in the day-to-day operation. He's also proud to keep an open-door policy for any of his 850 employees.
So what's next for him? Warman says he has plans to continue to grow and sees himself adding more restaurant brands during the next five years. "I want to expand and become a bigger restaurant organization," he says.
Get ready, South Florida!
Name: Ricky Warman
Title: CEO
Company: Pizzerias, LLC
No. of units by brand: Papa John's, 31; Genghis Grill, 2; Homewatch Caregivers, 1
Age: 48
Family: Married 22 years, with twin 18-year-old daughters
Years in franchising: 22
Years in current position: 9
Published: August 28th, 2013
Share this Feature
Recommended Reading:
Comments:
comments powered by

Disqus
With many attractive development territories available for multi-unit growth, there has never been a better time to become a Penn Station franchisee.
Cash Required:
$300,000
Unlock success with Payroll Vault! A proven franchise offering top-tier software-based payroll & HR services. Your opportunity to lead in the...
Cash Required:
$100,000