Eggsperts! Scramblers spreads its wings
Ohio-based Scramblers is transitioning from a mom-and-pop family business launched in the late 1980s into a growing franchise brand carving out its niche and crafting a new, complementary brand. Behind the wheel of the brand's marketing efforts is Kelly Buerk, director of franchising and marketing.
"Our company figured out what we do best and focused on doing just that," she says. Scramblers, a breakfast and lunch concept that began franchising in 2005, has grown in a steady, manageable way throughout the Upper Midwest with both corporate and franchised stores. Today, with locations in Ohio and Michigan, the brand is preparing to open its first stores in Florida.
Executives at Scramblers wear many hats. Buerk says she focuses on how to best reach prospects interested in opportunities in the breakfast and lunch sector, leading them through the process, and supporting them after they open. "I'm by their side every step of the way."
One of the advantages of working for a smaller brand is the feeling of intimacy between prospects and the corporate team, she says. "Prospects get to meet with the founder and president, who is happy to personally answer any questions they have," she says. "On discovery day, they also have the opportunity to meet our vice presidents and corporate staff."
Recently, Scramblers teamed up with a marketing and PR partner to enhance brand recognition and marketing efforts. Part of this initiative has included the redesign of all marketing materials geared to franchise prospects, a redesigned website, increased use of social media, and newly created video content that captures the feel of the Scramblers concept, says Buerk.
In addition, over the past few years, Scramblers identified a younger, more mobile customer base and developed a sister brand, City Egg, that offers the same Scrambler quality in a fast-casual option.
"From our menu to our training, we're primed for growth and looking beyond our Midwest roots," she says.
Describe your role. As director of franchising and marketing, I facilitate many components of our franchising process. I am right by a franchisee prospect's side every step of the way, from reaching people interested in owning their own breakfast and lunch restaurant, to explaining how Scramblers is unique, all the way to welcoming them into our family.

What's the most challenging part of being a CMO today? Staying in front of the trends. I am lucky to work with a team that is excellent at being innovative and that has the resources to pivot quickly. Our team is not too big and not too small, it's the perfect size. We are able to make decisions and execute new ideas quickly, and we have the experience in the field to know what has worked in the past.

How has Covid-19 affected the way you have led your brand's marketing efforts? Before Covid-19, we were running minimal marketing for our franchise business. Most of our franchisees have come to us organically, by coming into our restaurants and eating our food. After Covid-19, we saw a large demand in franchising for a concept like ours, so we decided to invest more time, thought, and money into our franchise marketing.

What are the 3 most important keys to being an effective CMO leader today? Being an effective and efficient leader involves looking into three key areas: your company's past, present, and future: being able to focus on what worked and what did not work in the past, setting up the infrastructure now to run the business well, and always working toward a future goal.

How do you prepare a marketing plan and execute the strategies? For our marketing strategies we lean heavily on 919 Marketing. We make sure that the marketing plan they set for us is aligned with our goals, and then we execute the plan as quickly and swiftly as possible. Our motto is to never be the slow point in communication. When we are given anything to approve or work on, we do it immediately.

How do you measure marketing results and effectiveness? We have weekly meetings internally and biweekly meetings externally to go over how our marketing campaigns are performing, to talk through new prospects coming in, and to strategize our next steps.
Discuss your core consumer marketing strategies and objectives. Over the past year, we have revamped our entire marketing for franchising. We have redesigned our website, hired a video production team to capture the Scramblers concept, hired a marketing/PR firm to help our brand recognition and marketing efforts, and redesigned all of our marketing materials we send to new franchise prospects.

Describe your marketing team and the role each plays. We are a smaller-sized business and each employee wears many hats. The founder and president meets every single potential franchisee and personally answers any questions they have. We rely on our IT support director to answer any topics related to the custom POS system he built and any questions about our training process. A potential franchisee will have the opportunity to meet our vice presidents and our corporate staff during their discovery day.

Why is it so important for the marketing department to have a personal touch when it comes to helping the brand connect with franchise prospects? How does this help your franchise sales and development effort? We look at every potential franchisee as someone who could become our long-term business partner, and we make that clear right off the bat. To help franchise prospects experience a personal touch during their process, we rely heavily on our story of how the restaurants started. We started in the restaurant business as a family, and to this day our business continues to be run as a family business. When someone enters the company, they are being welcomed into the Scramblers family, a family that will stick together for many years. We hope each prospect feels the magnitude of their decision, while also feeling the warmth of our inviting family.
What ways/tools do you rely on to do this? Through our marketing and the video production team, Elevate Creative, we are able to share our story through blogs, articles, social media posts, and videos.

Do today's prospects expect more from the franchise marketing department? What, and how do you provide it? Our consumers and franchisees are demanding more from marketing than ever before. With the whole world being on our phones, we must stay innovative with how we represent ourselves on the Internet. We have not only improved our franchise online presence but also increased our consumer-facing social media. We have incorporated contests, giveaways, online ordering, delivery services, email campaigns, and text clubs into our marketing plan.
How is today's consumer and marketing data helping you fine-tune your marketing initiatives? With the technology we have, we are able to see what our audience enjoys and responds to best. The way we target our campaigns on Facebook, Instagram, LinkedIn, and Google has been a huge factor in how we move forward with future marketing campaigns.

Describe the evolving role of social media in your brand's marketing efforts. In the past we would create posts for holidays or large events, but not much more. Now we are posting on social media daily! We have realized that our audience is interested in seeing our day-to-day operations. They want a look into what owning a restaurant looks like and how we make our food. Social media has allowed us to become more intimate with people who aren't able to come into our restaurants, and to get in touch with people who have never heard of our company before.

How do you work with other internal departments, and does technology help? Every department in our company works hand-in-hand on many projects, and the franchise marketing department is no exception. My co-workers support me in creating new ideas for marketing, and they help me execute projects and reach the goals we have set. Our team is built of some of the most experienced and intelligent people in the breakfast/lunch restaurant industry. Their expertise shines in every part of our business, including our marketing. Unlike most of the world nowadays, our company still comes into the office every day. We see power in being able to walk into your co-worker's office and bounce ideas off one another. We have two office locations, one in Toledo and one in Columbus, Ohio. Throughout the week we videoconference from one office to the other to keep in touch.
Do you see vendors as business partners? Why/why not? Absolutely. We take pride that we hold close relationships with each of our vendors so that both sides benefit from the partnership. It is important to us to share goals with our vendors so we can provide the best product at the best price to our franchisees.

How have marketing strategies/tools changed over the past decade? How have you adapted? Over the past decade our marketing efforts have turned from just word-of-mouth and providing an incredible experience to every customer who walks into our restaurant to also integrating technology and an online presence.

What advice would you offer to aspiring or new CMO executives? I would encourage them to find the brightest and best part of the company they represent and find a way to show it off. Every company has something special about them that people will find interesting and be able to relate to. I would also say don't ever be afraid to lean on someone smarter than you are. Two brains are always better than one.
Published: June 20th, 2022
Share this Feature
Recommended Reading:
Comments:
comments powered by

Disqus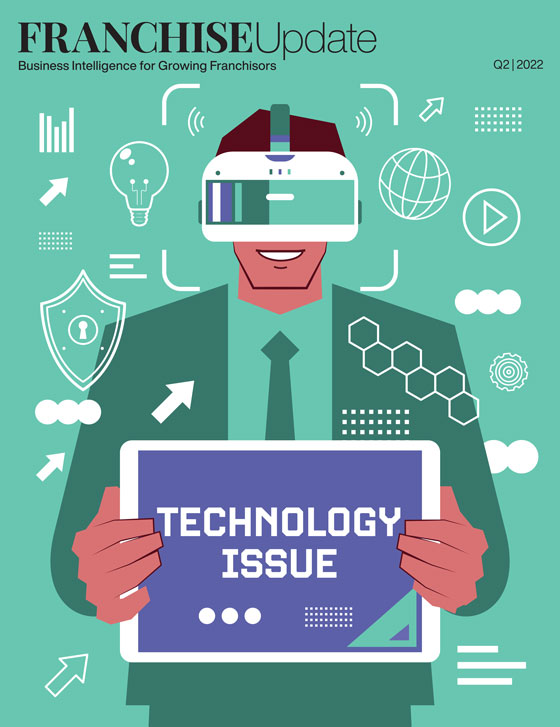 Franchise Update Magazine: Issue 2, 2022
Oct. 18-20, Atlanta, GA. An exclusive event for franchisor CEOs, Presidents, COOs, CDOs and Franchise Development Executives.
ApplePie Capital provides a fresh new approach to franchise financing that is focused on your growth and success.