Embracing
What was once a humble grassroots movement to "Save the Planet" has now become big business, with consumers a major part of the push. Seems everywhere you look these days, more and more companies are touting their "green" initiatives as they scramble to implement various ways to recycle, reuse, and renew. Green is in.

Consumer interest in earth-friendly products and services has been on the rise for decades. According to the Organic Trade Association, based in Greenfield (seriously), Mass., sales of organic foods and beverages topped $16.9 billion in 2006. That's a 22.1 percent increase from the $13.8 billion recorded in 2005. And sales of nonfood organic products, like soap and paper, reached $744 million in 2005. That's a lot of green.

In recent years, many franchises have become active participants in this earth-conscious movement. Some companies have been dabbling in it for the past decade while others have just started taking it seriously in the last couple of years. Some do it because it's the right thing to do, while others are finding that it makes long-term fiscal sense. Regardless of motive, increasing numbers of franchises are going green at the corporate level and supporting franchisees' efforts at the local level - a winning combination for the franchise, consumers, and Planet Earth.

Preserving sustainability
Being green, or environmentally conscious, is "all about sustainability," says Dan Gilligan, vice president of utilities and administrative service for Dallas-based Accor North America (which operates the Motel 6 and Studio 6 brands). He says a green strategy must become part of the franchise's culture.

"You have to look at does it make sense now and in the long term," he says. That means analyzing the required investment, then finding and procuring materials, equipment, and vendor resources that are green. It's important to sustain the planet, but it must make sense for the business model as well.

Burt Yarkin, CEO of Cartridge World in Emeryville, Calif., agrees with Gilligan. "Sustainability is key. We try to adopt policies throughout the organization that are aimed at global preservation." His company does that in a number of ways - for example, by seeking out post-recycled materials to use in their packaging, and by using soy-based inks, recycled paper products, and cleaning chemicals that are environmentally friendly.

"We try to be forward thinking," says Russ Reynolds, CEO of Batteries Plus. "We're always looking for ways to eliminate or reduce waste. We want reusable materials." In fact, a green philosophy is at the very core of companies like Cartridge World and Batteries Plus.

"Our motto is 'rethink, reuse, recycle, re-ink,'" says Steve Hockett, president of Rapid Refill Ink, in Chanhassen, Minn. He says the company tries to make purchasing decisions based on recycled products whenever possible. "We want to contribute to an environmentally sound approach to business."

A philosophy of environmental awareness is "just the right thing to do," says Mike Curcio, founder and CEO of Pyrogrill, a new fast-casual restaurant concept based in North Palm Beach, Fla. "And when we do it, it sets the standard and is an example to our competition."

Back in 2002, Martinizing Dry Cleaning embraced a change in "strategy and tactics" and has been heavily focused on recycling efforts, proper disposal of waste materials, and using environmentally friendly cleaning solvents ever since, according to Jerry Laesser, vice president of marketing and franchise development for the Loveland, Ohio-based company. "Recycling and waste reduction has certainly been an area of focus for us over the past few years," he says.

Putting green into practice
The examples above are just a few examples of green policies. Franchises are doing much more behind the scenes to put eco-friendly philosophies into practice.

Three years ago, Cartridge World hired an outside company to conduct an internal environmental audit. "We feel like we've always been conscious of recycling and reusing," says Yarkin, "but this study has been great in determining how we're doing and how we can do better."

As a result of this self-analysis, the franchisor has formed an environmental committee composed of corporate executives and franchisees who have been busy at work creating best practices in both operationally and environmentally related areas. For Cartridge World, it has certainly been a case of practicing what you preach.

One example: the company commissioned a carbon emissions impact study that compared the amount of carbon emissions generated by transporting new printer cartridges to the U.S. from overseas against the amount generated by recycling the same cartridges. "The results were pretty remarkable," says Yarkin. "You can reduce carbon emissions significantly by recycling." Not to mention the reduction in the cost of cartridges for consumers.

Other company initiatives include a partnership with the National Arbor Day Foundation called "Plant a Tree, Not a Cartridge." Yarkin says the company's goal is to plant about 75,000 new trees across the country. They've already planted 30,000. The company also has been working in association with schools through a partnership with the nonprofit Go Green Initiative. Under the partnership program, students and teachers receive a discount on refilled or remanufactured printer cartridges when they exchange an empty one. Yarkin says his company also made a donation to the Go Green Initiative.

At Accor, Gilligan says the company looks for the Energy Star designation in materials and products it purchases. "We've also just rolled out a fluorescent light bulb and battery recycling program for Motel 6," he says. Accor has been retrofitting its rooms with energy-saving fluorescent lighting, which can reduce energy consumption by as much as 75 percent compared against conventional lighting. All Motel 6 properties display specially designed receptacle boxes to collect old light bulbs and batteries. Partnering with Oakleaf and Veolia Environmental Services, Motel 6 can properly and efficiently recycle these materials.

Cleaner cleaning, better batteries
Motel 6 has also been experimenting with special ozone equipment that washes linens in less water - ­and doesn't require hot water. It's all part of the company's larger Earth Guest program, which is made up of ongoing environmental initiatives such as the planting of trees, a 65-point environmental checklist at all properties, and the donation of more than $375,000 so far to educational and charitable groups.

The laundry and dry cleaning industry is not typically associated with the green movement, but Martinizing Dry Cleaning has been working to change that. The company's primary focus to date has been the creation of what it calls the GreenEarth Cleaning System, which Laesser says, "Uses a nontoxic, silicone-based cleaning process as an alternative to traditional perchlorethylene (perc), that has typically been used by dry cleaners." Perc is very harsh on the environment, while the new "green" solvent is very earth-friendly, says Laesser. Of course, the little things, taken in aggregate, make a big difference, says Laesser. That's why the company encourages franchisees to participate in strategies as simple as recycling polybags and hangers.

At Batteries Plus, strategic supply agreements help the company reduce the cost of batteries it purchases from suppliers because it recycles and returns so many used batteries. "We recycle 75 percent of the batteries we sell," says Reynolds. He also notes that 80 percent of the batteries on their stores' shelves are made from post-consumer recycled materials.

Pyrogrill is a new player in franchising with one company store in Jupiter, Fla., recently opened. Founder/CEO Curcio has plans for another two dozen franchise locations by the end of 2008. To meet his increasingly green vision, the original store is already being retrofitted. "Energy-efficient bulbs, high-efficiency sprayers, veggie sinks, recycled wood, and recycled steel countertops are being used," says Curcio.

Moving forward, all stores scheduled for construction over the next 18 months will be spec'd to be green. "All of the millwork is reclaimed wood and each light bulb will be energy efficient," says Curcio. And as he continues to build units, Curcio wants to incorporate green materials, such as glass and recycled plastic, into the restaurant's décor.

All policy is local
When it comes to being green, franchises can create and promote initiatives, but in most cases, franchisees choose if and when to participate.

At Accor, about 75 percent of the 900 Motel 6 units are company operated. The other 25 percent are franchised. "Ultimately, the decision is theirs," says Gilligan. "We try to lead by example but we don't force things on our franchisees."

He does point out that for certain supplies franchisees buy through corporate, if the company has a green product, that's what the franchisees will get. Gilligan says most franchisees favor going green.

Reynolds (Batteries Plus) and Laesser (Martinizing) concur, and say they urge franchisees to be environmentally conscious at the local level as well. "We also encourage the franchisees to make sure they are in compliance with any related state laws," says Reynolds.

Batteries Plus encourages its franchisees to promote battery recycling programs at local stores during Battery Recycling Week. "It's a chance for them to get involved locally and really become the voice of recycling in their community," says Reynolds, who would also like to see more franchisees working with local schools to promote recycling.

Rapid Refills' Hockett says his company requires its franchisees to use certain materials in building their facilities. For example, countertops at the stores are made from crushed sunflower seed husks glued together, "offering a distinctive look," he notes, as well as making an environmentally statement. Carpeting is made of 52 percent post-consumer content and recycled milk containers. The walls are 100 percent wheat stock and the production area floor is made of reclaimed tile.

"Going green," says Hockett, "is best delivered at the local store on a day-to-day basis, where it creates a culture and promotes this attitude to consumers." He knows of several franchisees who have teamed up with local environmental groups in their towns to promote going green. "We've had some franchisees promote cartridge recycling programs as community fundraisers," he says.

Laesser notes that franchise buy-in to green efforts can depend upon location. "We've noticed that there are certainly some areas such as California, Florida, and throughout New England, where folks tend to be more aware and interested in environmentally friendly companies and products."

Yarkin says he thinks the movement got its start in Europe and Australia. "It's coming here now," he says.

Investing in the future
It may be right to do good, but what about the cost? Going green can require an additional financial investment, at least initially. Some recycled products can be more expensive than their non-green counterparts. The process of recycling itself can be time- and resource-consuming. Installing new, energy-saving equipment and upgrades can be expensive, and building or retrofitting existing facilities with a green bias can eat away at the bottom line. But that view is a short-sighted one, say these franchise executives.

"It costs a little more to go green," says Curcio, "but more efficient sprayers, hoods, and air conditioners will save money over the long term." In fact, Pyrogrill's flagship store in Jupiter uses a power factor optimizer that Curcio says "has reduced our electricity bill by 12 percent over the last 6 months."

"There was a substantial up-front cost for us to begin recycling fluorescent light bulbs and batteries," says Gilligan. "But in the end, it's the right thing to do, and over time the energy savings will offset the initial investment." Many Motel 6 locations are being retrofitted with new energy-efficient air conditioning systems to save energy and reduce costs. "Even replacing old windows in rooms can make a huge difference," he says.

But Gilligan also points out that some eco-friendly decisions are easy to make. "Many of these products and materials are becoming more easily and readily available," he says, and prices are coming down with increasing usage. "We've started using a concentrated soap that comes in a smaller container: less packaging, cheaper to ship," he says. The soap also helps conservation because it requires less water.

However, Gilligan makes another good point to consider. "Just because a chemical is more green, if you have to use more of it to get the job done, it doesn't make any sense."

Yarkin also says he's noticed that green materials are becoming more readily available through more vendors and at steadily declining prices.

Hockett says the increased development costs of going green at Rapid Refill Ink have been marginal. "We pay a little more for the materials we use to build the stores and in packaging, but I'd say for the most part it's pretty competitively priced." Ultimately, he says, there's one way to measure the payoff for going green: "Our system has continued to grow, and that tells me that people are really interested in recycling - and that says a lot."

For consumers, franchises like Cartridge World, Batteries Plus, and Rapid Refill Ink offer an environmentally friendly product at as little as half the cost of a comparative new product.

And some consumers will actually go out of their way to support earth-friendly companies, something Laesser has discovered. "We definitely have tracked that in some areas our initiatives have helped us increase business. People will go out of their way to do business with us." He cites a recent study in which 60 of the company's franchise locations in Detroit starting using the new green solvent. Sales in those stores were up 10 percent over the stores in that area that had chosen not to go green.

That's doing good and saving (and making) money no matter how you look at it.

What's up next?
Preserving Planet Earth has become big business. It's a topic on the minds of consumers who have become more educated about the environment and global warming, and are subsequently more interested in doing business with companies that support going green.

For franchise organizations that aren't yet embracing some kind of green philosophy and practice, it probably is wise to start looking at moving in that direction. One reason, among many, is that some states are already creating earth-friendly laws and, as Yarkin points out, more "federal legislation is probably headed our way very soon."

Laesser echoes that sentiment and predicts it won't be long until state and federal regulators step in to phase out all perc-producing plants. "So we need to be ready to stop using this and have a viable alternative."

Hockett says Rapid Refill Ink is looking toward a more national approach to its green efforts, specifically looking for more partners and programs to team up with. Internally, the company is forming a "green advisory committee" that will address how the company's green stance will be reflected in marketing, branding, and other areas of operations. "Of course, we will continue to build stores with the greenest materials we can find," he says.

At Cartridge World, Yarkin says he'd like to see more environmental-related issues addressed by groups like the IFA. "Our industry really needs some more education with regards to going green. I'd like to see some panels, some best practices. I'd certainly volunteer to be involved in that."

By all indicators it looks like going green has reached critical mass. "When Wal-Mart and GE are getting as heavily into recycling as they are, the movement is mainstream and here to stay," says Yarkin.
Published: January 8th, 2008
Share this Feature
Recommended Reading:
Comments:
comments powered by

Disqus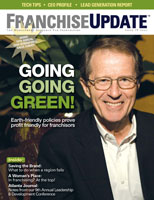 Franchise Update Magazine: Issue 4, 2007
UMI has over 23 years of experience supporting fast-growing multi-unit brands. From strategic planning to design, execution to analysis, UMI...
The Titus Center for Franchising, one of Palm Beach Atlantic's Centers of Excellence, offers a concentration in franchising to business students.