Fine Food Served Fast: Building a Genre-Bending Concept From Scratch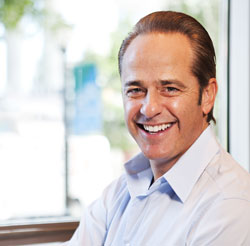 At Fresh To Order (f2o), guests experience a unique offering--flavors and service inspired by fine dining served at a fast casual pace--and at fast casual prices. We created both the concept and the category niche, which we call "fast-fine." Our eight locations across Georgia and Tennessee serve flavorful, fresh, and affordable favorites in 10 minutes for around $10 per person.
Diners have embraced the new offering, and our restaurants have experienced double-digit same store sales growth for the past three years--although, in 2000, when I began contemplating a restaurant concept that fused the speed and inherent benefits of fast casual with the flavors, ingredient quality, and service level of fine dining, f2o seemed like a "crazy idea."
At the time, fast casual concepts were not yet the mainstay of dining that they are today. Most meals under $10 and served under 10 minutes were either a burger and fries or chicken with biscuits. While Wikipedia now lists 65 restaurant concepts in its fast casual category, back in 2000 breakthrough brands such as Chipotle or Panera Bread were just beginning their growth trajectory.
Nonetheless, I remained committed to the concept and embarked on an educational journey that would ultimately lead me to become one of the largest franchisees of Papa John's pizza chain, owner and operator of a fine casual restaurant called Brookwood Grill, and founder and franchisor of my "crazy idea"--Fresh To Order. We are currently staged to double the number of f2o units by 2014 and are planning our expansion throughout the Southeastern, Mid-Atlantic, and Midwestern states.
My educational journey didn't end with a Ph.D., MBA, or baccalaureate degree. Rather, I learned three valuable lessons, which I'm happy to share with the many emerging franchisees interested in making their mark on the restaurant industry.
I. Learn from the best
Back in 2000, as I chewed on the concept of fine dining served fast, I recognized gaps in my own experience. Though I'd been in the restaurant business my whole life (I began helping in my family's restaurant when I was seven), I had worked primarily in fine dining. Furthermore, my operational experience was limited to independent restaurants. To bring a completely new concept to market, I knew I'd need to first understand my product, so I set about researching the quick service and fast casual industries. Second, I'd need to understand how to attract and build passionate franchisees who could help me expand my revolutionary concept throughout the country.
So I set out to learn, and I wanted to learn from the best. I studied every restaurant franchise available in the quick service category--their financials, franchisee satisfaction ratings, and staying power. Why? Because I knew my concept had to promise strong financials and an infrastructure that attracted and retained franchisees; serve a product that would build a loyal, national customer base; and deliver a sound return on investment.
In 2001, I found my "franchising university" in Papa John's, the world's third-largest pizza company. At the time, and still today, the brand was ranked top among franchisors based on its financial strength and stability, growth rate, and overall franchisee satisfaction.
I formed a holding company with an investor, called QS America, and then set to work. Looking back at my early years as a franchisee, I can say the key elements of my education included the following:
Understanding the customer. The quick serve customer has different wants and needs than a fine dining customer. The one thing they do have in common? They are always right. The best advice I ever received was, "If you win an argument with a customer, you still lose."
Delivering quality food fast. At Fresh To Order we deliver dishes with the taste profiles and quality of fine dining to our customer's table within 10 minutes for about $10. My experience as a franchisee taught me how to marry cost, efficiency, and quality to the benefit of the guest.
Supporting franchisees. Papa John's created a powerfully effective infrastructure that supports the development, operations, marketing, and financing of its franchised units. Being a franchisee and having that exposure for so many years has enabled me to see the business from both sides and to understand clearly that franchisees are partners in our business. We need them to succeed and vice versa--that way, we all thrive.
Managing growth. Many franchise concepts have failed because of excessively rapid growth. At Fresh To Order, we set growth projections and open new markets at a rate that is appropriate for our brand. Growing at the just right rate will allow our franchisees to succeed.
I had learned from others, joined the franchising world, and formed a holding company. Now it was time to go to work. Next time I will share the nuts and bolts of how we have made Fresh To order work.
---
Pierre Panos, a South African native of Greek decent, has founded three restaurant concepts in his nearly 30-year career in the industry, including a fast food mobile vending concept in South Africa at the age of 24, and Stoney River Legendary Steaks. Today he owns Brookwood Grill and is one of the largest Papa John's franchisees in the U.S. He founded Fresh To Order in 2006, positioned to grow to 50 corporate and franchised locations by 2015. He lives in Atlanta with his wife and three children.
Published: October 28th, 2013
Share this Feature
Recommended Reading:
Comments:
comments powered by

Disqus

Franchise Update Magazine: Issue 3, 2013
ApplePie Capital provides a fresh new approach to franchise financing that is focused on your growth and success.
April 25 - April 28, 2023, Caesars Forum, LV. The Multi-Unit Franchising Conference is the premier annual event for the country's leading...