First Impressions Last: Involve Franchisees Early In Remodel Requirements
"You never get a second chance to make a good first impression" has been proven true time and again. When a new business opens, it is at its bright and shiny best, making a good first impression on everyone. Over time, however, the bright dulls, the shiny wears off, and the look becomes worn and tired. At that point, the first impression for a new customer may be less than "good," and even loyal customers may begin to notice that competitors present a much more inviting image.
Until recently, franchise agreements have generally given the franchisor the right to require franchisees to update their business once during a 10-year contract, and again before obtaining an additional term. However, once is not always enough. Although often overlooked, the requirement to renovate or update a facility should reflect the brand standards and operating requirements of each individual business.
In designing a franchise program and determining the requirements to update a facility, we begin by looking carefully at the existing business. Who are the customers, and how does the look and feel of the facility create or reinforce their trust in the brand?
Kim Collier, director of franchise development and operations at Ducklings Early Learning Center, says, "We care for children from 6 months to 6 years, so a clean and colorful environment is important to enhance the experience of the children and also provides peace of mind to parents. Therefore, we've specifically identified some items such as painting as maintenance rather than refurbishment to keep the look fresh and clean." She also noted the importance of the outside appearance. "Our centers have outdoor playgrounds, and we require that those areas be well maintained and updated. Every center needs to reinforce our brand promise inside and outside."
Analysis of the current and anticipated future competitive landscape can also result in the need for franchisors to require franchisees to update more frequently. "Fitness is a highly competitive industry and it is therefore critical to our success that we provide the best workout experience to every client," says Matt Miller, co-founder of Sweat440. "In providing a rigorous and results-oriented workout to our clientele, our facilities also get a workout."
Clients also expect up-to-date equipment in good working order, he says. "In developing our franchise program we looked at our current operations and decided to include the right to have our franchisees update their facilities twice during the 10-year term. We believe this will provide our franchisees with a long-term competitive advantage."
Franchisees understand the competitive need to update, but their projected ROI is an important consideration. Dan Rakestraw, president of acquisitions and partnerships for SMS Holdings, a Wendy's franchisee with 81 units, explains.
"We looked at buying a restaurant franchise as a means of diversification. Purchasing existing restaurants presented a great opportunity, but we knew that to be competitive we needed to update to the new Wendy's design. In the 2 years we've had the franchise, we've updated 16 restaurants, built 3 additional units, and plan to update another 10 in the next year. The results have been very positive. Our customer counts are up and so is our revenue."
5 tips to manage change
To successfully enact change and maintain strong relationships with their franchisees, franchisors that have been through implementing a change in their system understand it often requires more than the contractual right (although contractual rights can be critical). Facility updates and new designs will be implemented more smoothly and efficiently if franchisors follow some simple guidelines.
Begin planning early and involve franchisees as early as possible. If you have a franchise advisory council (FAC), they can assist in providing competitive intelligence, identifying the need for specific changes, providing input for the new design based on their operating experience, and can be a big help in gaining support for the change from their fellow franchisees. If you don't have a formal advisory council, you may want to invite a select group of franchisees to serve on a task force.
Do your homework. If necessary, invest in professional assistance to gather and analyze market and industry trends, consumer preferences, and competitive information. Prepare a strong and authoritative business case for the change. The FAC can not only provide input, but also serve as a sounding board for how information is communicated to franchisees.
Run the numbers from the franchisee's point of view to be comfortable that the franchisees will have the potential to realize a return on their renovation investment. Research alternatives in design, equipment, and decor items to select those that provide the greatest value. Spend a little more on an item if it results in greater productivity, longer life, or requires less maintenance, and spend a little less on items that can be easily replaced.
Lead the way by updating corporate facilities. Once you've demonstrated the success of an updated facility it will be easier to convince franchisees of the need to follow. To speed the process of bringing the entire network up to date, consider offering an incentive to franchisees who are the first to renovate, or who complete their renovation by a certain date.
Communicate, communicate, communicate with your FAC and your franchisees. Tout the good and get out in front of the rumor mill to discuss the bad.
Finally, when it comes to facility requirements, one size does not fit all. When establishing requirements for franchisees to update and maintain their locations, look at your brand, your clientele, and competitive factors. Then, when the time comes to implement change, create a strategy to ensure maximum acceptance by franchisees.

Kay Ainsley is managing director of MSA Worldwide, a leader in franchise consulting that provides strategic and tactical advice based on real-world experience to new and established franchisors. Contact her at kainsley@msaworldwide.com or 770-794-0746.
Published: September 21st, 2019
Share this Feature
Recommended Reading:
Comments:
comments powered by

Disqus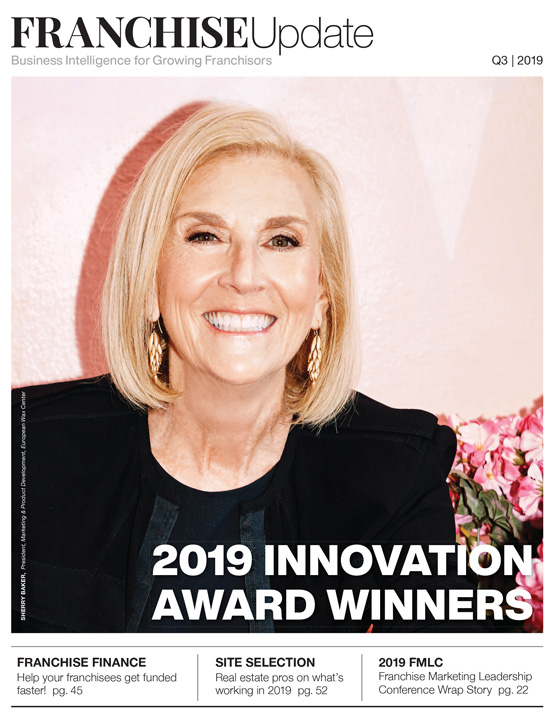 Franchise Update Magazine: Issue 3, 2019
In 2022 Empower Brands emerged when Lynx Franchising and Outdoor Living Brands united. Empower consists of JAN-PRO, Intelligent Office, FRSTeam,...
Oct. 18-20, Atlanta, GA. An exclusive event for franchisor CEOs, Presidents, COOs, CDOs and Franchise Development Executives.