Focus on Technology Innovation
In addition to the best-in-category winners profiled in the previous pages, here are some quick profiles of entrants in three technology categories: Most Innovative Use of Technology in Services, Products, and Operations.
Most Innovative Use of Technology: Services
Mowbot: Robotic lawn care
Objective: To disrupt the $99.5 billion lawn care service industry and replace it with a cleaner, greener, quieter alternative: a robotic lawn mowing service.
Overview: Traditional lawn mowers are responsible for 5% of air pollution. Our robots do not emit fumes or noise. In partnership with Husqvarna, we are bringing the American homeowner a battery-powered solution that uses GPS-based technology and AI.
Results: Fabulous! Our first franchisee surpassed his goal in the first 3 months. Our franchisees love the fact they are getting in on the ground floor of an innovative product and service that is highly scalable and has tremendous growth opportunity. Our customers love being the first in their neighborhoods to embrace robotic lawn mowing.
Wize Computing Academy: Moving to 100% online classes in 2 weeks
Objective: Business continuity and growth in the time of Covid.
Overview: We are based in Coppell, Texas, with franchise operations in the U.S. and Canada. We teach STEAM-related coding and robotics to kids aged 4 to 16 in schools and preschools.
Results: We retained more than 95% of our customers and added hundreds of new ones for online classes and camps.
9Round International: At-home workouts to maintain engagement
Objective: As Covid-19 started to spread, we quickly realized it would have a major impact on the fitness industry. Our main objective was to provide something our franchisees could use to help keep members engaged and their business afloat.
Overview: Our At-Home Workouts, created by our Fitness Programming team at the home office, are 30-minute, full-body kickboxing circuit workouts in an on-demand style video for members.
Results: Franchisees have a product of value to continue selling while their physical locations are closed. This has truly saved the company and helped franchisees fight through these difficult times with hope for the future. Many said they were able to maintain a high percentage of their paying customers by providing at-home workouts, which has helped them stay in businesses.
Lendio: PPP loan facilitation program
Objective: The Paycheck Protection Program presented two hurdles: 1) How would lenders facilitate the loans? and 2) How would a business owner apply for a loan? Our objective was to provide a solution for both the lender and the borrower.
Overview: Because of the pared-down SBA requirements for these loans, more small businesses qualified than for previous SBA loan options—but how would they access the funds?
Results: Franchising took in more than 10,000 local leads, and more than 5,000 of those businesses have been funded so far. Corporate (including franchising) PPP stats included 100,000+ small businesses approved; $65,000 average size loan; and $8 billion in loans funded. We increased our lending partners from just over 75 to more than 300, and saw a 40x increase in lendiolocal.com web traffic between March and April.
Accessible Home Health Care: Remote patient monitoring
Objective: Monitor chronic care patients' vital measurements from the comfort of their homes on a regular basis and analyze and evaluate them instantly by AI and clinician.
Overview: Our RPM system is an AI-based system where we monitor a patient's key vitals. The measurements are transmitted to our 24/7 HealthView cloud-based portal that analyzes the measurements within 60 seconds. If a measurement is abnormal, a clinician is immediately notified for direct consultation with the patient without requiring a face-to-face office visit. We collect instant measurements for five chronic care conditions: diabetes, COPD, congestive heart failure, hypertension, and weight management.
Results: Avoid patient hospitalization and commence intervention treatment before a patient's condition deteriorates to the level of requiring invasive intervention, substantially reducing health care costs and patient difficulties.
Mathnasium Learning Centers: Accelerating online instruction
Objective: We accelerated our plan for an online instruction option, Mathnasium@home, to allow franchisees to remain open even as their brick-and-mortar stores were closed.
Overview: We had already been developing the service for children who had trouble getting to centers. We were planning for a 1-year onboarding process and 50% adoption rate by spring 2021. When the global pandemic hit, we had to act quickly. The platform wasn't fully developed and had been tested in only a fraction of centers.
Results: In less than 3 weeks of accelerated roll-out and rigorous troubleshooting, nearly all of our 1,000 centers had adopted it—successfully converting our global in-center operations to online instruction, maintaining the integrity and quality of our instructional model and service to our 75,000 students, and fortifying us against future crises.
Most Innovative Use of Technology: Products
Fuzz Wax Bar: At-home wax kits
Objective: Amidst a year filled with growth for us, the Covid-19 pandemic forced salons nationwide to temporarily close their doors. As a way to continue to cater to our community and continue to generate revenue, we launched At-Home Wax Kits.
Overview: We are a membership-based wax bar, offering waxing services for ladies and men. As a way to continue to provide this service, we launched At-Home Wax Kits that included not only industry-grade products, but also a virtual Zoom Q&A with a Fuzzologist and a digital how-to guide.
Results: We sold more than 300 wax kits in the first 3 weeks of launching the product.
Most Innovative Use of Technology: Operations
American Family Care: Virtual discovery days
Objective: Covid-19 made it impossible to hold in-person discovery days. Our team quickly created a concept to keep prospects engaged and educated about the system, despite limitations created by the pandemic.
Overview: Pre-Covid, discovery day was held at our headquarters. With limitations on travel and on sitting in a room with more than a handful of people, we are delivering discovery day virtually to all prospects. We quickly created a system to email a digital presentation to prospects, conduct webinars to walk them through it, and provide a virtual tour of what a facility looks like. Team members then connect with prospects on Skype or FaceTime.
Results: Dozens of qualified prospects have attended five virtual discovery days since the start of the pandemic.
Healthier4U Vending: Using AI to boost webinar attendance
Objective: Be first to engage leads to improve conversion to webinar attendees, and gain insights to decide which lead sources to spend money with.
Overview: Brian Swain, our CEO said, "Our main competitor spends all day relentlessly banging phones. We were never the first to call. We needed to cut them off at the pass." We deployed Lumin.ai's Smart Scheduler AI technology to support a new lead qualification and webinar registration process. The AI contacts each lead immediately and can understand conversational curveballs and ambiguities.
Results: 1) Webinar attendee volume rose 16% and 22% in YOY monthly comparisons. 2) Half of appointments were made in under 3 minutes; one-third were made in over an hour. 3) Sales reps are able to focus on further qualifying prospects after the webinar instead of cold calling and manually entering data into the CRM. This has allowed us to automate our lead qualification process in a way that is materially changing our business.
Published: August 22nd, 2020
Share this Feature
Recommended Reading:
Comments:
comments powered by

Disqus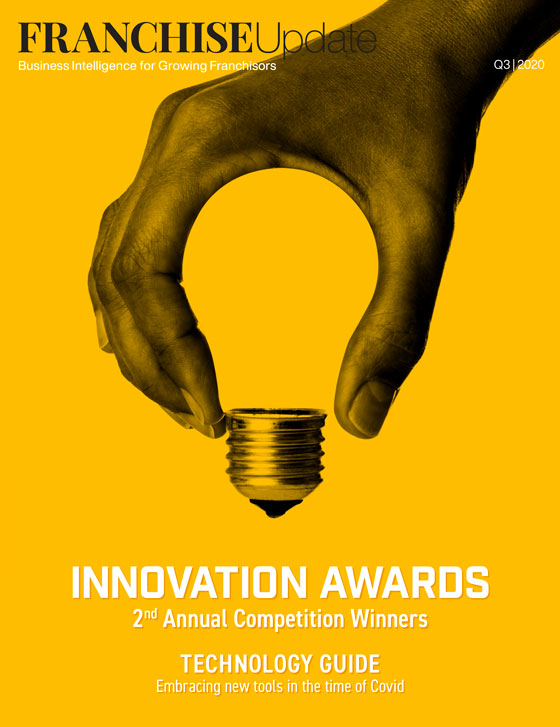 Franchise Update Magazine: Issue 3, 2020
Slick Marketers is reinventing franchise marketing with a hyper-customized and ultra-localized marketing approach with measurable results and growth...
Franchise Update Media (FUM) is the trusted resource for the franchise industry. For 30+ years, FUM has been the leader in providing valuable...