Mighty Auto Parts Celebrates 50 Years of Franchising
There's a little-known franchisor called Mighty Distributing System celebrating a significant milestone in 2020: 50 years of franchising! Mighty Auto Parts, as our distributors are known, started in 1963 and began offering franchises in 1970. Most franchise organizations are retail-focused, but we are a bit unique in that we are 100% focused on the wholesale distribution of auto parts, chemicals, and supplies.
Providing a successful franchise opportunity is hard work. Today, you often read about franchise systems rebranding or revising their business model. During the past 50 years, we've also had to adapt to a changing marketplace to remain relevant.
Mighty started as a route sales business in Washington, D.C. We had a handful of distributors who supplied tire repair and ignition products to service stations from step vans referred to as "warehouses on wheels." Salespeople were added as we quickly uncovered the significant need for shop owners to stock the right mix of replacement products.
By the late 1960s, the emerging growth strategy of franchising caught the attention of the company's founders. The first franchise was awarded in 1970. Just as we do today, Mighty awarded franchise licenses for exclusive distribution territories. Early franchisees, often aided by family members, did it all: purchasing, sales, inventory changeovers, delivery, customer service… everything.
One of our most successful franchises was established in Louisiana in 1974 by the late Jerry Lemons and his wife Sharman. Today, their son Shannon continues to operate one of our highest-volume franchises. Reflecting on their success and longevity, Shannon recently said:
"My parents established one of the first Mighty franchises. Not only does Mighty provide great product programs, but more importantly, they provide tremendous support. This partnership, based on the core values of honesty and integrity, has enabled us to build a multimillion-dollar business employing 27 people and serving hundreds of automotive businesses in three states. After 46 years of operating as a Mighty franchise, our family would say this partnership has been a real privilege."
Time for a change
By the mid-1990s, Mighty needed to adapt. As auto service providers grew from the corner gas station to multi-bay service centers, a new type of franchisee emerged. Owners of multi-store tire centers saw the benefits of controlling their parts inventories. Soon, 30 franchises across the country were operated by large, prominent tire dealers.
Adding a B2B recruitment initiative was critical to growth, and over the past 20 years we've partnered with quick-lube chains, multi-location car dealers, and other automotive-related operations. Not only were they selling to themselves, they were able to provide Mighty products and programs to hundreds of other installers in their licensed territory.
In 2006, Steve Sanner and Jay Greenfield vertically integrated a Mighty franchise alongside their nearly 50 Jiffy Lubes and Tuffy Auto Service Centers in Indianapolis. Jay said, "As owners of multiple retail auto service franchises, I feel our leadership group understands what it takes to succeed with a sound business model that is well-supported by a committed franchisor. We've been very pleased with the financial results of our investment, as well as how it has added efficiencies to benefit our chain of auto service businesses. Like any worthwhile business, it's not easy. But Mighty's leadership team is creative and attentive to the needs of its franchisees, who are then positioned to generate strong results if they follow the system."
In recent years, we began partnering with warehouse distributors already supplying automotive-related products like lubricants, chemicals, and shop equipment. The synergies with Mighty allow them to become a more valued supplier to their customers. We now operate in 44 states and 5 countries.
Ken Voelker, our CEO, said, "Propelled by a full-service franchise support platform continuously refined over the decades, the brand has reached heights unimaginable 50 years ago. In 2019, we achieved our 7th consecutive year of record system sales. Maybe more importantly, we regularly earn high grades for franchisee satisfaction. Working with committed franchise partners to develop win-win strategies is an ongoing challenge and opportunity in the ever-changing automotive market. All of us at Mighty look forward to another 50 years of continued success for our franchise owners and in fulfilling our commitment to building the value of the brand."
For 50 years, Mighty has been focused on adapting to the changing market and keeping our franchise opportunity relevant and attractive, both to entrepreneurs looking to improve their lifestyle, as well as to strategic partners interested in diversifying with a business that provides a favorable return on their investment.
Today, our focus remains consistent with our franchising roots of 1970: Partner with dedicated and sophisticated franchisees intent on continuing our legacy of being the preeminent stocking supplier to the professional automotive service industry. This milestone is one we are extremely proud of, and we look forward to continuing to provide a strong and successful franchise system.
Josh D'Agostino is president of Mighty Auto Parts.
Published: August 6th, 2020
Share this Feature
Recommended Reading:
Comments:
comments powered by

Disqus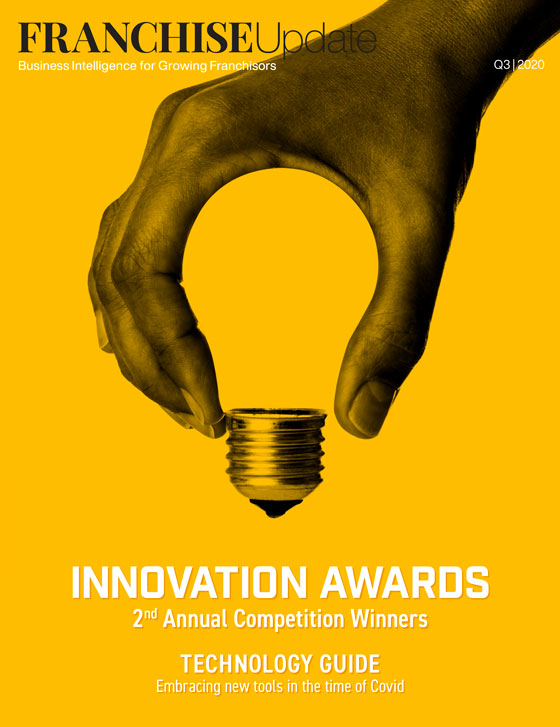 Franchise Update Magazine: Issue 3, 2020
Atmosphere TV is the world's leading cable alternative, providing free streaming TV for businesses.
ApplePie Capital provides a fresh new approach to franchise financing that is focused on your growth and success.