2nd Annual Franchise Innovation Awards
At no time in recent history have innovation and technology been more necessary than during the Covid-19 pandemic of 2020, with many organizations forced to adapt or face extinction. Enter the 2nd Annual Franchise Innovation Awards.
Although many entries were submitted before the pandemic, the submission deadline was extended and amended: franchise organizations were allowed to submit the innovative ways they were dealing with Covid-19 in the early part of 2020. The result was a remarkable group of 113 entries spread across 19 different categories. Each of these companies found ways to leverage innovation and technology, not only to get ahead of the competition, but for some, just to stay alive.
The annual awards identify and recognize franchise brands that are creating and implementing the most original and successful innovation strategies and tactics in four major categories:
Marketing & Branding:

How brands are finding innovative ways to grow consumer awareness, engagement, and loyalty—everything from traditional advertising and PR campaigns to social media, rewards programs, new product launches, and local store marketing.

Operations:

Systems and processes, along with replicability and scalability, are essential for franchising success. Judges reviewed the most forward-thinking operations teams and how they are working to improve and streamline their brands' processes and practices through innovations in technology, tactics, support, etc.

Products & Services:

To meet the changing needs of today's consumers, franchise systems must evolve along with them—not only in what customers want in products and services, but also in <

how

> they want them. Technology plays a huge role here in the ways customers order, pay for, and receive a brand's products or services—especially since the arrival of Covid-19.

Human Resources:

Growing a great brand requires the very best people at every level. This category examined how brands are employing unique, innovative strategies and tactics to attract, hire, train, and retain the employees who best suit their vision and culture.
This year, a panel of 8 judges evaluated the entries, based on each entrant's objective, the problem they were trying to solve, or improvements they hoped to achieve through innovation—and the results. The winners are profiled in the following pages, along with the runners-up in each of the 4 main categories and 13 subcategories that produced winning entries.
The judges for this year's awards were Scott Lehr, Managing Partner of GT&S Franchise Executive Search; Jayson Pearl, President of ServiceScore; Michelle Rowan, President of Franchise Business Review; Theresa Huszka, Senior Consultant at MSA Worldwide; and from Franchise Update Media, CEO and Co-Founder Therese Thilgen, Chief Content Officer Diane Phibbs, and Executive Editor Kerry Pipes.
Visit franchising.com for more details on the awards and subcategories—and, of course, to find out more on how you can start preparing for next year's contest.
MARKETING & BRANDING
BEST DIGITAL CAMPAIGN
WINNER: Epcon Franchising
RUNNER-UP: Wing Zone
OBJECTIVE
The goal of our video mailer campaign was to establish credibility and move qualified leads already investigating the Epcon business opportunity down the sales funnel in a unique way that would catch their attention.
OVERVIEW
Traditional brochures are often thrown away and typical digital marketing campaigns can feel impersonal, so we used a video and audio brochure to combine the best of both forms of marketing. We created a 6x9-inch booklet that opened to a 5-inch screen that played four videos about our franchise opportunity, including more information about the company, testimonials from franchise builders and homebuyers, and interviews with company leadership. The digital brochure was mailed to select high-value prospects who were actively investigating our business opportunity, and to qualified prospects identified by the sales team. The digital brochure was used to establish credibility with these high-value prospects. Clearly not a throwaway brochure mailed to a huge list, the digital brochure was able to help the brand stand out from the competition and other marketing materials. It also allowed us to personalize each video mailer by choosing videos that would appeal to individual recipients to help educate and move them down the sales funnel.
RESULTS
The video mailers were created as a middle-of-the-funnel marketing piece to move highly qualified prospects forward through the sales process. They were successful in catching the attention of highly qualified potential franchise builders and providing them with specific, targeted, and valuable information about the Epcon franchise opportunity. Instead of competing with the large amounts of marketing communications prospects receive daily, or relying on prospects to be self-starters and find middle of the funnel resources on our website, the video mailers put the right content in front of the right prospects at the right time in a unique, attention-catching way, successfully moving several prospects through the funnel to the next stage in the sales process. Since launching the video mailers, we have achieved an 84% follow-up contact rate with prospects and are on track to exceed sales projections in 2020.
BEST LIMITED BUDGET CAMPAIGN (UNDER $1M)
WINNER: Capriotti's Sandwich Shop
RUNNER-UP: Labor Finders Palm Beach Gardens
OBJECTIVE
While most companies scaled back expenses and canceled media buys, Capriotti's sought a way not just to survive, but to thrive during the lockdowns. Our objective was to communicate to our guests in our home market that we were open, safe, and accessible.
OVERVIEW
After lockdowns began, we experienced significant same-store sales declines. Fortunately, we had spent years investing in the technology and operational processes necessary to safely deliver to our guests. We just needed to get the word out. We quickly created TV commercials that ran on both broadcast and OTT (over the top) channels that communicated our best-of-class safety practices, delivery, and curbside options.
RESULTS
Within a week of the spots running, our sales had catapulted, and in a matter of weeks had soared past pre-Covid levels. We have been enjoying double-digit positive same-store sales since the beginning of April. The campaign has led to franchise partners wanting to continue to invest even more in marketing to drive further results the rest of the year.
BEST PR CAMPAIGN
WINNER (Tie): Jamba and Snap Fitness
JAMBA
OBJECTIVE
In an effort to remain relevant, become more accessible, and meet changing consumer demands, Jamba dropped the word "Juice" from its name in June 2019 and announced a brand evolution that included a new name, menu, store design, app, website, and logo.
OVERVIEW
Jamba started 30 years ago in San Luis Obispo, California as a little juice shop with a big idea: that eating better should be easy. In 1990, a juice shop meant something completely different than how guests see the category today. As the category continued to mature and grow, Jamba recognized the opportunity to evolve. To shine a spotlight on the brand's menu innovation and upgraded look, as well as on its focus on innovation, convenience, and personalization, Jamba developed a phased business and trade media relations strategy that would drive qualified franchisee leads and boost awareness of the evolution.
RESULTS
1) Secured a "first look" with Nation's Restaurant News, which was subsequently picked up by multiple national outlets, including MSN.com, Yahoo, and Food & Wine. 2) Booked a one-day NYC media tour for President Geoff Henry to have in-person interviews with Business Insider and Bloomberg Businessweek, as well as a live, on-air appearance on Cheddar Business TV and a phone interview with Restaurant Business. 3) Secured an article with CNN Business, which was syndicated across its network, generating additional coverage in 47 local markets nationwide. 4) Secured coverage in all of the top franchising and foodservice trade media outlets, including Franchising.com, Fast Casual, QSR Magazine, Franchise Times, Modern Restaurant Management, Restaurant Business, etc. 5) Generated more than 550 million impressions and 81 media placements.
SNAP FITNESS
OBJECTIVE
Raise awareness for our partnership with FitnessOnDemand during a time everyone was looking to "stay fit, stay healthy, and stay home" amid growing coronavirus concerns and recommended social distancing efforts.
OVERVIEW
Snap Fitness partnered with FitnessOnDemand to offer free 90-day global access to the market-leading virtual fitness platform. With the industry's most diverse fitness video library of powerhouse brands—including Sweat Factor by Mike Donavanik, Nora Tobin, SH1FT, Daily Burn, and many more—FitnessOnDemand virtual workouts are designed to optimize space and offer unparalleled variety, creating an ideal fitness experience for any environment. The general public was encouraged to take advantage of custom content specifically curated to facilitate at-home workouts, all with little to no equipment and no studio required.
RESULTS
PR results for local and national coverage included Business Insider, Insider, KTLA-TV (ABC 7), Parade, Star Tribune; pickup on the press release with a potential audience of 152 million; 7,599 direct release hits; and 6,709 engagement actions. Digital results included 999,063 total impressions, 17,056 link clicks, and 14,352 conversions on a $6,000 budget. Social media paid campaigns reached a unique audience of 516,481 during the campaign. Facebook campaigns drove 92% of conversions across all campaigns. Static image ad creative outperformed Facebook Carousel and Instagram Story ad creative. Overall cost per click for all campaigns was $0.18; overall Facebook click-through rate was 3.50% (vs. the fitness industry average of 1.01%); and the overall Instagram click-through rate was 1.48% (vs. the fitness industry average of 0.52%). Campaigns received 2,757 reactions and 22,483 post engagements. Overall CPM for all campaigns was $6.01, and all campaigns led to a cost per landing page view of $0.68.
BEST SOCIAL MEDIA CAMPAIGN
WINNER: Primrose School
RUNNER-UP: RE/MAX
OBJECTIVE
A majority of working parents struggle to find the right balance between their job and family life. As a result, they are constantly faced with guilt for not providing the assumed necessary attention to their children. We created a platform for parents to release their guilt <and> make the most of the time they spend with their children.
OVERVIEW
We launched a marketing campaign called #LetGuiltGo, beginning with a microsite that provided a space for parents to process their guilt feelings, along with a list of resources and stories. The #LetGuiltGo message was distributed through an integrated approach using polls, interactive Q&A formats, insight-driven social media posts, and influencer partnerships that tapped into real feelings parents experience daily. Schools across the country planned celebrations centered around Working Parents Day, from surprise breakfasts to handmade cards and video messages for parents. Parents then received an e-blast encouraging them to visit the microsite and let go of any guilt feelings.
RESULTS
The campaign received a welcoming reception, reaching an audience that exceeded our goals. Overall, the microsite reached more than 9,600 users with 30,000 page views and more than 1,000 clicks to additional campaign content (blogs, Instagram posts, etc.)—and led to a 59.8% completion rate of the #LetGuiltGo survey. To boost awareness, branded content was shared across Facebook and Instagram throughout the campaign, sharing messages of encouragement and engaging users with polls. These posts resulted in more than 3.1 million impressions with nearly 10,000 click-throughs to the microsite. Additionally, we launched an influencer campaign that led to 62,895 impressions with an engagement of 4,298, and 307 click-throughs to the microsite. The distribution of findings resulted in coverage across 154 media outlets such as WBIR-TV, WTNZ-TV, and 11Alive Atlanta, and amounted to 128.5 million impressions. These outlets covered the brand's efforts surrounding Working Parents Day, the #LetGuiltGo campaign, and an origami installation of 6,000 handwritten letters. Finally, we used e-blasts to reach the parent audience through a final platform that would lead them to the microsite, resulting in a 47.7% open rate and 4.6% click rate.
CAUSE MARKETING CAMPAIGN
WINNER: Jersey Mike's Subs
RUNNER-UP: Goldfish Swim School
OBJECTIVE
Even in the midst of uncertainty from Covid-19, and while addressing major operational challenges needed to limit person-to-person contact, Jersey Mike's was determined to fulfill our mission statement: "Giving… Making a Difference in Someone's Life."
OVERVIEW
We teamed up with Feeding America, donating 20 percent of sales over the weekend of April 25–26 to help support Feeding America's nationwide network of 200 food banks. Taking an innovative approach, we quickly created a commercial that aired nationwide with a personal invitation from Founder and CEO Peter Cancro to participate in the fundraiser. Across the country, franchisees at more than 1,750 locations paid it forward in other ways during the pandemic by donating millions of sub sandwiches to local hospitals, first responders, children in need of a meal, senior citizens, and others. To provide financial relief for our customers early on in the pandemic, we surprised the industry by offering several promotions for 50 and 25 percent off subs, as well as providing free delivery services through our online ordering app.
RESULTS
We anticipated raising $1 million for Feeding America over the two-day fundraiser. Instead, with the founder's heartfelt invitation to participate and the company's authentic message of giving, Jersey Mike's raised more than $2 million for Feeding America, helping to provide 20 million meals. These were two of the busiest days in the company's history! Additionally, to date, locations across the country have given away more than 2 million sub sandwiches in their local communities to front-line workers and others.
LOCAL MARKETING LEADERSHIP CAMPAIGN
WINNER: Goldfish Swim School
RUNNER-UP: Realogy
OBJECTIVE
As Goldfish Swim School began to grow from an emerging brand to more than 100 schools, it became clear that it was time to build a team of subject matter experts, while simultaneously streamlining local marketing support.
OVERVIEW
We began by focusing on growing the internal marketing department to allow each school to have a dedicated local marketing consultant (LMC). LMCs could devote 100 percent of their time to local marketing support and become experts in their assigned territories. This provided schools with a competitive advantage—understanding marketing landscape, competition, consumer sentiment, and more—that played a role in elevating local brand awareness, new member acquisition, and member retention. This hands-on, focused support led to more frequent on-site visits. Not only did this provide an added layer of support to franchisees, it allowed opportunities for creativity and innovation among LMCs to help enhance the overall local marketing program. An example is the development of new-and-improved Digital Playbooks, designed with the primary objective of creating a more efficient way to distribute marketing materials for franchisees to easily execute national and quarterly campaigns on a local level. Before converting to a digital platform, we were distributing paper copy playbooks. At first, there was positive feedback from franchisees, but as the brand tracked engagement and overall execution, it became clear that many franchisees forgot to revisit them. This triggered our initiative to streamline the process through a digital platform that would maximize systemwide engagement.
RESULTS
Since creating the LMC program, rolling out the Digital Playbooks, and growing the marketing team and its vendor partnerships, we've seen a 30 percent increase in brand search over 12 months, strong engagement with Gmail and retargeting ads, an average organic ranking of 1.6 across the network, 195+ leads on average per month, 40,000 total new clients, and a sub-$20 cost per acquisition. As a result, brand awareness has skyrocketed, we have seen a 158% lift in media exposure, and swim lesson revenue grew from $102.7 million in 2018 to $137.6 million in 2019.
OPERATIONS
MOST INNOVATIVE BUILDING DESIGN, REMODEL, OR PROTOTYPE
WINNER: Camp Bow Wow
RUNNER-UP: Lift Brands
OBJECTIVE
Camp Bow Wow identified an opportunity to remodel and enhance our standard lobby design to better meet today's evolving customers. We looked to craft a space that increased the customer's sense of fun, safety, and trust while invigorating the franchise system and increasing unit revenue.
OVERVIEW
The brand was born in 2000. The original lobby was designed and executed until the remodel of the flagship store in 2019. The remodel focused, in part, on exciting and leading the franchise system into a new age for doggy day care and the brand. To remain sensitive to cost and increase adoption, we strategically rolled out the transition in three building phases and offered two tiers of materials. Not only was it important to refresh the lobby look-and-feel, it was critical to provide a more streamlined customer interview process. (An interview is a free trial day a dog must complete successfully to become a "Camper" and involves both pup and parent participation.) In evaluating and planning a dedicated interview space, we provided a safe and quiet space for new dogs preparing for their interview, an enhanced experience with a private interview viewing screen, space to educate parents on what to expect, and a personal experience away from the pickup/drop-off area of our regulars. A second focus was our commitment to enhancing the customer experience. After the flagship store's lobby reveal, customers were surveyed to capture their perception and experience. The opportunity to elevate and improve customer perception and experience was critical.
RESULTS
The lobby remodel delivered on our main objectives. Within the first year of planning, 25% of units (existing and new) remodeled. On the customer side (65 current and 13 new customers surveyed), we found a 30% increase in perception of fun/playfulness; a 40% increase in perception of cleanliness; a 30% increase in perception of safety; a 50% increase in perception of premier service; a 25% increase in perception of trustworthiness; and 84% preferred the new, remodeled lobby design. Flagship revenue growth (2018–2019) saw a 61.2% YOY increase; total sales of all services rose 57.9% YOY; and interview counts were up 24.9% YOY.
MOST INNOVATIVE CONSUMER SELF-SERVICE TOOLS
WINNER: Floor Coverings International
OBJECTIVE
To eliminate the barriers to connection between prospects and franchise sales personnel through the immediate scheduling of an expedited appointment. We were looking to achieve a 100% immediate follow-up, furthered by the ability to expedite the real-time scheduling of appointments through AI-enabled conversational text responses. Further expectations were to increase lead closure rate by 25% (to be achieved through real-time scheduling and automation of leads to the most appropriate franchise development representative) and to increase the ability to massively increase lead flow while maintaining current team size.
OVERVIEW
The solution is enabled through a tight workflow integration between FranConnect Sky and Lumin.ai. (FranConnect is the platform that provides lead scoring, ensures sales process and regulatory compliance and automation; Lumin.ai provides a smart conversational AI bot to engage in text messages with a prospect.) The entire scheduling process, including complex conversations, can be accomplished using the Lumin.ai scheduling bot. The combination of FranConnect's smart automation and Lumin.ai's bot ensures that all leads are engaged immediately, and the next steps are scheduled based on availability. The solution integrates with popular scheduling platforms such as Calendly. In addition to immediate scheduling of visits and follow-up, the solution also automates campaigns that can reach out to leads, including dormant ones. The friendly engagement mechanism through conversational SMS, along with the automatic logging of user responses, ensures that the organization has all the information centralized and available as needed.
RESULTS
All initial goals were met and/or exceeded including more than 40% improvement in lead closure rate; 100% follow-up within 10 minutes; more than 90% automation of scheduled calls; more than 20% increase in monthly leads; reduction in head count through elimination of administrative personnel; and highest ROI of any platform we use.
MOST INNOVATIVE FRANCHISEE SUPPORT
WINNER: Wild Birds Unlimited
RUNNER-UP: School of Rock
OBJECTIVE
With store closings and restrictions, fear and uncertainty, and a need for operational, marketing, and staff changes during this crisis, we had to make a plan to help our system weather the storm, protect franchisees' investments, and, equally important, fulfill our brand promise of bringing the joy of birds and nature to our customers.
OVERVIEW
We immediately helped our system navigate the challenges of safe curbside delivery and migrated more than 45 stores to our online platform; developed a way for a major vendor to fulfill online orders directly for stores that were not allowed to open; developed more than 100 new marketing pieces to retain existing and acquire new customers (including a full social media plan that provided local advice and ideas to attract birds); managed a successful PPP and EIDL loan program before the CARES Act was even passed; worked directly with our system on rent relief; added a full "special services" program at no cost to help franchisees who needed extra assistance with budgeting, marketing, and other operational needs; and developed and implemented a full new communications section to keep our system in the loop and informed on how to implement all the new best practices.
RESULTS
We are maintaining strong sales and our YTD system-wide and same-store sales increases over last year. We conducted a third-party franchisee satisfaction "Pulse" survey and received very strong results: our franchisees not only are satisfied, they continue to rate us one of the strongest brands and are grateful for all we have done for them during this time. Our innovation, ability to adapt, and focus on franchisees' top <and> bottom lines has helped them provide the joy and calming effect of bird feeding to customers when they need it most. We had to cancel our annual conference, in-person new owner training, and in-person Meet the Flock (discovery) days) and create virtual replacements. This is working well, and we are getting strong reviews from participants. Our fran dev team is crushing it, with increased lead flow, adding brand-new franchisees to our system, and we have a number of transfers completed and scheduled.
MOST INNOVATIVE OPERATIONS TEAM
WINNER: Checkers & Rally's
RUNNER-UP: Smashin Crab
OBJECTIVE
As Covid-19 took a massive toll on the restaurant industry, our drive-thru model with closed kitchens set us up to weather the storm. Our operations team was able to quickly shift gears to adapt.
OVERVIEW
Our executive team began planning for the worst-case scenario in February as the country faced the threat of Covid-19. By the first week of March, we'd assembled a comprehensive response plan and task force to prioritize the health and safety of employees and guests. A three-level response plan, implemented immediately across our nearly 900 locations, included health and safety best practices and new procedures for even greater safety (Level 1); social distancing and responding to local mandates (Level 2); and quarantine procedures if a store shut down (Level 3). The operations team, led by COO Marc Mediate, established 15 new contactless experiences to protect employees and guests as stores adapted. This allowed operators to continue serving guests, and even allowed several restaurants to open in new markets and see record new opening sales. We also were able to support employees through a number of initiatives, including retail and grocery employment exchange partnerships with Albertsons, Walgreens, Kroger, BJ's Wholesale Club, and more; sick pay for workers who stayed home because of Covid-19; closure pay for stores that had to shutter; and expedited requests for aid from our employee relief fund. In addition, we were able to benefit from our closed kitchen model and integrated delivery platform, which brings in delivery orders through a single POS system. The result was a seamless, streamlined process for all restaurants, which prepared them for an increase in delivery orders. CEO Frances Allen provided constant, consistent updates to the entire system with information about the coronavirus, policy and procedure updates, and restaurant/government news from around the country. These updates also contained helpful information for franchisees about PPP loan forgiveness and the CARES Act.
RESULTS
Minimal disruption across our 900 locations; new restaurant openings with record sales; a lift in both drive-thru and delivery sales with a contactless experience; and several new franchisee signings.
MOST INNOVATIVE USE OF DATA
WINNER: The Exercise Coach
OBJECTIVE
We needed a reporting environment that reported and operationalized the data from our POS system (Mindbody). Data had to be transformed from the Mindbody environment to enable the business process and help franchisees drive higher conversion rates and lower attrition rates.
OVERVIEW
A third-party team began the project with the development of a KPI blueprint. After completing the blueprint, the team set to work on wireframing the initial set of dashboards to be developed for our team. (Wireframes provide a visual queue for users to better understand how the items will appear and the order or groupings they will appear in.) The team then created the data model, which has modifications from our internal model. New database tables and views were created that will deliver data to the dashboards based on the blueprint and the wireframes. Ultimately, multiple dashboards are produced, and a high-level "overview" dashboard top-lines key metrics. Following that, dashboards are created for each stage of the business process, including acquisition, promotion tracking, client engagement, session activity, retention, non-scheduled or non-returning clients, and trainer efficiency. Reporting is available at the corporate level, regional level, and all the way down to each location and trainer.
RESULTS
To evaluate the impact of the effort, we evaluated a few KPIs before the launch of the dashboards and again one year later. Results included: conversion rates increased by an average of nearly 7% YOY; the number of "dis-engaged" clients was reduced by 22.7% YOY (i.e., 22.7% fewer "dis-engaged" clients than in the previous period); and re-engaged clients (winbacks) increased 4.43% YOY. This quantifiable evidence supports the value of the new reporting environment and demonstrates its ability to improve a franchisee's ability to convert and retain more clientele than previously. Last, there has been an unanticipated revelation about the value of the dashboard project: during the course of the franchise selling process, the dashboards have been repeatedly called out as a significant point of differentiation between The Exercise Coach and other brands being considered.
MOST INNOVATIVE USE OF TECHNOLOGY
WINNER: Camp Bow Wow
RUNNER-UP: Healthier4U
OBJECTIVE
Many Camp Bow Wow franchise employees step into their roles with little training. This is not only a concern for staff retention, but also for the safety of the dogs. Training videos and paper onboarding materials were outdated and severely underutilized. Our primary goal was to increase engagement with training materials. Secondary objectives included: 1) develop an electronic platform that combined branded e-learning with franchise location–created materials; 2) move from learning with pen and paper to learning experiences proven to be most effective; 3) give franchisees insight into tracking their staff retention as it relates to recreating their onboarding system; and 4) create a structured onboarding schedule franchisees could adapt to their specific operations.
OVERVIEW
As we grew at a rapid rate, many best practices had been developed and shared across the organization through tribal knowledge, an antiquated learning management system (LMS), and even more antiquated training videos and paper onboarding workbooks—none of which allowed for effective hands-on learning, expansive reach of brand standards, or best practices. We wanted to find a way to engage franchisees and provide them with updated, relevant, and trackable training courses; a platform where they not only would use our courses, but also be a place for them to customize their onboarding experience. To successfully launch this platform, we created the most desired content to help onboard new employees, created how-to videos for franchisees to set up their apps with their own personalized materials (welcome videos, training agendas, new hire paperwork); and provided personalized training sessions to learn exactly how each franchisee wanted to use PlayerLync and our own courses for their training experiences.
RESULTS
The relaunch of e-learning with live learning experiences, coupled with customizable training materials at the unit level, delivered on our main objective of increasing LMS and training material engagement. As a result of the relaunch, we measured the following engagement (July–Dec. 2019): 94% of open locations engaged with accounts and used e-learning courses (up from 3%); 2,270 courses were taken; and 50% of operators have added their own training content to their websites.
PRODUCTS & SERVICES
MOST INNOVATIVE PRODUCT INTRODUCTION
WINNER: Edible Arrangements
RUNNER-UP: Frisch's Big Boy
OBJECTIVE
As the Covid-19 pandemic began to spread to the U.S. in early March, people found themselves confined to their homes as shelter-in-place orders were put in place across the country and around the world. We quickly realized there was a bigger need for our services beyond just celebratory fruit arrangements and sweet treat boxes. We introduced new fresh produce boxes for customers who were required to stay at home or were afraid to venture out. People now could order fresh fruit and other produce and have it delivered directly to their home.
OVERVIEW
On March 14, we announced the launch of our new fresh fruit and produce boxes, along with offering no-contact pickup and delivery—and, for a limited time, free same-day delivery. Varieties of fruit and other produce available for delivery varied from store to store depending on what was available in each market, but all 1,000-plus Edible locations around the world took part in the initiative to ensure the communities they served would have access to fresh, nutritious food delivered straight to their homes. While the boxes began primarily with only fresh fruit, we eventually added fresh vegetables to the mix, and later began bundling these fresh fruit and vegetable boxes with a variety of other treats such as apple donuts, popcorn, dipped fruit treats, and more, all in one package.
RESULTS
At the start of the pandemic, overall system sales dipped 40% as all businesses took a hit. But within just weeks of introducing the fresh produce boxes, we were selling more than 1,500 boxes a week. As of April, same-store-sales were up 61% from the previous year, and the brand experienced its most successful Mother's Day in company history. Ultimately, by pivoting our traditional business model in light of this crisis, we not only gave the communities we serve another way to obtain supplies they needed for sheltering in place, we also maintained relevance in a time when so many other industries have struggled to make ends meet.
MOST INNOVATIVE SERVICE INTRODUCTION
WINNER: Fantastic Services
RUNNER-UP: Camp Bow Wow
OBJECTIVE
Focusing on the "new normal" of Covid-19, we launched new services tailored to our customers' needs: Antiviral Sanitization, Minimal Contact Service, Emergency Services, and the so-called We Do Any Chore service. Perceiving the crisis as an opportunity, we proved that by adapting our traditional services and implementing innovative ones, we could survive the breakdown.
OVERVIEW
Months ago, when we saw the crisis coming, we didn't know how bad the situation would be, what would change, and what to expect. Since the well-being of our customers and franchisees has always been our utmost priority, we started looking for a mutually beneficial way to support that. Our Antiviral Sanitization Service , which we call AVS, was the solution. First, we contributed—and continue to contribute to—minimizing the spread of Covid-19. Second, we kept our franchisees' schedules full so they could support themselves and their families. And finally, we protected our customers by reducing the risk of viral infection by making sure the technicians followed all guidelines for sanitization, cleanliness, and precaution provided by the authorities. We haven't stopped providing services during the lockdown. By using our media presence, we created email, social media, and PR campaigns to ensure our customers that booking AVS or other adapted services does not involve health risks.
RESULTS
By launching the new service, we supported our franchisees, technicians, and their families. We've already delivered more than 1,000 hours of AVS to more than 350 customers, among them news studios, embassies, churches, schools, photoshoot studios, and more. What all of this revealed is that to remain on top and make our company recession-proof, it's always necessary to be one step ahead and think outside the box.
MOST INNOVATIVE USE OF CUSTOMER-FACING DIGITAL TOOLS
WINNER: Gold's Gym
RUNNER-UP: BusinessKids
OBJECTIVE
As the Covid-19 pandemic spread, we announced on March 16 that we would be temporarily closing all our company-owned gyms in the U.S. The rest of the franchise network soon followed suit. It was especially important for us to continue providing fitness services to members and non-members alike during the pandemic, so we worked quickly to identify ways to serve our global community virtually.
OVERVIEW
We announced the launch of "Gold's Gym Anywhere," which introduced two key digital initiatives for helping people continue working out wherever they felt most comfortable and safe. First, free premium access to Gold's Amp (our digital coaching app, available in the U.S. and Canada) was made available through May 31. In addition, we launched a free global on-demand video workout platform featuring workouts from celebrities and certified Gold's Gym personal trainers from around the world. We invited our global franchise community to submit video workouts featuring their gym's trainers to be added to the on-demand workout database. The on-demand platform remains free to the public to this day.
RESULTS
Between March 13 and May 31, Gold's Amp was downloaded (free) more than 76,000 times, and there was a 133% increase in usage. Since our on-demand video workout platform launched on March 18, there have been more than 300,000 video plays, and the portal now features more than 230 video workouts from brand experts and company gym team members, as well as from our franchise teams all around the world.
MOST INNOVATIVE USE OF TECHNOLOGY: PRODUCTS
WINNER: Urban Air Adventure Park
RUNNER-UP: Capriotti's Sandwich Shop
OBJECTIVE
We sought to increase our brand value proposition for guests, while driving more consistent customer frequency and recurring cash flow for franchisees. The company launched a membership-based model, something that had been embraced by theme parks, but was a first within the location-based entertainment industry.
OVERVIEW
In April 2019, the company rolled out Endless Play Memberships nationwide. These memberships offer unlimited access to our next-level attractions such as Indoor Sky Diving, Go-Karts, the Sky Rider Coaster, Spin Zone Bumper Cars, climbing walls, ropes courses, and more. With memberships starting as low as $6.99, the program allows guests to come back every day for a fraction of the price of a single visit. The tiered program allows guests to choose from four options with varying levels of access to park attractions, with each priced at 50% of a walk-in ticket, while being able to return to the park as many times within the month as they'd like. By introducing an e-commerce–based, contractually recurring annual membership program, we provided our franchisees with a new revenue stream that delivered weekly cash flow deposits. This first-in-category program also helped create brand loyalty, increasing visitation frequency for our franchisee base.
RESULTS
We experienced a record 2019 as we welcomed more than 20 million guests to our parks. Systemwide revenue totaled a record $215 million, a 100% increase from 2018, reflecting increases in attendance and in-park per capita spending. After the Endless Play Memberships program launched in late April, the brand signed up more than 177,000 members in 2019. Total membership revenue over the last 8 months of 2019 topped $10.5 million.
MOST INNOVATIVE USE OF TECHNOLOGY: SERVICES
WINNER: Sola Salon Studios
RUNNER-UP: Mathnasium
OBJECTIVE
As the world's largest salon studios franchise, we support a growing community of 15,000 independent beauty professionals across more than 500 locations. As a company that helps beauty professionals go into business for themselves, we have no receptionists to manage stylist bookings; instead it's the stylists' responsibility. In January 2019, we launched BookNow, a centralized booking system where clients can find their favorite stylist online and book an appointment. Our objective was to capitalize on organic consumer traffic, provide a better customer experience, and increase revenue and exposure to the stylists.
OVERVIEW
Leveraging our pre-existing partnership with a leading appointment management and scheduling system developer, we re-engaged them to help us develop BookNow as an extension of our SolaGenius app. When it launched, BookNow allowed us to drive client bookings for our independent beauty professionals. Inquiring clients can now search, discover, and book through our website 24/7 to find professionals who use the SolaGenius app. When the booking is complete, the service sends a confirmation text message to the client and stylist and handles the entire booking process, giving stylists more time to run their businesses. The technology behind BookNow gathers the schedule of each stylist subscribed to SolaGenius and pulls it in to a database to share availability with clients looking to book an appointment. BookNow is conveniently located on our home page, making it easy for clients to find the beauty professional who best suits their needs. Clients do not need to download an app and can customize their search by service, salon location, stylist, and appointment date.
RESULTS
Approximately 6,000 bookings came through BookNow in 2019. As the year went on, we saw drastic increases in the number of bookings made from when the platform launched. In the first month of BookNow going live on our website, 59 appointments were made; today it generates an average of approximately 700 bookings per month. We also saw an increase in stylists opting in to become SolaGenius subscribers, adding 1,500 in 2019. In addition, we were able to help generate more than $300,000 in revenue for stylists in the first year.
HUMAN RESOURCES
MOST INNOVATIVE EMPLOYEE TRAINING
WINNER: Woofie's
OBJECTIVE
Woofie's, a pet services franchise company, realized there was a void of highly qualified, mobile pet groomers. We sought to rectify the problem by developing Woofie's Academy, a first-of-its-kind, professional pet grooming school, to train aspiring pet groomers to become exceptional mobile groomers.
OVERVIEW
Woofie's Academy is the in-house, accelerated training program we developed in partnership with the Paragon School of Pet Grooming, one of the top-rated grooming schools in the country. This multi-level program offers basic groomer training, advanced groomer certifications, and professional development opportunities through a web-based study program and hands-on experience. Students accepted into the program learn how to professionally groom animals in a mobile environment, with a focus on pet safety, customer service, and professionalism. The training program also incorporates hands-on experience by working with local animal rescue groups and shelters such as the Friends of Homeless Animals. Upon successful completion of the program, students will have employment opportunities with Woofie's corporate office or at one of its franchise locations.
RESULTS
Within four months of developing the program, we brought Woofie's Academy officially to market in November 2019. To date, and bearing in mind the Covid-19 closures, there are 12 students who have completed or are successfully moving through the training program and working within our franchise system. Since the program's inception, one franchise location has seen a 50% increase in revenues after bringing in their students, and the corporate location has increased revenues by 10%.
MOST INNOVATIVE EMPLOYEE RECRUITING
WINNER: The Now Massage
OBJECTIVE
At The Now Massage, our team looked for ways to differentiate the brand through design elements, handcrafted branded products, and the start-to-finish guest experience. At the heart of this experience is the massage therapist who delivers the service. Attracting the top talent in a local area and providing a pathway for professional growth would be key to creating continuity within the boutique and to building repetitive business through a positive experience.
OVERVIEW
The idea of nourishing the lives of massage therapists is crucial to attracting the best in the business. To achieve this we offer important benefits for therapists. These include flexible scheduling; employee status with the payroll benefits this provides; eligibility for health benefits; paid sick leave; a clear schedule for raises; and an opportunity to track into management. We created an achievement program with tiered benefits that increase as each massage therapist grows. These benefits include continuing education training, complimentary massages, personalized business cards, exclusive gifts for each new level of achievement, and paid vacation. (There are four distinct levels of achievement.) We also have an extern program to help therapists maintain their certifications, receive feedback from certified therapists on ways to improve, and enjoy team member discounts on massages and retail items.
RESULTS
As a result of these efforts, therapists stay with us far longer than the industry average. This continuity generates repeat business that benefits each therapist directly, as well as the boutique. When jobs are posted for new massage therapists, the response is overwhelming.
Published: August 20th, 2020
Share this Feature
Recommended Reading:
Comments:
comments powered by

Disqus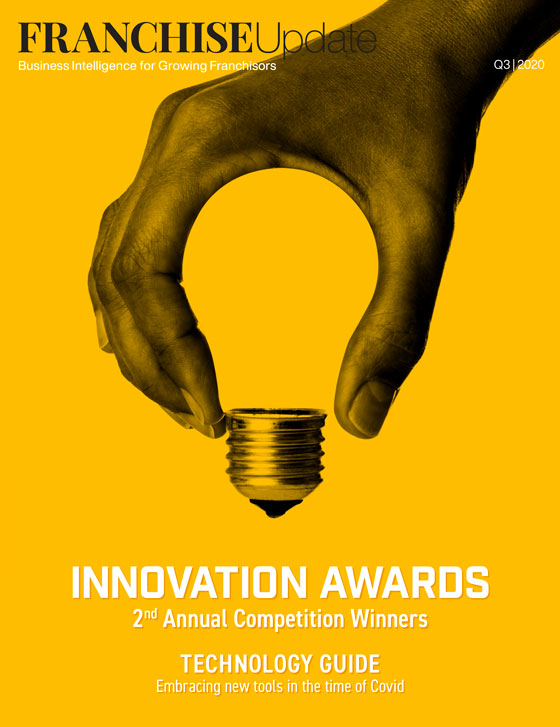 Franchise Update Magazine: Issue 3, 2020
Conferences
InterContinental, Atlanta
OCT 18-20TH, 2023
The business messaging platform that lets you text from your office phone number directly on your computer, so you can actually get a response.
The Hungarian Franchise Association was founded in 1991 as an interest representation organization of the franchise business community.