FPRs: Not for Everybody: Why Many Franchisors Still Don't Make Them
Last year, our third quarter cover story on Item 19 urged franchisors to disclose more financial performance information in their FDD. After all, the FTC's amended Franchise Rule, which became mandatory July 1, 2008, contained language intended to make it easier for franchisors to make financial performance representations (FPRs; formerly known as earnings claims).

In that issue, Lane Fisher, a partner with the law firm Fisher & Zucker, wrote that changes: "...were made to encourage franchisors to make FPRs, remove impediments to a franchisor's ability to disclose performance information, and to provide franchisors flexibility to formulate such representations provided that they are truthful and reasonable."

Clearly, the goal was increased disclosure. Yet, a year after the amended FTC Rule became mandatory, approximately 7 of 10 franchisors still do not provide detailed financial data in Item 19--information intended to help potential franchisees determine the answer to their number-one question: "How much money can I make?"

To find out why, we asked several franchisors that don't make FPRs, and some that only recently began to do so.

"We have not made earnings claims for the entire time of our franchising," says Mike Isakson, president and COO of ServiceMaster Clean, which has been franchising since 1953. This largest member of the ServiceMaster family of brands has about 3,000 franchises in the U.S., another 1,500 worldwide, and expects to add 200 more in 2009. Clearly, they're doing something right--without FPRs.

Nevertheless, the company, which provides residential and commercial cleaning and disaster restoration services, has considered it. "We looked at it and said, 'Could we do this?'" says Isakson. "But we stepped back and said in most places we're uncomfortable. They're an estimate, and we want to give the best information to the franchisee." That information, he says, will come directly from the franchisees.

At Gamer Doc, FPRs simply are not part of the game. "We don't have anything in ours. We don't make earnings claims," says company President Jim Belanger. "I worked for a competitor and sold over 312 stores doing it the same way."

Gamer Doc, which began franchising in January 2008, has sold 16 units and has 4 open, he says. His goal is to finish this year at 15 to 20 and reach 40 or 50 stores next year, plus a couple of company stores. Yet, says Belanger, "Even if I was 1,000 stores old, I would fight an earnings claim. There's nothing guaranteed in business. When I don't even know what their skill set may be or how many hours they're going to put in," he contends, how is it possible to realistically predict someone's future earnings?

"Our FDD is about the industry, where it's going, weaknesses, the competition--generally all the things they wouldn't find out themselves," he says. "Its purpose is to give the person the same knowledge we have so they can make an informed decision." Like Isakson, he says, candidates should talk to the franchisees to answer the earnings question.

In fact, that's not only part of the due diligence process, it's also a way many franchisors "delegate" this task to their franchisees (for better and for worse).
The numbers game
One of the thorniest challenges facing franchisors seeking to provide "truthful and reasonable" numbers in Item 19 is how to ensure their accuracy and reliability.

"I don't know how it's possible to provide earnings claims that are factual unless you have audited numbers from your franchisees," says Belanger. "Franchisees will provide you with what they want you to know."

Even if the data submitted by each franchisee were 100 percent accurate, when it comes to expenses (and thus net profit), the differences among franchisees can be huge, and the effort to standardize the data expensive and time-consuming.

"We have a fairly good operations management system, but you can never be certain as to what people are claiming as expenses," says Ruk Adams, senior vice president, The Little Gym. In fact, he adds, "I don't want to know about that as it is not my place. I was told of one franchisee who had two cars and a boat registered to their business that they were writing off, which obviously would result in their profits being lower." However, he says, if you're independently owned and you and your tax advisor agree on what is a reasonable expense that is deductible, "Those are all choices you make."

Beyond the differences in variable (versus fixed) expenses, franchisees within a system often use different accounting methods, making standardization difficult for Item 19. Or they may take a different approach to running the business--for example, employing family members, hiring a manager, or doing it all themselves.

Retailers, especially in the QSR segment, can take advantage of POS systems and tight controls to collect numbers they can use to create reasonably reliable FPRs, says Gary Duvall, a partner with the law firm Dorsey & Whitney. "A franchisor seeking reliable data would have to impose a uniform set of accounts. Many have." McDonald's is a good example, he says, but adds that the numbers corporate gathers for its Item 19 are not the same ones the franchisees use for tax purposes.

Says Isakson, "When you have a system that allows you to become data rich, and a fairly finite type and range of transactions, compiling accurate data is easier. There isn't a large range in McDonald's data set." That's not the case at ServiceMaster Clean. "We have a prescribed system, but we do not have a robust point-of-sale system such as a retailer would," he says.

Isakson says that if he had a magic wand that would create such a system for all his franchisees, he would wave it in an instant. But unlike QSR, services have a large variance in scope and complexity, especially in disaster restoration. Standardization would be complicated and costly. "We'd rather have our franchise owners focus on the business," he says.

In addition, decades of legacy systems and differences in the size and age of its franchisees further complicate the picture in terms of FPRs being meaningful indicators for potential franchisees. "We have second- and third-generation owners who have been in business for a long time and have established a large customer base," says Isakson.

For a new prospect to use data from those operators could create unrealistic expectations--and disappointment. "Item 19 does not specify what to do with outliers in the data field. It could be improved to use better definitions of statistics as to how you use that information," he says.

"It gets tricky when you take extreme steps to regularize the data," agrees Brian Spindel, president of PostNet, which does not make FPRs--although they have thought about it. "We've debated this, turned it inside out. We do it every year. So it's not something we haven't considered. We just decided if we can't do it all, we won't do it at all."
Full disclosure... or none?
How much information, and what type, is another question franchisors face in determining what to include in Item 19.

"The whole purpose of the disclosure document is to provide a full picture of the model, both the upside and the downside of it," says Spindel. At PostNet, he says, FPRs are an all-or-nothing proposition. "In essence, if you're going to make a financial performance representation, it should be from top to bottom, not in parts," he says.

Providing less than full disclosure leads to questions--and potential problems he'd rather avoid. For example, he says, "If you provide only a top-line claim, the next question will be 'What is the gross margin?' and you'll have to direct them to franchisees. So if you're not going full disclosure, why go down the path?"

With partial disclosure, he says, the prospect still needs the information not disclosed. "I understand the need of the prospect to define the potential of the business. They can do that by speaking with franchisees," he says. By doing so, he adds, they'll not only get the information they need, but also more "color" from both successful operators and those not achieving their goals.
FPR as sales tool?
Spindel says neither of the two top growth companies in his sector (PostNet and The UPS Store) provide FPRs. "I don't know if there's a clear correlation between people who sell a lot of franchises and those who disclose earnings claims," he says. "I would challenge the assumption that franchisors who make claims sell more franchises than those who don't."

"It should not be a sales tool," says Belanger. "People use it as a sales tool. I don't think it should be that way." Instead, he says, "Don't let your salespeople sell your franchise, sell it through success. If franchisees are making money, people will know."

"Some companies will do marketing based on Item 19," says Adams. "I get why people do it, and I come out of a sales background so it's hard for me not to want to." However, he says, "That comes with a great deal of risk of providing inaccurate information. And unless you're auditing somebody, which comes with an incredible cost, I wouldn't take that risk."

Says Adams, "Even if you have a right to audit--which we do on a random basis--it costs $10,000 to $15,000. Our average royalties are about $30,000 per year. So it would be impractical to audit everyone," he says.

"We disclose gross revenues reported--which, I tell any prospective franchisee, is not really a measure of the business," says Adams. However, he adds, "It is the one thing we're confident is going to be accurately reported; no one is going to over-report revenues."

More specifically, in Item 19, The Little Gym lists gross revenues for the prior calendar year, for any gym open 12 months or more, based on the year the gym opened. For example: opened 2006, $453,00, $432,000. Candidates can call that owner and see where that gym is in relation to others that opened that year.

"We kept being asked by prospective licensees, 'How do I know if somebody I'm talking to is a good operator or not?'" says Adams. "We use Item 19 strictly as a tool to provide prospective licensees the ability to identify the range of performance levels of given gyms they're talking to, based on year of opening. That gives people at least the ability to determine where they fall when they talk to people."

Gross revenues reported in Item 19 this year ranged from a low of $132,000 to a high over $1 million, he says. "Can a gym be profitable at $132,000? You can call and ask, but it's not practical," say Adams. "Go find out who you're like," he says.

Duvall, who has worked with The Little Gym for more than 10 years, says he likes the approach the brand has taken. "What they do is just list every single franchisee and their gross revenue numbers for the last three years. And that's it. There's no explanation, and they don't identify the franchisees by name, just by the number. There isn't a lot of opportunity for misunderstanding."

"We used to not report them," says Adams. "We didn't want to report something that might be misinterpreted or misconstrued, even if done within the letter of franchising law. I think that's one of the biggest reasons people shy away from it. If we had company stores, that would be different."
Ask the operators
For some franchisors, not providing information in Item 19 is part of their candidate qualification process.

"If you give a franchisee too much help, you're not going to get the right person," says Belanger. "If they don't put together a pro forma, they're not going to read our operating manual." One candidate told him, "If you don't give me the numbers, I'm not going to even consider it." Not good enough.

"Due diligence is not just on the Internet. It's sitting outside a store and watching people go in and out. It's talking to people. I tell them, 'Please go do those things, and come back with questions,'" he says.

"There are some things in our FDD that will help you; others you'll have to find out. It's not just about buying, selling, and trading video games." He says Item 6 of his FDD has a chart outlining expenses for a typical store. For a candidate trying to figure out how much they'll make, he tells them, "The only thing you'll have trouble with is what your sales will be." He also tells them, "In the first year, very few people make money."

Says Isakson, "We like a prospect who will have to sit down and figure it out, with a pro forma, on why they should or shouldn't buy the business. They can call someone and ask about that. If they don't want to do that, it's part of the selection process."

He adds, "I believe the franchise sale will be made on first, the quality of the prospect, and second, the prospect has a clear understanding of how to get and keep customers--and the franchise operators can best speak to that."
Managing expectations
Not divulging information in Item 19 also helps to keep candidates' expectations more realistic--or at least in the ballpark. The problem with providing a range of earnings is that entrepreneurs are optimistic by nature and tend to identify with the stars in the system.

"Any group will have its group of overachievers who astound even the franchisor, and those who fail," says Spindel. "I've seen a wide spread between the best and worst performers in our system." Most FPRs have a fairly large delta between lowest and highest, he adds.

"No one thinks they're average, or for sure below average. So prospects tend to gravitate toward the top producers, the top quartile. If they came into our system doing that, three quarters would be unhappy."

So in coming down on the side of not making FPRs, "I'm afraid prospects will look at the top 10 percent or quartile and lick their chops. I wouldn't encourage or expect that," he says. "Why, if FPRs are optional, create a situation where we'd have to manage expectations?" Instead, he says, candidates can speak with 10 or 15 franchisees and hear the real deal.
Do FPRs matter?
"One way of looking at FPRs is franchisees put too much importance on it," says Duvall. "It's fairly important what's happened in the past, but in terms of extrapolating for the future, you have to do your own research."

He says unit-level economics are what's key, and franchisors don't always have a complete picture of that. And when it comes to earnings, he says, "A lot has to do with the marketing effort put forward by the franchisee, the demographics of the territory, and probably most is just how capable the franchisee is."

Duvall says he's in the camp of suggesting that his franchisor clients consider making FPRs, but with a caveat. "I think franchisors should supply all the reliable data they have in Item 19--but only the reliable data. Very few franchisors can do this," he says.

"People shy away from an earnings claim because that's what they've always done," says Adams. "I think if a company is smart they would at least each year look at the opportunity it represents to address a specific set of questions or concerns people might have or provide a resource of information to help a prospect make a decision. As for the big question, "How much can I make?" Adams tells them, "I don't know."

Says Isakson, "That I don't know our key competitors in our markets do or do not have earnings claims will give you an indication I don't worry about that."
Lenders Just Gotta Have Data
Beyond the importance of providing prospective franchisees with an answer to the inevitable question "How much can I make?" there's a new reason for franchisors to provide financial performance representations (formerly earning claims) in Item 19: lenders.

"Earnings claims are now more important than they were a few years ago--and they were important then," says Darrell Johnson, president/CEO of franchise market research firm FRANdata. "We're in a world where better information to make decisions is being required by lenders. It's at least as big an issue as providing it to prospective franchisees, particularly multi-unit operators," he says.

Before the credit (and confidence) crisis took hold last year, much of the lending to franchisees came from sources that understood franchising, specific brands, and the risk involved in making loans to both new and existing franchisees. With their withdrawal, the game has changed.

"The people who provide debt capital are different today. Preferred lenders who knew about the system and unit performance are not lending, and borrowers are dealing with new lenders who don't have that information," says Johnson. "So you have an audience today that wasn't there a few years ago."

These new lenders--local and regional banks, as well as non-traditional sources--are not only unfamiliar with specific franchise brands and their unit economics, many often are unfamiliar with franchising itself. This raises the difficulty for prospective borrowers, whether for start-up or expansion.

This is where franchisors can help by providing franchisees (and lenders) with reliable FPR numbers. "All franchisees as business owners are required to have a business plan when seeking financing. The first question from lenders is, 'What's the basis of this business plan?' If you can't point to data that says 'I got this from somebody deemed to be reliable,'" says Johnson, your chance of securing a loan plummets.

"Bankers are using the FDD as a decision-making tool. In addition to Item 19, they're also looking at Item 20 and Item 21. They're trying to get their arms around a particular issue, and that issue is risk. And in the world we're in today, risk minimization is key," says Johnson.

He says FRANdata is now doing a lot of bank credit reports. "Franchisors are asking us for that. Why? Because bankers are asking for information from which to assess risk. Leaving a banker to wade through, interpret, and draw conclusions regarding risks from an FDD is not a very good strategy. It's better to assemble pertinent risk data: Here are the risks associated with the brand. How does the franchise unit perform?"

Johnson says a franchisor can avoid providing an Item19 disclosure and still solve the lending access issue if they are willing to provide a unit's performance data to a lender under a nondisclosure agreement (NDA). "It is fair, in the sense of what legally is allowable, to provide a lender with additional information about their business to help them with their due diligence--just the bank, not the prospective franchisee," he says. "This is customary as it relates to any company in the U.S."

For franchisors seeking to attract experienced multi-unit franchisees to their brand, providing more information is the way to go here as well, he says. "They're like the preferred lender of a couple of years ago: give them enough and they can figure it out themselves. But do they want to? If you tell them, 'Go talk to other franchisees,' they may do that. Or they may not--especially if they're faced with 10 brands trying to appeal to them."

Johnson says FRANdata just completed a confidential survey on what attracts multi-unit operators for one of the best-known brands in the U.S. Number one on the list? "First give me some performance data, and then I'll talk to other franchisees.' Just like lenders, the experienced multi-unit operators are saying, 'Make it easier to get interested in you.'"
FPR First-Timer
2009 is the first year Foot Solutions is providing Item 19 information, says CEO Ray Margiano, who founded the company in 2000.

"We talked with hundreds of people and their number-one one item is, 'How much can a store do? What kind of money can I make?'"

One problem in answering that question was how to provide information that he felt would be truly representative and presented a fair picture to candidates. "There were always things to skew the numbers one way or the other," he says. So rather than provide potentially misleading information, or choose relatively high-performing stores, he chose to provide none--until now.

It takes a number of years, he says, for a franchisor to get a handle on the delicate subject of potential earnings. In the beginning, he says, people were coming and going, he was still tweaking the model, and with so many different locations, he was reluctant to provide earnings claims.

Why? "Mainly because I thought I had to do it for everyone," says Margiano, whose brand has 250 locations today. But after speaking with an attorney about the amended FTC Rule, he learned that he could show a representative group and set about defining such a group. "Over the years, the laws have opened up enough for it not to be a critical issue, as long as you put in something representative," he says.

He chose the brand's 13 franchisees in Arizona. "I took the one state because it's representative of where we are. It's a good cross-section," he says. "It gives at least a slice with new and old stores and a variety of backgrounds and locations. I thought that would be a good way to go."

His Item 19 shows average sales and total sales for the 13 stores, which range from $200,000 to $1 million. "It's pretty much a bell-shaped curve," says Margiano. "It shows everybody is not a winner or a loser. It puts it right out there in the open." A prospective franchisee can look at the range of stores and see how they fit their demographic profile. Knowing the outside and inside ranges, he says, helps candidates keep things in focus and gain a sense of what their earnings might be.

In addition, providing prospects with average customer spend ($203) "gives them a great deal of data they can work with when putting their business plan together," he says. "As they plug in their other costs, they know how many customers a day they need to see to break even. These are critical factors in analyzing any business you want to invest in."

Part of the process for candidates also involves finding out who they think they're like when the speak with franchisees. "It's important for people at the bottom to identify why they're there. If they identify with them, they have to consider if they'll be there with them," he says.

"Item 19 allows you to put it in some perspective and not to have a black box where they're just guessing," says Margiano. "Everyone would like to put something there. But certainly the best thing is to have them talk to franchisees."
Published: August 31st, 2009
Share this Feature
Recommended Reading:
Comments:
comments powered by

Disqus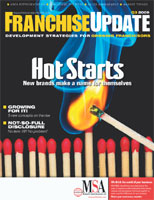 Franchise Update Magazine: Issue 3, 2009
Our franchise management software helps increase unit growth, reduce opening time, track and improve unit performance, automate financial reporting...
Bring Order to Your Business. All-in-one management, print, and design solutions at your fingertips, on one platform