Franchise Relationship Regulation: Can Federal Preemption Cure Today's Inefficiencies?
In the previous issue, I presented observations about defects I perceived in the U.S.'s system of franchise sales regulation. The essence of my position was that having duplicative regulation at the federal and state levels adds significant costs to the regulatory system--with little improvement in the regulatory environment.
In this column, I focus on another area of franchise regulation: franchise relationships. These include termination and non-renewal issues, and limitations imposed by franchisors on franchisees with respect to assignments of franchises, sourcing of products, and franchisee involvement in franchisee associations.
The history of franchise relationship abuse to some degree parallels the history of franchise sales abuse. Before 1970, there were only marginal limitations on what franchisors could and could not do in managing their relationships with their franchisees. Virtually the only limitations arose out of contract law. At that time, the dominant rule was (and today still is) that two competent parties, especially in a commercial setting, should be free to contractually establish their relationship with minimal interference from the federal or a state government. For example, under common law, a court would find little basis for overturning a franchisor's decision to terminate a franchise relationship at the end of one year, without cause, if the contract so permitted. The contract might even go further and state that a franchisor could terminate a franchisee at any time, without advance notice. Thus, there were many situations in which the franchisee contributed their sweat equity to building up a brand in their market, only to find their rights to exploit the fruits of their capital and labor had been unilaterally severed and taken over by the franchisor or a franchisor-appointed substitute on a moment's notice.
Around 1970, as franchising became a more widespread distribution method, the abuses came to the attention of state legislators and other government officials. As a result, in addition to the enactment of franchise sales regulations legislation during this period, numerous states enacted laws governing franchise relationships. By 1975, some 15 states had adopted such legislation, and today 17 states have laws regulating franchise relationships.
At the federal level, with the exceptions of the petroleum and automobile industries, the Congress and the FTC--through inaction--have tacitly adopted a policy not to intervene in matters involving franchise relationships. Thus, in contrast to franchise sales regulation, where the FTC adopted a franchise sales disclosure rule in 1978, there are no federal statutes or regulations governing how franchisors and franchisees structure their business affairs.
In principle, legislation should be considered when there is a widespread abuse in the way an industry conducts its affairs, or when there is a perceived imbalance in the economic or other rights of the parties, and the parties or the industry are unable to create more of a balance on their own.
Pivotal questions
The pivotal questions in the field of franchise relationships are: How prevalent are franchise relationship abuses? Should these abuses, if they exist, be regulated? And if so, at the federal or state level, or both?
Consider first, among other questions: Are franchisees frequently terminated or not renewed as a result of a franchisor wanting to unjustly recapture franchise rights they had agreed to make available to the franchisee? Do contractual limitations imposed on franchisees prevent them from selling their franchises and receiving fair value for their businesses? And do franchisors watchdog franchisees who organize or join franchisee associations and retaliate against those who do?
The answers to all these questions are undoubtedly yes, but then one must ask: How widespread are these abuses? Are they isolated occurrences, or frequent events?
Legislation to cover a limited number of abuses is not sound policy, even though the result may be that a handful of franchisees may find themselves without recourse when abused. I won't say whether or not the level of abuse in franchise relationships is excessive, but I will observe that the means we have adopted to fix this problem (if it exists) and the methodology (leaving it to the states to correct the problem) are poor.
Thus, we must ask: 1) What are the kinds of relationship issues that cause heartburn? 2) What constitutes "abuse" with respect to those issues? 3) How have our legislatures attempted to cure those abuses?
State of the states
To date, the state franchise relationship laws vary considerably in the types of abuses they attempt to eliminate. The most prevalent issues addressed by these statutes are unjust terminations and non-renewals. Almost all, if not all, of the relationship laws address these issues. From that point forward there is considerable variation at the state level as to the kinds of abuses that are regulated: 9 states regulate transfer issues; 10 protect the franchisees' right to organize or join franchisee associations; 5 in principle prohibit unwarranted territorial encroachment by a franchisor; and 4 prohibit franchisors from requiring franchisees to purchase products or services at inflated prices.
With such differences among the statutes, how does a franchisor develop a franchise program and achieve consistency on a national basis? Moreover, is it "fair" that a franchisee in one jurisdiction may retain its franchise rights in perpetuity, as is suggested by that state's franchise relationship statute, while a similarly situated franchisee in a neighboring jurisdiction will not have similar rights? Does it make sense that if a franchisor wants to be national, or simply regional, it might have to accept the lowest common denominator when establishing and enforcing its remedies to achieve uniformity?
Is this an impossible task for the franchisor? No, but it does result in added cost for the franchisor and creates a situation where one state influences the economic regulatory environment of another. Is the cost of adjusting one's franchise agreement to address state peculiarities worth it, or is it better to follow the lowest common denominator approach? Would federal preemptive legislation be a more efficient solution? The problem is exacerbated by the principle that each state is generally free to adopt its own principles of common law.
Take, as an example, the question of whether a franchisee should be liable to a franchisor for lost future royalties when the franchise relationship is duly terminated by the franchisor as a result of the franchisee's nonpayment of past royalties, or any other material breach. In California, Florida, Michigan, and (at the moment) North Carolina, the courts say no. Georgia (and probably a significant number of other states) say yes. Does this make sense from a business regulatory standpoint? In none of the states listed above are there statutes addressing the issue. Thus, even if there were no state relationship statutes, problems are created by the fact that there is no federal common law or jurisprudence on the subject of franchise relationships.
As a result, the most critical provisions of franchise agreements, one might argue, become the ones governing choice of law, and those specifying where litigation may be brought. Consequently, we have races to courthouses to find judicial systems that will or will not honor choice of law selection clauses agreed to by the parties, or courts that have, or may not have, strong interests in protecting the rights of their citizens (which may be franchisors or franchisees).
By leaving franchise regulations to the states, both judicially and legislatively, rather than encouraging the parties to settle their differences out of court, we encourage litigation. Consequently, because both parties want the judicial advantage, unproductive legal fees are incurred by both parties. Of equal importance, the initial court skirmishes are focused on procedural issues (what law should be applied, what is the proper forum for the dispute) rather than addressing substantive issues.
Can the system we have created be viewed as efficient in this light? I think not.
Resolving the problem
The solution to this problem is easy to identify: preempt state legislation (and common law) and establish federal standards for regulating franchise relationships. Is this likely to happen? Not without building a political consensus that the benefits are worth the price. Under our Constitution, states have all rights not specifically granted to the federal government; however, under the Commerce Clause of our Constitution, there can be strictures with respect to state laws that interfere with interstate commerce. Thus the avenue for a solution is there. The problem is in encouraging those who would be affected by federalization of franchise relationship regulation to support it.
Franchisors don't like the idea because it will give franchisees rights that they do not presently have. Franchisee advocates, on the other hand, might be more amenable to federal preemption for the same reason franchisors are likely to oppose it. I suspect that franchise regulators also oppose it because of the historical reluctance of the federal government to show a commitment to enforce, even though relationship issues are generally beyond the scope of the state official's regulatory authority.
Are there examples of federal laws enacted that preempt state laws that prove burdensome? Yes. The Petroleum Marketing Practices Act is right on point. Even the FTC Rule has an element of preemption: states may not adopt statutes or regulations in the area of franchise sales that afford consumers less protection than they receive under the Rule. As we have seen here, however, anything less than full preemption proves problematical.
To be clear, I am not suggesting that there are significant abuses in franchise relationships, nor am I advocating that preemption will cure all ills in franchising. What I am saying is that our current regulatory scheme is inefficient, and as is the situation with franchise sales regulation, adds cost to the franchise community without providing benefits that in the overall picture justify those costs.
If only we could start over!
Rupert Barkoff is a partner in the Atlanta, Georgia office of Kilpatrick Townsend LLP, where he chairs his firm's franchise practice. He is a former Chair of the American Bar Association's Forum on Franchising and the State Bar of Georgia's Franchise Section, and Co-Editor-in-Chief of the Forum's Fundamentals of Franchising book.
Published: March 14th, 2011
Share this Feature
Recommended Reading:
Comments:
comments powered by

Disqus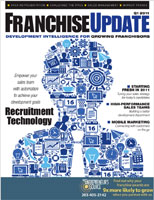 Franchise Update Magazine: Issue 1, 2011
Franchise Update Media (FUM) is the trusted resource for the franchise industry. For 30+ years, FUM has been the leader in providing valuable...
Slick Marketers is reinventing franchise marketing with a hyper-customized and ultra-localized marketing approach with measurable results and growth...