Going Big: One Time Ski Coach Races to Top-Earning Status In Franchising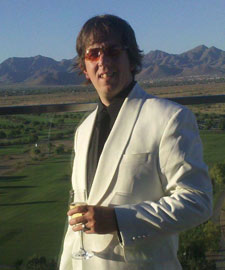 Jim Fitlow is a lifelong skier and as he loves to say, "Turning is highly overrated."
Now the former ski racing coach and his partner Mike Allen are applying that same "go big or go home" philosophy as multi-brand, multi-unit franchisees for Re-Bath, Floor Coverings International, and HomeStory Doors & More, all in Utah and Colorado.
Fitlow, born in Florida, was raised in Michigan where the ski bug bit him at a young age. He met Allen later, in college at Montana State University. When Fitlow got out of ski race coaching—"I enjoyed it and had some success with that for a few years," he says—he began to look around for something that would keep him in Salt Lake City.
Fitlow and Allen knew a local Re-Bath franchisee, a retired plumber they'd swapped jobs with on occasion. "He decided the franchise was just a little more than he wanted to take on, so he said, 'You guys want to do it?'"
They did, adding it to their existing business activities. "After a year and a half, we realized the potential of the Re-Bath model and partnered up with some Re-Bath guys in Idaho and Spokane," says Fitlow. "We knew the bathroom business was going to continue to grow and we were already spending money to capture customers, so we thought, 'Why not add other products and services?'"
The duo signed their first Re-Bath contract in 2001 and today serve thousands of households. In 2012, Fitlow and Allen were among nine Re-Bath franchises named to Qualified Remodeler magazine's Top 500 list of the largest revenue-generating remodeling companies in the U.S.
After concentrating on building their Re-Bath business, in 2011 Fitlow and Allen signed contracts for Floor Coverings International and HomeStory. "Our idea was to create lifetime relationships with our Re-Bath customers, working with them on all other aspects of remodeling in their homes," Fitlow says.
Despite their success to date, juggling three concepts, even in related industries, is a big job, he says. "We thought with multiple brands, we could maintain similarities in the process flow and run similar time frames and efficiencies. And often, that has been the case. But some of it is confusing because each franchisor has its own operating system. We're running off too many platforms right now. I wish I had one that I could use to talk to the others. It's been a more complex beast than we'd anticipated," Fitlow says.
When the partners started with Re-Bath, Fitlow was selling and Allen was installing until they could add enough people to take that on. "I understand the business aspects of it all, but I'm not sure I realized all the things you need to be expert at when you grow a new business from scratch. It's a little more of a challenge," Fitlow says.
Today, Fitlow is president of their three companies with about 50 employees, and Allen is vice president/operations. "Our relationship works well because we both come in with different strengths—something that is key to any successful partnership," Fitlow says.
In the three years since Fitlow became president, he has backed off from day-to-day operations and has even started working at home three days a week. That has worked well for a couple of reasons. For one, he can often get in a couple of hours skiing before going to the office. Also, "I've learned that I'm more efficient when I'm not around anybody, and that they work more efficiently when I'm not around," he says. "We finally got an office where I had a nice window, and I don't get to enjoy it very much."
Today, at 42, Fitlow is a family man with a wife and three young daughters—all of whom ski. He jokes about the challenges that face him in the future. "I used to say when the teenage years hit, we'd send them to boarding school. We've recently realized how expensive that would be, so now I may have to go to boarding school," he jokes.
Name: Jim Fitlow
Title: President
Company: Re-Bath of Utah and Colorado, Floor Coverings International of Utah and Colorado, HomeStory Doors of Utah and Colorado No. of units: HomeStory, 4 in Utah, 6 in Colorado; FCI, 5 in Utah, 2 in Colorado; Re-Bath, 1 in Utah, 2 in Colorado
Age: 42
Family: Wife Vicky, and three little girls
Years in franchising: 12
Years in current position: 3
Published: September 11th, 2013
Share this Feature
Recommended Reading:
Comments:
comments powered by

Disqus
Owning your own Pancheros restaurant is a chance to start a business without starting from scratch.
Cash Required:
$250,000
With more than 230 locations operating and 350 more sold and in development, Dogtopia is the largest and fastest-growing dog daycare provider in the...
Cash Required:
$300,000