Going Pro: Don Davey Shifts From NFL to Franchising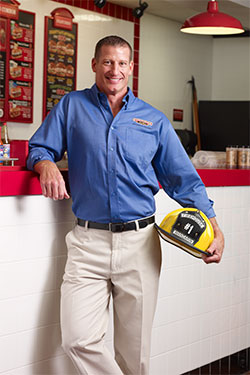 If you ask retired NFL defensive tackle Don Davey to list the qualities needed to succeed in the NFL or in franchising, his list is the same: competitiveness, tenacity, discipline, coachability, and focus.
Those same qualities worked well for him in the NFL, where he played defensive tackle for 10 years, starting with the Green Bay Packers and then moving to the Jacksonville Jaguars, where he led the young team to a berth in the AFC Championship Game in just its second year of existence.
The same qualities he displayed in the NFL have contributed to his success today as the operator of Firehouse Subs restaurants in Florida and as the brand's area developer for Wisconsin. And that success has not gone unnoticed: the IFA named Davey its 2013 Franchisee of the Year.
Add to that his role as founder and senior portfolio manager of Disciplined Equity Management, an institutional money management firm with more than $150 million in managed assets. He also is the owner of Parrothead Properties, a real estate investment company with commercial and residential holdings in Florida and Wisconsin.
"Some people look at my life as hectic and chaotic," says Davey, who earned bachelor's and master's degrees in mechanical engineering at the University of Wisconsin-Madison. "But I thrive with lots of balls in the air. I guess you could say I'm opportunistic. For example, I didn't start out to form a financial advisory business, but I recognized a need among former teammates for quality investment advice from someone who knew exactly what they were up against. I managed my own finances successfully for the 10 years I played, so I know how to help them." Davey says his background in engineering and statistics provides the foundation for the quantitative methods he uses at the firm.
Another example of Davey taking advantage of an opportunity came when he signed on as a franchisee with Firehouse Subs. "My Jaguar teammates and I had been eating at Firehouse several times a week because we loved the food. I got to know Robin and Chris Sorensen there and during a charity golf event. At first they weren't sure they were going to make it, but I stayed close to them and watched them grow over the years, and by the time I retired they were selling Firehouse franchises. My wife Kristen said, 'You eat there so much, you might as well own one,' so I decided to carve out Orlando," says Davey, who now has 13 restaurants in Central Florida.
Raised with four siblings by two "strict but fair" parents in Manitowoc, Wisc., Davey says he shares similar values with the Sorensens, the firefighter brothers who founded Firehouse Subs in Florida in 1994. "They're really good people with great family values. Their mom is the receptionist, their dad does the radio commercials, their sister handles PR, and a high school buddy paints the murals for the stores. They treat their employees and franchisees well. They're just a first-class organization," he says.
Davey especially appreciates Firehouse Subs Public Safety Foundation. "Instead of throwing away these big buckets our kosher pickles come in—the same kind that sell for $6 or $8 at Lowe's or Home Depot—we sell them for $2 each." He says Firehouse raised $2.7 million last year, and the money goes to local police and fire stations where the money was raised. "It's a great foundation. We're saving lives and keeping people in the community safe by buying bulletproof vests for police, and fire trucks and other equipment for fire stations."
Last year, Davey bought the development rights for Wisconsin—for 42 stores. He's keeping the two stores in Madison, where he went to college, for himself. The contract is for 10 years, but he expects to have all 42 open sooner.
In addition to taking in University of Wisconsin Badgers and Green Bay Packers games each year, Davey has stayed involved with the NFL through the Player Engagement program, which provides assistance and resources to players transitioning out of the league. His friend Troy Vincent, another former NFL player, recruited him for the program's advisory board. "You hear horror stories of guys transitioning out of the NFL," says Davey. "It's a difficult time financially, emotionally, and career-wise. They need help and guidance."
Through his financial management firm and the NFL's Player Engagement program, which offers a Franchising Boot Camp for transitioning players, Davey has helped former players learn about franchising and its opportunities. "A lot of former NFL players are involved with different brands. They're competitive by nature and are coachable," he says. "I tell them, 'Just like the coach hands you a playbook, the franchisor will hand you a manual telling you what you need to do to be successful.'"
Married to his high school sweetheart, and father of five daughters, Davey still manages to find time to feed his competitive sports side. He's competed in six triathlons and will begin training in early 2014 for another Ironman race. "It's hard work, but rewarding. I'm up late and up early to work out. It fits my personality and lifestyle," he says.
Name: Don Davey
Title: Owner/CEO, DKSS Subs, Badger Development Group, and Badger Restaurant Group
No. of units by brand: 15 Firehouse Subs plus 6 under area development
Age: 45
Family: Wife Kristen and five daughters
Years in franchising: 11
Years in current position: 11
Published: March 19th, 2014
Share this Feature
Recommended Reading:
Comments:
comments powered by

Disqus
Altitude Trampoline Park is the premier indoor trampoline park destination, bringing active family fun through its JumpLife(SM) mantra to the global...
Cash Required:
$600,000
Want to become a part of one of the country's fastest-growing industries? Check out Central Bark's doggy day care franchise opportunities!
Cash Required:
$200,000