He's Got the Fix: Serial Entrepreneur at Your Service
David Lopez made a bold move when he was 19 years old. He quit college, borrowed money, and opened his first business. Turns out he was pretty good at being an entrepreneur. At just 36, he's been a part of founding and operating Froots, Dr. G's, and Battery Fix, and he's invested in numerous others. But it's Dental Fix Rx that he leads today with a passion and optimism that's making the industry sit up and take notice.
It all started in 2009, when he was looking for a recession-proof business model and recognized a common pain point in the dental profession: equipment repairs, the length of repairs, and lost income from down machines, says Lopez, today CEO of Dental Fix Rx. So once again, he did what he does best--built a business plan for a new company that could solve all these issues and then launched it.
Lopez, along with friend and business partner Mike Parker, started the business with a single repair van. Since then the brand has grown to award more than 200 franchises serving more than 20,000 customers through North America--no surprise, considering the dental equipment repair sector is a whopping $38 billion industry.
Lopez, who prefers the title "entrepreneur," says he is driven by strategy, execution, and results. "We look at performance, KPIs, and I look to see if we are hitting our goals," he says. "This allows me to pinpoint where the bottlenecks are within the business so I can prescribe a solution." He likes to measure his results over 90-day periods and then readjust when and where necessary.
With the business landscape changing so rapidly everywhere today, Lopez says he even has an eye on online giant Amazon as a potential competitor. "Amazon is starting to come into the dental industry by giving dentists more choices of who to purchase their supplies from," he says. "Dentists will now be able to go directly to manufacturers and find their affordable service companies elsewhere." But Lopez believes Dental Fix Rx will make the necessary marketplace adjustments and be just fine.
When asked about what else the company is planning in the near future, Lopez only said, "We will soon be announcing some strategic partnerships we have in the works." With Lopez behind the wheel they will surely be interesting.
Name: David Lopez
Title: CEO
Company: Dental Fix Rx
Units: 200+ franchises granted
Age: 36
Years in franchising: 15
Years in current position: 8
Leadership
What is your role as CEO?
I oversee the strategy and drive the vision and actionable steps needed to move the company forward. My main role is strategic planning and sitting the team down with a 90-day road map on a quarterly basis. I'm always looking 3 to 4 years ahead, and this allows me to present the trends, the strategy to address what is and isn't working, and understanding the opportunities available. Once the 90 days are up we review how we did and map out the next challenge.
Describe your leadership style.
I'm driven by the strategic plan we set out to achieve that is managed by numbers. We look at performance, KPIs, and I look to see if we are hitting our goals. This allows me to pinpoint where the bottlenecks are within the business so I can prescribe a solution. My leadership style is holding people accountable to the numbers that they were assigned within the plan. If there needs to be modification, I will troubleshoot within the review of the 90-day plan to leverage improvement.
What has inspired your leadership style?
I appreciate that each individual brings something different to the table. Some people bring strategy and others are the ones who execute it. I've learned that my value is knowing my next three chess moves. I've found that once you put the plan on paper, it exists and everyone hears how it's going to get done; the game plan is set and everything is recorded. The plan distinguishes any excuses my team might bring to me because everyone is accountable for the number set out for them. It requires them to take ownership for any successes or missed targets.
What is your biggest leadership challenge?
Managing people and finding the right talent and team. Once you have the raw talent, the challenge becomes getting them to work together. A way to get forces to work with one another is by aligning financial interests. If your sales person and operations person are motivated by different avenues, they don't see the need to work together. When everyone is working toward the same goal, that's where you see the increase in performance and faster moves to solutions. I believe in paying lower base salaries but very high variable compensations. It's challenging, but every job should be measureable to avoid employees filling the day with only meaningless tasks. You can measure the quality and quantity of the work everyone is doing by putting a number to each employee. This speaks volumes to the impact they have on moving the needle for the brand. While there is the surface level of success, I do have a business intelligence team that digs deeper into how many leads turned into applications, etc. They help address how employees can leverage and increase their performance.
How do you transmit your culture from your office to front-line employees?
Our culture comes through during training and on how we work with our franchisees. However, the nature of our culture is not forced on any of our franchise partners. As a Dental Fix franchise owner, you need to have an effective culture on your own. If you manage based on relationships and our corporate office is more driven by metrics, that is not going to influence your performance, and we are not one to say one is better than the other. We do go over our values, vision, and mission with them but that's the extent of it. The culture of our South Florida franchisees is completely different than how things are run in Houston and in our corporate office.
Where is the best place to prepare for leadership:
an MBA school or OTJ? There's no right or wrong answer. I dropped out of college when I was 19 to start my first business, Froots. I work with a lot of people who come with an MBA background, but at the end of the day it comes down to the person who is willing to put in the work. I find education is often based on opportunity. Not everyone can afford to get a quality, high level of education, or others take on a lot of debt in the process.
Are tough decisions best taken by one person?
How do you make tough decisions? Sometimes the tough decisions happen when culture and financial factors cross one another. You can't just make a decision based on data when there is a human aspect that needs to be taken into consideration. It's best to gather as much data as possible, have a team to listen to for additional insight, and try to understand how the decision is going to affect everyone else.
Do you want to be liked or respected?
I want to be effective with everyone I interact with. My management style changes based on who I'm working with. With my own kids, how I influence my son to get what I want out of him is different than how I interact with my daughter. You can be consistent with everyone you encounter or you can customize how you act with certain people to get more effective results.
Advice to CEO wannabes:
I don't believe in titles. My title is entrepreneur. A lot of people want to be a CEO for different reasons. Function is more important within an organization over title. I would say if you want to go into business for yourself, you need to look at the reasons you want to do this. Then make sure what you're going to be doing will fulfill that. If you're someone who enters an organization and rises through the ranks to become someone in a leadership role, then you're in the right business because it's not something you wanted to do, it's just who you are. When people gravitate toward you, you're a good decision-maker, and have strong leadership skills, people will follow you. If you want to be a CEO to "make a lot of money," this isn't for you. There are plenty of times that I can remember when I wasn't making a lot of money.
Management
Describe your management style:
Similar to my leadership response, I manage by holding people accountable to the 90-day plan entrusted to them. Every quarter I want to know what we can learn from the team's results or lack thereof and what we're going to do to improve the next 90 days.
What do you think makes up a good management team?
Diversity in personalities and skills. I don't try to change anyone or force them into a mold of any kind, as long as they're being effective with their own set of skills. Carolyn Bolton is our chief of staff who oversees the role of management execution. Her function is to make sure that the strategic plan is being executed and to help everyone manage what needs to be done to see the plan through. Her background experience is 25 years working directly with Fred DeLuca, the founder of Subway. She is cool, calm, and collected. My CFO, who is a private equity guy, is 100 percent driven by data, and his decision-making is strictly based on if numbers are being met. The most effective management are the people who mastered how to use their skill strengths.
How does your management team help you lead?
I lead them so that they can better lead their own teams. They have helped me by challenging me to be a better leader. I evaluate them and learn from each of them. When I started working with my VP of business development, I was 21 years old and he was running circles around me. I had to fire him. Looking back on it, it was because I didn't have the skill set at the time to manage someone like him. Today I do, and he taught me how to manage someone of that magnitude. I'm a sponge--I listen and assume I do not know how to do something. The people and companies that get stuck in the mindset that they know everything are the ones that go out of business because they stopped evolving.
Favorite management gurus:
Do you read management books? I read a lot of biographies from entrepreneurs to pull as much insight out of them as possible. I read about two books a month.
What makes you say, "Yes, now that's why I do what I do!"?
I love winning and being on a team. When you grow your company, it's just that--you're working toward an end goal together. You hope to make a lot of money along the way, but it's not motivated by just that. I own a share in several companies, but I don't have an ego and for a lot of the brands my name is nowhere associated. I would rather be the man no one knows than the one that lets my ego get in the way of the business.
Operations
Are there any trends in the dental industry that you foresee having an impact on the Dental Fix Rx brand?
Amazon is starting to come into the dental industry by giving dentists more choices of who to purchase their supplies from. Supplies typically have been tied to service, so more supplies will open the door to more needed services. Dentists will now be able to go directly to manufacturers and find their affordable service companies elsewhere. Typically, how most dental offices are set up is that the dentists purchase their supplies from a large company that then bundles the services for a low price.
Personal
What time do you like to be at your desk?
I'm not a desk guy but I start looking at my computer at 7 a.m. I don't go into the office. I like to take my kids to school and then work in my home office.
Exercise in the morning? Wine with lunch?
I frequently do yoga at lunch. I've been doing yoga for 6 years and it's another passion of mine. I own a yoga company called the Yoga Joint.
Do you socialize with your team after work/outside the office?
I go out with some members of the team.
Last two books read:
Never Split the Difference: Negotiating As If Your Life Depended on It by Chris Voss and Tahl Raz. And Titan: The Life of John D. Rockefeller, Sr. by Ron Chernow. I wouldn't recommend the latter, it was way too long.
What technology do you take on the road?
iPhone and iPad.
How do you relax/balance life and work?
Hot yoga.
Favorite vacation destination:
Colorado, in the mountains.
Favorite occasions to send employees notes:
When they achieve results.
Bottom Line
What are your long-term goals for the company?
To be the best solution for dentists' repair needs, the fastest fix, educated resource, and affordable option. Dental Fix Rx owners are equipped to handle some of the latest dental equipment such as handpieces, chairs, x-ray systems, ultrasonic scalers, and much more. The modern service van and business model provides the franchisee with all the resources needed to better serve the current dental practices and the future offices that will evolve with the changing pieces of equipment.
How do you measure success?
I measure success by three categories: business, family, and personal. I set goals for each of them each year to keep myself accountable. Every month I have a meeting with seven other entrepreneurs through the Entrepreneurs' Organization (EO), and we start the meeting off by discussing and ranking each category. As a group, it's a way for us to hold ourselves accountable, and once a year we do a retreat where we set goals for where we want to improve in each area of our lives. When I look at where I spend my time and energy, it's around those three goals, and to me those areas are the most important that shed light on how successful one is.
What has been your greatest success?
Has to be my family and children.
Any regrets?
No. I focus on the future and being better than who I was yesterday, 90 days ago, etc.
What can we expect from your company in the next 12 to 18 months?
We will soon be announcing some strategic partnerships that we have in the works.
Published: March 10th, 2018
Share this Feature
Recommended Reading:
Comments:
comments powered by

Disqus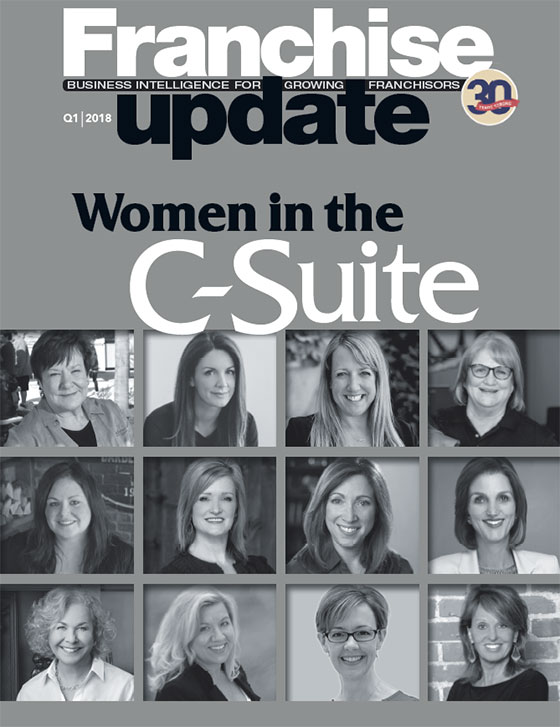 Franchise Update Magazine: Issue 1, 2018
Atmosphere TV is the world's leading cable alternative, providing free streaming TV for businesses.
Prisma has reinvented the marketing supply chain with an end-to-end solution that makes it easy to design, customize, order, download, print, kit,...