Icons who helped shape the industry
In the chronicles of franchising history, some names come immediately to mind - Ray Kroc, S. Truett Cathy, Dave Thomas. The names conjure up images of independent-minded entrepreneurs with the savvy, know-how, and vision to create successful business models replicable anywhere. As part of the celebration of Franchise UPDATE's 20th anniversary, we look back at some of these colorful, inspiring, and sometimes controversial characters.


CURT CARLSON


Carlson Companies

Year founded: 1938

Headquarters: Minnetonka, Minn.

Revenue: $37.1 billion (2006)

Today's leadership: Marilyn Carlson Nelson, CEO

Curtis L. Carlson (1914 - 1999) was one of those quintessential classic American success stories. In 1938, he took out a $55 loan to launch a customer loyalty company called Gold Bond Stamps in Minneapolis. From the beginning, Carlson was sharp enough to recognize that grocery stores, drug stores, gas stations, and other independent merchants could use trading stamps to distinguish themselves from their competitors. Over the years, especially during the 1950s and 1960s, his Gold Bond company helped revolutionize the way retail goods were marketed. Trading stamps proved to be right for the times and swept the nation in a wave of dramatic growth.

By the 1960s, Carlson, eyeing the advantages of diversification, and seeking growth, began expanding into the hospitality industry. In the 1970s, the company acquired dozens of additional businesses, including the restaurant chain T.G.I. Friday's and the Ask Mr. Foster travel agencies. To better reflect its growing diversification, Carlson changed the company's name from Gold Bond to Carlson Companies in 1973. Throughout the next few decades, the rapidly expanding company continued its growth pattern, adding hotels and other travel-related businesses.

In addition to these endeavors, Carlson is also credited with founding the Radisson Hotels chain and the Carlson School of Management at the University of Minnesota.

Today, Carlson's legacy continues. Carlson Companies consists of six business units, including travel agencies, hotels, restaurants, cruise companies, and marketing brands. Carlson's hotel holdings include Radisson Hotels and Resorts, Country Inn & Suites, Regent Hotels & Resorts, and Park Plaza Hotels. Restaurants include T.G.I. Friday's and Pick Up Stix. Its travel companies include Carlson Wagonlit Travel, All Aboard Travel, Fly4Less.com, CruiseDeals.com, SeaMaster Cruises, Carlson Destination Marketing Services, and Carlson Leisure Travel Services (among others). Its marketing companies include Peppers & Rogers Group and Gold Points Reward Network.

Curt Carlson's initial $55 investment garnered quite a payback... in the form of the $37 billion multinational franchise business operating today.


FRED DELUCA


Subway

Year founded: 1965

Headquarters: Milford, Conn.

Revenue: $9.05 billion (2005)

Locations: 27,000+ sites in 84 countries

Today's leadership: Fred DeLuca, CEO

In the spring of 1965, 17-year-old Fred DeLuca had just graduated from high school in Bridgeport, Conn., and was wondering about his future. He wanted to go to college. He was a hard-working and responsible kid, but earning a mere $1.25-per-hour minimum wage at the local hardware store wouldn't begin to pay for an education. That's when a chance meeting with a family friend, some quick business advice, and a check for $1,000 changed his life. They were the perfect ingredients for DeLuca's future: a submarine sandwich shop empire.

DeLuca's first sandwich shop was called Pete's Super Submarines, and it sold 312 sandwiches the day it opened. DeLuca worked diligently over the next decade, slowly opening additional shops. In the early days, to make sure ingredients were fresh, DeLuca would drive his VW Beetle 100 miles to and from the regional produce market to buy fresh vegetables and deliver them to each of his sandwich shops.

By 1974 (when subs cost a mere 49 cents) DeLuca and his investing partner owned and operated 16 sub shops throughout Connecticut. But they were interested in further growth. That same year, at a meeting with their attorney, the idea of franchising entered their discussions. Later that year, in Wallingford, Conn., the first Subway franchise opened. Ultimately, Subway created a niche in the fast food segment by creating fresh sandwich alternatives to standard-fare burgers and fries.

Today, 42 years later, Subway is an internationally recognized franchise that has topped Entrepreneur's annual Franchise 500 list a whopping 15 times. DeLuca recently told the magazine that he learned early on the importance of setting long-term goals.

"I also learned the importance of persistence. Even if you set a long-term goal, that doesn't mean it's a straight-line journey. Often, there are problems and obstacles along the way," he said. "Sometimes the obstacles are big ones. How you handle the obstacles has a big impact on how you do. If you give up, then you obviously don't get there, but if you're persistent and you keep thinking of new ways to approach the business, you're more likely to reach your goal."


WILLIAM ROSENBERG


Dunkin' Donuts (part of Dunkin' Brands Inc., which includes Baskin-Robbins and Togo's)

Year founded: 1950

Headquarters: Canton, Mass.

Revenue: $4.7 billion (2006)

Locations: 6,000 Dunkin' Donuts locations

Today's leadership: Jon L. Luther, CEO/Chair

Dunkin' Donuts traces its beginnings to 1946. That's when William Rosenberg (1916 - 2002) founded Industrial Luncheon Services, a company that delivered meals and coffee break snacks to customers on the outskirts of Boston. The success of that first business led Rosenberg to open his first coffee and donut shop, which he called the Open Kettle.

But it was in 1950 that Rosenberg opened the first store to be known as Dunkin' Donuts, in Quincy, Mass. Within four years, Rosenberg had opened four more Dunkin' Donuts shops and had been recognized as a successful young entrepreneur in the national media. The first Dunkin' Donuts franchise opened its doors in Worcester, Mass.

Rosenberg also is known for another long-lasting creation in the franchise industry: the International Franchise Association (IFA). He founded the organization in 1960. Today, the IFA encompasses more than 900 franchisors and more than 30,000 franchisee members.

And he wasn't content to live only in the franchising world. In 1968, Rosenberg purchased a New Hampshire farm that ultimately became one of the premier Standardbred racing stables in the country. In 1980, he donated the Wilrose Farm, valued at $2 million, to the University of New Hampshire. The university sold it in 1994 and used the earnings to create the William Rosenberg Chair in Franchising and Entrepreneurship, the first such faculty position at the university world.

Philanthropy apparently was in Rosenberg's blood. He donated millions of dollars over the years. In 1986, he established the William Rosenberg Chair in Medicine at Harvard Medical School through the Dana Farber Cancer Institute. And in 1999, he assisted in funding the Vector Laboratory at the Harvard Institute of Human Genetics in Boston.

Today, with more than 6,000 shops in 30 countries, Dunkin' Donuts is one of the leading retailers of coffee, donuts, and bagels - and a huge national expansion plan already under way. The brand's roots lie in the passion and hard work of Bill Rosenberg, an American entrepreneur who started with little and continues to have an enormous effect on franchising and the world.


RAY KROC


McDonald's

Year founded: 1954

Headquarters: Oak Brook, Ill.

Revenue: $21.6 billion (2006)

Locations: More than 30,000 restaurants in more than 100 countries

Today's leadership: Ralph Alvarez, President/COO

Is there a visual icon in franchising (or elsewhere) more identifiable than the golden arches of McDonald's? Of all the franchises in the world, there's probably not one more well-known, and ubiquitous, than McDonald's. And you can trace it all back to a milkshake mixer salesman named Ray Kroc (1902 - 1984), who had mortgaged his home and invested his life savings to become a distributor of the fledgling product.

In 1954, during his cross-country sales journeys, Kroc heard of a hamburger stand in California that was using eight of the mixers simultaneously. It was enough to get him in his car and headed west to check it out. What he found changed his life.

When Kroc saw firsthand how quickly and efficiently Dick and Mac McDonald were taking care of customers, he was certain he could make the concept work back in his home state of Illinois. He pitched his idea to the brothers and they agreed. Less than a year later, the first McDonald's franchise was opened by Kroc in Des Plaines, Ill.

Kroc had a knack for identifying and capitalizing on trends. He ascertained that Americans wanted a nice, clean, casual way to eat out, and that's just what he gave them. The consummate salesman, Kroc once said, "The definition of salesmanship is the gentle art of letting the customer have it your way." That's exactly what he did.

By the 1950s, Americans were eating out more and more and Kroc had his finger on the country's fast food pulse. He had grand designs for growing the chain of burger restaurants he'd latched onto, and by 1961 had convinced the McDonald brothers to sell out to him for $2.7 million. Now Kroc was calling the shots and the targets were appearing rapidly.

By 1963, a billion burgers had been sold by McDonald's and the stat was prominently displayed on the chain's signs - all 500 of them nationwide. The Ronald McDonald clown was introduced and that, coupled with ad campaigns, made the company a household name.

Kroc remained with McDonald's until his death in 1984. There were other developments over the years - Hamburger University for training, and the Ronald McDonald House charities, just to name two.

Love them or hate them, today it's difficult to go anywhere in the world without spotting the golden arches. Kroc's vision of McDonald's continues to give people convenient, fast, consistent, low-priced food with friendly service and clean facilities.


TOM CARVEL


Carvel Ice Cream (part of Focus Brands, which also includes Cinnabon and Seattle's Best Coffee)

Year founded: 1934

Headquarters: Atlanta

Revenue: $79 million (est., Focus Brands)

Locations: 570 franchises

Today's leadership: Steve Romaniello, President/CEO (Focus Brands)

If Fudgie the Whale and Cookie Puss mean something to you then you've probably spent time in a Carvel Ice Cream store. Those childhood memories were created by a Greek immigrant named Tom Carvel (1906 - 1990). Like other legends, his success story was part hard work and part good luck.

Carvel had done a number of things in his young life - including playing drums in a jazz band, working as a door-to-door salesman, and test-driving cars for Studebaker. By the early 1930s, he had built a frozen custard trailer and was selling it from a truck in the New York City area.

On Memorial Day in 1934, Carvel borrowed $20 from his future wife, Agnes, stocked his trailer with frozen custard, and headed out to sell it to vacationers in Westchester, N.Y. As fate would have it, the trailer had a flat tire in Hartsdale, N.Y., and Carvel pulled into a parking lot. The owner of a nearby pottery store allowed Carvel to use his electricity to keep the custard frozen, and the entire inventory soon was sold. That's when Carvel realized that selling from a fixed location could be very lucrative.

He returned to the pottery shop's lot and did well. In 1937, he borrowed more money, converted the trailer into a frozen custard stand, and was on his way to becoming the "Ice Cream King of the East."

Carvel was mechanically inclined. During the following years he perfected his soft ice cream and his electric freezers and realized that his products and services could be replicated in other places. He began teaching independent store owners how to make and sell ice cream his way, using his recipes, equipment, and name. By the late 1940s, Carvel had begun franchising, and by the early 1950s had opened 25 stores. The company typically required licensees to buy freestanding stores that were well-suited for Carvel's unique store model: a building with a glass-and-metal facade that inclined forward slightly and a roof that tilted upward toward the street. These brightly lit outlets were designed for high visibility.

Carvel was keen on marketing and promotions and used all kinds over the years - a toll-free telephone-ordering service for wedding, birthday, and holiday cakes; a mobile vending operation; a Carvel-sponsored beauty contest for truckers, who often stopped for "a Carvel"; and premiums such as flying-saucer discs, baseball hats, pens, pencils, and even brandy snifters. He was famously known for using his own rough and unrehearsed voice in his broadcast advertising spots.

As a franchising pioneer in the mid-1950s, he created a leaseback land offer program, whereby a potential investor could buy land, build a franchise, and then lease it back to the corporation.

Carvel continued to tinker with his operations and expand throughout the years. By the mid-1980s, his empire included nearly 900 franchise locations.

Carvel sold his company in 1989 to Investcorp for more than $80 million. He passed away a year later. But it was all quite a ride for a Greek immigrant who got his start in franchising accidentally as a result of a flat tire.


KEMMONS WILSON


Holiday Inn (part of InterContinental Hotels Group)

Year founded: 1952

Headquarters: U.K., with offices in Atlanta

Revenue: $6.3 billion (2006)

Locations: More than 3,700 hotels in 100+ countries (1,300 Holiday Inns)

Today's leadership: Andrew Cosslett, Chief Executive, IHG

By all accounts, Kemmons Wilson (1913 - 2003) was quite industrious. As a young boy growing up in depression-era Memphis, he was forced to quit school to help his single mother support the family. One of his first endeavors was to set up a popcorn machine in a local movie theater - he claimed he made more money than the theater's owner. Later it was pinball machines and jukeboxes. From there he began a successful career in commercial and residential construction. But it was in 1951, on a trip to Washington, D.C., with his young family that he uncovered the key to what would be his greatest achievement.

While staying in roadside hotels during his trip, he was outraged by per-child surcharges. Kemmons said of this experience, "Well, I told my wife I didn't think this was fair. It wouldn't encourage people to travel with their children. I told her I was going to build a chain of motels, and I was never going to make a charge for children as long as they stayed in the same room as their parents."

That's exactly what he did. Wilson opened the doors to his first Holiday Inn in Memphis in 1952. It charged $6 per night. His business contacts throughout the state helped his new business take off. By 1959, 100 Holiday Inns were operating. Wilson focused on building his motels along the country's expanding Interstate highway system. His business model created a revolution in travel accommodations. Now travelers could have air conditioning in every room, free parking, free ice, in-room phones, high cleanliness standards - and rates by the room, not the number of people.

It's been said that at its peak in the 1970s, a new Holiday Inn was built every three days. And it wasn't long until travelers began to see those familiar yellow-and-green signs erected throughout the world in places including Argentina, Australia, Europe, India, Hong Kong, Kuwait, Lebanon, Russia, Sri Lanka, Tanzania, Taiwan, and Zimbabwe. According to the company, 96 percent of Americans have stayed in a Holiday Inn at least once.

Wilson was successful because he recognized that people wanted simplicity, quality, and affordable cost in lodging. He was once quoted as saying, "You can cater to rich people, and I'll take the rest. The good Lord made more of them."

Later, Wilson founded another chain of hotels, Wilson World Hotels and Wilson Inn. He also founded the Kemmons Wilson School of Hospitality and Resort Management at the University of Memphis. The school offers education specific to the hospitality industry, including marketing and sales, beverage and food management, and human resource management.


Continued Next Article...
Published: November 13th, 2007
Share this Feature
Recommended Reading:
Comments:
comments powered by

Disqus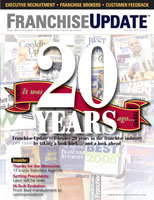 Franchise Update Magazine: Issue 3, 2007
919 Marketing Co. is a national content marketing, PR and social media agency serving franchise brands. Our proprietary social relations approach...
BoeFly drives growth by delivering financially qualified candidates increasing lead-to-franchisee conversion, and helping franchisees secure...