Icons who helped shape the industry
In the chronicles of franchising history, some names come immediately to mind - Ray Kroc, S. Truett Cathy, Dave Thomas. The names conjure up images of independent-minded entrepreneurs with the savvy, know-how, and vision to create successful business models replicable anywhere. As part of the celebration of Franchise UPDATE's 20th anniversary, we look back at some of these colorful, inspiring, and sometimes controversial characters.

...Continued from Last Article

ANNE BEILER


Auntie Anne's Pretzels

Year founded: 1988

Headquarters: Lancaster, Pa.

Revenue: $274.6 million (2006)

Locations: 925 worldwide

Today's leadership: Samuel R. Beiler, President/CEO

In 1987, Anne Beiler began twisting pretzels and selling them at a farmer's market in Maryland. She and her husband Jonas were trying to raise money to open a counseling service for couples and families in their community. The pretzels became popular - very popular. By the following year, the couple had purchased their own stand at another farmer's market in Downingtown, Pa. Although the Beilers sold a variety of snacks, customers came for their hand-rolled soft pretzels. The couple did a lot of recipe experimentation before finalizing their proprietary pretzel recipe.

Anne's first franchise opened in 1989 at Saturday's Market in Harrisburg, Pa. Expansion came quickly - a bakery and eight locations throughout Pennsylvania in 1989 alone. Then came the first shopping mall location, and by 1990 the bakery chain had spread to 9 other states and now topped 50 locations. Airport and train station locales would follow.

In April 2005, the Beilers sold Auntie Anne's to Sam Beiler (a family cousin) who had been a franchisee for years. It's a new generation, but it's continuing to carry on the philosophies of the founders: providing a premium product in a sparkling clean store with friendly customer service.

In October 2006, the company's corporate headquarters were moved from Gap, Pa., to its current location in Lancaster. The new offices are housed in a former U.S. Post Office building built in 1927. Original features, such as brass doors, high ceilings and skylights remain intact.

Anyone familiar with Anne Beiler and Auntie Anne's is probably aware of the company's charitable bent. A vision of giving back to the community has always been at the core of the Beilers' philosophy. Auntie Anne's has been actively involved in the Children's Miracle Network, donating more than $2.4 million to more than 100 affiliated hospitals nationwide. Auntie Anne's has also initiated educational scholarship and home down-payment gift programs for its store and corporate employees. There's even a charity branch called the Angela Foundation, which offers financial support to companies who help children and families in need.

As for the overall success of the Auntie Anne's franchise, in 2006 the company rolled its billionth pretzel.


S. TRUETT CATHY


Chick-fil-A

Year founded: 1967
Headquarters: Atlanta
Revenue: $2.3 billion (2006)
Locations: 1,300
Today's leadership: S. Truett Cathy (and three generations of Cathys)

"I believe no amount of business school training or work experience can teach what is ultimately a matter of personal character. Businesses are not dishonest or greedy, people are. Thus, a business, successful or not, is merely a reflection of the character of its leadership." - S. Truett Cathy

Probably no quote could better sum up Chick-fil-A founder S. Truett Cathy. In 1946, Cathy and his brother opened a tiny diner in Atlanta called The Dwarf Grill. It was a successful business where Cathy daily applied his disciplined principles of hard work and leadership. It was also the place where he created the prototype of his chicken sandwich, now the flagship of Chick-fil-A restaurants across the country. Cathy saw the chicken sandwich as an alternative to burgers. He also figured out that by pressure cooking the chicken in peanut oil, he could prepare and serve the sandwiches quickly.

In 1967, Cathy founded and opened the first Chick-fil-A restaurant in Atlanta's Greenbriar Shopping Center. Since then, the chain, concentrated largely in the South early on, has grown to include more than 1,300 restaurants in 37 states. Originally, most stores were located in shopping malls, but in recent years more standalone units have opened. In 2006, Cathy celebrated 60 years in the restaurant business.

A man of faith, Cathy's religious influences have deeply impacted his life. He has been a part of numerous philanthropic foundations, programs, and scholarships that benefit hundreds of young people each year. One example is the company's Leadership Scholarship Program, through which Chick-fil-A has given more than $22 million in $1,000 scholarships to its restaurant employees since 1973. This year the company will award more than $1.3 million in scholarships to its restaurant team members.

Many are familiar with Chick-fil-A's unique "closed on Sunday" policy. A part of Cathy's management style since the beginning, the day is intended for employees to attend church and spend time with their families. And the policy has certainly not affected the company's financial health. Chick-fil-A remains the second-largest quick-service chicken restaurant chain in the country, and one of the nation's largest privately held restaurant chains.

Cathy's two sons, Dan and Don (Bubba), have both followed their father in learning the business from the ground up. Dan became president of Chick-fil-A in June 2001, and Bubba is senior vice president of Chick-fil-A and president of the Chick-fil-A Dwarf House division. His daughter Trudy and her husband, John, are missionaries and directors of Camp Winshape for Girls. In 2006, Cathy welcomed the third generation of Cathy family members to the business, when two of his grandsons opened Chick-fil-A stores. In addition to his 12 grandchildren, Cathy has more than 150 "foster grandchildren."


DAVID AND GAIL LINIGER


RE/MAX

Year founded: 1973

Headquarters: Greenwood Village, Colo.

Revenue: $14.7 million (est.)

Locations: 6,500 offices and 130,000 agents in more than 65 countries

Today's leadership: David Liniger, chair and Gail Liniger, vice chair

While in the U.S. Air Force and stationed in Phoenix in the early 1970s, David Liniger became intrigued by the real estate business. He tried his hand at working for both a commission company and a brokerage - but he was dissatisfied with the way the industry traditionally operated. So in 1973, he co-founded RE/MAX with his wife Gail in Denver.

What the Linigers didn't like about the real estate industry was the standard practice of the commission-split system, which required sales professionals to forfeit half of their commissions to their brokers in exchange for an office environment and company services. In the end, the top producers would contribute the most to the operation's overhead and, by default, support the part-time and low-producing agents. The result was that many talented salespeople left the business.

The Linigers wanted to create a new way of selling real estate. They believed that to attract and retain the best agents in the business, brokers needed to offer maximum compensation, advanced support services, and the freedom to succeed. Agents would share office overhead and pay management fees, and in return would receive a wide variety of traditional real estate franchise services and high commissions.

The model assembled by the Linigers, the RE/MAX company, has grown every month for the past 30 years. It sits atop the list of successful residential real estate companies in Canada and the U.S., and has achieved significant growth outside of the U.S. in recent years.

Many people recognize RE/MAX for its red, white, and blue hot air balloon and logo. The name was coined from the words "real estate" and "maximums."

Some of the innovative services created by RE/MAX have included commercial investment opportunities, an international referral network, advanced training courses, state-of-the-art technological tools, Internet and extranet Web sites, and national television advertising campaigns. It was the first real estate network to invent and maintain a satellite television network dedicated to real estate professionals.

The Linigers have received numerous awards and recognition over the years. In 1988, Gail was recognized as one of the top 10 U.S. women for her outstanding achievement in business, the arts, and public service. In 1989, she was awarded Entrepreneur of the Year for the state of Colorado in the real estate and construction category by Ernst & Young and Inc. magazine.

The Linigers are co-owners of Sanctuary Golf Course, where numerous charity golf tournaments have raised millions of dollars. They also are co-founders of The Wildlife Experience, a wildlife conservation museum on a 13-acre site located south of Denver.


DAVE THOMAS


Wendy's International

Year founded: 1969

Headquarters: Columbus, Ohio

Revenue: $2.4 billion (2006)

Locations: 6,660

Today's leadership: Kerrii Anderson, CEO/President

Dave Thomas (1932 - 2002) faced challenges from the beginning of his life. He was adopted when he was six weeks old. When he was five, his mother died and his early years were spent moving from state to state while his adoptive father sought work. But a grandmother taught him the importance of doing the right things, treating people well, and important lessons about quality and service - all things that benefited him later in his business life.

At the age of 12, Thomas landed his first job: counterman at a Knoxville, Tenn., restaurant. It was here that he discovered a love for the restaurant business. Next he worked at the Hobby House Restaurant in Ft. Wayne, Ind. He liked it so much he dropped out of school and started working there full-time. Later, when his father was ready to move again, Thomas chose to stay behind, move into the YMCA, and keep working.

While working at the Hobby House, Thomas met Colonel Harland Sanders, founder of Kentucky Fried Chicken (KFC). Sanders would become one of the greatest influences in Thomas's life.

In 1962, Thomas took on the challenge of turning around four failing KFC restaurants owned by his Hobby House boss in Columbus, Ohio. Within four years, Thomas revitalized the stores, sold them back to KFC, and received a percentage of the sale. He was a millionaire at the age 35.

In 1969, he opened his first Wendy's restaurant (named after his daughter) in Columbus. Thomas had wanted an old-fashioned, homey place where families could be together and enjoy great hamburgers. His vision and years of restaurant experience enabled him to devise a way to prepare fresh, made-to-order hamburgers when other QSR chains were mass producing their food. In addition to being fresh, not frozen, his burgers were square. Thomas famously said it represented his philosophy of not cutting any corners. As an early proponent of the TV ad featuring a CEO poking mild fun at himself, Thomas became one of the most-recognized faces in the U.S.

Thomas had a big heart and founded and supported numerous charities, including the Dave Thomas Foundation for Adoption. The foundation continues to help raise awareness for the thousands of foster children available for adoption, and helps make adoption more affordable. When he died, Thomas had five children and 16 grandchildren of his own.

Hard work, integrity, honesty, and quality were all characteristics of Dave Thomas, and part of what made him a franchise legend.


BONNY LeVINE


PIP Printing (part of Franchise Services, Inc.)

Year founded: 1968

Headquarters: Mission Viejo, Calif.

Revenue: $4.8 million (2006)

Locations: 400

Today's leadership: Don Lowe, President/CEO, Franchise Services, Inc.; Catherine Monson, President, PIP Printing

Bonny LeVine (1923 - 1994) was a role model for working women - and especially for women in franchising. In 1968, she co-founded PIP Printing with her husband, Bill. One of the first franchise organizations in the printing industry, the brand ultimately grew into one of the largest and most recognized printing franchises in the country.

The genesis of it all occurred in 1965 when Bill converted the front part of his commercial printing plant into a "while-you-wait" print center - a revolutionary idea at the time. Within three years, there were three PIP franchises in the Los Angeles area and the age of quick print franchises had dawned.

Over the years, Bonny worked closely with her husband to grow the company. She initiated PIP's public relations program and helped create its franchisee advisory council. Like many franchise pioneers and leaders, she was actively involved with the IFA. In 1983, she became the first woman elected to the IFA board. She always found time to support social causes. She served as a board member for the March of Dimes and of the National Center for Missing & Exploited Children.

After her death in 1994, the IFA created the Bonny LeVine Award, given annually to one outstanding woman in franchising who demonstrates ability in franchising, contributes to her community through board positions, volunteer work, and activities that promote the professional advancement of women, and serves as a mentor to women in franchising. The trustees of the IFA Educational Foundation also established a scholarship for female students in memory of LeVine, recognizing her commitment and dedication to the success of women in every aspect and level of franchising.

Today, PIP Printing, under the banner of Franchise Services, Inc., continues to be a leader in the business-to-business printing industry. The franchise offers a full-range of print services and leading-edge document management solutions.

By most accounts, Bonny LeVine demonstrated that it was possible to be a savvy, top-tier business operator and remain a warm and gracious human being.
Published: November 20th, 2007
Share this Feature
Recommended Reading:
Comments:
comments powered by

Disqus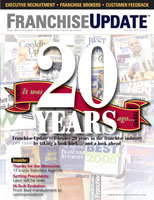 Franchise Update Magazine: Issue 3, 2007
Conferences
InterContinental, Atlanta
OCT 18-20TH, 2022
Our accounts payable automation platform combines technology with simplicity & affordability. Save time and money, and automate your ap workflows...
UMI has over 23 years of experience supporting fast-growing multi-unit brands. From strategic planning to design, execution to analysis, UMI...