IFA: Franchising's Best Resource for Recovery, Reopening, and More
I have been in franchising as a franchisor for more than 30 years and have been involved with 8 brands. Many of my best friends are franchisees. I love franchising! I have personally witnessed franchising help thousands of families by creating jobs, generating economic output, and building wealth.
I am CEO of Fastsigns International, the largest signage and visual graphics franchisor, with more than 740 locations in 10 countries. I have been on the Board of Directors of the IFA since 2007 and am currently Chair of the IFA. Brands I have been involved with previously include Sir Speedy Printing Centers, PIP Printing, MultiCopy, Copies Now, and The Learning Experience. I mentor many in franchising.
Never in my career or my lifetime have I encountered anything close to or as devastating and all-encompassing as this Covid-19 pandemic. While the vast majority of Fastsigns centers have been deemed essential businesses as they provide safety, directional, and other necessary signage for essential businesses, our franchisees have experienced significant sales declines. As a franchisor, this means we have experienced significant revenue declines as well. (Since rules vary by country, state, province, county, and city, about 5% of our franchisees have been temporarily closed during the pandemic.)
I also am on the board of two other franchisors: Big Blue Swim School and Brain Balance Achievement Centers. As with franchises in the many, many other brands deemed "non-essential," Big Blue Swim School and Brain Balance franchisees have been completely closed during this time. The challenges faced by those brands – franchisees and franchisor alike – are close to devastating. The suppliers that sell products and services to franchising are also experiencing significant challenges. It has been rewarding and inspiring to see the franchising community pull together and share ideas, suggestions, and methods to get through this crisis. Franchising is similar to a family: we are all in this together. The IFA has been instrumental in facilitating and coordinating these efforts.
Many of us in the franchise world think of the IFA for the help it provides our business development. We think of lead generation for potential new franchisees, webinars on business operations, or the IFA Convention, with its days of events, workshops, and networking. That's all true – and all of that is important – but the IFA's strongest assets may be its advocacy work and its ability to quickly respond to the needs of its members by creating content to help navigate this pandemic.
That advocacy work isn't always visible, and it isn't always top-of-mind for many franchise systems, but it has the most outsized impact on franchise operations. Over the years, I've been lucky enough to have a front row seat to this advocacy work, both as an IFA Board Member and now as the IFA Chair.
The IFA quickly created webinars – sometimes two and three a day, every day – to help members quickly respond to the business challenges Covid-19 brought.
The past few months have reminded me of that old, apocryphal Chinese curse: may you live in interesting times. When I started as IFA Chair in February, it is safe to say no one imagined that franchising would soon face a global pandemic, record unemployment, and mandated business closures. These are interesting times indeed – but just as every cloud has a silver lining, the pandemic has shown the importance of IFA's advocacy and government relations work and its ability to quickly set up content to help franchisees, franchisors, and supplier members.
Whether through PPP loans and increased franchise liquidity, favorable regulatory changes across the country, or moving toward a structured reopening, IFA has been front and center to ensure that the laws coming out of Washington and state capitals benefit franchises. Finding the right speakers to provide value in webinars, recording them all, and setting up the site has provided benefits for all IFA members.
PPP loans
Over the past six weeks, Congress has allocated some $670 billion to the Paycheck Protection Program (PPP), which is designed to help small businesses make it through the pandemic and keep employees on payroll to the extent possible. While the program isn't perfect – the loan structure needs changing, and provisions like the 75%/25% split on payroll and other expenses simply doesn't work for many businesses – it can be a tremendous benefit for franchise businesses.
You certainly know that franchises are eligible for PPP loans – you may not know how. During the bill negotiation process, the IFA secured an "affiliation waiver" for franchises. That means that individual franchise owners can receive funding. Without that IFA action, individual franchisees would have been barred from this funding.
IFA's work also fixed the Qualified Improvement Property (QIP) error in the tax code that could have made it prohibitively expensive to renovate or improve franchise locations. That change saves franchisees significant amounts of money.
The CARES Act shows that IFA's advocacy helps your bottom line.
Reopening
Across the country, Americans are ready for a safe return to normal. That is felt even more acutely in franchise businesses, many of which are still totally closed because of "stay-at-home" directives.
IFA has been heavily involved in guiding the reopening process in Washington. As part of the President's Great American Economic Revival task force, the IFA released the Franchise Reopening Blueprint, a sector-by-sector guide with best practices for business operations to ensure employee and customer safety.
These guidelines are the product of cooperation between franchise leaders and because of the IFA's involvement in the White House reopening task force, and will help guide the administration and states as they create policy regarding business reopenings.
This means that as states and the federal government lay out guidelines, they'll have the needs of franchise businesses front and center.
Liability
Reopening also presents new risks. The threat of unfounded lawsuits is top-of-mind for franchisors and franchisees across the country – and with good reason. The plaintiff's bar has already filed thousands of lawsuits and is running ads looking for new plaintiffs who can allege they were exposed to Covid-19 at your business.
IFA has been working with Senate leadership to draft a bill ensuring that businesses that make a good faith effort to follow reopening guidelines won't be subject to unfounded lawsuits. It's likely that Senate Republican leadership will unveil their proposal soon, and this is likely to be the basis of any new law Congress approves. And we will be asking you to write your members of Congress on this topic when the time is right.
So what does this mean? It means that franchising is at the table (not on the table) when Congress is discussing liability reform and other important issues – thanks to the efforts of the IFA and its fantastic Government Relations staff – and thanks to you, our advocates who activate when we ask.
Business guidance
IFA's value isn't just changing policy to benefit franchises, it's also helping franchises implement these changes. Since the coronavirus crisis started, IFA has hosted dozens of webinars for members on every aspect of business operations, from multi-unit best practices to crisis communications to loan applications.
On top of that, IFA has hosted telephone town halls with franchisees and their elected officials – more than 75 so far, with more every day. These allow for franchisees and franchisors to speak directly with their elected officials, ensuring that elected officials know what franchise businesses really need.
All of this information is available online on the IFA's website. It's chock-full of fact sheets, FAQs, and other resources for IFA members. Not yet a member and want to join to get all of the benefits? Contact Paul Rocchio at procchio@franchise.org.
Get involved
IFA membership opens a world of opportunity. It puts you at the cutting edge of the franchise world's latest information, best practices, and policy changes. IFA's advocacy success means that many of the policies coming out of Washington are designed to help franchises.
If you're not already a member, join IFA. If you are, get involved! Get active in the Franchise Action Network, participate in webinars, and attend virtual events. It's an investment in your own success!
Published: June 2nd, 2020
Share this Feature
Recommended Reading:
Comments:
comments powered by

Disqus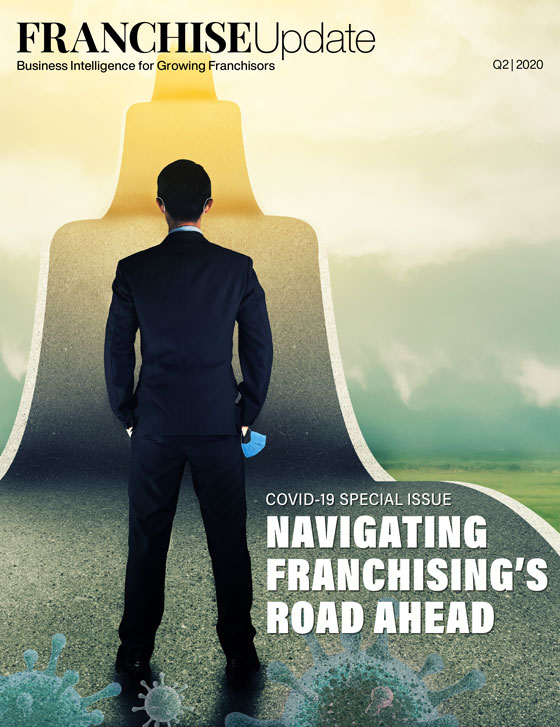 Franchise Update Magazine: Issue 2, 2020
Conferences
InterContinental, Atlanta
OCT 18-20TH, 2023
The Titus Center for Franchising, one of Palm Beach Atlantic's Centers of Excellence, offers a concentration in franchising to business students.
UMI has over 23 years of experience supporting fast-growing multi-unit brands. From strategic planning to design, execution to analysis, UMI...