Internet Ratings or Fools Gold?
How do you measure the success of a web site? Many people claim that Alexa (http://www.alexa.com/), by Amazon.com is the definitive answer. For years, web developers and marketing experts have flooded the market with boasts of high Alexa ratings in hopes they will increase their client lists. But is Alexa really the gold standard or simply fools gold?

Understanding Alexa

To understand Alexa you need to know how the Alexa rating system works. On the Alexa help page you will find a question titled "How are Alexa's traffic rankings determined?" Inside their short description of how the Alexa rating is calculated is one sentence that sums it all up "Alexa's traffic rankings are based on the usage patterns of Alexa Toolbar users over a rolling 3-month period." As described on their own website, only people who use the Alexa Toolbar are included in their rating system.

What Are Alexa's Demographics?

Did you know the Alexa Toolbar is only available for Microsoft's Internet Explorer for PC, and Mozilla's Firefox for PC? This excludes everyone who uses a Mac, Linux, or a different browser, which amounts to about 15 percent of the Internet's traffic. So, 85 percent doesn't sound that bad. However, of those 85 percent, do we know how many use the Alexa Toolbar? There is no data regarding usage statistics presented on the Alexa homepage.

What is the Alexa Toolbar?

The toolbar is primarily designed to assist web developers. It does provide some searching abilities, but nothing that would make it worth downloading this toolbar over one of the many other high quality toolbars produced by companies such as Google, Yahoo, or Microsoft. Another interesting fact is that the Alexa Toolbar is listed as "spyware." Most spyware applications will actually prevent Alexa from collecting user data, which is used to calculate the Alexa Rating. All in all, the only people who would find a use for the Alexa toolbar are those who build websites and use the Alexa Rating to boost their sales.

Raising Your Alexa Rating

Want to improve your Alexa Rating? A quick search on Google turns up a handful of methods by which you can raise your rating simply by installing the toolbar on your system and viewing your own web page. If one person viewing his own web page every day could raise that page's rating by several hundred thousand, imagine what would happen if a company issued a directive to require all employees in the company to use the Alexa Toolbar and use the company homepage as their homepage. For a company containing 50 people it would spike their rating well up into the low thousands; if the company had 10,000 people, imagine how much higher it could go.

So . . .

The Alexa Rating system is highly flawed and easy to manipulate. While it's a great concept, it is in fact marketing hype with no substance to back it up. Most people in the search engine business know that when you want to sell something, you boast about a high Alexa Rating. To the unknowledgeable it sounds like gold. But to those who know how it really works, it is nothing more than fool's gold.

Benjamin Foley is Franchise UPDATE's webmaster. Each month, he'll demystify some aspect of the Internet. If you have a question you'd like him to tackle, write Ben at bfoley@franchise-update.com.


Published: October 11th, 2005
Share this Feature
Recommended Reading:
Comments:
comments powered by

Disqus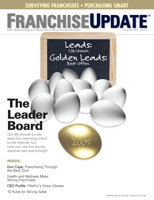 Franchise Update Magazine: Issue 3, 2005