It's in the STARS: Annual STAR Awards Recognize Recruiting Leaders
All franchisors place a high priority on gaining new recruits and responding to contacts from prospective franchisees. But who's setting the pace on performance?

Once again, Franchise UPDATE's mystery shoppers hit the phones--and the websites--checking out franchisors from coast to coast to see which were doing the very best work. The best and the brightest were recognized in the 10th annual STAR (Speaking To And Responding) Awards--from the three top national performers to the companies that excelled at fielding telephone contacts or quickly getting back to website leads.

These franchisors may have different game plans and work in divergent fields, but they share some key characteristics. A sense of urgency is vital to them all. When a prospect calls or e-mails, they are ready to respond. They put their best foot forward on the web, where many of the best candidates begin their investigation of the franchise world. And all have a clear plan for handling each point of contact.
Overall Winners
1st Place: Fastsigns International
2nd Place: Wireless Zone
3rd Place: PostNet International
Finding the hot button
"We are very closely aligned with past winners," says Bill McPherson, vice president of franchise development for Fastsigns International, citing Comfort Keepers and PostNet among current and past winners. Like those companies, he says, Fastsigns has a "well-thought-out process where the client can make an informed decision. We don't sell for the sake of selling. We're very selective."

The company's recruitment strategy helps ensure McPherson's team is working with the right candidates at an early stage of the game. Prospective clients quickly get a marketing piece that outlines their next steps in gaining a franchise. "That client is going to understand what's in store for the next 30 to 45 days. Every time a salesperson connects, there's an agenda," he says. "It's a step-by-step approach designed so they don't get too much information all at once. Most people have never bought a franchise and it can be overwhelming."

It begins with that first phone contact, when the franchise development team carefully examines what prompted the candidate's call and interest in the franchise. "We want to see some level of excitement, whatever hot button it was that got them started," says McPherson. Was it the Monday-Friday schedule? The business-to-business model? A "clean" business versus, say, a fast food franchise. "We're trying to make sure we address one or two hot buttons that involve excitement so they want to take the next step."

Ultimately, it's a path that leads to an average investment of $275,000, including $50,000 for working capital. That keeps the franchise team focused on the three M's: money, market, and motivation.

Can the client meet the financial requirements? Is there a franchise market available for them? What got them motivated to call on that particular day, and how fast do they want to move?

"What are their hot buttons and their pain, whether it's because they don't like their boss or travel too much. What kind of lifestyle change is needed to remove that pain? If we can match our franchise to their pain," says McPherson, "we're 90 percent of the way there."
The right thing
There is no silver bullet available in franchise development, says Sean Fitzgerald, national vice president of franchise development at Wireless Zone. "It's just doing the right thing, and a lot of right things," he says.

Everyone on the seven-member franchise development team at Wireless Zone is drilled on a step-by-step process for handling each new query that comes their way, an effort that's paying off.

"We're having our best year ever," says Fitzgerald. "We're doing very, very well. Cell phones are really shifting to become a necessity." This, he says, will help franchisees weather any economic downturn coming their way. "People will get rid of a land line and keep the cell phone," says Fitzgerald. Also, as cell phones become more complex, buyers need more help. "At the Wireless Zone, we're the local wireless professionals."

Fitzgerald has seen plenty of changes in the franchise development world over the 15 years he's been in the business. "We send e-mail that triggers a callback," he offers as an example. And the company has completely redesigned its website. "It's basically new, very dynamic and fresh and exciting looking. It's a great website for someone looking for a cell phone store. But we're still only halfway there. Next year we'll be better," he says.

This year was the first time Wireless opened in the Midwest and parts of the South. "For 2009, we're going to open the rest of the U.S. By the end of this year, we're looking at 65 new franchises," he says.

And next year? Fitzgerald says his team can beat that. "Our stores are doing well in a down economy," he says. A hot product and service is one of the best advantages any group can have heading into 2009.
PostNet stays on top
It's no accident that PostNet was back in the winner's circle this year. "We're always looking to make improvements," says Brian Spindel, president, COO, and co-founder. "You're never as good as you need to be. We've always tried to make our organization as responsive as we can, make our website as compelling as we can, and also make it easy for the prospect to work with us."

Whether PostNet gets 100 or 500 leads in a month, each is followed up with the same urgency. "We follow the same process, policies, and procedures, which is one reason why we're a consistent award winner. Some franchise organizations place a higher level of importance on a call versus an Internet lead. We believe you can't guess which lead will be the sale," he says. PostNet is equally aggressive on both fronts.

"The underlying importance is on responsiveness, policies, and procedures, to make sure the person is called back. And when we say we're going to do something, we do it," says Spindel. "We do everything we can to be as responsive to that person as we can. We try to be the first franchise that responds. I think that speaks volumes to the prospect: who is most interested?"

The prospect's first point of contact is often on the web, he says. And PostNet, which looks for candidates who can invest about $180,000 in a franchise, is always working to improve its Internet presence. "We're engineering a feature right now to allow the prospect more freedom to do more investigation online. You can never stand still with this stuff," he says.

"The Internet has enabled people to be more independent in terms of getting and finding information. There's a growing expectation that they access information quickly and electronically and have that interface. But we also never forget that people buying the franchise will never conclude a transaction in e-commerce. It's a high-tech and high-touch transaction."
Telephone Winners:
1st Place: Spring-Green Lawn Care
2nd Place: Play N Trade Video Games
3rd Place: Wireless Zone
Extreme availability
Mark Potocki, director of franchise development at Spring-Green Lawn Care, makes himself available to anyone who wants to check out a franchise.

"We run a pretty tight ship around here. A call comes directly to me. When I'm in the office that call becomes my number-one priority. If I'm on another call, it immediately forwards to my assistant," he says. "The caller gets an actual person on the other line, and at that point we're prepared to take the lead. It's important not to just take a message but to use the opportunity. If someone placed a call, it's emotional. Something led them to that," he says.
Those calls are important, but there is a price to pay. "I feel like I'm on call 24/7," says Potocki. He knows that a husband and wife may have to put their children to bed before they can really drill into the process; or that some may be early morning people who want to spend evenings with their children.

And despite his 24/7 mindset, there are times family comes first for him, too. "As a father of two, if I'm in a family event, I can put the phone down, no problem, because that is part of the culture of Spring-Green," he says. "But if the candidate needs to call at 4 a.m., I'm fine with that. If they're on the West Coast, they may want to call at 10 p.m., which is midnight central time. I'm comfortable with that, too," he says.

"I never want the candidate to say that Spring-Green was not accessible for a mutual investigation. If they leave a message, it's immediately forwarded to my cell phone. Any time of the week, I can usually follow up. I've had calls early Saturday morning and late Sunday evening."

When he first speaks with someone, Potocki does so with a purpose. "I want to make sure I define the process and create a time frame for the investigation, so the candidate understands that we're going to expect a well-informed business decision as part of the investigation process. There will be due diligence. We're not just selling a franchise. Not everyone is given the privilege of being offered that opportunity."
Online Winners:
1st Place: Great Clips
2nd Place: i9 Sports Corporation
3rd Place: BrightStar Healthcare
Multi-Brand: Yum! Brands
Atop the Web
Winning first place in the online category was the payoff for more than a year of hard work at Great Clips to improve its website for franchise prospects.

Rob Goggins, head of franchise development and his team meet each month to tear into Google Analytics, studying the numbers on who's coming to the site and what they're doing on it. They tweak the site every month and do a thorough review every six months.

"It's critically important," says Goggins, who stepped into the franchise development role 15 months ago. "That is the portal by which people get to us. We understand that before people engage with us, they will dip their toe in the water by checking out our website. We want to do it in a compelling manner, professionally--and we want to find out more about them."

Now that the company has won in the website category, Goggins is ready for his next step: a complete revamp. "We are going to be redoing the website," he says. "We believe there are a lot of things we can add to it." Five different design firms are competing for the job. Keeping the site current will be much simpler once a content management system is in place, allowing a marketing person to update it on their own. A web vendor, he says, can charge $60 an hour for this. "We're going to take that in-house."

The company now has two websites for franchise prospects: one to attract general visitors to check out the franchise, and a separate one to work with qualified applicants. Those two sites will be merged into one, but one key element will not change. Visitors will still be led through three key steps: researching the franchise, requesting information, and finding out the next steps to be awarded a franchise.

"This is an opportunity to make it more relevant to who we're communicating to," he says. There also will be a store cam, testimonials will be beefed up, and Goggins wants to make it easier for prospects to find information or file an application: "so they can give us their basic information and we can entice them to go further."

Last November, a Wall Street Journal article featured the company's approach to introducing new technology to its franchisees. Great Clips not only highlights the article on the website, but now advertises in the publication.

This year, 75 new franchisees have signed on--a 30 percent increase over 2007. Next year, Great Clips is aiming to bring in 80 more franchisees able to cover the $150,000 average start-up cost for a single salon. With the help of a new-and-improved website, Goggins says he can do it.
Published: February 2nd, 2009
Share this Feature
Recommended Reading:
Comments:
comments powered by

Disqus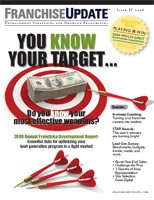 Franchise Update Magazine: Issue 4, 2008
Conferences
InterContinental, Atlanta
OCT 18-20TH, 2022
UMI has over 23 years of experience supporting fast-growing multi-unit brands. From strategic planning to design, execution to analysis, UMI...
Slick Marketers is reinventing franchise marketing with a hyper-customized and ultra-localized marketing approach with measurable results and growth...