It's STAR Time!: This Year's Winners For Best Web and Phone Performance
For more than a decade now, Franchise Update has deployed teams of mystery shoppers to evaluate the performance of sales teams, specifically their responses to phone and online queries from qualified prospects. The companies surveyed each year are franchisors registered to attend the annual Leadership & Development Conference who ask to be mystery shopped. This year, our telephone mystery shoppers phoned 155 franchisors and submitted forms on 132 recruitment websites; and a separate team evaluated the websites themselves. (Click here for more on the Mystery Shopping results.
DENNY'S
#1 Overall
Denny's, which won first place overall in this year's STAR Awards competition, also placed second for Best Telephone Prospect Follow-Up and tied for third in Best Website Prospect Follow-Up.
"The funny thing is that last year, sitting in the awards with Doug Wong watching the winners, we were saying to ourselves, 'There are levers that we can pull within our systems to improve what we are doing--not that what we are doing is bad, but how can we take it to the next level?'" says Steve Dunn, vice president of development at Denny's. "What we had was working. We didn't have to overhaul it because it was broken. It was a system of continuous improvement and benchmarking."
Among the changes from last year, Denny's took a new approach to its website. "We had always done it internally," says Dunn. "We hired an outside firm to help us think about it differently." He says this has not only helped Denny's do a better job of following up on leads, but also made it better for interested parties to learn about Denny's. "We made a decision to share a lot more information. Before, we had exposed candidates to a little bit. Now they can learn a lot more before talking to us."
Since last year, Denny's has launched a completely new franchisee website (www.dennysfranchising.com), separate from its consumer site. "That was a real big shift for us," says Dunn. "Whether it will it in fact pay off with more franchisees recruited is still to be seen, but the theory is it will prove out over time."
In May, the company launched a comprehensive recruiting campaign, both on the web and in print, offering a $1 million incentive package to franchisees developing multiple stores. The result? Leads are up "pretty significantly" this year, says Dunn.
Expecting the boost in lead flow, Denny's also put some new reporting tools in place "to help us get a little more nuanced and understand the whole flow of the candidate buying cycle," says Dunn. "Training was involved, a new reporting structure, and making sure we managed it properly."
At Denny's, says Dunn, the sales process takes a relatively long time because of its high-investment model, and he expects to see results early next year. Dunn says that while he cannot comment on projected new units this year, "We have no reason to believe our closure rates won't be high." According to industry observers, Denny's is expected to open more than 100 restaurants in 2010.
For website inquiries, Denny's now has an automated process that speeds delivery to screeners. Previously, it could take a week; now it's 24 hours or less. "The system automatically gives a ranking to what a prospect would look like to us--appropriate capital, where they live, etc. When a prospect hits a benchmark, that person gets called and followed up by email," says Dunn.
No matter how a prospect comes in, "We try to jump right on that. We like to get personal, talk to somebody pretty quickly," says Dunn. "If you have conversations by email only, you're missing a lot. We don't think that just web communications is going to foster a lot of deals--not with a million- dollar deal. We try to make it personal."
First-to-the-door still plays a critical role in franchisee recruitment. "Speed is important to us, it's just good professionalism. If someone catches us during business hours, the rule is it gets followed up immediately," says Dunn. After hours, an automated system takes over and a follow-up call is made first thing the next morning. "New people and first impressions are always our highest priority, and they don't take much time, is what we've learned," says Dunn.
"This is still a business about people, and there are so many tools and programs out there, so many options," says Dunn. "If all of your roadblocks are automated, you lose people pretty quickly. "It's still about getting to the individual that fits your needs quickly, and talking with them personally and effectively. That's where the rubber meets the road."
BRIGHTSTAR HEALTHCARE
#1 Best Telephone Prospect Follow-Up
When it comes to best-in-class phone response, "It starts with who you have as a qualifier. It's a really important role," says Shelly Sun, CEO of first-place winner BrightStar Healthcare. "I think it's all about the passion and energy level of the person on the other end of the phone. That's one of the keys why our phone process works so well: it's the person you choose."
Sun says her company took an unconventional route in filling that position, looking for spouses of employees who could work from home. She wanted "people involved in our business who are really passionate about being involved with our company and our mission: taking care of grandpas and grandmas." The company chose the wife of one of the company's first corporate employees.
Last year, all incoming calls went to one person. Now they ring to multiple lines, with three administrative staff trained as backups. The goal is to give a response call within 4 hours, preferably faster. Prospects, says Sun, "are probably calling others, so as quickly as possible. If they happen to come through email, we reach out three times by phone--a pretty high level of touch. When people who make a conscious choice to call our brand, we want to leave them with a very positive experience. At some point they might become a consumer of our brand."
The biggest thing, says Sun: "The person in that phone answering role is most important and the follow-up process second; I would almost have a passionate person and no process." She has both. Responses are based on bullet points, not scripted.
"Phone calls always take first priority," says Sun, with the rest of the qualifier's time spent on Internet inquiries. "Timeliness is key to engaging the candidate and giving a great first impression." She says 80 to 90 percent of calls are answered live. "We all spend a lot of money on leads. We've prioritized our processes to give them a quick and timely experience."
In that first call, she says, "We're trying to engage them, see what they're looking for, have a conversation." The qualification call can range from a minute up to 10 or 15 (more likely), with the goal of getting to know the person a little, get them excited, and check their level of passion before proceeding. "You have to get them into the process," says Sun. If the process goes smoothly, there's a decision within six weeks.
BrightStar uses Process Peak as a tool to manage the sales process, keep it uniform, and ensure that great results are possible with good salespeople, not only great ones, says Sun. "Our sales people are doing about 18 deals each. Process Peak helps us ensure that consistency." The brand currently has 176 locations, with an additional 55 to 60 in pre-opening and sold. Sun says the BrightStar is doing 50 to 60 deals a year. "We're adding about 6 to 10 a month, which is pretty strong growth. Third quarter was the best in income in our history."
Sun is passionate about the importance of the first contact with a prospect. "I think sales qualifiers are great, especially for multi-concept companies. You can't build that complexity into a website: 'We don't have an opening in home care, but might have another brand...' The qualifier can handle that." Coincidentally, BrightStar is launching a new brand in the first quarter, a small-format assisted living concept for families that can't afford 24/7 home care.
When it comes to having a pre-qualifier, "It's interesting how many people see it as an expense," says Sun. "I think the reason we won in this class is we see it as a resource." In fact, she says, "I see it not as an expense, but as the highest ROI in the entire sales cycle to move an initial prospect to a lead and a lead into a closed sale. As soon as franchisors see it this way, they'll begin to see the success and the results follow."
DONATOS PIZZA
#1 Best Website Prospect Follow-Up
"It's very simple, really," says Jamie Davis, executive director of business development at Donatos Pizza. "Our website is tied to FranConnect, and when a lead comes in I get an automated response tied to my email, tied to my BlackBerry, and there's no reason for me not to make the call right then if I can do it--most times within an hour, or instantly if I can," says Davis, who also holds the title of PizzAmbassador.
"I'm trying to run people through a process and I want them to be responsive; if I start out responsive, I'm setting the tone for the process that's timely," he says. "I think it sets you apart and gives you an advantage over your competitors. It sets the tone for a positive and mutually respectful relationship when you can do that."
Ideally, the prospect will have completed a form on Donatos' website with their name, address, email, phone, timeline, liquidity, and net worth--and additional comments if they prefer (sometimes that's where the most valuable information comes from, says Davis). But even there's nothing but contact information in the form, he'll call back anyway and ask some pre-qualifying questions.
"You never know who's on the other end of that inquiry. They've taken the time to complete the form. It's a matter of mutual respect to respond quickly. You can discern quickly if it's worth your time and theirs to go ahead or not, so it really doesn't cost you very much," he says. "It can be 5 minutes if there's nothing there, sometimes half an hour. I'll stay on the phone as long as it takes to get to the next step," he says.
"I think the website is becoming increasingly important as a research tool for sophisticated multi-unit franchise buyers," he says. "If I try to make a cold call today, forget it--which is why when I get a message I call back immediately."
Donatos, founded in 1963, has 180 restaurants (115 franchised and 65 company-operated) located east of the Mississippi River. "We want to be a nationwide brand," says Davis, "but not outrun ourselves." Donatos is currently looking to sign deals with multi-unit operators. "We're doing market-level development, not single-unit," he says. "Our goal is clear, it's just a matter of how we get there."
The company also is revamping its website to make it more process-oriented, and tailored to what multi-unit operators, are looking for. "We want a website that walks a sophisticated investor through a number of steps that provide them with the information they need to make a decision to engage with us actively," he says. He says a lot more people are poring through the website before they indicate they're interested in the brand.
As for placing first in website follow-up, he says, "I was surprised to win. I didn't even know I had been shopped--to this day."
MAACO
#1 Best Recruitment Website
Does your website have a short application form on every page? Maaco's does. Does it have a clearly delineated navigational procedure for potential franchisees to follow? Maaco's does. Does it display Item 19 data on the first page? Maaco's does ("Average $173,000 in annual profits!"). Can first-time visitors download a Franchise Kit with just a couple of clicks? They can at www.maacofranchise.com--if they submit some basic information. There's even a one-click option for conversions, a big part of Maaco's growth strategy.
These are all factors in Maaco Collision Repair and Auto Painting winning first place as the Best Recruitment Website in this year's STAR Awards. (A visit to the franchise recruitment website is worthwhile. Start at www.drivenbrands.com and click on Maaco.)
"We acquired Maaco a little under 2 years ago. They had just put together a really expensive website, but it didn't really have the right message, the colors were wrong, and, most important, it had a really bad call to action," says Dave Schaefers, senior vice president of business development at Driven Brands (parent company of Maaco, Meineke Car Care Centers, Econo Lube N' Tune & Brakes, and three mobile brands).
The call to action on the old site was a webinar. "The problem is most people bounce out. If we got eight to sign up, three might attend, and very little qualification was done. It just wasn't effective," says Schaefers. "We ended up putting together a new website for about one-third the cost. What we wanted to do was increase our conversion rates."
Maaco's new website, which kicked in this past August, took 3 to 4 months to put together, he says. "I wanted to direct the copy, I wasn't comfortable with hiring a copywriter." Schaefers, who's been in the automotive industry for 20 years, says he doesn't think a copywriter could ever provide the same insight and nuance he could, but it turned out he had some things to learn about crafting an effective website. So he flew out from Ohio to mUrgent's office in California.
"They'd put together some copy; we had a format we wanted to follow," he says. "Where I tend to get wordy, she tended to cut me off. I can tell you for sure that shorter is better," says Schaefers. "I originally was going to put the long form in there. The short form is not intrusive and works well." He is now preparing to replace the Meineke recruitment website with one like Maaco's. (Meineke's website won third place in last year's STAR Awards.)
Although he says the site is working well, there's plenty more to do. "You really have to look at your analytics; if you're using a company to help you, I wouldn't wait for monthly report-outs. And managing your keyword strategies is clearly critical," he says. The next thing, he says, is to try to geotarget leads to the site.
"Leads have not increased that much, but conversion rates have tripled from 30 to 90," says Schaefers. "We're happy with that, but will take it a step further using keyword campaigns and SEO to get people in the automotive campaign interested. The goal is to get it to 200 per month." He says 2 percent of all conversions are coming through the downloadable kit. "That's been a big hit," he says. "We're trying to get disenfranchised car dealerships to look at us."
Financing is a major issue, and time-consuming, he says. "We can get these open in 90 days with no banks, so we view that as a big opportunity." Startup costs are reduced 50 percent, and there's a 3-year royalty rebate. The company has converted 25 car dealerships in the first year of the program, with an average time to open of 120 days.
Schaefers said Driven Brands analyzed 16,000 leads that came through the Meineke and Maaco websites in the past 2 years: they are closing at 3.25 per 100 (portal leads are 0.82 per 100). "We pay portals between 55 and 65 bucks; on our site leads tend to be higher quality and more cost-effective." Portals still have their place, he says, but when an inquiry comes directly through your own website, "That's pretty convincing; someone who has gone to your brand shows serious interest."
2010 STAR Award Winners
Best Overall Performance
Denny's
Best Telephone Prospect Follow-Up
First Place: BrightStar Healthcare
Second Place: Denny's
Third Place: Play N Trade
Best Website Prospect Follow-Up
First Place: Donatos Pizza
Second Place: Hurricane Grill & Wings
Third Place (tie): Denny's
Third Place (tie): PostNet International
Best Recruitment Website
First Place: Maaco
Second Place: Signs Now
Third Place: Allegra
Published: December 20th, 2010
Share this Feature
Recommended Reading:
Comments:
comments powered by

Disqus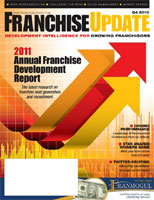 Franchise Update Magazine: Issue 4, 2010
MSA provides domestic and international franchise advisory services to franchisors and companies seeking to establish franchise and licensing systems.
Leasecake is location management made easy – from lease contracts and licensing agreements to ASC 842 compliance. Never miss a deadline, stay ahead...