Kick It Up!: 9Round Founder Targets 5,000 Units Worldwide
At 39, Shannon Hudson has earned two advanced degree black belts in martial arts and is the International Kickboxing Federation (IKF) Light Middleweight World Champion. He's also the co-founder, along with his wife Heather, of 9Round, a decade-old and rapidly growing kickboxing gym franchise approaching 750 studios open worldwide.
Boutique fitness franchises have blossomed in recent years, but Hudson says 9Round is unique in its approach. "9Round thinks differently about exercise," he says. "We believe that people do not need to spend more time in a gym, they just need more intensity. Add in a coach who provides quality instruction at no extra charge and you've got a winning combination."
Hudson and his wife, also a martial arts devotee who relies on kickboxing for fitness, came up with the idea for 9Round while he was competing in martial arts events all over the world. They noticed there wasn't a place where the average person could be exposed to the type of training used by the best fighters in the world. He knew that if he could take the grueling workouts he did in the ring and create a non-intimidating, convenient circuit workout format, the average person could enjoy the benefits of boxing and kickboxing--without getting hit.
9Round began franchising in 2008, 3 years before he won the IKF title. Together the husband-and-wife team ensure that the product is consistently good; that they bring in quality franchisees devoted to the brand; and that they focus on marketing, communicating with, and developing scalable systems for 9Round franchisees.
Hudson says he has a great corporate team that works well together. "We are all aligned on the same specific mission and goals, and we all work to get things done very quickly," he says. They must, because the company has some audacious goals. "We want to expand further internationally and ultimately reach 5,000 locations worldwide," he says.
Beyond the nuts and bolts of business strategy and expansion, Hudson says the real reward is seeing the people whose lives are changed from being a 9Round customer. "When I hear stories about how a member has lost XX pounds since joining the 9Round family, it reminds me that what we are doing is important and can really make a positive impact both physically and mentally in people's lives."
Name: Shannon Hudson
Title: CEO, co-founder
Company: 9Round Franchising
Units: 743
Age: 39
Years in franchising: 10
Years in current position: 10
Leadership
What is your role as CEO?
The job requires me wearing many hats, from recruiting franchisees, to training those franchisees and trainers, to maintaining an active role in their operations. But one of my primary roles as CEO is to push along the company's growth. Even with more than 740 studios open worldwide, I think we still have a very long way to go before reaching a maximum number of locations. I can see the brand at potentially 5,000 locations worldwide in the next few years.
Describe your leadership style.
I try to push everyone to be a CEO in their own position. If a team member is pushed each week to deliver, they will grow into an incredible asset for the company. Just like pushing your muscles in a workout in order to experience results (it's gonna hurt), I do the same with my team. You have to be pushed to greatness. It doesn't just happen.
What has inspired your leadership style?
My father is a veteran and an entrepreneur, so growing up I saw that he delivered each and every week for the family. He had to hustle or we didn't eat. I learned a lot from that example. And being a martial artist practically since birth has taught me to set goals and strive to be great as well.
What is your biggest leadership challenge?
Patience! I want things done yesterday and sometimes I have to slow down and understand it will have to wait.
How do you transmit your culture from your office to front-line employees?
This is another challenge I find myself facing for sure. I constantly wonder, "How do I make sure I connect with each and every employee?" We have created several things in the past six months to help with this, including regional trainings I personally teach at, and online training modules with tests included to help make all of our trainers what we like to call "Champion Trainers."
Where is the best place to prepare for leadership: an MBA school or OTJ?
Personally, I received all of my leadership experience and training from hands-on experience, so I think OTJ is the best way to fully immerse yourself as a leader and to become most comfortable with that role. Of course, that's not to say going to an MBA school is not a valuable experience, but there are situations you will come across in a leadership position that no textbooks or classes can truly prepare you for, the way real-life application can.
Are tough decisions best taken by one person?
At the end of the day, all decisions rest on my shoulders. We do have a great leadership team here, including my wife, who is 9Round's co-founder and COO. But at the end of the day, if the decision turns out to be a bad one, it is my responsibility.
How do you make tough decisions?
The trick is speed. I make these tough decisions very quickly. After I learn all the info and facts, I decide right then and there. Waiting does not give you the confidence you need to put a plan into action. I have to make the decision as soon as possible so things can happen in the business. The worst thing you can do as a leader is not make a decision.
Do you want to be liked or respected?
Definitely respected! I don't need friends--I need a team to get the job done. However, I do believe that the respect piece needs to be earned by being respectful and professional toward others at all times, inside and outside the business. Those two worlds will blend together so you must be on point at all times, never letting your guard down.
Management
Describe your management style:
See above.
What do you think makes a good management team?
Alignment and speed. We are all aligned on the same specific mission and goals, and we all work to get things done very quickly.
How does your management team help you lead?
They are great sounding boards. We can sit in a conference room with a whiteboard and together come up with some amazing ideas. Those meetings are always fun.
Favorite management gurus: Do you read management books?
I'm a constant reader. The E-Myth Revisited by Michael Gerber, The Compound Effect by Darren Hardy, and The 10X Rule by Grant Cardone are a few of my favorites.
What makes you say, "Yes, now that's why I do what I do!"?
There is nothing I love more than hearing incredible fitness success stories from our franchise locations around the world. We began this brand with the goal of providing a kickboxing fitness option to the masses in a way that was feasible and convenient, yet still completely effective. When I hear stories about how a member has lost XX pounds since joining the 9Round family, it reminds me that what we are doing is important and can really make a positive impact both physically and mentally in people's lives.
Are there any trends in the fitness industry that you foresee having an impact on your brand?
Small boutique fitness studios are the trend today. This will continue as consumers today are more educated than ever on all the different workout styles available to them. It's a great time in history to be a 9Round owner.
Personal
What time do you like to be at your desk?
By 9 a.m. because I usually take my son to school at 8:15. He's in 6th grade.
Exercise in the morning?
Sometimes, but I try to get two or three 9Round workouts in each week at whatever times work best for that day's schedule.
Wine with lunch?
Never. I actually usually eat at my desk so I can continue building the company.
Do you socialize with your team after work/outside the office?
I hardly ever do. We do throw a great Christmas party and a good birthday bash for me, but that's about it.
Last two books read:
The 1-Page Marketing Plan by Allan Dib, and a biography of Bruce Lee. I'm a big Bruce Lee fan.
What technology do you take on the road?
My iPad with an attachable Bluetooth keyboard. It's just like having a laptop, but smaller.
How do you relax/balance life and work?
There is no such thing as balance. It's all-consuming. Sometimes my wife Heather and my son will come with me to a dinner with a client.
Favorite vacation destinations:
Europe is always fun. My wife and I went to Paris and Rome the last two years and had a blast.
Favorite occasions to send employees notes:
I don't do this much, but perhaps I should start doing so more often!
Bottom Line
What are your long-term goals for the company?
Our vision is to be the leader in the global kickbox fitness space. We want to bring the brand to 5,000 locations worldwide.
How has the economy changed your goals for your company?
The economy actually has not really affected our goals. In fact, our model is so low-cost that we still flourish even when the economy is bad!
How do you measure success?
Is the company good at delivering on its promises? Do we have integrity? If so we are very successful.
What has been your greatest success?
Becoming the largest kickboxing chain in the world is definitely a great success. Personally, winning my own IKF Kickboxing World Championship back in 2011 was definitely a big plus as well.
Any regrets?
I just wish I would have started sooner!
What can we expect from your company in the next 12 to 18 months?
We will strive to keep delivering on our mission, "Stronger in 30 minutes," and will hopefully expand into even more cities and countries. New countries we are entering include India, Kuwait, Argentina, Singapore, Malaysia, Indonesia, Colombia, Panama, Ecuador, and Guatemala. It's definitely an exciting time for 9Round in terms of growth.
Published: December 15th, 2018
Share this Feature
Recommended Reading:
Comments:
comments powered by

Disqus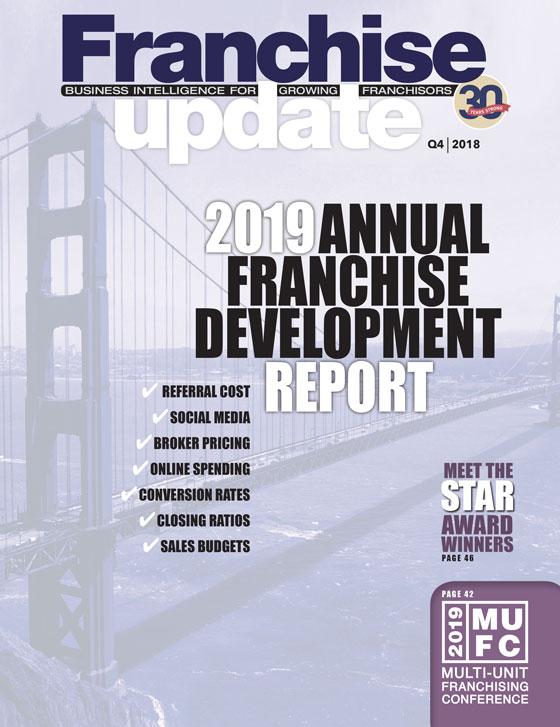 Franchise Update Magazine: Issue 4, 2018
Conferences
InterContinental, Atlanta
OCT 18-20TH, 2023
Oct. 18-20, Atlanta, GA. An exclusive event for franchisor CEOs, Presidents, COOs, CDOs and Franchise Development Executives.
April 25 - April 28, 2023, Caesars Forum, LV. The Multi-Unit Franchising Conference is the premier annual event for the country's leading...