Lightning in a Bottle: Two Women--the Founder and CEO--Team Up to Accelerate Growth
In 2006, after outgrowing her successful one-room business doing eyelash extensions, Anna Phillips opened her first full salon, The Lash Lounge, about a mile from her Colleyville, Texas location. Word spread quickly, and it wasn't long before she had a month-long waiting list. Within a couple of years, she'd opened two more. "It was like catching lightning in a bottle," she says.
"I had seen beauty trends come and go, but when I would perform a lash extension service there was just something about it, an immediate transformation unlike any other service I could provide. It gave women a sense of confidence," she says. "I've seen women open their eyes and start crying, seeing themselves as beautiful for the first time. I can't explain it."
By offering eyelash extensions as a single, exclusive service, elevating it from a supporting role at the back of the salon to the soloist at the front of the stage, Phillips has a legitimate claim on being the person who pioneered and popularized the concept of a dedicated eyelash extension salon in the U.S.
As the business grew, customers urged her to open more. In 2009, one of them connected her with a franchise consultant who helped her learn the ropes of franchising, create an FDD, and begin selling franchises.
From 2010 to the end of 2015, The Lash Lounge saw a steady growth of signings for new salons. "We were the first of our kind for a long time in franchising, the first in the country to create an exclusive destination for lashes, which meant growing the system fast wasn't urgent," says Phillips. That changed around 2013 when serious competition appeared in the franchise space.
"We were still self-funding the whole franchise project and working through the hurdles as they came," says Phillips. But with the newly arrived competition, and more on the horizon as the concept and service caught on, Phillips needed to move faster, she says--not only to keep her business viable, but also to assert The Lash Lounge's reputation for exceptional quality and professionalism that she'd worked so hard to establish for the eyelash extension industry and The Lash Lounge specifically.
"I knew what my forte was. My strength was helping the owners, training the staff, and showing them how to navigate through owning a salon," she says. "I knew I could open a successful Lash Lounge with a blindfold on, but the scale and scope of franchising was a whole new animal." So was opening more and more salons.
To head off the competition and accelerate the growth of her business--while maintaining the high standards she'd developed--Phillips needed to find the right partner, not only for financial support, but also for the expertise and hands-on experience required to grow a franchise system.
"Companies were coming out of the woodwork to court me to become a partner," she says. "Until I met Franworth and John Rotche there wasn't a company that was the right fit, culture, and alignment." That was in early 2016. By spring they'd become partners.
"We spent the rest of that year fine-tuning and tightening up what The Lash Lounge offered," says Phillips. "For example, in the early salons we had a small retail boutique, and while it added some nice flair it wasn't scalable and took the focus away from our expertise: the core service of eyelash extensions."
The next two years, says Phillips, "were a wild ride. We sold close to 400 licenses in 2 years. I think I lost count at 320."
More voltage needed
As the number of salons grew, Phillips told Rotche she needed a CEO to help guide the company forward. Dave Keil, former CEO of Pure Barre and Honey Baked Ham, had recently relocated to Ann Arbor, and joined the Franworth team where his first assignment was as CEO of The Lash Lounge. Just over 200 licenses were sold when Keil came on board. It wasn't long before the number of licenses awarded soared to nearly 400, and he knew even more talent was needed to maintain the momentum in multiple areas--from ensuring the quality of the product and the service to opening and guiding new franchisees.
In the summer of 2018, Rotche mentioned the possibility of bringing on Meg Roberts as CEO (see sidebar). "I knew of Meg from the franchise community. It would be like a dream to be able to work with her," says Phillips. Roberts came on immediately as president, with Dave Keil as CEO.
"I was really excited about the opportunity of working with Franworth and collaborating with Anna," says Roberts, who became the first female operating partner at Franworth in September 2018, after serving as president of Molly Maid from 2012 through 2018. "John Rotche spoke highly of Anna--of her ability to identify an industry and the vision to start The Lash Lounge concept. The concept of eyelash extensions was totally unknown when Anna started. She showed a lot of courage and creativity, and that was inspiring to me."
Though she admittedly knew little about eyelash extensions at the time, Roberts was a veteran in the marketing of services, the value of a recurring revenue model, and was intrigued by the emerging industry. She had spent more than a decade at Molly Maid honing her skills in franchising and was ready to apply her experience and leadership to a burgeoning group of franchisees. "Anna's story is really about pioneering an industry--discovering the island so to speak--and my role, together with the entire home office team, is to act as the compass points for success."
Lash Lounge 2.0
One of Roberts' first objectives was to take a fresh look at every aspect of the system, to recalibrate and simplify the system, separating the "must haves" from the "nice to haves."
"For us to grow responsibly required looking at all those pieces in the process, from our software to marketing. Making sure each facet of the business was simplified and streamlined for the franchisees was job #1," says Roberts, who refers to today's model as "Lash Lounge 2.0."
"Lash Lounge 2.0 was a necessity," she says. "When you're opening nearly a salon per week, it's imperative that the home office and franchisees are aligned behind the right model and making the right choices in lockstep for shared success." For Roberts this meant balancing the luxury of the brand with the replicability of standards, economics, and support.
Charging ahead
While the two women are humming along harmoniously today, and as excited as they were to join forces, it didn't happen instantaneously. In fact, it took some time. One hurdle was being separated by nearly 1,200 miles.
"That's probably our biggest challenge across the board, just because of the communication factor," says Phillips, "There's nothing like being in the same office where you can walk in and say, 'What do you think?'"
"It is a challenge," Roberts agrees, "but we've built an amazing team and assembled great talent without the restriction of location." With team members scattered across the country, from Dallas to Ann Arbor to Philadelphia, Roberts uses skills she learned from Gino Wickman to keep the team aligned, and she asks the team to follow similar meeting processes and cross-communication standards.
Still, in the beginning both women had to make personal adjustments as they learned to work together. "It was two women in leadership, each used to being in the driver's seat," says Roberts. To make it work, she says, "It takes each to set aside their preconceived notions, their need for total control."
And yes, there were bumps at first. "It can be tough for women in leadership to connect, because there can be an unspoken competitiveness that doesn't serve anyone," says Roberts. "We had to decide to trust as friends, then trust in business."
"We had a lot of long phone calls with even a few tears, and we've been very vulnerable with each other," says Phillips. "With me having to relinquish this baby I created from scratch, we've had a lot of growing pains. But I think where we are at now is quite phenomenal."
"Clarification sometimes requires uncomfortable conversations, even hurt feelings," says Roberts. "It takes time to address, appreciate, and understand each other. When we hit snags now, we're confident we can be direct with one another knowing our intentions are not personal, but business. Honestly becoming friends makes the business that much easier."
Relinquishing control is always difficult for a founder, and the company's rapid growth exacerbated this. "Every single waking hour of Anna's time was focused on the business," says Roberts, a scenario that is neither scalable nor satisfying for the founder. "Anna doesn't have to be in charge of every detail now, but she could perceive it as interference and loss of control--and now I better understand how difficult an adjustment that must have been. I needed her perspective the same as she needed mine."
"For most founders, their identity is very connected with the business. They eat, sleep, and bleed the business," says Phillips. "That passion drives the business and attracts people. But you have to learn to hand off the control to someone who can run the business, and trust that they can do it in the right manner."
The role of a president or CEO, says Roberts, is to create scalability--a very different skill set from the visionary founder. Sometimes those skill sets or styles will clash, even when two people share common goals. "A partnership between a founder and a leader is not a reflection on anyone's inability," she says. "Rather, it's a recognition that at this stage you need additional talent."
"We were going at 100 miles an hour, and some decisions I didn't totally agree with. But to some degree, you have to disconnect from that founder identity," says Phillips. "This past year has been humbling for me, but I realized I needed to disconnect my identity and the decisions. And I feel like I have, trusting the people who are on board. And from Meg's point of view--she's a gun for hire in the nicest way--she had experience handling hundreds of franchisees and I didn't. We'd never been in eac other's shoes, but now I'd say we are comfortable with each other's style."
"Provided the time, a founder could train each franchisee how to operate their business, but our job is to train and support hundreds," says Roberts. "Once we learned to balance ideas and prioritize execution, our team's energy really ignited our progress." That progress was marked by the 100th opening in New Orleans this December.
More openings ahead!
The goal for 2020 is to open 40 more salons and to keep improving the model as The Lash Lounge opens even more salons in the coming years. "We're getting better, opening them faster, and the units are ramping up much more quickly. I firmly believe we couldn't have done that without someone as seasoned in franchising as Meg is," says Phillips.
"The evolution of the lash industry has been amazing since 2004. It feels like a lifetime of lashes already," says Phillips, who still owns three salons, one now with a partner, and has learned to enjoy running her part of the business in Dallas.
"I never opened up The Lash Lounge with any expectations of where we are now. It's sort of surreal," she says. And, despite the many challenges along the way, she says, "For both of us, our goal is to grow this industry--and do it in the right way. It's a great partnership. Learn to work together and the magic happens."
Making the Transition
With Roberts firmly at the helm on the business side, Phillips has embraced her role as Chief Innovation Officer and continues to head up training in Dallas. In doing so, she keeps her finger on the pulse of the services guests want and continually develops new ones to remain the market leader.
"In franchising you always want to stay relevant and on trend," she says. "I've seen a lot franchises that were very successful, but with changes in technology and disruption, products or services become obsolete. Then you have to revamp."
Phillips, who had a previous career in IT, says she knows enough about technology to be a little bit dangerous. "I think every couple of years you have to redefine what your differentiators are. What we are doing now is incorporating technology into our services and businesses. My wheelhouse is figuring out how do we add technology and enhance the experience for our guests."
One example was switching to a new POS system from Mindbody, a software provider focused on the health, wellness, and beauty sectors. "The switch made a lot of sense for us to grow in scale, as well as making it easier for customers to rebook," she says.
On the customer side, she's seen enough women come into beauty salons eager to have their hair styled like a favorite celebrity. Phillips saw this again with eyelash extensions. The problem, of course, is that what works for one person may not work for another.
"One of the things I've created over the years is a way to identify the most complementary design for lash extension based on your eye profile," she says, and has a patent pending on a technology for that.
Women Founders & Leaders on the Rise
Phillips, who's been in franchising for about 10 years now, says she is seeing more women in the founder role and in C-suite and executive-level roles, and that it's encouraging. "I think women typically go home to children, family, and other responsibilities. We're seeing more women taking on the challenge and the good fight," she says.
"In my own experience in franchising, the women I've met have been very supportive, instead of in competition with each other. In itself, that's an amazing example to other women who want to make a difference and get in and have the drive and skill set to do it. I didn't go into owning The Lash Lounge with the intention of franchising it, but here I am. It's like drinking from a firehose, but I wouldn't change it for the world."
An additional benefit of the partnership with Franworth has been getting to know the women behind the company's other brands. "By design or luck they've brought on more female-founded brands," says Phillips. "I feel like we're seeing more women founding businesses. It's exciting!"
Women Mentoring Women
In this current stage of her career, Roberts has made another transition: from her younger self seeking mentors to a seasoned executive younger people can come to for help, advice, or just to talk. "It's important to find somebody you admire and want to emulate, male or female," she says. "It's so important for female leaders to be accessible."
Roberts' own mentors include three women we've previously featured in our annual Women's issue: Mary Kennedy Thompson, COO of Franchise Brands at Neighborly; Shelly Sun, founder and CEO of BrightStar Care; and Barb Moran, CEO at Moran Family of Brands. Roberts says each has had an incredible impact on how she has developed as a leader through direct mentorship, advice, or a simple offer of friendship.
Today, she says, she's being mentored in some ways by the younger women working on the team with her. She admires their knowledge of emerging trends, social media, and technologies. "I may be mentoring them, but they're also teaching me every day," she says. "I really enjoy that."
Lightning Strikes Twice
In the summer of 2018, while on vacation at the beach with her kids, Roberts received a phone call from an old friend: John Rotche, founder of Franworth and a former co-worker at Service Brands International.
"John called me out of the blue and said he had a job opportunity for me I couldn't refuse. I said, 'It has to be perfect, I'm not leaving town,'" Roberts recalls. "I had security, worked with people I adored, and really cherished my relationships with the Molly Maid franchisees. But John is pretty convincing, and the idea that I could help build a system from the start was incredibly appealing."
Roberts, who had been at Molly Maid for more than 12 years, was ready to stretch. "I thought, 'I may be in the last third of my career and when will I have another opportunity like this that fits my skill set, is in my home town, and will challenge me in new ways?'" she says. "Uncharacteristically, I didn't spend a lot of time on the decision. When would lightning strike like this again?" And lightning it has been. "The business, the growth, the team--it's been electrifying and I wouldn't change a thing."
Published: March 19th, 2020
Share this Feature
Recommended Reading:
Comments:
comments powered by

Disqus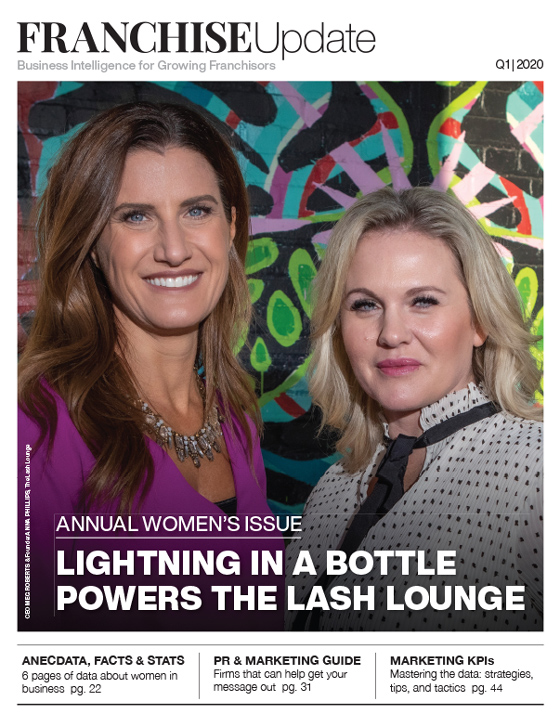 Franchise Update Magazine: Issue 1, 2020
Atmosphere TV is the world's leading cable alternative, providing free streaming TV for businesses.
Leasecake is location management made easy – from lease contracts and licensing agreements to ASC 842 compliance. Never miss a deadline, stay ahead...