Listening to Franchisees Pays Off!
Franchising looks a lot different than it did 20, or even 10 years ago. Over the last decade we have seen it become more of a collaboration, rather than an expectation. Rigid systems that didn't rely on the benefit of the franchisees' knowledge and experience struggled. Examples of collaboration were few and far between in many startups. The truth to franchising success will always fall into the hands of the franchisee… not the franchisor.
Now, proactive collaboration seems to be the name of the game. Since I started my franchising career with Zaxby's in the late 1990s to my current role with Dave's Hot Chicken, I've realized the importance of having an open dialogue with franchisees, especially successful ones. The flow of ideas that can occur from these conversations is invaluable and financially beneficial to other franchisees.
So if you want to help your franchisees build successful operations with a collaborative mindset, here's what you need to know.
Start off on the right foot
As is true in most situations in life, first impressions mean everything. This saying especially rings true when you're meeting franchisees for the first time. When having these initial conversations, it's important that franchisees know they're not entering a one-sided agreement. Letting them know right off the bat that you're open to their ideas and feedback helps to build trust. It also develops the mindset that you're in this together, sharing in successes and failures together as they come.
More experienced franchisees can have some great ideas as well, since many of them have been in franchising for decades and have seen it all. They're an invaluable asset with a wealth of knowledge. And being open to their feedback continues to build that trust.
During initial conversations, it's important to make sure they understand the ins and outs of your franchise system and why you do things the way you do. Never assume that even the most experienced franchisees won't have questions, since each brand's systems and processes can vary. This can get a lot of confusion out of the way. Again, be open to feedback during this period. You never know what great idea could make a big, positive impact on your brand.
Help the best get better
Even the most experienced and successful franchisees have room for improvement. However, it's not necessarily you telling them what to do, but instead listening to what they have to say.
As I've said, veteran franchisees have a wealth of knowledge from their years of experience. At the corporate office, we sometimes think we have the solutions to every problem a franchisee faces. In reality, we have a lot to learn from franchisees. They're the ones on the front lines observing day-to-day operations, meaning they often have solutions to similar problems faced by other franchisees.
Encourage your successful franchisees to try out new initiatives at their locations. Not only do you continue to build trust, but empowering franchisees to try new things could potentially lead to a new system-wide rollout that's a hit with customers and team members.
Supporting the struggling ones
Despite the growth experienced by successful franchisees, every brand has operators who may struggle a bit. Just because they're struggling now, however, doesn't mean they can't still find success. They just need a nudge in the right direction.
Being available to offer on-site support should be your first plan of action. Franchisees can sometimes feel disconnected from the home office, or that they're on their own when it comes to solving problems. Letting a franchisee know that you and your team can be on the ground to help is a big morale booster.
When it comes to on-site support, I recommend first meeting with the franchisee to go over the systems and processes that were discussed in their training. From there, you can both determine the systems in place that are and are not working, or are not being used. This allows you to get firsthand feedback from the franchisee and create a plan to address issues and adjust accordingly. Many times, it will empower the franchisor to rethink the standard. What worked 10 years ago most likely won't work today.
Offering traditional on-site support is a good start. But in keeping with the theme of collaboration, bringing in the support of another franchisee can be very beneficial as well. By showing struggling franchisees the work their successful peers are doing, they may be more receptive to change. Plus, it's always beneficial to foster relationships among franchisees to make a stronger, more unified franchise network.
Conclusion
The support an operations team offers to franchisees plays a big part in keeping the franchise system as a whole in strong working order. Successful franchising systems win because they focus on the people in their system and their relationships with their guests. It will always be important to take a collaborative approach to helping franchisees. Collaboration allows you to build a strong working relationship with a franchisee, while also encouraging them to meet others in the franchise system and build those relationships as well. The results will speak for themselves.
Marwan Yasin is Vice President of Operations at Dave's Hot Chicken.
Published: September 2nd, 2020
Share this Feature
Recommended Reading:
Comments:
comments powered by

Disqus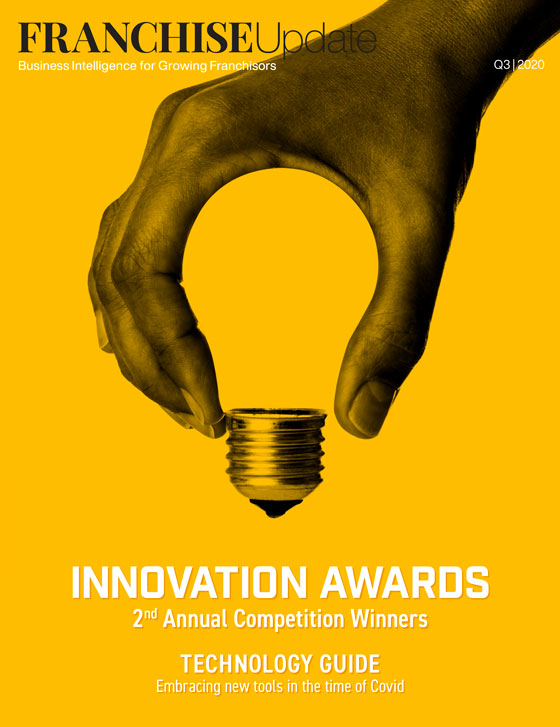 Franchise Update Magazine: Issue 3, 2020
Conferences
InterContinental, Atlanta
OCT 18-20TH, 2023
Support your multi-location brands and empower users. OneTouchPoint integrates localized marketing services and comprehensive brand management...
Leasecake is location management made easy – from lease contracts and licensing agreements to ASC 842 compliance. Never miss a deadline, stay ahead...