Market Locally, Grow Globally: Improving Lead Generation In Today's Economy
As with anything valuable, lead supply is sometimes short. Yet lead demand, the lifeblood of the sales force, keeps demanding.

The tectonic shifts in our financial, business, and cultural bases naturally have affected franchise lead flow, an effect that shows up differently for each franchisor. Many, however, are experiencing some sort of shortfall in the quality and/or quantity of leads, and today, more than ever, customary lead generation methods are being challenged.

It's easy to look at headlines and traditional channels and say they are to blame, but many challenges to lead generation are caused mainly by the marketing practices of franchisors themselves. New thinking about finding qualified candidates is in order to recalibrate a franchise offering--not only within the context of current business conditions, but with a prospect's needs and wants squarely in sight.
Start right
First, what is a lead, and what is not? No technical explanation needed here: a lead is someone who meets at least your minimum criteria and who displays an active interest in vetting your concept further. A lead is a candidate you're excited to speak to. Anyone else is not.

The next question, of course, is: What is the optimal way to find more or better leads? In a recent client project lead flow/quality was declining in today's economic climate, yet our client needed to keep to a development schedule.

In addressing this challenge, first we had to understand what we were looking for. Ideally we were looking for a few basic characteristics: 1) net worth, or some other a measure of financial capability; 2) business skills, or some other indication a prospect has a basic practical understanding of what it takes to operate a business; and 3) business ownership inclination. As we move through each of these screens, the pool of likely candidates gets smaller, and the channels to reach them more specialized.
Learn to listen
Understanding what needs your concept addresses for each prospect is fundamental. Far too many franchise sales and lead generation communications speak to what the franchisor wants to sell. Not many speak to the real, practical needs their concept satisfies for the prospect--in a way that no other concept can do.

To reach the prospects you want, simply ask those who contact you--whether they buy or not--because ultimately their opinion is the only one that matters. Various quantitative and qualitative research techniques are designed to structure a conversation to get to a prospect's truths about concept awareness and intent, likes/dislikes, sources of information, and a range of topics surrounding the selection and vetting process of your concept (as well as others they are considering). When we know what attributes are most attractive/detractive, we know what messages to amplify or diminish in subsequent communications. What we're looking for are the "Yeah, buts" that stop the vetting process so they can be addressed immediately.

We had one client with a child-centric consumer service who found that potential prospects liked the idea and could see the market viability, "but" felt the potential liability in dealing with children could undermine or offset any successes. The great thing is now we know what the hang-up is, have a great answer for it, can address it up front, and help prospects through to the next stage.
What is truly unique about your concept?
This next phase is critical for accomplishing two goals: 1) positioning your opportunity distinctly from all others; and 2) orienting your communications to address any pre-conceived notions and objections the prospect may have. We can now begin to speak to the prospect with relevance from their perspective.

We also look for the unique way your concept addresses a prospect's needs. If you communicate to a prospect that you can address their particular need--but 100 other concepts claim to address that same need--this does not give you a competitive advantage, and you are not positioned uniquely. The position you take for the opportunity should be clear, distinct, credible, and defensible.
Going to market
Now that we 1) know what the prospect's objections are and have gained valuable insights, and 2) have repositioned your opportunity distinct from those of competitors and developed key messaging, we can now formulate a multi-channel marketing strategy designed to go into a specific market and identify and communicate to that select group. We try to answer for the prospect, "What does this concept mean for me here in Boise, Idaho?" Combining relevant brand messaging with regional relevance gives your market communication vehicle that much more connection.
Media selection
We have some rules of thumb for selecting media channels. As much as possible, we try to select channels that are: direct, not shared (i.e., that don't contain competing messages); measurable; and we always ask the prospect to take the next step. With one of our clients, the next step was simply to pre-qualify online for an invitation to a local marketing event through an in-market web destination (such as www.franchiseboise.com).

In our region-specific lead generation process, we have the greatest success with live, in-market events. We position the communication about your opportunity around the uniqueness of the particular region to support the concept. We raise the prospect's curiosity and never satisfy that curiosity until they arrive at the event.

From there, the prospect enters the client's sales process. The first two events we hold are typically test programs where we can measure and analyze the results, refine the process, and relaunch.

In summary, new thinking is needed around lead generation to address its many challenges. By focusing on the needs of your customer and focusing your communications on what's relevant to them in their marketplace, you can avoid or diminish many of the challenges franchisors are facing in generating quality leads that lead to franchise sales.

Philip St. Jacques is chief marketing officer and founding partner of St. Jacques Franchise Brand Marketing in Morristown, N.J. Reach him at 973-829-0858 x102 or philip@stjacques.com.
Published: March 23rd, 2009
Share this Feature
Recommended Reading:
Comments:
comments powered by

Disqus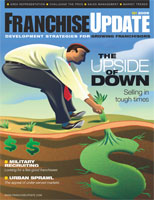 Franchise Update Magazine: Issue 1, 2009
Conferences
InterContinental, Atlanta
OCT 18-20TH, 2023
Sociallybuzz, founded in 2009, is the #1 Social Media Marketing Agency to help franchisors and franchisees increase their revenues, drive sales, and...
Tiger Pistol, the world's leading collaborative advertising platform, connects the power of brands with the knowledge and credibility of their...