Marketing Meet-Up: 2016 Franchise Consumer Marketing Conference Rocks
One thing was clear at this year's Franchise Consumer Marketing Conference (FCMC): times have changed and will continue to change for franchise brand marketers--more rapidly than ever before. With all the ongoing developments in digital, social, and even traditional marketing strategies and tactics, consumer marketing is in a historic period of evolution for franchise brands.
Keeping current and hearing from peers on how they're navigating the changing marketing seascape are two big reasons CMOs, marketing VPs, and other franchise marketing executives attend this conference, now in its 6th year and continuing to grow in size and scope each year. More than 330 attendees, more than half first-timers, got together in Atlanta's InterContinental Hotel Buckhead in late June for two days packed with marketing insights, education, and networking opportunities.
Day 1: Jump right in
The conference kicked into gear Tuesday morning with two pairs of concurrent workshops. The first set featured a session on crafting the right brand promise to customers (consumers, franchisees, and employees); and the other focused on media strategy (paid, owned, and earned). Those were followed by two more concurrent workshops about how to engage customers by choosing the right media vehicles; and on how to evaluate the results of a paid media plan. These 90-minute workshops, presented by marketing and technology experts, explored solutions to the problems modern marketers face, with plenty of time for attendees to ask questions or provide answers based on their own experiences.
The exhibits are open
One of the cornerstones of the FCMC is the open discussions and informal networking available in the Sponsor Networking Gallery, along with ample food and drink filling the aisles between the sponsors' booths--all in all, a great atmosphere for meeting with fellow marketers, solution providers, panelists, and speakers.
This year's gallery opened with lunch and 150 sponsors on hand to eat and meet with franchise marketers. If there's a tool available to marketers, it was in the room. Technology providers were front and center, offering solutions ranging from local marketing and SEO to CRM systems and social media.
It's the economy, smarties!
The opening general session was called to order by Conference Chair Jeff Rinke, vice president of marketing at Hungry Howie's Pizza. The veteran marketer brought the event sharply into focus during his opening address when he said, "It's a fun time to be in marketing and changes are happening at lightning speed. This conference provides knowledge as well as a chance to meet others who share in your passion and interest."
Darrell Johnson, CEO of FRANdata, was up next, delivering his annual "State of the Economy" report focused on how domestic and global economic forces will likely affect franchising going forward. Johnson noted that although this is the second-longest expansion in U.S. history, it's also the slowest recovery from a downturn since the Second World War ended more than 70 years ago. "This is the weakest recovery we've ever had, and the longest," he said.
He said consumer confidence, usually a pretty good indicator of the next couple of quarters, was "nervous but fairly stable." U.S. GDP, he said, is likely to grow at slightly over 2 percent through 2018, since the Fed is driving this recovery with low interest rates and is likely to continue doing so. Despite the lack of inflation, businesses will likely see growing cost pressures from wages, commodity price instability, and interest rate hikes for borrowers.
The implications for franchising, he said, have not changed significantly in this slow and steady recovery. Since the total market is not growing at any significant pace, franchise brands will continue competing for a slice of the pie. "It's a market share game, not a rising tide," he noted. A growing phenomenon, he said, is subsector specialization (boutique gyms instead of big box gyms, for example). All this, he concluded, is a challenge and opportunity for franchise marketers--and is why marketing budgets should be increasing. The challenge going forward will be to justify increased spending by employing performance metrics to assess the effectiveness of every dollar spent. One tip: "Define what you measure before you start measuring it," he said.
Keynote #1: UnSelling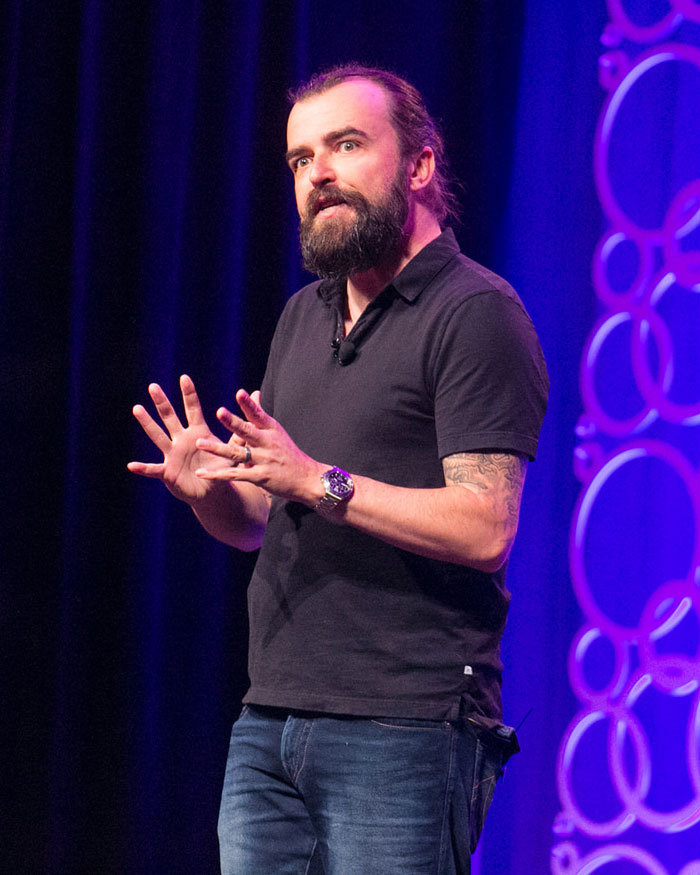 Scott Stratten, president of UnMarketing, is a self-described expert in disruptive and un-traditional sales, marketing, branding, and social media. Stratten has penned four best-selling business books. His newest is UnSelling: The New Customer Experience. Forbes.com named him one of the world's top five social media influencers.
While Stratten's delivery was highly entertaining, his thought-provoking messages were serious and hit home. One example: while he humorously described Millennials as "people younger than us and we don't like them," he said they are a consumer segment that must be embraced. "Stop selling, start engaging," he suggested. He also drew knowing laughter from the audience when he discussed logo redesigns, saying, "Nothing has taken so much time, cost so much, and mattered so little."
And when it comes to branding in 2016, he reminded marketers, "You don't write the story. The brand story is written by customers." He illustrated this with the classic customer service story of Joshie the Giraffe at the Ritz-Carlton. After a young child left a stuffed animal in one of the brand's hotels, Joshie was discovered by employees in the laundry department, rolled up in the bed sheets. The staff then posed Joshie in several hotel locations, snapping photos at the spa, the pool, the bar, and even in the office before mailing the stuffed animal back to its owner--along with emails from Joshie. The result? The child's father of raved about the experience on social media, which, of course, spread like wildfire and further cemented Ritz-Carlton's reputation for customer service excellence.
Despite his success in the online world, Stratten described himself as "an old school sales and marketing guy." And he made an interesting point about handling customer complaints. "They want validation. What matters is the follow-up, doing something about it." He said that while authenticity and transparency are important in customer relations, the third leg is immediacy, with speed of response as important--perhaps even more important--than the response itself.
After the keynote, which drew a "standing O," the day wrapped up with three breakout sessions dealing with local marketing budgets and tools, social media's role in driving revenue, and using research and big data to build an effective marketing plan.
Day 2: More marketing!
A continental breakfast awaited marketers as they arrived for their second full day, which kicked off with a general session panel called "Your Customer Comes First." The panel, moderated by Susan Boresow, president of Title Boxing Club, consisted of Jose Costa, group president at Driven Brands; Matt Friedman, founder and CEO at Wing Zone; Catherine Monson, CEO and president at Fastsigns; and Christine Russell, president at Camp Bow Wow. Each shared the different ways they continue to build their brands by focusing on the customer brand promise.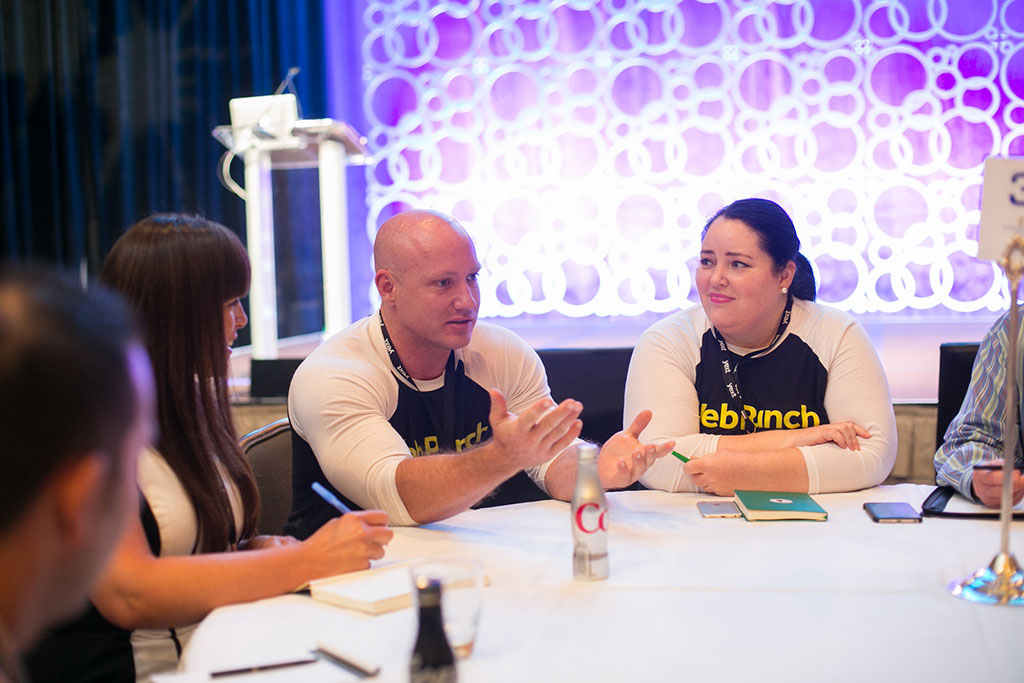 Costa spoke about how Meineke has worked to remove the old consumer perception that taking your vehicle in for auto repairs is like a trip to the dentist. "We've worked to turn a negative into a positive. We want to help turn the car you drive back into the car you love," he said of the brand's more modern approach to automotive repair. One important component in achieving that goal was changing the mindset of franchisees from being strictly operations-focused to being more customer-focused--which took some work, as well as some new technology to connect with customers online for repairs, estimates, and progress reports.
The panel also discussed other topics such as how to better engage franchisees, how they are managing customer complaints, and some of their best marketing tips and tactics. In one of the many references to big data during the conference, Russell described how important customer data is to Camp Bow Wow. "We work closely with our franchisees to help them understand and own the marketing campaign on the front line," she said. "The data matters and benefits us all."
Breakout sessions followed for the remainder of the morning, covering topics ranging from "Brand Building Is More than Changing Your Logo" and "Programmatic Media Implementation in a Multi-Media Plan" to "The Print & Direct Mail Resurgence" and "What Does Mobile in 2016 Mean for My Brand and Franchisees?" At noon, the Networking Gallery reopened for another chance to, mingle, eat, drink, and talk business with other marketers and the sponsors and exhibitors.
Next up was a general session panel, "Integrated Media Done Right," moderated by David Buckley, CMO at Sears Hometown and Outlet stores. The panelists were Doug Koegeboehn, CMO at Wienerschnitzel; Steve Schildwachter, CMO at BrightStar Care; Terri Snyder, CMO and EVP at Checker's/Rally's; and Ed Waller, chief brand officer at Paul Davis Restoration. Their discussion touched on the ways they've implemented different media tools and creative marketing strategies to build successful marketing initiatives.
Koegeboehn got chuckles when he said, "Making great creative is hard, and it sucks." He suggested marketers put their time spent on integrated marketing into creative because, as he said, "If your creative sucks, all your media channels will suck. You have to tell the right story."
Snyder drew appreciative laughs in retelling the "Wiener Wars" story, which began this past February when Burger King launched its hot dog ad campaign--months before she had expected. In her counter-campaign, which she had to develop very quickly, she wanted "edgy but not middle school" as good-humored wiener jokes made their way across the national media landscape. "We got $1 million of free PR in a week," she said, with major media outlets having a field day. Koegeboehn, far from being an idle bystander, implemented his own integrated, multimedia efforts and, because there are not a lot of competitors in the hot dog space, said the brouhaha actually helped his brand by popularizing Wienerschnitzel's main product to a wider audience.
Two more concurrent breakout sessions--one on franchisee compliance and participation in local marketing, and one on SEO and web development--filled the next hour before the closing keynote address brought everyone together again for a final session.
Keynote #2: Customer ADD
Curt Steinhorst, founder and president of the Promentum Group, a communications consultancy, is an expert on crafting messages for today's distracted audiences. "How do you go about reaching customers who have never had more coming at them than they have today?" he asked. Citing his own issues growing up with ADD, he said that today's 24/7 connected culture has fundamentally altered the way people work, engage, communicate, and relate to one another. But there are ways to rise above the noise and craft a message that cuts through today's distracted audience. "In the end what draws our attention is the emotional connection we have," he said.
And while today's customers, with their portable phones, tablets, and watches, are "untethered," he said it's also never been easier to reach them--if you know where they spend their time online. "You have to reach customers where they are," he said. The flip side, he added, is that "customers expect to be able to reach you on all channels all the time," creating an ongoing debate over how fast brands need to respond to emails, tweets, and other customer input.
Food and games
The hard work completed, it was time to relax. With their heads filled with newfound marketing expertise and their pockets filled with business cards, attendees trooped over to Maggiano's Little Italy, a short walk up the road, for the closing dinner and some fun. The evening was replete with great food, lively conversation, and a contest for each table to create a slogan or campaign for the Rio Olympics, which brought the proceedings to a raucous, celebratory conclusion.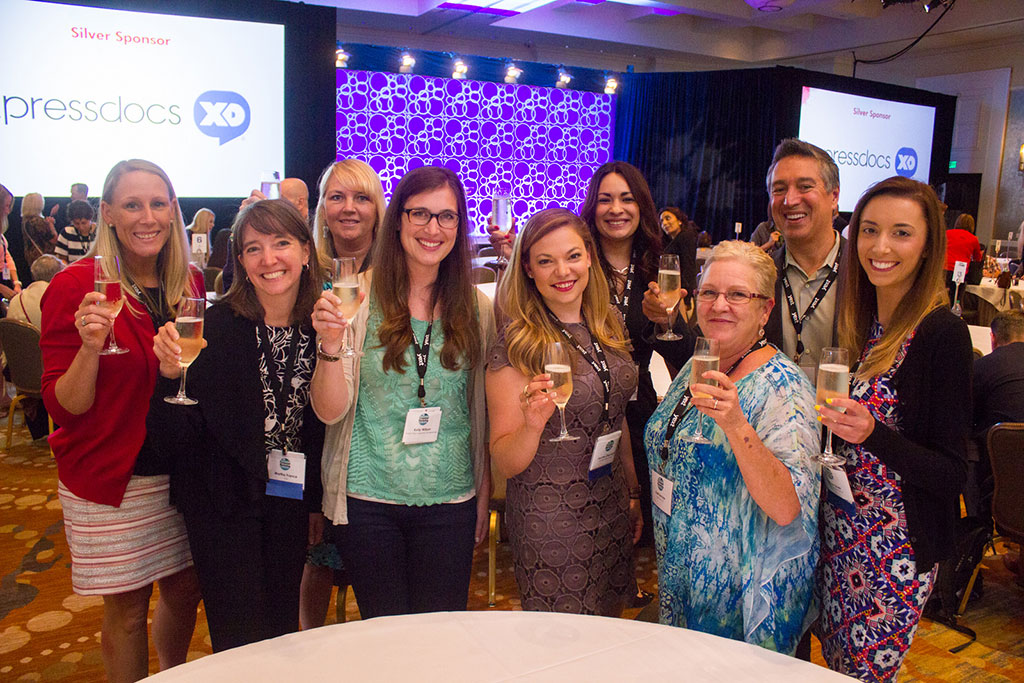 Save the date for next year's FCMC, which will return to the InterContinental Buckhead in Atlanta, June 19-21, 2017.
FCMC By the Numbers
Attendees
336 Total
174 Franchisors
150 Sponsors
54% First-time attendees
Franchisors by Category
72 Service
48 Food
19 Retail Food
15 Retail Non-Food
Published: October 26th, 2016
Share this Feature
Recommended Reading:
Comments:
comments powered by

Disqus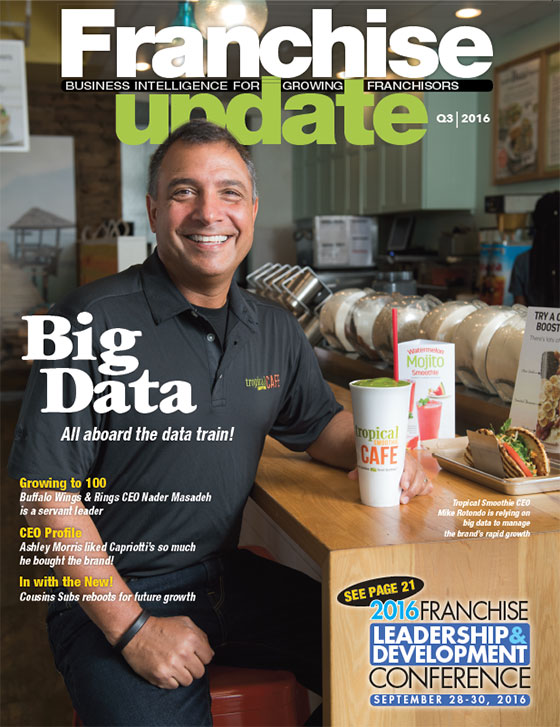 Franchise Update Magazine: Issue 3, 2016
Conferences
InterContinental, Atlanta
OCT 18-20TH, 2023
Franchise Update Media (FUM) is the trusted resource for the franchise industry. For 30+ years, FUM has been the leader in providing valuable...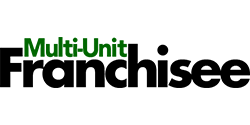 Published quarterly, Multi-Unit Franchisee Magazine is dedicated exclusively to Multi-Unit Franchisees. It delivers vital information and business...