Mobile Marketing on the Rise: Attracting Customers With Location-Based Social Media Tools
Social network talk is often smothered with how many fans, friends, and followers you have. But what about helping your franchisees increase foot traffic to their businesses?
Location-based social outlets are key instruments for getting customers to franchisees' brick-and-mortar stores. In fact, the popularity of location-based social networks is growing with the rapid growth of smartphone owners. The popular location-based social networks have just about every major social network and search engine jumping on the bandwagon, even Google.
Just like social networks, location-based outlets provide business owners with the ability to promote and market their goods and services, in addition to creating a digital environment for users to socialize and communicate. As people use location-based networks to explore new businesses, products, and services, it's important that you explore the hottest location-based social networks and understand the difference between badges, points, passports, and rankings. And just like New York, real estate goes fast, so be sure to claim your position sooner rather than later.
FourSquare
The Facts: FourSquare is a prime spot in the location-based marketing world. Why? First of all, the network has more than 4.5 million registered users, adding nearly 100,000 each week, and records a check-in every second. How do users "check in" at venues? People can use text messaging or the network's mobile website to check in. Users earn points for checking into different venues, and those points earn "badges." Reminiscent of the days of the arcade, FourSquare provides franchisees' venue visitors with exciting incentives, but the location-based social network also presents them with analytics. And to top it off, users can post their check-ins on their Facebook and Twitter accounts--marketing your franchisees' businesses to the masses.
What It Means: If you need help with informing franchisees on how to get people excited about visiting their franchises and rewarding them for doing so, FourSquare has many customer insights--specials, discounts, badges, and more. And the best part is, FourSquare will allow franchisees to track the performance of their venues.
Gowalla
The Facts: Quite similar to FourSquare's badge excitement, Gowalla provides users with the ability to earn stamps on a virtual passport. As they amass stamps, users are awarded pins (digital, of course). Aside from letting users check in to locations, Gowalla provides the full trip experience of letting people take photos and upload them. From there, people can comment on both photos and locations where their friends check in. What's a trip without souvenirs? Gowalla also provides digital items around the world that can be redeemed for real-world prizes, like entertainment tickets, apparel, and more. Although Gowalla has only a fraction of the number of users Foursquare has, Gowalla consists of businesses in more than 7,500 cities and is expected to expand further.
What It Means: Gowalla is fun, interactive, and entices people to visit physical locations. And just because its user base doesn't match that of Foursquare, it doesn't mean you should ignore its potential. Gowalla provides users with a worldly experience, one in which your franchisees' businesses can be their dream destinations.
Facebook Places
The Facts: With more than 500 million users, Facebook is prime time real estate in the social networking world. And now the company has expanded into the location-based scene with Places, a feature that enables users to see where their friends are and allows them to share their current location. Unlike a Facebook status update, Places actually lets users' friends locate where they are, who they're with, and what's going on. It may seem creepy, but in fact it's a brilliant way to get Facebook fans to swarm franchises: more than 30 million people have used Facebook Places.
What It Means: Using Facebook to popularize your franchisees' locations has previously posed challenges for franchise owners. Facebook Places allows specific franchise locations to establish a Facebook presence without diluting the brand, and it is geared towards getting people in the franchise doors.
Yelp
The Facts: Imagine the ultimate review site. In essence, that's exactly what Yelp is. Businesses are rated on a five-point scale and visitors can critique their experiences. Along with ratings and reviews, business information (hours, parking, address, etc.) is also displayed. All listings are categorized by city and type--movie theaters, hair salons, restaurants, car dealerships, you name it. So where does the social aspect come into play with Yelp? Members can collect advice from users who share similar interests, live near them, and they can see how respected members' reviews are. With more than 31 million unique visitors each month, Yelp can certainly help your franchisees thrive with location-based marketing.
What It Means: Use Yelp to increase word-of-mouth marketing for your franchisees. Unlike badges and stamps, reviews create a less gimmicky way to get consumers in your doors. Maintaining an attractive and reputable image on Yelp is key to your success, so if you haven't already, be sure to tell your franchisees to check on the reviews of their franchises.
Hotpot
The Facts: Google has launched yet another location-based/review feature. Along with its Places page and Latitude, Google's most recent local recommendations service, Hotpot, is rather young, having launched just this past November. What's the hype? Users can easily and quickly rate local businesses, and to top it off can message all their Google contacts to create a healthy competition of who can rate more businesses. Apart from the Hotpot website, Google released the Hotpot mobile application, which will even suggest places people have already been, if they're Android phone owners.
What It Means: Location-based social networking is hot right now, so much that even Google wants a piece of it. The big search kahuna is bound to rack up a large user base, so it's important your franchisees have a nice spot within Hotpot.
These five location-based social networks are accompanied by hundreds of others. Don't let your franchisees feel overwhelmed and obliged to manage every single one, but it's a must to claim their businesses within these location-based social network leaders. If they haven't already integrated location-based social networking into their social media mix, certainly stress the importance of claiming their business locations for 2011.
Lisa Wehr is CEO and founder of OneUpWeb, a leading digital marketing agency. To contact her, visit oneupweb.com, email info@oneupweb.com or send her a tweet @LisaWehr.
Published: April 4th, 2011
Share this Feature
Recommended Reading:
Comments:
comments powered by

Disqus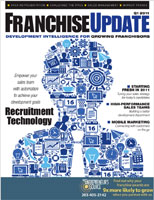 Franchise Update Magazine: Issue 1, 2011
Atmosphere TV is the world's leading cable alternative, providing free streaming TV for businesses.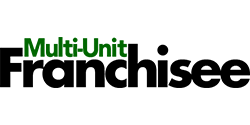 Published quarterly, Multi-Unit Franchisee Magazine is dedicated exclusively to Multi-Unit Franchisees. It delivers vital information and business...