Nontraditional V.I.P.:
Gina Puente learned about hard work, tenacity, and the power of cash at the knees of her father, "working" in his office equipment business from the age of eight... when she wasn't busy with commercials and pageants.
Over the years, Puente has maintained the core values she learned from her father, and put her own, less-than-traditional spin on entrepreneurship. Today, she operates 19 units and 11 brands, including her original concept, La Bodega Winery. The winery, with two locations at Dallas-Fort Worth International Airport, was the world's first winery located in an airport, according to its energetic owner.
She attributes much of her success to the home and opportunities her parents provided for her. "I had a great childhood. We were a middle-income, Mexican-American family, and my Mom and Dad created a great foundation with great opportunities for my two brothers and me," says Puente, whose impressive list of awards includes titles such as Enterprising Woman of the Year, Latina Entrepreneur of the Year, and Fort Worth and Texas Hispanic Business Woman of the Year.
Puente jokes that it was no accident that she wound up as a child with her own agent for TV commercials, musicals, and stage shows. "My past was laid out for me by my Mom. She named me Virginia Ivy Puente, because she wanted my initials to be VIP. Mom wanted me to push the envelope as far as I could achieve, and she taught me with love and care," she says.
When the young talent wasn't being shuttled to auditions and dance classes, she worked with her father at Southwest Office Solutions. "When I was eight, I'd clean his desk, and by the time I was in junior high, I was working, filing things in the accounting department during the summer. Then I graduated to receptionist, working the phones and going on an occasional sales call," she says, describing herself as a closet "geek," who begged for months for her own set of Encyclopedia Britannica.
After high school, Puente wanted to be the "next Barbara Walters," so she majored in broadcasting at Texas Christian University. Upon graduation, she was offered a weekend anchor position in a small Texas market. "But after all those years of watching Dad grow an awesome business, I decided to step out in that direction, too," she says. "After all, I'd grown up in entrepreneurial boot camp."
Puente has no regrets about the great education she's earned and the skills she's learned. "Everything basically boils down to communication. If you can't RSVP or work with staff to get your points across or negotiate with vendors and banks, you're going to have issues in the business world."
She also has no illusions about what it means to start your own company. "I was raised with a strong work ethic. That's why I grin when people say they want to start their own company, because they 'don't want to work hard for The Man.' If it is your start-up, you're wearing all the hats, and it's hard. You have to learn to delegate when it's your money and/or concept, and that can be hard to do," she says.
In 1989, when Puente was a senior at TCU, her father, at the age of 63, threw his hat in on a bid for three newsstand/gift shops at DFW. She watched in awe as he won the bid and began working in the unusual venue. After graduation, she took a job with Gap Kid/Baby Gap, but by 1991, she was ready to work with her father and learn the business from the ground up.
In 1994, her father asked her to look for a different concept to replace a newsstand that wasn't making money. She met a man who was trying to do an IPO for a winery in the area under a new Texas law that gave specific breaks for the creation of wineries in the small town of Grapevine. "I realized that the 320 square feet of newsstand and 120 square feet of an American Airlines utility closet that was available nearby was actually in Grapevine," Puente says. "So I got investors to put in 45 percent, while I kept 55 percent, and La Bodega was born."
The savvy Puente didn't take the drastic step of opening a winery in the airport without first doing her homework. "It was all about location, location, location. I'd done extensive research to compare travel demographics, and I found wine drinkers were higher educated with higher salaries and disposable income. Here they were, coming right out of the gate to us," she says. "And the new laws meant we could sell wine by the glass, the taste, and the bottle to go. People who wanted to take something home from Texas would get pure Texas agriculture, which is a bottle of wine." One of her most popular offerings is a fortified wine named Aero Port.
The bonded, federally and state licensed winery opened in 1995, but because of a pilots' strike and construction issues surrounding Terminal A, things got off to a slow start. "It wasn't an instant success. That happens sometimes when you're on the cutting or bleeding edge," she says. She continued to tweak the concept, and in 1997 bought out her investors and became sole owner.
Part of that tweaking had to do with the family's franchise newsstand, which shared a wall with La Bodega. Based on projections of how many people were coming into the newsstand, Puente cut an archway between them for customers to pass back and forth.
Also early on, she reached out to the Texas wine industry, which had 27 wineries at the time, to ask them to sell their specialties in La Bodega along with those she produced. There are more than 200 wineries in Texas today, and owners clamor for space in one of the two Puente airport wine stores, located in different terminals at DFW. Puente also has a small outside winery, La Buena Vida Vineyards, where she produces wines to be sold at the airport.
In addition to being a franchisee for Wall Street News and Main Street News, Puente has airport locations for Blimpies, Cereality, and NRgize Lifestyle Cafe (smoothies). In seeking other good concept fits for an airport setting, she also added five Travelex currency services units in the international terminal and a small charter yacht unit, LBW Charters.
During her ongoing quest for new and high-quality concepts for the airport and other nontraditional settings, Puente came upon UFood Grill, a Boston-based concept, and opened one at DFW. "It's where 'nutritious meets delicious' and I thought it would be perfect in a hospital setting," she says. "So I put out a bid at the large Parkland Hospital in Dallas," she says. Puente won the bid and also brought in Urban Taco, another franchise focused on healthy offerings, to the hospital and the airport.
A self-described "educational junkie," Puente participated in a three-year master's program at MIT, where she first met UFood Grill CEO George Nadaff. "He was a keynote speaker and he blew us all away," she recalls. She describes him and his team as the kind of franchisors who are supportive, open to suggestions, and willing to work on the challenges she faces.
Puente also loves to travel and considers looking at new concepts and high-level seminars recreational. She is opening up Travelex units at Houston International Airport this fall and continues to look at innovation and change. She doesn't know exactly what new and exciting ventures she'll tackle next, and that's the way she likes it. "I never say never," she says.
Name: Gina Puente
Title: CEO/President
Company: Puente Concessions, Inc.
No. of units:
4 Main Street News; 2 Wall Street News; 3 original concept wineries (2 La Bodega Wineries and 1 La Buena Vida Vineyards; 1 Blimpie/Cereality/NRgize Lifestyle Cafe; 2 UFood Grill; 1 Urban Taco; 1 Urban Taco Express; 5 Travelex Currency Service; 1 LBW Charters
PERSONAL
Age: 41
Family:
Father Victor Puente, Sr., who founded Puente Concessions, Inc. and Southwest Office Systems, Inc.; niece Haley Puente, who is director of sales and marketing for La Bodega Winery and La Buena Vida Vineyards; brothers, Vince (wife Mona); and Buddy (wife Alice), co-presidents of Southwest Office Systems. Other nephews and nieces: Vic, Vincent, Lindsay, Victoria, and Andrea.
Years in current position:
3; I joined the company full-time in 1991, but had worked as a part-time manager since 1989. I assumed full ownership of Puente Concessions in 1997.
Years in franchising:
14; opened first franchised location in 1996, Frullati Café & Bakery.
Key accomplishments:
Named Concessionaire of the Year at DFW International Airport in 2000, 2007, 2008, and 2009.
Biggest mistake:
I didn't go after a newsstand bid that included a coffee concept because I thought that a large competitor who had Starbucks rights would win it. Instead, another small MWBE firm got the bid with a no-name coffee brand.
Smartest mistake:
Given lessons learned from my Biggest Mistake, I went for a space at Parkland Hospital where McDonald's held the lease for more than 20 years. I won the bid with UFood Grill and Urban Taco and commenced operations in December 2009.
How do you spend a typical day?

It varies, which is why I love what I do. There are no "typical" days; no two days are alike.
Work week:
24/7, I am a card-carrying workaholic.
Favorite fun activities:
International travel, seeking new concepts, trying new wines for "R&D" reasons.
Exercise/workout:
Racquetball, yoga.
Favorite stuff/tech toys:
My iPad--it rocks!
What are you reading?
Rules for Renegades by Christine Comaford-Lynch.
Do you have a favorite quote or advice you give?
Never take yourself too seriously.
Best advice you ever got:
Cash is king! (from my Dad).
Formative influences/events:
My Mom and Dad were terrific role models for me and influenced my work ethic and provided a great foundation to grow up in.
How do you balance life and work?
I am still working on this area.
MANAGEMENT
Business philosophy:
Focus where you excel. In my case, my sandbox is in high-volume, nontraditional locations with captive audiences.
Would you say you are in the franchising, real estate, or customer service business? Why?
I am absolutely in the customer service business. No matter what concept you operate, it's all about the customers, both internal (your team members) and external (your clients).
What gets you out of bed in the morning?
The thought of learning or discovering something new.
What's your passion in business?
To provide cutting-edge, innovative concepts with good old-fashioned customer service.
Management method or style:
Lead by example. I would never ask any member of my team to perform any task that I would not do. I also believe in high doses of motivation and inspiration.
Greatest challenge:
Human resources--finding the right people for the right jobs.
How close are you to operations?
Right in the thick of things, especially during this recessionary time.
Personality:
I love to live life to the fullest and look forward to every opportunity that life has to offer.
How do others describe you?
Energizer Bunny with an infinite battery source.
How do you train and retain?
We are constantly finding innovative ways like capitalizing on grants to offer high-quality training to raise the bar on job satisfaction.
Bottom Line
Annual revenue: $36 million
2010 goals:
Getting through the second recessionary dip while achieving organic growth and also seeking new opportunities.
Growth meter: How do you measure your growth?
EBITDA and cash-flow accumulation.
Vision meter: Where do you want to be in 5 years? 10 years?
$50 million in 5 years, $100 million in 10 years.
How has the most recent economic cycle affected you, your employees, your customers?
On the positive, we have top-graded and found some great talent, but it's been tough also with cost-of-living and cost-of-doing-business hikes. We have also evaluated pricing structures across the board.
Are you experiencing economic growth/recovery in your market?
In North Texas, we were lucky not to have experienced a huge hit in 2009. However, I feel many of us in numerous industries across the country are going though the second wave of a down economy.
What did you change/do differently during the recent tough economic times that you plan to continue doing into the future?
 We focused a huge microscope on cash-flow analysis as well as maintaining the enthusiasm for keeping costs and expenses down.
How do you forecast for your business during trying times?
Can you even forecast at all? We are striving to get back to 2008 levels in most cases.
Where do you find capital for expansion?
Several Texas-based banks. I have a relationship with OmniAmerican Bank and Frost National Bank.
Is capital getting easier to access? Why/why not?
Because of the bank crises and the recession, it's definitely harder to raise capital.
Have you used private equity, local banks, national banks, other institutions? Why/why not?
Yes, I have used local traditional banking relationships and personal loans.
What kind of exit strategy do you have in place for your business?
To get the business ready to continue its legacy of family business.
Published: October 12th, 2010
Share this Feature
Recommended Reading:
Comments:
comments powered by

Disqus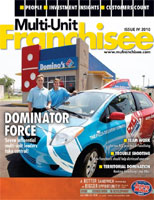 Multi-Unit Franchisee Magazine: Issue 4, 2010
Demand for The Bar Method continues to grow as more people discover the benefits of a barre-based workout and feel the empowerment after each...
Cash Required:
$125,000
Why open a dog daycare franchise with Dogdrop? Dogdrop is a modern brand that is technology-focused, offers unparalleled support as well as ease of...
Cash Required:
$100,000