Optimism Is Back in Town!
What a difference a year makes! This year's Franchise Update Leadership & Development Conference was a welcome breath of fresh air. After all, it was just one September before that the financial and economic walls came tumbling down amid financial institution shakeouts, government bailouts, and an unending barrage of negative economic news chronicling this country's worst recession in decades. If you had been listening in or observing at this year's conference you wouldn't have known any of those catastrophic events had even happened. Optimism was in the air.

You'll find much of that optimistic spirit reflected in this issue, as we review the conference highlights and interview the winners of this year's STAR Awards. It's always fun to hear from these winning execs, because they are truly on top of their franchise recruiting game--with the results to prove it, which is why they were recognized for "Speaking To And Responding" so well to prospects by phone and online.

Our cover story digs into some of the key highlights of Franchise Update's all-new Annual Franchise Development Report (AFDR). Released in conjunction with the conference, the annual survey and report is again packed with data that reflects the good, the bad, and the ugly of franchise development and recruitment.

Steve Olson, publisher of Franchise Update, was actively involved in the report's research and analysi--and provides some candid observations on the responses, the ongoing quest of franchisors for qualified leads and candidates, and the strategies many of them are employing in all media, old and new. The report does have its share of discouraging news. For example, how is it that even the most basic, fundamental component of the recruitment process--simply returning a prospect's first phone call in a timely manner--continues to be a problem for so many franchisors?

As Greg Poling, director of franchise sales for Panchero's Mexican Grill (which won two STAR Awards), shared with me concerning his company's franchise recruiting, "It's not rocket science. It's just about getting back quickly, on the same day in our case, and beginning that relationship."

Finally, I was struck by the theme of "Mission Possible" at this year's conference. That really summed it up in so many ways. Dr. Viktor E. Frankl, the Austrian neurologist, psychiatrist, and Holocaust survivor said, "The longer I live, the more I realize the impact of attitude on life. Attitude to me is more important than facts. We cannot change our past. We cannot change the inevitable. The only thing we can do is play on the string we have, and that is our attitude. I am convinced that life is 10 percent what happens to me and 90 percent how I react to it. And so it is with you... we are in charge of our attitudes."

It was just that kind of spirit I saw on display at the Leadership & Development Conference in Chicago. Optimism is back!
Published: January 25th, 2010
Share this Feature
Recommended Reading:
Comments:
comments powered by

Disqus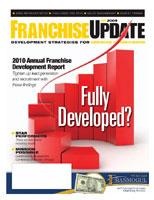 Franchise Update Magazine: Issue 4, 2009
April 25 - April 28, 2023, Caesars Forum, LV. The Multi-Unit Franchising Conference is the premier annual event for the country's leading...
Atmosphere TV is the world's leading cable alternative, providing free streaming TV for businesses.